After an impressive 19 years as musical director, pianist, and co-writer for Michael Bublé, Alan Chang discusses his own new music, changing career paths, and what's next for him in his journey.
Stream: "Love As a Weapon" – Alan Chang
x
---
Throughout our lives, we all experience the burning need for a fresh start, something that will help inject us with a new vitality and excitement.
For Alan Chang, his new beginnings have just started and it kicks off with his new single, "Love As a Weapon." After an impressive 19 years as musical director, pianist and co-writer for Michael Bublé, he felt that with the arrival of his 40th birthday, it was time to part ways. The new track narrates the emotions Chang felt during this transitional phase, and how it can be harder to say goodbye when someone has only ever been caring and kind towards you.
While still saying true to his jazz routes, "Love As A Weapon" is a departure from Bublé's sound, with Chang working alongside some fresh faces including producer Ryan Lerman (Scary Pockets, Lizzy McAlpine, Bublé, Ben Folds, John Legend), to bring a funky, indie and utterly infectious vibe to the new endeavor.
This is the first single to be released from his upcoming album, and we spoke with Chang about the new music, changing career paths, and what's next in his journey.
— —
Stream: "Love As a Weapon" – Alan Chang
A CONVERSATION WITH ALAN CHANG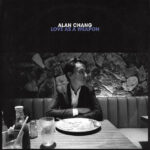 Atwood Magazine: Your new single "Love As a Weapon" has been described by yourself as a form of therapy during a transitional period. Can you delve deeper into the meaning behind the song?
Alan Chang: The song was written right after I told someone important in my life that I could no longer be there for them. That it was time for me to move on. I was surprised that the moment I finally had the courage to say it, I felt resentment for that person. They made it so hard to walk away because they were nothing but loving and loyal and I think I held that against them.
After nearly two decades as musical director and pianist for Michael Bublé, you made the decision to pursue a new chapter in your career, with "Love As A Weapon" being the first single to drop. How does it feel to take this leap and finally have this new single out?
Alan Chang: I'm really proud of this new song and album. I finally feel like I found a sound that feels fully authentic. It may have taken a while, but now that we're here, I didn't mind the wait.
What was the deciding factor behind "Love As A Weapon" being the first single to mark this new beginning?
Alan Chang: This song has an indie jazz vibe to it that feels somewhat different than other stuff I've heard. And I think that it's a catchy little chorus.
The creation of your new single saw you work with some incredible musicians and producers, including your fiancé Alex Lilly, Ryan Lerman and Adam Greenholtz. Tell us more about your experience working with them.
Alan Chang: Well they just happen to be three of the closest people in my life! So it was pretty easy, overall. Living with a songwriter who's much better than I am is a great way to cheat. I brought Alex the music for the last track on the album, "Wander". I was really proud of it and didn't want to mess it up with my lyrics. She wrote a beautiful lyric for the song. It's one of my favorite tunes that I've ever been a part of. Working with Ryan Lerman taught me a lot. We have different styles. I plan too much and he leaves things up to chance. He does a great job of dealing with the moment and knowing exactly where to take things. Working with Adam Greenholtz is always so easy. He's the smartest person in the room at any given time. He always has the answer but will let you find it yourself unless he's asked.
What advice would you give others who are facing a career crossroads and considering making a big change in their life?
Alan Chang: Make sure you spend the majority of your career being completely authentic to what it is you want to do and who you are. Even if it takes 20 years to work on your craft before you find your way in, it'll be worth it once you're there.
As you continue to embark on this new era in your career, what are you most excited about?
Alan Chang: I'm most excited to play music in small rooms where the sound is inspiring. Not that I'm not grateful to have played in arenas, but playing with in-ear monitors is a really uninspiring way to make music.
What's one thing that you learnt from your time with Michael Bublé that you use in your music today?
Alan Chang: To respect your audience. If they take the time to come and see you perform live, make sure you have a set list and have prepared your show.
You've had the pleasure of performing at some incredible venues all over the world, but which one would you love to play at as a solo artist and why?
Alan Chang: I performed with Michael facing the Sydney Opera House back in 2005. Not many get to do that. I would love to play one of my songs there someday.
What can we expect from your upcoming album?
Alan Chang: I think it's a pretty cohesive sounding album that has an indie-jazz flair to it. It's a batch of songs written during a pretty transformative year. Love songs and breakup songs all in one!
— —
Stream: "Love As a Weapon" – Alan Chang
— — — —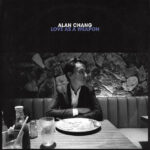 © courtesy of the artist
:: Stream Alan Chang ::
---