In honor of Asian American and Pacific Islander Heritage Month, Atwood Magazine has invited artists to participate in a series of essays reflecting on identity, music, culture, inclusion, and more.
•• •• •• ••
Today, Los Angeles-based galactic dream pop artist Polartropica shares her essay, "Embracing Heritage, Championing Authenticity, & the Dazzling Journey of an Asian American Girl with Big Pop Dreams" – a love letter to new beginnings and the courage it takes to follow through with those dreams and ultimately fall in love – as a part of Atwood Magazine's Asian American and Pacific Islander Heritage Month series!
Previously crowned LA Weekly's Best Indie Pop Band, Polartropica has created a genre of ethereal synth psychedelia that you've never heard before. With Polartropica's latest singles featured in NYLON and NPR as well as landing acclaim from the likes of Billboard and LADYGUNN, among others. Polartropica is an artist on the rise not to be missed.
Most recently, they completed a SXSW tour with shows in LA, San Diego, and Austin (including an official showcase for LUSH UK). In 2022, they headlined the Troubadour and LA PRIDE's Hollywood Main Stage, in addition to opening for Poppy at The Novo (Los Angeles) and House of Blues (San Diego).
Polartropica's music can be heard in NPR/Capradio's theme for MIDPACIFIC Podcast "Can't Hold Us Back," Blumhouse Horror feature film UNSEEN with "Give Them Hell," and A24's HOW TO BLOW UP A PIPELINE, which features track "Terminator."
Their "What's Your Fantasy" music video is the winner of this year's London Director Awards and the LA Independent Filmmakers Showcase Film Festival, Semifinalist for New York Indie Shorts Awards, and an official selection for Cannes Shorts, New York Indie Shorts Awards, Outfest Fusion and Berlin Music Video Festival Awards, where they will also be a featured live performer.
Polartropica's latest single, "Ride or Die" featuring Edgar Everyone, is a dreamy, summer love song about a hot tropical fling with a darkly sweet twist. Produced by Jules de Gasperis, the pop banger is inspired by new beginnings, taking the plunge when following your dreams or falling in love. "Ride Or Die" is out now via Coconut Spaceship Records.
Watch: "What's Your Fantasy" – Polartropica
•• ••
"EMBRACING HERITAGE, CHAMPIONING AUTHENTICITY, & THE DAZZLING JOURNEY OF AN ASIAN AMERICAN GIRL WITH BIG POP DREAMS"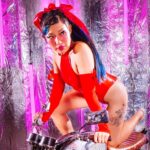 by Polartropica
I have a deep and unwavering love for music that has been with me throughout my entire life.
Growing up in California, my childhood was filled with the sweet melodies of pop, classical, and rock music. However, as I immersed myself into the world of performing, I noticed a glaring absence. On mainstream music TV, at shows, and on the radio, I rarely saw artists who looked like me.  As I started playing in indie rock bands,  I was often the only girl onstage, and also the sole AAPI person on entire lineups for the night or at festivals.
Looking back, it pains me to recall the moments when I longed to be anything but Asian. I yearned to fit in and avoid the strange and condescending comments from audience members and fellow bandmates. From being followed by inebriated individuals at venues, calling me derogatory names like "Pikachu" or "Yoshi," to feeling dismissed by the industry, I struggled to be taken seriously.
As a young child I remember my father was hesitant in teaching my sister and I anything but English because he wanted us to fit in and not be discriminated against for having any sort of accent in our speech as he had experienced working here in the US.  I was even ashamed of any food from my own culture or any sort of AAPI related foods, secretly throwing my lunches away and committing myself to eating sandwiches or whatever sorts of food seemed the most neutrally-American into my adult life.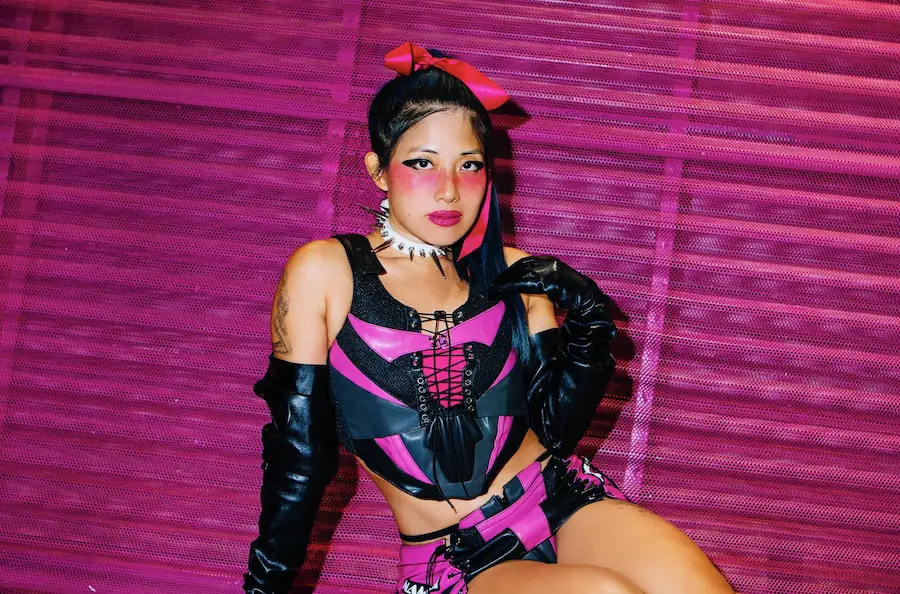 Things started to slowly change when I began collaborating with other AAPI artists, filmmakers, musicians, and the community at large.
Through these partnerships, I began to grasp the profound significance of representation. Over time, I developed a deep appreciation and pride for my Taiwanese-American heritage, as well as the vibrant AAPI diaspora as a whole.
One encounter that left an indelible mark on my journey was meeting the iconic fashion designer Peter Lai at the Los Angeles Asian Pacific Film Festival a few years ago. As a queer immigrant designer hailing from Hong Kong, his artistry and experiences deeply inspired me. His vintage collection from the Chinese Opera became instrumental in shaping Polartropica's early live show aesthetics.  In our latest music video release for "What's Your Fantasy," my Alice in Wonderland character awakens in a dream world in one of Peter Lai's exquisite powder blue dress and an opera crown for the vampire queen.
Another incredible collaborator and dear friend on this artistic journey has been the talented director Yoko Okumura. Her creative vision and aesthetic really helped bring Polartropica's very first single "Light Up the Sky" to another galaxy. This led to more collaborations and music for glam rock musical short, "Lexical Gap."
The punk, riot girl vibes inspired us to write "Give Them Hell," which was originally about fighting back with all you've got when faced with a serial killer, and celebrating the lives of the women instead of obsessing over the killers. With the Black Lives Matter protests, and then the Atlanta shootings and increased hate crimes and discrimination during quarantine, this song took on a new meaning for all of us to look after and protect one another. The song is also now in Yoko Okumura's first feature film "Unseen," a thriller film ultimately about friendship.
"Can't Hold Us Back" from our album Dreams Come True was a heartfelt tribute to those who have bravely left their homelands to forge new lives elsewhere. An interview with the host led to this anthem being selected as the theme song for NPR's acclaimed podcast series, "Mid Pacific" sharing the stories of AAPI folks all around the country.
My just released single "Ride or Die" is a heartfelt tropical adventure love song dedicated to grandparents. Sadly, all three of my remaining grandparents passed away during quarantine of unrelated causes, and I deeply regret not being able to be with them in Asia to see them or with my family for the funerals. However, their love and memory lives on in everything I do, serving as a constant source of inspiration in my life.
Through my work, I hope to inspire everyone to embrace their own individuality, honor their heritage, and cherish all the aspects that make them truly special. I feel like my experiences as a professional musician has taken me on the most beautiful dreamy journey, so grateful for all of it and excited for what's to come! – Polartropica
— —
— — — —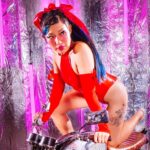 © Olivia Hemaratanatorn
:: Stream Polartropica ::
---