With her debut album 'Dreamweaver,' Montreal-based Oji-Cree artist Anachnid draws listeners into a curated journey of blended genres, traditions, and experiences.
---
Anachnid, the stage name of Kiki Harper, is a creative outlet that's fuelled by purpose. Montreal based with Oji-Cree heritage, Anachnid's debut album Dreamweaver, released 28 February, is an amalgamation of personal and collective struggles, of inner self and wider influences, released in a sonically transportive way.
The opening track, "Phoenix" is sparse and sombre with the rhythm of a march forming. 'And you like it when I answer in song/ And you like it when I put on a crown', Anachnid's voice trails like an amplified whisper while setting an indicator for the album's narrative.
"Anamism" is lead by an electronic soundscape, cyber swooshes in which words are spoken above. There's the inclusion of a call, like a wolf in the nighttime wilderness, before the tempo increases to a trap-style ending. "Electronic, for me, is the sound of the city," Anachnid explains when asked about the integration of traditional sounds. "You know like a police car or a fire engine, they have sirens right? For me that's the wolf siren in the city. Everything is a parallel universe to nature but in a more technological aspect."
This is a pairing that's consistent throughout. In "La Lune" there's a sound reminiscent of running water, as Anachnid sings 'set me free/ release me/ stop playing games with me'. This then progresses into washes of atmospheric electronic, the two interchanging but with an overall sparseness that hints at mystery and freedom. 
What I'm doing right now is just recycling an aspect of storytelling but I'm mixing it with technology so it can survive through time.
The running water is a theme throughout. In "America", it comes after the ghostly murmuring repetition of the line 'they're taking our children away', the sound then increasing into a momentary deafening crash then haunting bass line and animal cries. ''China Doll'' is powered by a rapid beat and then an eery silence that makes way for Anachnid's vocal presence, soft like a whisper but released with a hint of anger. The lyricism is built around metaphors, the bull in the china shop representative of inner chaos and the juxtaposition of the fragile and fierce that comes with the spider identity. "What I'm saying is the beast is going to drop," explains Anachnid, referring to how the word could be misheard as 'beat.' "All that negative energy is going to fall. And then talking about that beast and negative energy, I say 'I'll kick you at the curb until you crack' and then that's like when my venom comes in." 
The idea of double meanings is at the foundation of Anachnid. The spider is her spirit animal- intriguing and somewhat fantastical (any kind of eerily-associated insect or animal is going to add a sense of mystery) but also woven into her culture. "The spider creates the dreamcatcher to catch the mosquitos to protect the children from getting bitten at night," she informs. "And then the spiritual aspect is catching negative entities and protecting them from bad dreams. In modern society a lot of people have arachnophobia but really what she's doing is eating all the bugs you don't want in your house and hiding you from them. So that's what I'm doing with my album. Just because I have a bit of venom and anger doesn't mean it's not healing." Furthermore, there is the physical aspect of the spider. Dreamweaver was written during a period of immobility, when Harper broke her ankle and was unable to walk. But this, like a spider's, grows back just as strong if not stronger. 
The song "Anachnid" highlights this. 'Spider bitch/ spider bitch/ you just broke a leg' go the lyrics, spat out with lighthearted attitude. "When you break a leg you're also succeeding at what you're doing," Anachnid explains. "I'm like 'don't it feel great?' I'm still going through that pain of having my delicate spider legs break but it grows back. Oppression doesn't define me as an artist."
Growing up Oji-Cree and Mi'kmaq, a lack of recognition was often felt. "I grew up in a non-indigenous school so I often had access to information that non indigenous people had on indigenous people and I never actually felt recognized in the institutional system and I was the only one in the class," she recounts. But this is an issue shared amongst all indigenous communities, where their rights are overlooked and everyday lives often gone unnoticed.
"It makes no sense to me that the government has all the funding to help everyone but all this time they didn't help indigenous communities have running water. It's a basic human right. So this is something that upsets me and it makes me feel like I'm privileged even though I'm in a minority. And that makes me kind of uneasy about it."
When I got the Indigenous Songwriter Award it kind of showed that my creative anger is actually a very healthy and constructive thing to do. And I hope it inspires other indigenous people.
In 2019, before a record had even been released, Anachnid was awarded Songwriter of the Year at the Indigenous Music Awards. The song which resulted in this, "Windigo", is based around the aforementioned uneasiness. 'This is native trap trap/ and I suck at rap rap/ yes I drink and yes I smoke/ Yes I like to lose control/ fuck your system, fuck your law' she proclaims at the beginning before drawing upon the story of Windigo, a demon who's also come to represent the impact of colonialism on ancestral territories.
Skinny dipping in the snow
polo bears walking slow
You can never have my soul
So fuck you Windigo
Wolf pack, to the max
We don't pay tax
This is our land, this is our brand
They try to wipe us out
but bitch just hear me out
"Windigo," Anachnid
 "When I got the Indigenous Songwriter Award it kind of showed that my creative anger is actually a very healthy and constructive thing to do," Anachnid reflects, "and I hope it inspires other indigenous people."
Sonically, Dreamweaver has a succinct way of blending the traditional with the popular. "My album is kind of a ritual," Anachnid explains. "You have the beginning where it's really soft, then you have slow tempo darkness that ends at the climax with "Windigo" and "Anachnid". The turning point comes with the middle track "Anachnid", which is like a reflection while epitomizing the transition. After that the vocals and lyricism becomes harsher and then the instrumentation becomes more vibrant. "Summer Hunting" is the most dance-leaning while Anachnid singing 'You look good tonight, good tonight/ so shine bright, shine on me, baby' almost sounds like another person. Similarly, "Braids" is soulfully delivered, with a jazzy R&B atmosphere alongside playfully purposeful lyrics. 
Don't let them cut your hair
And yes they might stop and stare
But you gotta get back
You gotta get that
'Cuz the longer that it grows, the closer you are to your soul
Let it grow, let it grow, let it grow,
Your soul, your soul, your soul
"Braids", Anachnid
This blending of the city and nature, of electronic and traditions, of throat harmonies and haunting soulfulness with a hint of rap can be regarded as an accessible way of drawing light on cultures overlooked in music as well as mainstream society. As Anachnid explains, "Indigenous people survive without a Bible, without a Koran or any book to keep the tradition alive. How they survived was by trusting their legacy to keep their language and keep their storytelling alive. And what I'm doing right now is just recycling that aspect of storytelling but I'm mixing it with technology so it can survive through time." Closing track "Skywoman" is a prominent example of this, based upon a story of 'Sky Woman'- a pregnant woman who falls from the sky, placed on a turtle's back while Earth grows around her. 
"No matter what this girl suffers through, abuse and violence and getting pushed, she's always able to create as a woman. And that's what this song's about, really transmitting that knowledge to a song."
'Watch me rise, reach the sky,' she begins, angelically and full of hope. The song is the most atmospherically peaceful, the electronic soundscape in full control but seemingly whisking the listening up into the naturalness of candy floss-dotted blue sky.
Dreamweaver is a form of empowerment for women- Anachnid has a stance that's confident and unapologetic while hooking the listener in through the dark and dreamy soundscape- but it's also a journey into her Oji-Cree heritage, curating through the build up in pace of the album's song order. It's intended to be listened to as a whole and, while the latter half of the album may stand out the most, all the songs as one are a representation of transition. There's the transition of self, using music to release inner emotions and make sense of one's identity, and the transition of culture- projecting traditions in a way that enables awareness and space in rapidly evolving times.
— —
Stream: 'Dreamweaver' – Anachnid
— — — —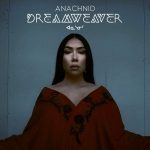 ? © Musique Nomade, 2019
:: Stream Anachnid ::
---