"Nightmares" takes Alice Glass's solo heading and amplifies, toys with it, negotiating some of Glass' rawer instincts.
— —
Listen: "Nightmares" – Alice Glass
Alice Glass takes the helm on Sermon 4, a new collaborative effort from Sermon 3 Recordings. Sermon 3 Recordings bills itself as a hub of artistic hub of underground media, and offers its output and community as proof. The label-slash-community is home to acts like The 83rd (ghetto house/hardcore techno), DÆMON (experimental hip-hop), and Meth Math (spaced out, pioneering reggeton). Alice Glass's aggro, often alarming, solo direction seen on "Nightmares" proves an inspired choice for opening the label's anniversary album.
Glass's self-titled EP, released in 2017, was her first output since departing Crystal Castles in 2014 and set the tenor for her solo work. The EP was a haunting collection of electronic music that straddled the line between witch house and avant-garde, with songs like "Forgiveness" being the lighter fare your parents won't disown you for, and "Natural Selection" taking the dive into a deeply jarring experimentalism. Screams, not merely shouts, of "Maybe it's safer when you're in the dark/Get the fuck off of me/Get the fuck out of me" and their traumatic imagery of abuse punctuate the sub-bass thrumming that seems to follow no rhythm. With this EP, Glass proved to listeners beyond reasonable doubt that she was the creative engine behind Crystal Castles.
"Nightmares" takes Glass's solo heading and amplifies it, toys with it, with production chops courtesy of Jupiter Keyes perhaps negotiating some of Glass's rawer instincts. The complete arrhythmia of some of her EP's work fades in favor of a highly varied syncopation. Occasionally, such as during Glass's verses of "TAKE IT AWAY FROM ME" [sic], the rhythm locks into place and we experience a milder Alice Glass. Glass's voice plummets from her high pitched, tone-altered shouts to grounded, expressive lyrics here, and the stabbing synth of earlier in the song giving way to a milder frothing atmosphere. "Nightmares" more or less shifts between these two states as Glass delivers her lyrics with wild tonal variation that fits her song architecture extremely well.
Lyrically, "Nightmares" isn't quite as traumatic as "Natural Selection" and its guttural, terrifying imagery, but may be an emboldened spiritual cousin to the song. Trauma fuels them both, but "Nightmares" posits an agency that "Natural Selection" lacks. Where the latter focuses on fatalistic silhouettes of abuse, "Nightmares" acknowledges them before definitely saying,
IF THIS WAS EVER A PART OF ME
THEN I'LL RIP IT OUT
YOU'RE NOT A PART OF ME
CAUSE I DON'T WANT IT.
This shift defines the song lyrically and musically – the lyrics hold a macabre hope and the musical palette softens as Glass delivers them, as if in response. Familiar themes of broken trust punctuate the track, here mingled with a grisly and just vindictiveness:
TELL ME THOSE LIES AGAIN
CAN'T BELIEVE I TRUSTED IN YOU
WE CAN TAKE OUT THEIR TEETH
THEY WILL NEVER SMILE AGAIN
"Nightmares" channels Glass's experiences into an inspired opener for Sermon 4. It isn't for everyone, but neither should it be – "Nightmares" is pure experimentalism, from the brilliantly textured instrumentals and singing to the macabre triumph of negotiating trauma through haunting music. Alice Glass is, indeed, the dark queen.
— —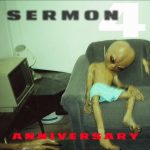 ? © Sermon 3 Recordings
:: Stream Alice Glass ::