A melting pot of style and sound comes to life in Ace Hashimoto's long-awaited debut album 'Play.Make.Believe', a trailblazing 21st century R&B record whose fresh beats, fun vibes, soulful sincerity, and poetic honesty make for an endlessly enthralling musical adventure and a standout introduction.
Stream: "4EVERYTHING" – Ace Hashimoto
---
I love making odd  music work on the mainstream level. No matter how weird or left my records might sound, there's always a pop or cinematic appeal to them.
A good time guaranteed for all, Ace Hashimoto's debut album is a cinematic, intimate long-form journey: A record you can play in snippets and soundbites, but one that is meant to be experienced in its dazzling, dynamic entirety. A melting pot of style and sound comes to life in Play.Make.Believe, a trailblazing 21st century R&B album whose fresh beats, fun vibes, soulful sincerity, and poetic honesty make for an endlessly enthralling musical adventure – not to mention a standout years-in-the-making debut.
It don't take years to find
That old fashioned kinda love
I doubt that we're defined by dotted lines
There's no fear in mind
Just the thought of you is all I do
And we're divine
My kinda life
Forever in the songs I sing
Wherever you may go I'll be
Whenever you feel lost I'll lead
In my happily ever after
You are my everything
– "4EVERYTHING," Ace Hashimoto
Released May 21, 2021 via French label Nothing But Net (co-owned by French music producer Onra), Play​.​Make​.​Believe. is an exciting studio album-sized window into the multifaceted, expressive, genre-blending world of Ace Hashimoto, the artist moniker for Chicago-bred singer, songwriter, rapper, and producer Brandun DeShay. Already actively producing music for Mac Miller, Chance the Rapper, Action Bronson, and SZA (among many others) as brandUn DeShay, it wasn't until DeShay moved to Tokyo in 2017 – to "hone his songwriting and singing capabilities" and work with Miya Terrace, a subset of renowned Japanese music label, Toys Factory – that the Ace Hashimoto nom de plume was "born." During his time in Japan, DeShay wrote for EXILE SHOKICHI and CrazyBoy (Elly of J-Soul Brothers), two of the country's biggest acts – while also soaking in the culture and further developing his own distinctive voice.
For the artist, Ace Hashimoto is the manifestation of his unique influences and inspirations, interests and passions, all distilled down together and synthesized in song.
"Know that I am a student of Pharrell and The Neptunes, Yasutaka Nakata, and all the guys who made major seventh chord progressions into hit records," he tells Atwood Magazine. "I love making odd  music work on the mainstream level. No matter how weird or left my records might sound, there's always a pop or cinematic appeal to them."
Hashimoto's album came together upon his return to the States in 2019. "I actually finished writing, producing and recording this album in about three months," he says. "After mixing and mastering – it's been done since August 2019, but due to COVID and other complications, it didn't release until two years later. The fact that people are enjoying it so much, despite it being two years old, proves it has some strong shelf life."
Early singles like 2017's "TRAK STAR," 2018's "4EVERYTHING," and 2019's "2NITE" all hinted at Hashimoto's diverse background – one that encompasses jazz, R&B, hip-hop, and pop, video games and video game soundtracks, and much more. "I'm unapologetically a Pharrell stan, a video game head, and a '90s kid," he smiles. "My music is jazz influenced, but it's still pop songwriting. I'm also someone with a huge respect for Japanese culture." These songs are not so much a product of their place and time, as they are an outpouring of creativity from a multicultural creative working apart from, and yet intrinsically alongside the mainstream; as such, these tracks sound as refreshingly distinctive today as they did upon their initial releases – and they remain album highlights to this day.
---
But they are just individual parts of Play.Make.Believe's greater whole; a many-sided record with noticeable ebbs and flows, highs and lows, it's a body of work that, in many ways, tracks Ace Hashimoto's (and in turn, Brandun DeShay's) coming-of-age: Moments of self-discovery and self-expression play out as he explores his love life, his professional ambitions, hopes and fears, and future goals.
"It's the process of becoming a professional at something," Hashimoto says of his album title. "First you "PLAY" around with it, then you "MAKE" goals for yourself when starting to get serious, and you "BELIEVE"  in its potential and how big this could be: Acclaim, legend, fans, stuff like that."
"The way everyone heard is ALMOST exactly how i imagined it," he adds. "I had a song I recorded with Thundercat that released as a single, but I couldn't get it on the album due to label stuff. That was the original intro to the album but other than that, it's pretty much exactly the same. I actually plotted the vibes of each track I wanted on the album, before they were even written or recorded. What I do is make a playlist of songs I like by different artists and organize them into the 'greatest album ever', then try to write/produce a song that sounds hella similar to those songs in the playlist. Now you know my secret!" he laughs.
---
From start to finish, Play.Make.Believe. feels uninhibited and limitless, showcasing the artist's Japanese influence, 2000s nostalgia, and (if you listen closely), his love of the horror genre. Sundry collaborations – which include Korean American rapper pH-1 (of Jay Park's H1GHRMUSIC), Kero One, Ta-Ra, Devin Morrison, Sir Michael Rocks, and many more – bring out the best of all involved in each track, but often it's the little things that help Hashimoto's art truly shine. The deep grooves and emotive vocals that coalesce in "GIRLS" makes it an easy and memorable favorite, not to mention an obvious choice to start the record. Songs like "O.M.W. (One Man Woman)" and "Affection" resonate with unadulterated depth. Further on, the unfiltered, heart-on-sleeve vulnerability in "Nice to Know You" proves a special moment of truth:
Dreams do come true, you taught me that
Was real nice to know you, know you
Hope's things might change is what brought me back
But still, nice to know you, know you
Why do I return, knowing our love is no more?
I left you to open new doors and somehow I ended up back to yours
Feeling lost and I admit that
You too and now we trying to get back
Whole year and I still ain't passed the whole thing
Trying to find a new match for that old flame
I found something new, but wouldn't you know it?
That ended too
I'mma be stuck in an endless loop
No more memories of you & I, it's through
---
Favorites abound for Hashimoto, but some songs understandably stand out from the pack. "I love my duet with myself on 'O.M.W.,'" he says (the song finds him singing in both low and high registers). "I'm also a huge Prince fan, and that was my attempt at creating my own 'Camille' persona. I want to do more songs like that. I'm always fucking around with pitch bending vocals, 'cause I think I sound cool AF when I do it!"
Meanwhile, Hashimoto cites his song with French artist Ta-Ra, "Bad Habits," as one of his favorite lyrical moments. "While writing 'Bad Habits' at Red Bull Studios in Tokyo, I was freestyling lyrics on the piano and my favorite line flowed out of me impromtu. 'Only thing I ever missed about California was You & the In N Out.' Truer words have never been spoken."
Finally… who would have thought
Tried it, tired, been through with it all
Life without you, like night & day
Now there's nostalgia like a tidal wave
Try to wait and feel it out
Strung off your love, I'm dependent now
Only thing I ever missed about California was you and the In N' Out
I cannot feel like I'm winning now
Things I can't say, I just pen them down
Keep the faith that'll treat you like you should
Think bout' how you treated me so good it was tragic
Let you disappear right out my life like it's magic
You gave me the key, I took your heart and I crashed it
So sad that, you're so sure
But I'm not bad, I just got some bad habits, bad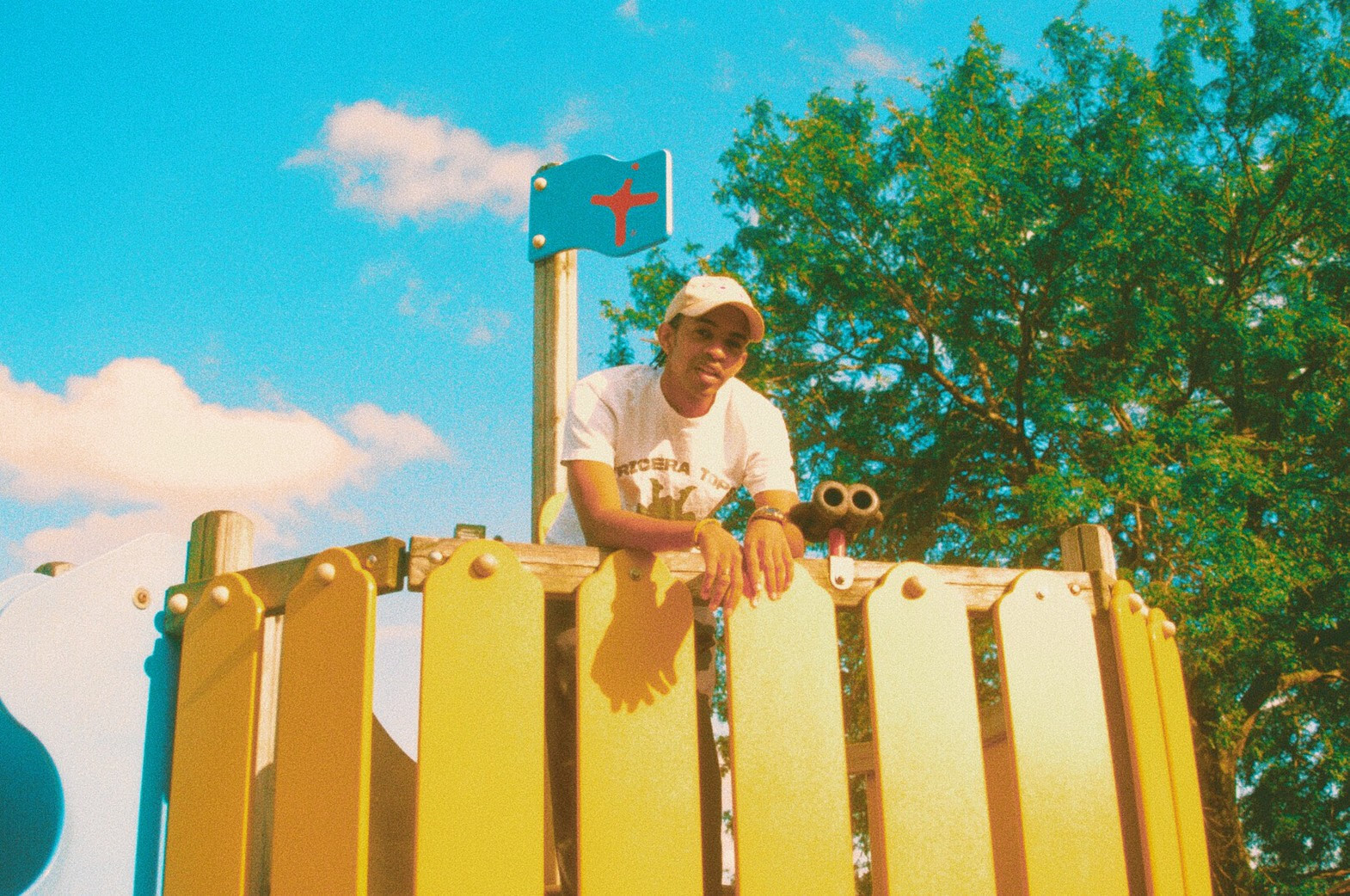 While Hashimoto admits this might be his first and last full-length album, Play.Make.Believe. is utterly enchanting.
From intimate serenades like "2NITE" and "4EVERYTHING," to rawer, sweetly introspective tunes like "Great Indoors" and the sprightly "I FEEL FLY," to the poignant memorial "Etika's Interlude" and beyond, Play.Make.Believe. definitively introduces us to the fusion stylings of an artist who creates without expectations or inhibitions; one who loves The Neptunes, and is determined to channel the spirit of '90s R&B into the 2020s with his own spark and flare.
"I hope [listeners] take away at least one song that makes them want to add me on Instagram or Youtube," Hashimoto shares. "Something that makes them want to dig deeper into the Ace Hashimoto fandom. For myself, I've learned that I don't ever want to make another album ever again!" he laughs. "I'll keep the singles coming and maybe some meme songs. I'm constantly active on Patreon with rough demos and stuff like that. I guess I also hope this album helps me make a lot of friends and fans."
Experience the full record via the below stream, and peek inside Ace Hashimoto's Play.Make.Believe. with Atwood Magazine as the artist goes track-by-track through his debut album!
— —
Stream: 'Play.Make.Believe.' – Ace Hashimoto
:: Inside Play.Make.Believe. ::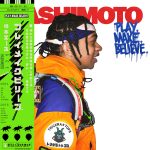 — —
01. Zombie *The Entrail-duction
this record was inspired by video game menu music i enjoyed as a kid. i hope someday i can create an OST for some dope video game.
02. Girls
the producer, lophiile, really blessed me with this beat. i sat on it for like 2 years until the words finally came to me. its a perfect late twenty-something bop.
03. O.M.W. *One Man Woman
i'm looking forward to doing more songs in the pitched up voice. i feel like i've gotten so much better at it since this was recorded to.
04. 2nite
it's crazy how people hear this and think it's a perfect Pharrell/Neptunes clone record, because the original version of this was REALLY a clone. it had all Neptunes drums and sounds only.
05. Trak Star
this was my best N*E*R*D impression and i'm very proud of it. if Pharrell ever hears it someday, i think he'll let me ghost-produce for him.
06. Great Indoors
another Neptunes-eque bop but i was more-so inspired by the latest N*E*R*D album. theres a really cool Neptunes easter egg in it too.
07. Bad Habits
this was the final record we recorded in France. thanks to Ta-Ra, it came out cooler than i could have imagined. i actually have french on my album now.
08. Affection
this is the oldest song on the album. it was written in 2013 and finally recorded in 2019. just goes to show, you should never throw a song away.
09. 4everything
this needs to be Billboard Hot 100. i don't know how, but it's gotta happen. i will never give up on this song. it's my favorite song i ever wrote.
10. Nice To Know You
this was my least favorite on the album and now it's becoming my most favorite. crazy how things work out. i think it just needed to grow on me subconsciously, i knew that.
11. Etika's Interlude
Such a sad ending to one of my favorite Youtubers' life. I'm glad I was able to write a memorial song that touched all the others in the fandom. R.I.P Etika.
12. I Feel Fly
This was made to impress Leon Sylver of The Sylvers. I added him as a friend on Facebook and he replied to my message once. I hope he sees the one with this song in it.
13. Ending Theme
I miss japan whenever I play this outro. I miss Japan even when I don't play this outro! I just miss Japan.
— —
— — — —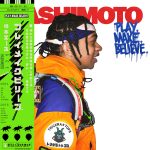 ? © 2021
:: Stream Ace Hashimoto ::
---