An intimate outpouring of catchy, emotionally charged indie rock, 'Open the Door' lays a dynamic foundation as VEPS break out of Norway and onto the world's stage with their radiant debut EP.
Stream: "Ecstasy" – VEPS
---
Raw and rollicking, overdriven and understated, VEPS' debut EP does exactly what the best debut EP should do: It introduces a vibrant new artistry, sets a high bar, and makes room for growth in all directions – leaving listeners excited and hungry for more, as we get lost in this record's tunes time and again. An intimate outpouring of catchy, emotionally charged indie rock, Open the Door lays a dynamic foundation as VEPS break out of Norway and onto the world's stage.
When you walk into the room like it's '65
I can't even shake your hand you barely look alive
Doesn't seem like you know where to go
Hmmm
When you shake your head and roll your eyes
In between the skanks and the pretty guys
Doesn't seem like she knows where to go
But if you let her know and leave
I'll tell you where you wanna go
You are to be with me
Get off that ecstasy
Released June 11, 2021 via NYC-based label Kanine Records, VEPS' debut EP is an enthralling, energizing introduction. "Open the Door is fun yet serious, just like we are," the Oslo-based band tells Atwood Magazine. "We are four different girls with four different personalities, and each one of us brings unique elements to the songs. It captures the time of our life we are in, and existentialism." Comprised of Laura Dodson (guitar/vocals), June K. Urholt (bass), Helena M. Olasveengen (keys/vocals), and Maja B. Berge (drums), VEPS debuted two years ago with the raucous garage rock upheaval "Do I Hear a Maybe?" The explosive song – which transitions between electrifying, visceral climaxes and soft, sweet, and tender verses – proved a faithful first look at a band that excels at both sides of the sonic spectrum.
At just seventeen years of age, VEPS are one of the youngest, hardest hitting acts their side of the Atlantic. "We are actually four best friends who simply just love to jam and create music together!" the group exclaim. "We all went to middle school together, and some of us even went to elementary school together. Playing in a band was our equal to playing sports or other organized activities, and we are so happy that we get to continue to play together for a long time.
We won't be on the upside of the stream
You won't believe what we've seen
I gladly tell you about everything
Then I remember it's all just a dream
Pretty lady, do I hear a maybe?
You drive me fucking crazy
But that's okay cause I'll be waiting
I have thought about every little thing
You do the dishes I'll dry them clean
When it gets cold I will tuck you in
Then I remember it's still just a dream
– "Do I Hear a Maybe?," VEPS
Already honing their craft for years, VEPS' EP is a true first look – a thrilling taste of who they are, how they sound, and what's to come. It's also one of those happy, slightly unintentional accidents that come from gaining local and online traction in the 21st Century.
"The EP consists of six of our very first songs," they explain. "We wrote them over an almost three year period, and the songs takes a lot inspiration from our daily lives! In a way, you could call this the essence and core of our band! We recorded it in September of 2020 in a basement studio in Oslo over a weekend, and were exhausted by the end of it!"
"We started off with releasing "Do I Hear a Maybe?" in August 2019, and then "Funny Things" in August 2020," the band note of their process. "Some of our friends said that they wanted us to start releasing music more frequently, and that they actually enjoyed listening to us. So we did just that! We booked a studio at Trikkehallen in Oslo and together with some really talented people our EP was born. We wanted it to sound like VEPS – like we sound at practice. We wanted every little detail that we put so much time in making to be on the tracks, and in our minds it sounds perfect. Our vision for the EP never changed, but we learned a lot during the process of making it, and many details and new twists made their way into the songs! We planned for the EP to be released on our own label like we had our first two singles, but when it got picked up by other people and when the ball started rolling for us it suddenly became a much bigger project than we expected it to be."
They go on to add that the EP title itself is a lyric from their song, "Oliver" – a mid-album standout that captures the depths of vulnerability and intimacy they can reach, both sonically and lyrically.
"We decided to name our EP after it, as it implies opening the door for new possibilities," VEPS say. "This EP is our 'baby bird out of the nest,' and hopefully it will lead to bigger opportunities."
As it turns out, that track is also one of their collective favorites. "Everyone in the band loves playing "Oliver"! It's one of the songs with the most different elements, and it has a different part for everyone to like! It's also one of the first songs we ever played together as a band, although we had some completely different lyrics and made a lot of changes. It used to be named 'Paper bag'!"
---
While "Oliver" is certainly one of the record's high points, there is much to love throughout Open the Door's 21-minute run – from the raw unburdening of opener "Girl on TV" to the dynamic, driving beats and fiery chants of "Ecstasy," to the mesmerizing and immersive guitars and emphatic vocal performance on closer "Colorblind," and beyond. Music aside, each of the band members also has her own favorite lyrics:
Laura: "She's lonely so she never shuts the door"
June: "Your face is green, don't pretend that you know what I mean"
Maja: "Your hands on my neck, made me feel small"
Helena: "If you could see yourself through me, you'd be waking up by me tomorrow"
VEPS say their inspirations include '90s indie bands and classic pop hooks, but what they've created is a sheer indie rock / pop aesthetic ready for the roaring '20s.
"We hope that our listeners catch on to the idea of things changing," VEPS share. "Our EP is about growing up, learning, losing, loving, hating, regretting, forgiving, and changing. We hope that people open up to seeing the two (or more) sides of things, and allowing them to be present in their lives. At least, that's one of the things we find important and learned from releasing the EP. Another thing we learned from the release was that it's impossible to please everyone. Some people will like you, some won't, and that's okay."
Sweet and savage, youthful and sage, stirring and unapologetic, VEPS' first offering is an exhilarating listen. Experience the full record via the below stream, and peek inside VEPS' Open The Door EP with Atwood Magazine as the band goes track-by-track through the music and lyrics of their debut release!
Open The Door is out now via Kanine Records.
— —
Stream: 'Open The Door' – VEPS
:: Inside Open The Door ::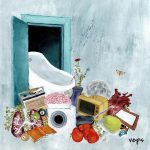 — —
Girl On TV
This song is one of our first attempts at writing in third person. It's more like a story with a narrative than any other of our songs. Ultimately it's about being young, and maybe more specifically, being lonely and comparing your life to others.
Do I Hear A Maybe?
This is a love song! But not a soppy one. It's one of our favorites to play live. It's about desperation and idealization, and we feel that it shows every aspect of getting feelings for someone while not knowing how they feel about you. The choruses are loud, while the lyrics are more vulnerable and rooted in the reality of the situation.
Ecstasy
This song is about a guy who's afraid of commitment. A guy who'd rather waste his time on self validation through hooking up with numerous people, rather than exploring his true feelings with a special person. The ambiguity of the word "ecstasy" and all of its connotations summed up perfectly what we are trying to say in the song.
Oliver
Oliver is a breakup song, about the dumped person trying to understand why this happened and desperately trying to figure out who the person that broke their heart actually is. The chords and melody is actually the first song we ever wrote together, when we were 14. The lyrics have obviously changed since then!
Funny Things
This is a very nostalgic song about the first time you truly fall in love. It's maybe our most refined and "mature" song, musically. This might have been a subconscious decision, as it's thematically about the first real "grown up" feeling of love towards someone.
Colorblind
This is the odd one out of all the songs on the EP. Here the verses are cheerful, bouncy and fast. While the chorus is more slow and mournful. It's about a person who really lacks self awareness, and that doesn't really see how they have colored another human being's existence. Hence the line "You colored my life. You're colorblind."
— —
— — — —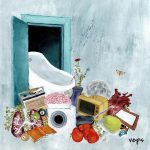 ? © Jenny F. Lunde
:: Stream VEPS ::
---