A euphoric and dynamic outpouring of passion, Geographer's "Alibi" captures the wonder of love with exhilarating energy and radiant emotion.
Stream: "Alibi" – Geographer
---
The good love is hard to come by, but when you do find it, you hold it close – in fact, you hold onto it for dear life, because nothing compares to that special, heartfelt connection of the mind, body, and soul. A euphoric and dynamic outpouring of passion, Geographer's "Alibi" captures the wonder of love with exhilarating energy and radiant emotion: It's a sweet, charged indie pop expression from the depths of the self; a celebration of understanding, empathy, togetherness, and devotion.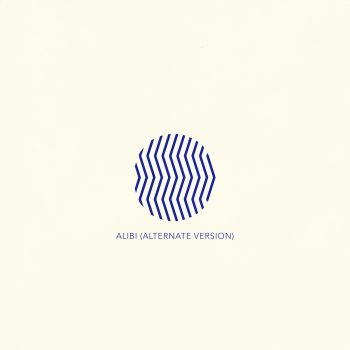 We got a love so easy
Like water flowing over stones
We'll be each other's company
Until we both get old
Some days can be harder
But we find a way to keep
Our eye on the forest
And forget about the trees
Atwood Magazine is proud to be premiering the single and Katia Baladian-directed music video for "Alibi (Alternate Version)," the latest single taken off Geographer's forthcoming new album, Down and Out in the Garden of Earthly Delights (out November 12, 2021 via Nettwerk Music Group). The longtime project/musical moniker for Mike Deni, Los Angeles-based Geographer has been going strong for well over a decade. What began as a thorough exploration into the space between psychedelia and pop (2010's Animal Shapes remains something of a "cult" classic in many circles) has grown, over the years, into a finessed vessel of deep and moving self-expression. "Geographer is one of those exciting musical identities that is constantly on the move and forever redefining itself," we wrote back in 2019.
2018's Alone Time and 2019's New Jersey EP most recently showcased Deni's uncanny ability to seamlessly marry the catchy with the cathartic into a memorable, enchanting experience. The same may surely be said of Down and Out in the Garden of Earthly Delights, whose recent singles (including "Never Let You Down," "Hollow (Do You?)," and "Waiting for a Stranger") find the artist dwelling in the evocative depths of self-reflection while basking in a cinematic backdrop of indie pop sound. Synths and guitars seem to share center stage – or at least, split time in the spotlight – as Geographer's music incorporates moody atmospherics and a blend of groovy and rocky riffs.
"Alibi (Alternate Version)" is a re-recorded, altered version of Geographer's 2020 single of the same name. A bit freer spatially, and with more dynamic contrast between the verses and choruses, this version – and certainly its accompanying music video – highlights Geographer's massive talent in an indisputable moment of anthemic revelry. He sings a soaring earworm chorus full of spirited warmth and irresistible charm:
If I ever lose my mind
Do something I can't deny
Would you be my alibi
And say you were by my side
You were with me last night
As meaningful as the song itself is, the music video holds a near and dear place in Mike Deni's heart.
"This video is very, very special to me because my girlfriend, Monica Reyes, produced, styled, and starred in it, and it's a uniquely fulfilling experience to be able to collaborate with someone you love; I've never had that before," Deni tells Atwood Magazine. "Her friend Katia Baladian directed it, and really built a world around the extremely simple original concept, which was basically just driving a convertible in the desert. There are a lot of fun details in the video that I think you'll need a few watches to get, and it all feels very cinematic to me, which gives me a lot of satisfaction."
"The video was top to bottom a family affair," he explains. "My friend Sean Van Vleet is the other actor in the video. He and I met on tour in 2015 when he was opening for us with his old band before he started Blame My Youth. When it came time to cast the male supporting part, I asked and he immediately said yes, much to my surprise. I think he may have regretted his decision when he checked into his Airbnb in the Mojave Desert, and it looked like a room out of Texas Chainsaw Massacre. My manager is the stunt driver, he's driving my minivan, which had the incredibly dedicated camera operators strapped in with the door open, the director communicating with me on a walkie-talkie about my speed, whether we had to pull over, and the whole time I'm pretending to be in this chill moment with my friends in a convertible vibing out and lip syncing."
"I think the hardest part for everybody was the heat. I just felt like my brain was in a frying pan, it was so unrelenting. Thankfully (and I'm sure Katia did this on purpose to take mercy on me) when I did my dance performances — which were basically running the song on full energy over and over again — the sun had crested those beautiful and alien cliffs, so I had a little bit of shade. On the second location there were a bunch of kids from I suppose the nearest town, who saw me with a film crew and a snazzy outfit lip-syncing and they yelled, 'are you famous?' across the canyon. Without getting into the details I said, "…sort of." And that was good enough for them to take a selfie with me, even though none of them had ever heard my music."
Remember when I met you
You used to say I was insane
But you can't ride wild horses
if they aren't already tame
Not everybody is a fire
Just waiting for the flame
Does that make me a liar
If I keep the fire at bay
If I ever lose my mind
Do something I can't deny
Would you be my alibi
And say you were by my side
You were with me that night
There's nothing quite as freeing, nor as inspiring, as finding the person who fits your puzzle piece, and for whom you fit theirs. "Alibi" revels in that euphoria, celebrating the experience of tackling the world together – with someone at your side, just as you are at theirs. It's a song of kinship and appreciation, of support and recognition, of familiarity and humility. Love doesn't come to all of us, and we'll be lucky if it sticks around – so if you've got it, hold it tight. "Alibi" reminds us to cherish and celebrate the love in our lives, for now for always.
Watch Geographer's new music video below, and watch as that freedom and wonder come to life not only in sound, but also in film – exclusively on Atwood Magazine!
Tell 'em they must have the wrong guy
I got home at half past five
We been sitting by the TV light
Watching CSI
If I ever lose my mind
Do something I can't deny
Would you be my alibi
And say you were by my side
You were with me last night
— —
Stream: "Alibi" – Geographer
— — — —
? © Monica Reyes
:: Stream Geographer ::
---