Building on the momentum of their hit single "Trampoline," DC-area trio SHAED have devoted their 2021 to releasing more music – including their debut album, 'High Dive' – and showing the LGBTQ+ community even more love. 
Stream: 'High Dive' – SHAED
---
We mostly all have memories of whistling gleefully along to the song "Trampoline" throughout the summer of 2018. But just what is the band behind that devilishly infectious number up to now, three years later?
I've been havin' dreams
Jumpin' on a trampoline
Flippin' in the air
I never land, just float there
As I'm looking up
Suddenly the sky erupts
Flames alight the trees
Spread to fallin' leaves
Now they're right upon me
Wait if I'm on fire
How am I so deep in love?
When I dream of dying
I never feel so loved
SHAED, a pop trio consisting of lead vocalist Chelsea Lee and multi-instrumentalists Max and Spencer Ernst, have stayed plenty true to their craft as their breakthrough hit has aged. This past year, they've demonstrated their musical ingenuity by releasing their debut studio album, High Dive, featuring an updated version of "Trampoline" with a new beat by ZAYN.
In terms of humanitarianism, the group has also done its part by launching The Colorful Campaign, a project done in partnership with several LGBTQ+ alliances across Washington. "Colorful," one of their new tracks from High Dive, was released as a promotional single this past June, and the funds it generated were donated directly to its namesake campaign.
Max Ernst – who joins his brother Spencer in providing SHAED with keyboards, drums, guitars, and background vocals, while Chelsea sings the lead – shares his band's experiences in navigating the Washington, DC area's musical and activist scene. He also describes the new horizons SHAED is hoping to pursue by means of their latest projects.
A CONVERSATION WITH SHAED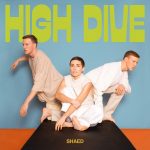 Most fans know you through your popular single, ''Trampoline.'' In what ways does that song introduce SHAED, and how does your new album High Dive allow fans to be even better acquainted with the band?
SHAED: "Trampoline" introduces the uncommon band dynamic that we have. Our band is made up of myself, my twin brother, and my twin brother's wife— my best friend, Chelsea. We wrote and recorded the song in our living room in a tiny rental house in the town we grew up in— Silver Spring Maryland— without any clue that it would completely change our lives and find the ears of millions of people all over the world.
We've known Chelsea for 14 years, but we've never had the opportunity to create a full album together until High Dive. This album allowed us to really tell the full story of what we were going through during the pandemic, and also to explore pivotal moments in our past that led us to pursuing our passion together.
You recorded a debut album, then scrapped it all and started anew. How does the final version of the album compare with how the original would have sounded like?
SHAED: High Dive sounds nothing like the album we scrapped. That other album felt really disconnected – like a bunch of puzzle pieces that didn't fit. We recorded it during the two years that we were constantly on the road touring "Trampoline." It was impossible to get into a writing groove, because there was this constant pressure to write without having the time and space necessary to do so.
The silver lining of the pandemic was that, for the first time ever, we were able to spend a full year writing songs that we knew would make up our debut album.
You describe this as "the most honest music you've ever recorded." What makes it so?
SHAED: It's the most honest because we made it during one of the most difficult times in our lives, as it was for so many people. The pandemic took all of the wind out of our sales. Right before we went into lockdown, we were a week away from a European tour and an Australian/Japan tour. Everything was canceled, and our lease was up on our rental house. So, our living situation was uncertain, which piled on to all the anxiety we were already feeling.
Chelsea and Spencer moved in with her parents, and I moved into DC. We knew that the best use of our time was to write, but our minds were always drifting to dark places. A turning point happened when we leaned into all the emotions we were feeling at the time and wrote about them instead of trying to ignore them. That process became like therapy for us and really helped us get through that difficult time together.
How did you first get involved with The Colorful Campaign? How does it provide you with a platform for combining activism and music?
SHAED: "Colorful" is a song off of High Dive that was written to inspire and encourage people in the LGBTQ+ community to embrace and celebrate who they are. Ten years ago, I came out as gay to my bandmates Spencer and Chelsea. I really struggled for a long time to embrace who I was, but their immediate love and support was invaluable, especially since they were the first two people with whom I ever shared that. We teamed up with the Capital Pride Alliance— the largest LGBTQ+ advocacy group in our hometown, Washington DC— to launch The Colorful Campaign, which raises money for people in the LGBTQ+ community through remixes of the song and through partnerships with local businesses selling specialized products that contribute funds directly to the campaign. We also made a music video that shows how diverse, courageous and beautiful the LGBTQ+ community is in DC. The video, remixes, and ways to get involved are all on colorfulcampaign.com.
Talk about your two new remixes. What are some key ways in which they spice up the originals?
SHAED: Kat Cunning has such a rich, powerful, whimsical voice that brought a whole new life to the original version. They rewrote their verse reflecting on their own journey as a queer person embracing their non-binary / trans masculine identity. Chelsea discovered Rich music on TikTok after stumbling upon his incredible a cappella version of a James Blake song. When we learned he was gay, we reached out; a week later, he sent back a Dropbox folder with a ton of new vocal layers and harmonies that inspired a whole new version of "Colorful."
As DC-area natives, are there any venues in the area where you have really enjoyed performing or are looking forward to performing at now that stuff is reopening?
SHAED: The 9:30 Club in DC is our favorite venue in the country. It's where my twin brother and I met Chelsea for the first time in 2007. It was always a dream of ours to headline that venue someday and we were able to do so before the pandemic, which was our favorite show to date and a night we'll always remember. We can't wait to play there again.
As an act that's been together since high school, how do you maintain the spirit of your early days as you continue to make music together as adults?
SHAED: Even though we've all known each other since high school, we were best friends for five years before we ever played in a band together. We spent countless hours driving around in our old cop car with Chelsea sitting up front in between us going to the mall, going to diners, and just goofing around. Twelve years later, and we still just love being around each other. I don't think that will ever die.
Anything you'd like to add?
SHAED: Please check out colorfulcampaign.com! 🙂
— — — —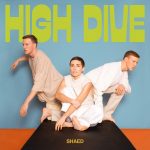 ? © Jared Zagha
:: Stream SHAED ::
---