"Don't Leave" begins softly and unassumingly. Only MØ's lulled, conversational vocals are to be heard; a seemingly honest confession, almost remorseful in nature. The glaze of her familiar and entirely distinct voice is accompanied by a stretch of muted sound.
You know me
Now and then, I'm a mess
Please don't hold that against me
I'm a girl with a temper and heat
I know I can be crazy
Watch: "Don't Leave" – Snakehips & MØ
[youtube=https://youtu.be/_6lzFl2XUeM?t=0s]
---
The gears slowly change and force comes in heavy, accompanied by a subdued, unimposing beat. It's not the music here that arrests attention so much so as the sharp lyrics that do; their intensity is enhanced by the soft beat, a clear reversal of the conventional arrangement, where a beat's usual and sole purpose is to augment, to increase, to emphasize. MØ's tone also shifts, changing from repentant and demure to empowered and unapologetic, perhaps best captured at the very beginning of the pre-chorus where she sings, I'm not just a fuck-up, I'm the fuck-up you need.
There's a pause for breath, almost if to make the listener hyper-aware of something that's coming and within seconds, there it is – the dramatic chorus, set off by MØ's emotive plea of don't leave, placed within a violin's hurried melodies screeching in the background as if to reflect the desperation and the ache that will become the cornerstones of the song itself.
She pleads for a suspension of thought, for an overruling of feeling, singing shut your mind off and let your heart breathe, mirroring the common idea that rationality has no place in love, that what is felt must only be felt and can only be felt when one relinquishes some measure of control, when one surrenders entirely and allows oneself to just experience things.
I may not ever get my shit together, but ain't nobody gonna love you better is both a taunt and a confession, where she admits that she may never stop being a mess, may never stop being difficult and yet, what they have is completely unique, completely essential and no one will offer the same experience, the same mess, the same love.
Almost as if it were a fact, MØ's taunt delves into the idea of love being intense, cataclysmic and most importantly, unforgettable. This is further compounded in the lyric what we have here is irreplaceable, once more adding to the point that nothing will ever amount or compare to this, that anything besides their love, will be illusory, sub-par, average.
While it certainly highlights her dependance on what they have, it is also an offhand gibe, a reminder that nobody will ever give what she has given, that this will never happen again.
The second verse switches back to her earlier repentance, the lyrics containing a quiet apology for making things difficult – it almost seems as if she is alternates between a willful and empowered belief in both herself and the love that they share, and a nervous feeling of self-reproach which pushes her towards constant apology and guilt.
Beneath these polar opposites lies a darker undertone, bruised in hurt and harm, an affirmation of our belief in the idea that pain is often synonymous with love. "Don't Leave" dives headfirst into many complexities and carries more substance than one would realize.
Sitting in the living room
You look at me, I stare at you
I see the doubt, I see the love
I have and it is all for you
Let me wrap myself around you, baby
Let me tell you you are everything, you are
Losing my words, I don't know where to start
The bridge returns to the soft, unassuming nature of the intro, the music suspended as MØ's comforting voice emerges, making promises and admitting her inarticulation, her loss of words, her inability to find where to start, as if she were overwhelmed.
But baby, don't leave me
Shut your mind off and let your heart hear me
I won't trade this for nothing
I may not ever get my shit together
But ain't nobody gonna love you better
The last chorus is preceded by a slow buildup that intensifies as if approaching a height, a pinnacle and then there's a fall, hurtling back into the passionate, needy and familiar plea of don't leave. The ending chorus turns into a rushing amalgamation of both emotion and music, MØ's voice layered with the violins and reverb, set against the unimposing beat, growing into something fuller, something more concrete.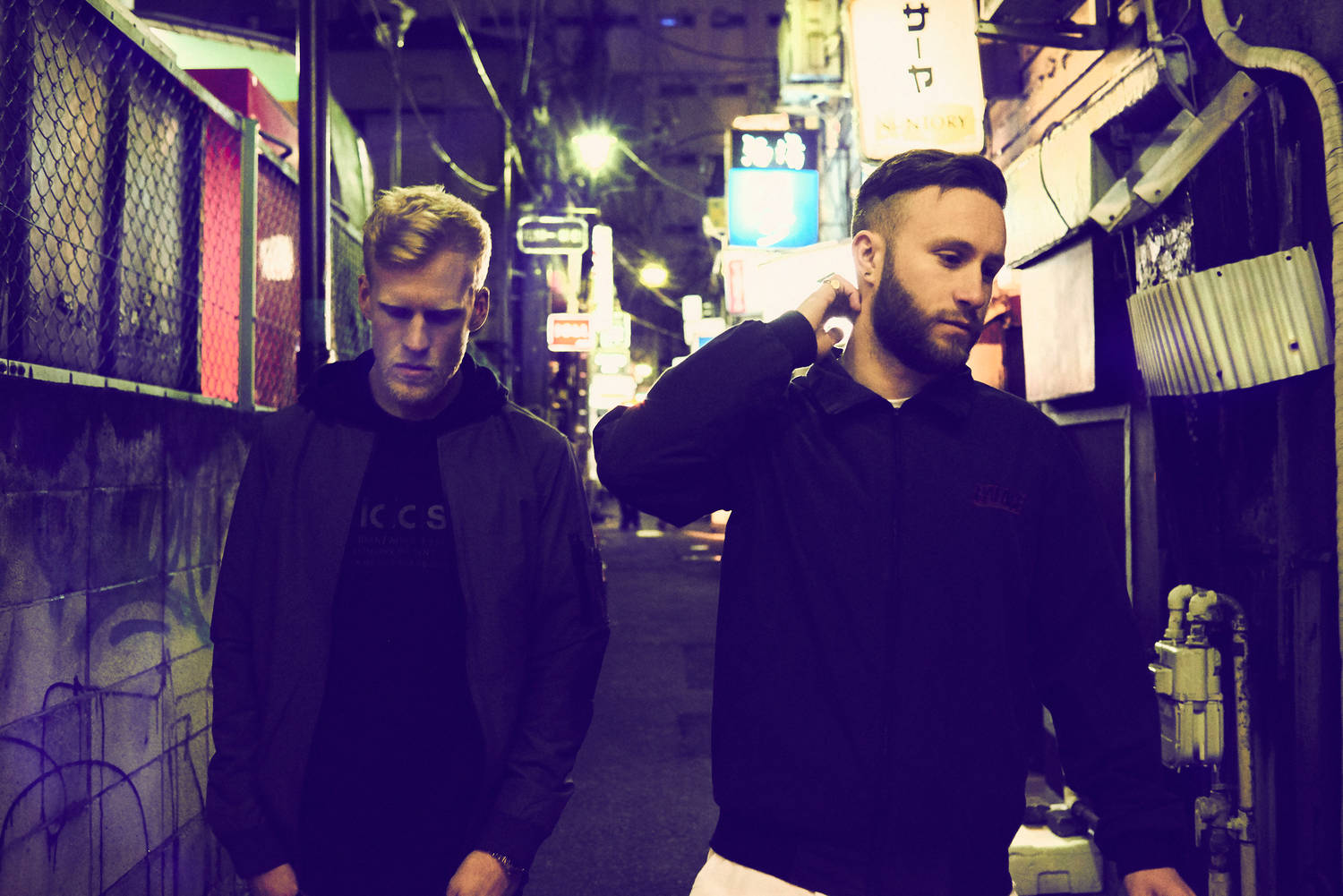 Perhaps "Don't Leave" is a song that explores the acceptance of faults and flaws, of hurt and suffering for the greater gain that is love itself. Perhaps it can be seen as the depiction of a toxic relationship where dependence on one another is so high that parting seems to become ruinous and impossible, almost as if it were a dire threat to both, pertinently similar to Eminem and Rihanna's "Love the Way You Lie."
Or perhaps, it is a commentary on modern love that is increasingly plagued by one too many problems, that is rooted in both faith and fickleness, that struggles and survives, that deals in dependence and difficulty, that obsesses and disappoints, that is far more complex that anyone would like to admit. Whatever ideas and notions it may be tackling, Snakehips & MØ's "Don't Leave" (RCA Records) provides us with plenty of feelings – some familiar, some foreign, and moves us both physically and emotionally, leaving us desperately torn between dancing or crying.
— — — —
cover: Snakehips & MØ (source: Instagram)
:: Watch: "Don't Leave" – Snakehips & MØ ::
[youtube=https://youtu.be/_6lzFl2XUeM?t=0s]