A true standout for 2020, altopalo's sophomore album 'farawayfromeveryoneyouknow' is cinematic intimacy dressed in sheer, raw, soulful garb: Expressive and exposed, majestic and moving, it's a transportive record ready to bring us on a journey through a compelling alternative reality.
for fans of Glass Animals, Bon Iver, Portugal. The Man
•• •• •• ••
We promise you this: altopalo are unlike any other band you've heard this year.
The Brooklyn-based experimental four-piece threw caution to the winds on their sophomore album, delving deeper into themselves while allowing their music to come organically and flow naturally. A true standout from everything we've heard over the first half of 2020, farawayfromeveryoneyouknow is cinematic intimacy dressed in sheer, raw, soulful garb: Expressive and exposed, majestic and moving, it's a transportive record ready to bring us on a journey through a compelling alternative reality that, if we take a closer look, is really just another frame for the world we're already living in.
'farawayfromeveryoneyouknow' – altopalo
---
Some will be hypnotized; some will be shaken awake; it affects us all differently, but not a soul comes away from farawayfromeveryoneyouknow unburnt or unscathed. Independently released April 24, altopalo's sophomore album invites listeners to contemplate purpose, place, and our own agency: The power we have over our world, versus the power it has over us.
The musical project of Rahm Silverglade, Mike Haldeman, Dillon Treacy, and Jesse Bielenberg, first introduced themselves in early 2018; its members have played with the likes of Moses Sumney to Amber Mark, Kevin Garrett, and more – and it was on 2018's debut album frozenthere that the band proved themselves a truly exceptional entity. Their chemistry has only grown stronger and more striking in the past two years, with recent songs like "honey," "nocturne," and the unconventionally breathtaking album opener "am i am" showcasing their sonic diversity, tight arrangements, and a wealth of melodic and conceptional creativity.
altopalo are a little bit of everything – rock, indie, soul, funk, electronic; they fit into all and no boxes, allowing their music, rather than any external expectations or constraints, speak for itself. In that regard, farawayfromeveryoneyouknow has the fresh zest of a debut album – despite it actually being the group's second effort, this record is just as good an introduction to altopalo as any, capturing who they are and what they're all about while giving its audience space to explore, feel, and discover.
What is it about their own music that altopalo's members themselves find so attractive? "I think to answer this question, we have to look at our individual music tastes growing up," Dillon Treacy tells Atwood Magazine. "Personally, Parliament-Funkadelic, Led Zeppelin, Prince, Outkast, and later jazz fusion were my main influences during my formative years as a musician (12-18). These artists, although different, have a through-line of complex sounds, a utilization of new technology, story-telling, and an artistry that intensely speaks to me and developed me into the musician that I am today. This can be said for the other band members, even though their formative artists are probably different with some crossover (Led Zeppelin for one), the same creative through-line of sounds and timbre can be found in all of our favorite artists growing up. That love for sonics hits us on a very visceral level whenever we create and write music."
That visceral depth refers to the hard-to-describe quality making altopalo's music not only ethereal, but also transportive: It's that unparalleled, incomparable thing that allows each song to be so identifiable, cohesive, and unique, all at once.
"We kind of have a litmus test if we know the song is "right" by "wooing." We all realized if there is a collective "woo" at a point in the session then we're hitting something that feels good to us, and we run with it," Treacy continues. "This "wooing" probably harkens back to the first time we heard our favorite artists growing up, doing something that we love and us viscerally reacting to their music. We just try to bring that feeling to the music that we make. Honest feelings makes honest music."
altopalo's Mike Haldeman describes farawayfromeveryoneyouknow as "bruised (like knees after falling off your first skateboard), shiny (like eyes barely holding back tears), and small (like we all are)." Every instrument and vocal line on the record hits in its own distinct way; speaking with Atwood Magazine, the guitarist takes us through four of the band's personal favorite moments:
Jesse's upright bass work throughout. the guy made a damn orchestra on "longlife" and "partysong." Yes, it's all upright bass. Sitting and watching him layer these beautiful parts never ceased to completely floor me. [It] totally changed the character of the music for this record and brought a new language into our collective vocabulary.

Rahm's vocal pass on "lub" – this happened very early on before the album had really coalesced around a super solid concept. Rahm recorded this vocal in London, while everyone else was not anywhere near him. I listened in my car and I completely lost it. I was like "this is IT" and played it over and over, while sitting in bad traffic on Flatbush Avenue.

Dillon playing the shit out of 2 and 4 backbeat on "honey." damn those drums slap and really make that chorus pop harder than all the others on the album. in fact, anywhere this man hits 2 and 4 just goes POW.

Mike's "pink trombone" solo on "mud" – Mike discovered this web app that synthesizes vocal cavity shaping in really odd and beautiful ways. It ultimately made its way onto the record, surprising all of us. It's a chaotically beautiful moment.
One of the album's highlights, as briefly mentioned above, comes in the form of "lub," "lub ii," and "hail (lub iii)" – a series of songs spread across the album that not only help the record maintain a sense of cohesion, but also serve to elevate the overall listening experience.
"'lub" is something else," Jesse Bielenberg notes. "We had these little tender moments that we kept revisiting that we KNEW were an essential part of the world and the story, and we had arbitrarily named an Ableton session "lub," probably because phonemically it sounds pleasant, but we kept naming things that resembled that lonesome tiny world "lub," and eventually we realized we had a little trilogy inside the record. I think the closeness and the greyness and the restraint of each of the lubs individually is a little bit addictive, for me. It is one of the first scenes my mind builds when I think about the album. Like, dusk, surrounded by shadowy trees, completely alone, moving towards some idea of forward, but it feeling futile. That setting feels like a tether for the rest of the places the album goes."
Another showstopper comes at the record's finale in the form of "headlock," an elegant and abrasive kiss upon the cheek whose warbly guitars, feverish vocals, and cacophonous percussion ensure that altopalo conclude on a high note. "We didn't have a whole narrative planned out from the start or anything, but the order of things definitely revealed itself over time, and it is really important to us! When we started realizing we were like, actually considering putting "headlock" on the album, we kinda knew it had to be last, and we sort of built an arc based on that strange childhood twist at the end," Bielenberg explains.
---
With its duality of intimacy and grandeur, and a wash of immersive and captivating sonics keeping us engaged and on our toes throughout, farawayfromeveryoneyouknow ushers in a new level of musicality for altopalo as they go above and beyond the ground they broke back in 2018.
"I think we have captured a wider emotional range, and drawn a broader yet still more detailed landscape than we managed to with frozenthere," Bielenberg says of the group's growth. "Some of this comes from us learning more about how to work together better, becoming more accustomed to our process, and getting to know each other more, but it probably mostly derives from the fact that we were more open with ourselves and each other about the depth-y places in our immediate lives, and not as much a general anxiety about the state of humanity and the future. In farawayfromeveryoneyouknow, we write about a range of subjects and feelings and mindsets that are substantially more personal and immediate than we let ourselves explore in the past. I also think each of our individual ability to identify and articulate our emotions has improved, and we are all just giddy boys excited about sharing our feelings now that we know a little more about them lol, but I'll just speak for myself and say that it is true, and it definitely influenced the creation of some of the themes of 'acceptance.'"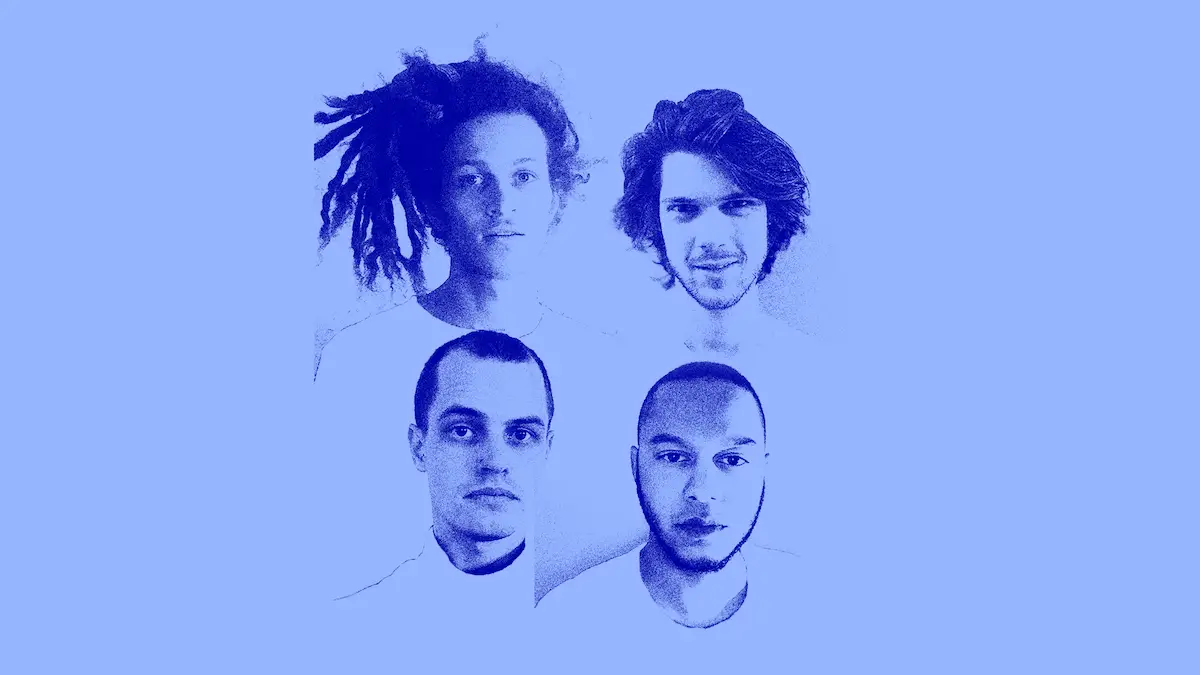 At the end of the day, farawayfromeveryoneyouknow is not, and was never meant to be a singles album. It's an experiential soundtrack to life's ups, downs, and middle-grounds – an escape and an indulgence all in one, quite like the album's name itself. It flows like a river, an ever-moving stream – yet we also know the intense level of thought and care that went into every second of sound.
"My whole life is just an unconscious flowing," vocalist Rahm Silverglade muses, "And not in the good way. There's nary a moment when I realize what I'm doing or why I'm doing it. It's all compulsive and probably destructive, but if you do it in front of a laptop and recording equipment the otherwise forgettable outpouring of bullshit leaves a digital mark that you and the readers can listen to on the streaming service of your choice. It's really nifty."
Thus we present to you altopalo, a band unlike any other band you know, and farawayfromeveryoneyouknow, an album unlike any other album you've heard this year.
Experience the full record via the below stream, and peek inside altopalo's farawayfromeveryoneyouknow with Atwood Magazine as the band take us track-by-track through the music and lyrics of their sophomore album!
— —
'farawayfromeveryoneyouknow' – altopalo
:: Inside altopalo ::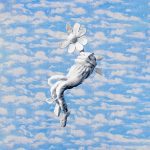 — —
am i am
Dillon:  My connection to this song is hyper sporadic and almost distant.  Some of the elements were recorded and I laid down some drums before I immediately went to the airport and flew to Berlin. HOWEVER, mid-flight (god bless you in flight wifi), they sent over the song with new additions, and Jesse was SHRRREDDDDIIINGGG.  Actually it was a line that they sped up, but that was my first time hearing the song. When we began playing the song live (before it was ever released) there were elements in the live version that made the song "slap" more than what we had recorded. This kind of led us on a revisionist path on all the songs to make sure certain sounds cut correctly in the mix, and I'm really happy that this song started that trend.  Gotta give 'em that oomph.
longlife
Rahm: Here's a useful tool: https://imrodmartin.com/my-days I'm at 9918. tomorrow I'll be at 9919. and two days from now 9920. and it just keeps going. and it feels like there should be some arrival and I literally can't even remember the start and I think like 'maybe when I get to 10,114 I'll finally feel amazing about everything' but I don't but I go to sleep and do it again and it just keeps going and this is everyone. like whose dumb idea was this? it's ridiculous.
mud
Mike: a song about making peace with feeling stuck, with feeling like the only thing that can pull you out of the grey and muddy is a lot of effort, wriggling, scrambling, and thrashing. Sometimes its more about finding the ballet in the raindrops than about fearing the violence of an impending storm. Tons of lovely ear candy on this song – we used a web app called pink trombone (https://dood.al/pinktrombone/) that is a vocal synthesizer to "play" the "solo" of this song, which a lot of people mistake for a processed guitar or a synthesizer. Its really just this webapp. Try it out! The bass sound was made by playing a synth bass sound back through the house until it rattled certain cabinets, recording the rattle of those cabinets, and layering it back in with the original bass tone.
lub
Dillon: omg this song. Yay yay yay. Mike laid down the guitar that you hear on the record, and when Rahm comes up with melodies, he kinda just makes up gibberish with consonants, but the melodies are there.  He sang some shit over the guitar, and I was like "yo, thats the song. Just that melody. With all of the acrobatics, nothing else."  I was really in a minimalist zone and was captivated by the timbre of the guitar, and wow yes, when mike laid them bass notes with the baritone guitar i was like fuuuuuuuuuuuuuuuuuuuuuuuuuuuuuuuuuck.  Idk, this song really captivates what I love about sound and timbre in music.  So many textures, so many intricacies, but only like 3 instruments.  Everything fills up the space so perfectly without over crowding everything. The lyrics also frantically fall in line with the melody, and I cannot think of any other way the content in this song could've been sung about. The music and the lyrics are onamonapias of each other. I lub this song.
honey
Rahm: I have three lukewarm takes
1) love is real is real is love. it feels good to sing about it.
2) love song to lexapro, also fun to sing about but in a naughty SSRI kind of way.
3) let's be real, folks: If there's a song from this album most likely to be featured in like a Gap commercial it's this one. that's a hint to you sync departments out there. you heard it here first. "altopalo moves product." google it. it's real. multiple Australian publications say. or at least one does. quoting me. we didn't write it with that intent or anything but that first lyric is undeniable. "i wanna give you something but came up with nothing always hard for me to pick a gift." helloooooooo fucking yuletide dreamscape wrap me up and throw out the receipt. commercial. bet you five dollars.
lub ii
Rahm: i like it when songs feel like a train of thought. all the lubs have a kind of squiggly-linear song structure that feels to me like thinking through something out loud, which i guess it pretty much was. the melodic structure of a lot of the shorter songs on the album pretty much came out as is. lyrics were shaped after the fact, but if we did those well the whole thing should still feel like a wandering thought bubble of confusion.
letdown
Mike: dillon really thinks this song should be in a sex scene. This song sticks out to me for a few different reasons. This is the second altopalo song ever to feature a guitar solo. I typically hate guitar solos, particularly ones i'm forced to play, but i actually love how this one turned out. After we tracked the solo, we all got together and sang along to the solo four times, creating a huge 16-part chorus of screaming boys yelling along in unison to this goofy solo. Its a really joyful moment, and if you listen carefully, you can hear faint bits of laughter in the track before the solo bleeds out into the outro/fadeout of the song.
party song
Jesse: I was on a plane to SXSW when I first heard some version that resembles the current one. Rahm and Mike had spent an afternoon in Brooklyn embellishing and adding layers to this beautiful guitar part that we had bookmarked from our Indiana sessions. I remember when the second half came in, mike had played this crunchy percussion part and Rahm had recorded this SUPER badass scratch vocal, and I remember listening while looking out at the clouds and thinking "wow, we FINALLY are making the music we are meant to be making." Then we struggled with it for the next like, 8 months.
lub iii (hail)
Mike: i laid awake in the back row of the van trying to hear jesse and rahm talking through lyrical possibilities for this song, 6 hours into an 8 hour drive terminating in kennewick, washington. Dillon was watching cartoons in headphones, intermittently erupting in outrageous bouts of full-body laughter. Had my exhausted ass thinking "how the fuck can he laugh like that, on a drive like this?" meanwhile, jesse and rahm were going back and forth about singing things like "i will never run away with a packed bag and a bad mood / so its time to / move up move on / grow up grow on" between explosions of unrelated laughter from dillon. I was confused and not sure if we should even put this song out, though i thought that jesse's bass loop was indispensably beautiful. I stayed quiet in the back seat and didnt voice my opinions. A few weeks later, we all sat together on a futon and listened back to rahm's first few swings at recording vocals for this song. He kept the microphone far away in a very nice bathroom in seattle (thanks ms zeigler!) and we all were in tears by the time the song was over.
powerlines
Mike: the small house in Indiana where we've recorded the vast majority of our music sits just down the road from a very beautiful natural preserve containing a sea of sand dunes, scrubby forests, lush undergrowth, sticky swamps and teeming scores of wildlife and bathingsuit-clad midwesterners seeking a "tan" on the shores of lake michigan. Just down the road, a series of enormous factories churn out steel and other building materials for the progression of the american dream, spewing massive clouds of questionable gases into the atmosphere. This is a song about FOMO and fossil fuels and feathers and other F-words. And you can dance to it! Layered samples of a woodthrush make a prominent appearance in the song, along with a cheeky "cough" sample of rahm's, dillon slapping the heck out of his thighs in a very nice basement in seattle, washington (thanks ms zeigler!), and mike's "woo" at the very end.
funnythoughts
Dillon: ahahahahahaha. To be fair, any one of us could be accidentally eating or doing some bullshit while we record stuff (I def have hollered at the TV watching the Packers while vocals were being recorded). This just happened to be Mike being the loud one at the moment. This interlude always puts me in our recording house in Indiana, and always brings a smile to my face and warmth in my heart.
nocturne
Jesse: Mike's plucky guitar parts are such an integral part to the altopalo sound, and this song is no exception. We were all just boppin along to mike's part and we set up a few room mics and started banging on these cups and mugs and miscellaneous objects and all of a sudden we had created this sort of human funk box sound. During a large portion of the recordings for farawayfromeveryoneyouknow, we spent our nights sleeping in Rahm's childhood bedroom, which had these plastic glow-in-the-dark stars adhered to the ceiling. We thought about sleeplessness, and childhood- all of the reasons we can't sleep now, and all of the reasons we couldn't sleep then. The songs to me feels like going outside in the middle of the night and dancing.
of shaddow
Dillon: You know when you watch a movie where the protagonist is a pre-teen boy.  And there's always that one scene where he's running in the field and starts punching the air, not really in frustration, but not in rejoice, but just in pure energetic expression? And then it starts to rain and he has to go back inside the house?
headlock
Rahm: somehow every song-germinating session of ours devolves into some nasty retrogressive version of ourselves by the end. it's like all roads lead to the primordial soups of childhood. sometimes it's drum thrashing or a bass line that's just way too funky for work or like Mike screaming into his guitar pickups, but in this case the soup was kraut rock and Halo. arguably the most honest depiction of ourselves on the album.
now that you're here, in case you want to stay a while
Jesse: In Indiana, the transition from idle time to work time is often a fairly blurry space. It can be the unspoken prolonging of alone-time in the mornings, or a afternoon meal, but often one of us (usually mike) will sit down alone and play an instrument, just to enjoy it, or feel the sensation. We had accidentally left this cheapo DIY contact microphone plugged in where we thought we had a room mic plugged in. Mike was playing something beautiful, Rahm runs over to the computer and starts recording, later I join on Casio, Rahm joins on monophonic piano, and we get to collectively exhale. The contact microphone ended up having a sound we could have never imagined nor manipulated into existence, and we just kept the layers at that. We ran it through an old tascam 388 to lean into the saturation. We are all pretty into listening to "albums," and we can get frustrated when streaming services auto-play something else while you want to continue to digest the album you just ingested. This song is sort of like a palate cleanser, CD-secret-song. We strongly considered titling it "spotify auto-play prevention"
— —
— — — —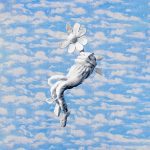 ? © 2020
farawayfromeveryoneyouknow
an album by altopalo
---