In anticipation for summer, American indie rock band Young the Giant is coming out swinging on their new single "Amerika." Young the Giant has always been a band that has never shied away from experimentation. In both their eponymous 2011 debut and 2014's Mind over Matter, they have incorporated a mix of alternative rock, pop, and indie prowess.
However, instead of the band's usual explosive guitar-driven songs, "Amerika" takes a fresh approach in showing Young The Giant's capability of crafting a more relaxed track that can captivate listeners just as much as their statement-making rock.
Watch: "Amerika" – Young the Giant
---
"The American Dream" has been a theme present in music for many years, and has had its fair share of coverage from top-line artists like modern hip-hop and pop icons Jay-Z and Rihanna. Young the Giant put their own quirky spin on the track with thumping beats and casual dabbling in electronic psychedelia.
In a press release, they explained the song was inspired by Franz Kafka's posthumously published and unfinished novel of the same name:
"Our perspective is irreversibly tinged with this rhetoric of the immigrant conscience and guilt. 'Amerika' explores the contradictions of our psyche and America at large. Searching for the American Dream is to lust for excess, power, sex. There is wonderment. There is disappointment. On this rollercoaster ride, we realize that when we achieve our goals, they often leave us more hollow than before. Behind it all, we just want to feel at home, to belong, and to be loved."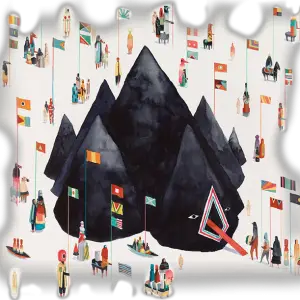 The band beats away with a sleeker, edgier sound. Less focused on rock and more subdued, there is a spark of something new that fits comfortably within the band's forte. The mellow song remains distinctly Young the Giant – falling somewhere between the band's upbeat first album, and their harder-edged second record – but "Amerika" finds the band taking a step further into the ether as they explore the infinite possibilities of making their dreams a reality. Familiar yet distinct, "Amerika" carries Young the Giant's distinct sound thanks to lead singer Sameer Gadhia's passionate and powerful vocals.
It's the perfect summer song for cruising down the highway and blasting at full volume. The chorus is instantly infectious:
I was searching for something as I watched you go
I was sad when you said that you never really wanted some
Were you looking for someone as I watched you go?
Are you mad because I don't know what you used me for?
Always talking about one day in America
What begins like a sweet lullaby builds into a pounding anthem. It's the journey of introspection combined with the pursuit of a grand adventure. The band dreamily romanticize the chase. What exactly they're searching for isn't clear; they aren't striving to change someone's mind, or get anyone back. Rather, the song is a glimmer of hope that something is magnetizing and pulling them towards making bold statements on the fate of "Amerika."
Considering the heated political and cultural climate that is shaping up to be mid-2016, it's no surprise that Young the Giant would dip their toes into today's discourse. But "Amerika" is not about pointing fingers and taking sides; rather, it is a simultaneous reminder and critique of the country's story: That the ever-elusive fairytale "American dream" that's comforting to talk about is nonetheless as fraudulent today as it was two hundred years ago. To that end, Young the Giant sing from the perspective of explorers seeking to unearth what could be theirs.
Always talking about one day in America
Same old story, you are poisoned
I've been looking for so long
But you cut me out
Throw my hand to the air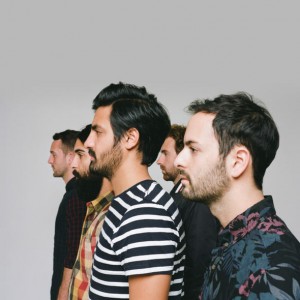 Young the Giant may be from California, but they aren't coasting along the surf. Instead they're fighting the tide, pulling away from the old and splashing into the new. With less ferocity and vigor than listeners are accustomed to, "Amerika" may be hinting at a more relaxed sound from the band. However, as "Amerika" is the first track off of their upcoming album Home of the Strange (due out August 12 via Fueled by Ramen), it could just be the warm-up song to get everyone pumped for what is to come.
From a band that has an abundance of promise and surprises fans with each piece of music, Young the Giant proves yet again to never underestimate the strength in melodic subtlety.