Approachable Members of Your Local Community's latest single "On + On" is the nostalgic and bright-pop summer jam we all need right now.
"On + On" – Approachable Members of Your Local Community
[soundcloud url="https://api.soundcloud.com/tracks/635121789?secret_token=s-0Jf8S" params="color=ff5500&auto_play=true&visual=true&hide_related=false&show_comments=true&show_user=true&show_reposts=false" width="100%" height="300″ iframe="true" /]
---
Everybody has a dream. Big or small, you have that one thing in the back of your mind that you have always wanted. It's the thing that allows your mind to wander with hope and excitement when existence may be dull. A lot of us need it to hang on to, even if the reach seems far. Sometimes we need to be reminded that a dream is never out of reach. It's always going to be there if it's real and it's yours. Approachable Members Of Your Local Community, listed as an Atwood Editor Pick a few months ago, put chasing your dream into a bright pop summer anthem with new single, "On + On."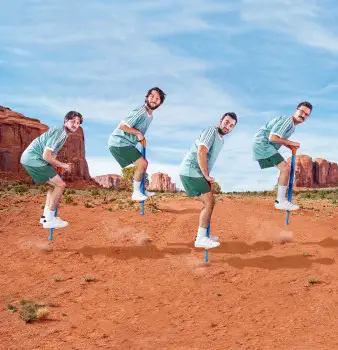 I've got this feeling,
you've got hate inside your heart,
I made you feel a little small
so you just tried to play the part.
You thought of kneeing at my feet,
but couldn't find the way
to lower down your shoulders,
Find the softness in your heart
Atwood Magazine is proud to be premiering "On + On," Approachable Members Of Your Local Community's second single of 2019 (out July 12, 2019). Hailing from the streets of Melbourne, Australia, Approachable Members debuted in 2017 and consists of Joshua Blashki, Maxwell Korman, Samuel Korman, Michael Fisher. "On + On" follows March's "One I Need," finding the band return with dynamism and excitement.
"We wrote 'On + On' about daring to chase a dream, doing all you can to make it happen, and coming up against your fear of falling flat," the group tells Atwood Magazine. "The lyrics talk to a schoolkid that's distracted, daydreaming about another student in their math class – they're keen to make a friend, and are gathering the confidence to kick it all off."
"On + On" starts off with synth piano chords and an eighties like feel that invites summer right into your ears. The bright pulsating chords combined with low and smooths vocals lead us from one lyric to the next,
(On, on and on, and on)
We got this baby
(On, on and on, and on,
On, on and on, and on)
We got this baby
You thought you'd make your way
to me by singing
well above the clouds, you never
thought to whisper in my ear,
tell me with a softer sound
The song then breaks down, taking it from that delightful eighties feel into more of a 2019 feel, not in a way that is forced or awkward, but in a completely natural evolution.
Will You Be My Love,
Will you be my love,
I've just had enough,
So will you be my love
I've just had enough,
Will you be my love
"We've all had that feeling before pursuing a dream – the thrill at the start before diving in, when you let your imagination run wild, along with the anxiety that your dream is really a delusion, your life's a lie and that you need urgent medical attention to ground yourself again," says the band. They set out to recreate a "massive stadium pop sound. We're talking Chris Martin running down the runway at Wembley Stadium as the chorus enters to four million weeping fans. To build that arena sound, our good friend and heaven-producer Gab Strum (Japanese Wallpaper) called upon the forces of synth-mania to help make the leap from some of our earlier, more lo-fi releases."
The musicality mixed with the lyrics makes for that perfect combination of nostalgia we feel when we think about the dreams of our youth and how we allowed ourselves to believe in them fully and forcefully.
As the song nears its end the synth sounds take base, leading you to the outro with major chords and pulsing harmonies that enhance that hopeful summer feeling. Approachable Members Of Your Local Community lead us out with overlapping on and on's symbolizing that a dream isn't something you can get rid of, through the good and the bad, it will go on, and hopefully one day, it will come true.
Listen to "On + On" exclusively on Atwood Magazine!
— —
"On + On" – Approachable Members of Your Local Community
[soundcloud url="https://api.soundcloud.com/tracks/635121789?secret_token=s-0Jf8S" params="color=ff5500&auto_play=false&visual=true&hide_related=false&show_comments=true&show_user=true&show_reposts=false" width="100%" height="300″ iframe="true" /]

— — — —
Approachable Members of Your Local Community
Facebook, Twitter, Instagram
? © 2019
Approachable Members of Your Local Community