Queen of Jeans' "Get Lost" is stadium indie rock with a personal singer-songwriter touch, as frontwoman Miriam Devora finds her own source of strength.
— —
More often than not, strength is found in the moment where you stop caring about the thing that hurts you.  Once you don't care, you find new avenues to explore yourself, but you also find the red flags in your memories. Philadelphia's Queen of Jeans narrate this feeling and provide a cathartic show of emotions in the video for their new single "Get Lost" from their upcoming album If you're not afraid, I'm not afraid.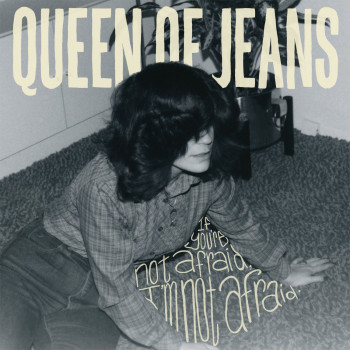 Atwood Magazine is proud to be premiering the music video for Queen of Jeans' "Get Lost." Serving as the leadoff track from If you're not afraid, I'm not afraid, the track displays so many of the different depths of the album. The track begins with a calm, muted strum, showcasing Miriam Devora's lyrics and vocals.  As guitarist Mattie Glass and drummer Patrick Wall enter the song, the song morphs into a twinkly emo meets 80's slow dance track before exploding into a massive chorus.  Devora's use of clean tones often makes the record feel like a singer-songwriter record; If you're not afraid… is often confessional in a way that's harder to convey with a full band.  Devora's lyrics channel the heart-on-the-sleeve emotionalism of her contemporaries like Julien Baker, but Queen of Jeans can transition from soft solo-centered tracks to full-on rock songs that resemble the likes of The Killers or The Cure.  While "Get Lost" eases the listener into this balance, songs like "Not A Minute Too Soon" or "I Am In Love With Your Mind" show that these are songs that can be anthemic or catchy jingles.
While it is easy to get caught up in the emotions of the song, "Get Lost" is an anthem of self-reliance and assurance.  Devora makes her knowledge of her own independence known from the song's opening verse:
I don't care if you want to leave here
And I won't care if you think I'm square
I don't care if I'm going nowhere
I could get lost from anywhere
The song's directed at a relationship gone band, but Devora is more interested in taking care of herself than really worrying about the fallout from the breakup.  The chorus of "It's no wonder you warned me" is just as much a self-critique as it is a message of the letdown of the relationship.  The second verse sees her taking proper steps of self-care including dating older people, having more confidence, and following goals.  When the song shimmers in the final chorus, Devora sings more clearly making the first few verses and refrains sound like mantras she's repeating to herself, but by the end of the song she actually believes them.
"I wrote "get lost" during a period of depression, and I was spending a lot of time isolating myself as a result," Devora tells Atwood Magazine. "My mom's health was deteriorating, and I found myself wrapped up in my anxiety, watching helplessly as she suffered, and it quickly was crippling my ability to go out and feel carefree enough to socialize with my friends. I felt it affecting my relationships with those I loved, which in turn poorly affected my relationship with myself."
She continues, "I recognize now that of course they understood why I was distant, but still I felt inadequate or weak, like my despair and sometimes general numbness towards everything was hurting them or barring them from feeling as though they could reach out to me. I also felt guilty for letting my emotions scare me into withdrawal, and I found myself at times even avoiding my family as a coping mechanism while I tried to come to terms with the severity of things, and how our family dynamic was all of a sudden rapidly changing course. Writing the song was a necessary cathartic exercise, a kind of self check in. In a way I was trying to coach myself into recognizing that it was alright for me to feel that way, it was alright for me to go through the motions at my own pace. It was an exercise in abandoning the inherent social ideas that if you aren't being fun and outgoing, you're a bore or a drag. That if you aren't strong and well put together all of the time, you're not dependable. I don't think we ever really know what others are experiencing, their inner struggles and self made barriers. Every brain is unique in that way. So with this in mind "get lost" became my personal anthem during a time when I needed some sort of reassurance that I wasn't a waste. It helped me process a very real and isolating experience of grief and turn it into a positive and somewhat humorous interpretation of self-care. Life is messy, and happiness is not always guaranteed."
Sometimes allowing yourself to recognize what you perceive to be your shortcomings and owning them can set you free from emotional prison.
Directed by Miriam Devora and Bob Sweeney, the "Get Lost" video is fun and somewhat silly, but it has the same soul-cleansing effect as the song does.  It features Devora and Glass performing in a warehouse, as Wall decorates and sets up equipment before joining the two.  The industrial and homey juxtaposition of the warehouse and items such as vases and globes is more comforting than it is silly, though the video does have some moments of levity, such as the synth popping up from under Glass and a second pair of hands playing it from behind her.  By the end of the video, the band begins to destroy the set with bats in a release that's equal parts purging and partying, as glitter, flowers, and bubbles fly in the face of destruction.
Queen of Jeans' If you're not afraid, I'm not afraid is an incredible album about self-actualization.  "Get Lost" introduces the album (as the lead single and first track) with a song that's intimate and personal but soars in a way that fuses bedroom pop with anthemic indie rock. "Get Lost" finds frontwoman Miriam Devora knowing what's best for herself and trusting in herself in a song that begins reserved but then is unafraid to take a bat to the fear.
Watch "Get Lost" exclusively on Atwood Magazine; Queen of Jeans' new album If you're not afraid, I'm not afraid is out August 23, 2019 on Topshelf Records!
Watch: "Get Lost" – Queen of Jeans
— — — —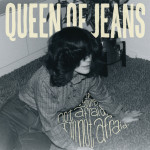 ? © Bob Sweeney
:: Stream Queen of Jeans ::
---
:: Queen of Jeans Tour ::
7/19 – Lancaster, PA @ Chameleon Club
7/20 – Portland, ME @ Aura
7/21 – Woodstock, NY @ Colony
7/23 – Syracuse, NY @ The Lost Horizon
7/24 – Buffalo, NY @ Rec Room
7/25 – London, ON @ Rum Runners
7/26 – Amityville, NY @ Amityville Music Hall
7/27 – Scranton, PA @ Stage West
7/28 – Worcester, MA @ Palladium upstairs
7/30 – Lakewood, OH @ The Phantasy
7/31 – Grand Rapids, MI @ The Pyramid Scheme
8/1 – Indianpolis, IN @ Old National Centre
8/2 – Bloomington, IN @ The Castle Theatre
8/3 – Milwaukee, WI @ Turner Hall
8/4 – Iowa City, IA @ Gabe's
8/6 – Newport, KY @ The Southgate House Revival
8/7 – Carrboro, NC @ Cat's Cradle
8/8 – Charleston, SC @ Music Farm
8/9 – Virginia Beach, VA @ Peabody's Nightclub
8/10 – Baltimore, MD @ Ottobar
9/5 – Washington, D.C. @ Songbyrd
9/6 – Philadelphia, PA @ Boot & Saddle
9/7 – New York, NY @ Goldsounds
9/8 – Boston, MA @ Once Ballroom