Apollo was always one of my favorite Greco-Roman myths: The multifaceted deity rode his chariot of fire across the sky, spread music's warmth throughout the world, and so much more. He was tragedy; he was success. His personality brought a myth effortlessly to life. It seems only fitting that American Dreamer's album closer would share this figure's name: Their song "Apollo" is a chillingly vulnerable expression of utterly raw humanity that strikes the heart and stirs the soul.
Dusk settles on a blood red orange hue
You got a long way to go
Blue ridge mountains cover everything in sight
Don't go it alone
Watch: "Apollo" – American Dreamer
---
Atwood Magazine is proud to be premiering the music video for "Apollo," the final track on American Dreamer's debut LP Restless Nights (independently released 2016). We previously had the pleasure of premiering the band's music video for their song "All The Time" back in January, noting at the time how Oberlin-trained bandleader Sasha Klare-Ayvazian and the rest of this Texas-based quintet "cultivate a sense of warmth and wonder with their incredible blend of folk, orchestral, and popular stylings." American Dreamer is and are an anomaly in the 21st Century: Their music is as colorful as it is engaging, forcing its listeners to bask in its depth.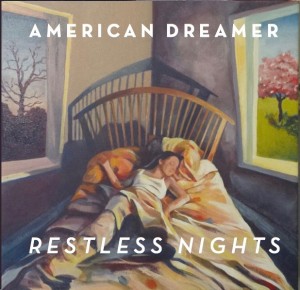 I am your only son
What will come when you go?
Time she's stubborn and she heal
But she'll strip you to your bones
And bask we do. "Apollo" is bittersweet, an evocative acoustic song built through layers of stringed harmony that, together, amass a marvelous tapestry of emotion.
"'Apollo' is a haunting and deeply personal song," shares Sasha Klare-Ayvazian. "The song opens by setting the scene with someone driving at dusk in the Blue Ridge Mountains. As the song unfolds, it's not that we leave the Blue Ridge Mountains, but rather the beauty, majesty and immensity of the space allows this character to go deeply inside themselves and address a host of issues they are grappling with at this time in their life: mortality, aging, the environment, and greed. That's a lot of stuff for a 2:40 minute song, but I think that's a lot like life. As humans we don't have the luxury of addressing one thing at a time. Thoughts, feelings, desires, they are all constantly swirling around us, and life is about finding calm and clarity immense competing, and all together diametrically opposed, ideas and thoughts. 'Apollo' attempts to capture this."
If this chance would come again
If the world would keep spinning 'round
An expired counter, rolling over
If you reap the harvest
If you suck right from the ground than you
Live to see another day and
From the burning sunset
To the darkest forest
Lovers sleep and lonely brood
Director Kush Mody faithfully captures Klare-Ayvazian's vision through a stark and vivid video that faithfully highlights American Dreamer's vision, along with their song's humanity. "'Apollo' was my favorite song from Restless Nights," the director states. "It's haunting and poignant, and it was really satisfying to match it with the dramatically lit performers to create an isolated and intimate aesthetic."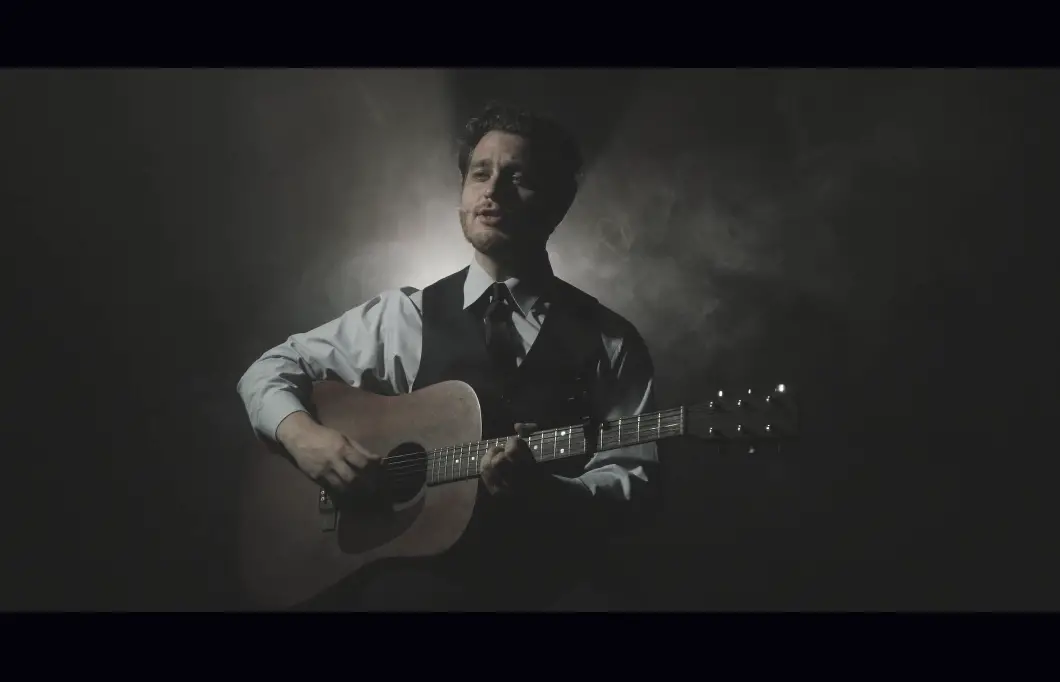 The "Apollo" music video is absolutely breathtaking, featuring each instrumentalist performing against a smoky black backdrop that goes beyond any normal sense of the word intimate. "Our last few videos have been upbeat and playful, and we absolutely love that side of things!" American Dreamer note. Indeed, "Apollo" shows another side to this many-faced band, proving their excellence at capturing the harder, often intangible sensations our language fails to recognize. "This song and video have allowed us to explore a darker, more intimate side of the band, which we believe is important to showcase."
Dusk settles on a blood red orange hue
You got a long way to go
Blue ridge mountains cover everything in sight
Don't go it alone
Ending as it starts on Sasha Klare-Ayvazian's prominent figure, "Apollo" sets the band, who are now several months out from their debut album, off toward their next journey. "I think after a lot of experimentation, we've really honed in on a consistent image and presentation and now we can work on refining it and solidifying it, rather than having to define it." One of the many Austin-based acts that are too talented for their own good, American Dreamer are truly in a league of their own. Enjoy the beauty of "Apollo," and don't miss all that this majestic orchestral folk act has to offer.
— — — —
Restless Nights – American Dreamer
---