Stripped-back and lusciously intoxicating, Rae Isla's "American Paradise" encourages gratitude for the simple moments of beauty that life has to offer.
— —
Stream: "American Paradise" – Rae Isla
---
Ahh,to be in the sunshine; to abandon any current greyness and settle in a place where optimism glows in a never-ending illusion. When days feel murky, dominated by uncalled for repetition, an urge to escape can seep into the forefront of our imagination and emotions. Drawn from reality or purely fictionalised, it becomes a form of reassurance remaining there like a friend, a lover, reminding us of what we consider to be beautiful. 
California can you hear me?
Does your sun always shine?
On the East Coast life is dreary
Not like my American paradise
"American Paradise," the latest single by Brooklyn-based artist Rae Isla (released March 19), encapsulates this longing but while tinged with a delicate sadness. An airy guitar stretching out to the horizon introduces the track before Isla's deep operatic vocals come forward like a guiding hand. There's an instant feeling of being stopped in your tracks, forcing you to reflect on the dreams you hold close to you and that tearful dejection when they're out of reach.
""American Paradise" is about the warm and pure feeling of love, before it's corrupted by the cold inevitability of change," Rae Isla says of the song. "Living on the east coast as a transplant can often feel very cold- literally and figuratively. There's this desire to travel and find something new and warm, a pursuit that is characteristically American and perfectly embodied by California."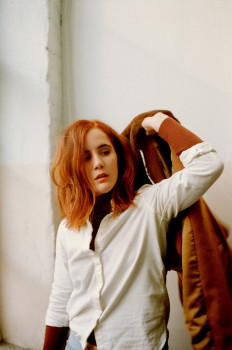 Everyone has an assumption of what an American paradise entails, whether it's through their own experiences or the imagery derived from popular culture. Often it becomes a synonym for paradise in general, America being this prominent land of-due to its vastness- dreams and destruction. For Isla, paradise is being taken for a swim during lazy summer evenings; it's experiencing constituency and having a sense of freedom. It isn't anything especially farfetched and so the song generates a kind of gratitude for the simple moments of beauty that life has to offer.
Lazy summers in the evening
When you'd take me for a swim
Only when I, when I'm dreaming
Can I feel like I felt then
California, please believe me
Never leave me and I'll be fine
All these people, so deceiving
Not like my American paradise
Rae Isla's debut EP No Longer Blue (released last November) is filled with warmth and golden light. It begins with opener "Mexico" where the scenic peacefulness she pictures is personified as a special someone ('Be my Mexico, baby… You are my Mexico') and it continues with "Endless Summer," a love that's intensified by the weather. Each song on the EP has the essence of dancing at a party by the beach as the sun slowly sets in the background, Isla's intoxicating vocals turning the moment into something sacred. As a queer artist, her intention is to create a narrative for spirituality within the LGBTQ community and the self-produced No Longer Blue is an introduction into creating a sense of connection and empowerment.  
However, with "American Paradise," the up-tempo energy has evaporated into a stripped-back solitude- the tropical pop subtleties replaced with a country steadiness. Isla poses questions ('do you love me? Will you hold me 'till I die?') and reveals vulnerability ('Cause I need you, I adore you') in contrast to the assertiveness of many of her other songs.
Riding horses in the morning
Through the western palisades
When the leaves die I'll be calling
It always haunts me when things change
Oh this country so divided
With its science and its faith
Give me freedom in the valley
That is where I'll find my place
The sumptuous sadness paired with Americana nostalgia holds a hint of Lana Del Rey but, while Del Rey has made a career out of that aesthetic, this is just another side to Isla. "American Paradise" about warmth and pureness being effected by change and, if put into the context of the rest of her songs thus far, represents that moment of melancholy. It also has resonance on a wider level. When times are tough and tinged with sadness, in a country or personally, we crave a golden optimism. While sometimes it's seemingly way out of reach, it also feels close – a part of our hearts – always holding us and never leaving.
— —
Stream: "American Paradise" – Rae Isla
— — — —
? © 2019
:: Stream Rae Isla ::