Over the course of the rapping career which has now comprised nearly half of Terrence Thornton's 38 years, the MC's stage name of Pusha T has generally been a decent indicator of what the subject matter tackled on his records will be: life as yo' pusha man. King Push – Darkest Before Dawn: The Prelude sticks soundly to that beaten path, as is established off the bat with the intro track ("I'm Jack Frost of sellin' that blast off, I'm on a crash course") and repeatedly displayed throughout this 33-minute warmup for the full King Push album, due this coming spring.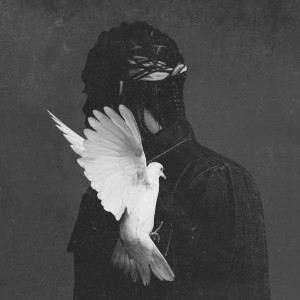 Generally speaking, the lyrics here could be lifted from this album and copy-pasted onto any of Pusha T's previous records (dating back to 2002's Lord Willin', the debut record of the rapper's former duo, Clipse) without too much trouble. Aside, that is, from a handful of latter-day references to the likes of Yasiel Puig, Donald Trump's anti-Mexican remarks, and the wrongful death of Freddie Gray. The appearance of the latter amounts to one of the most powerful moments on the album — more on that to come. Nonetheless, it's hard to say that the Virginian MC expands much on his thematic repertoire here, which is always a tough yet critical challenge for aging rappers hoping to maintain relevance.
Not that there's much cause for concern, though. Hustling has, after all, been a favored topic of many of the hip-hop legends name-checked on this record, including Jay-Z, Rakim, and Pusha T's own favorite rapper, The Notorious B.I.G., who is masterfully sampled on "Untouchable." Furthermore, Pusha T brings his signature lyricism and gritty flow to every one of these tracks. With such high-caliber couplets as "I mean everything I say, no witness, no forgiveness, Souls of Mischief, it's on to infinity, my arms are endless," it's easy to remember why Pusha T has inspired confidence from every hip-hop heavyweight from Kanye West to Pharrell Williams for over a decade and running.
Yuugh, I drops every blue moon
To separate myself from you kings of the YouTube
I am more U2, I am like Bono with the Edge
In Mexico, fuck Donald and his pledge
Legend has it, the wrist is magic
The left is Patek, Philippe's replaced by Matsuhisa
– Pusha T, "Untouchable"
Listen: "Untouchable" – Pusha T
---
Pusha T's music has always been applauded for its strong production. When he teamed up with the Neptunes on 2006's Hell Hath No Fury, back in Clipse's heyday, the result was perhaps the most universally acclaimed rap album of the year. The Prelude might not match the achievement of that exceptionally well-produced record, but this is hardly a concern. West, Timbaland, Metro Boomin' and many others all contribute beats which are mostly lively and well-constructed, if occasionally a bit too much on the slow side ("M.P.A." is perhaps the track most at fault there).
One of the most interesting choices of producers here is that of Q-Tip, whose hip-hop powers peaked over 20 years ago as the frontman of A Tribe Called Quest. The trademark styles of this socially conscious jazz-rap group are a considerable ways from that of Pusha T's music, yet the two are combined quite fluidly on "F.I.F.A.," a track named for the manner in which "drug money [is] kicked around" in Pusha T's world.
On the following, and final track, "Sunshine,"  the rapper continues this trend of unlikely collaborations by bringing forth R&B queen Jill Scott, whose heartfelt chorus channels the feelings of sorrow, anger, and frustration which have surfaced in the African-American community following tragedies such as the death of Freddie Gray at the hands of the Baltimore police earlier this year. Pusha T's two verses expounds upon these sentiments, and examines how the media's flawed handling of these tragedies only makes the situation all the more painful. "These ain't new problems, they just old ways," he laments. "I seen one time turn sunshine into Freddie Gray."
This song ranks amongst hip-hop's most powerful and mature contributions to the "Black Lives Matter" movement. If Pusha T can remain this lyrically poignant, and keep his excellent tastes in guest artists and producers intact, then he should be poised to follow his own advice on the upcoming King of Push: "Christopher Wallace, stay big, keep climbin'."
Follow Pusha T on Facebook, Twitter, Instagram
 Watch: "Darkest Before Dawn" – Pusha T