`A sweeping coming-of-age record full of passion and contemplation, American Sigh's debut album 'Honor System' is as an alternative wonderland: Dreamy and intimate, parts rock, folk, and pop, it's the perfect introduction to a band we can't wait to hear much more from in the years to come.
for fans of Mt. Joy, The Hotelier, Foxing, Lomelda
Stream: "Almond Eyes" – American Sigh
---
A lot of it is coming to grips with a sense of self, especially in relationship to others.
DNA and circumstances may shape us, but we control who we are: The person we ultimately put out into the world. What that looks like transforms and grows with us over time, but it's a big part of every coming-of-age story – and it starts with some self-awareness and the desire to control your narrative. Theo Matz's journey of self-discovery wasn't an easy one – is it ever? – but between exploring what it means to be a good person, reckoning with his relationship with himself, and soaking in the turbulent surrounding world, his band American Sigh's debut album hits hard and leaves a lasting mark. A sweeping coming-of-age record full of passion and contemplation, surging guitars and dynamic drums, Honor System is as an alternative wonderland: Dreamy and intimate, parts rock, folk, and pop, it's the perfect introduction to a band we can't wait to hear much more from in the years to come.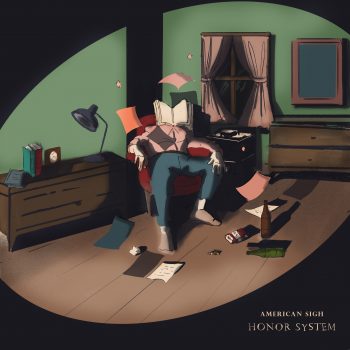 Around the block I spy your face
Almond Eyes simple taste
It's how I know the feeling's new
When I get drunk I stare at you
And not so sure of myself
If you wanted me to yourself
Now we're both moving on
Without one word delivered on
But I know it's for the best
Sometimes I live in jest
– "Almond Eyes," American Sigh
Independently released October 15, 2021, Honor System is a soaring, searing, and stirring record full of charisma and charm. It's a bold and moving best-foot-forward from American Sigh, the brainchild of West Palm Beach singer/songwriter Theo Matz who performs alongside drummer Christian Romano, bassist Jake Ryan, and guitarist Ben Henry.
"I wrote these songs over a couple of years as I finished college and transitioned into adulthood," Matz tells Atwood Magazine. "Forging new relationships and learning about myself. A lot of it is coming to grips with a sense of self, especially in relationship to others. I struggled a lot with opening up and allowing myself to write honestly, and I think this internal struggle not only became a lyrical theme – by the end, it had become the ethos behind the whole album."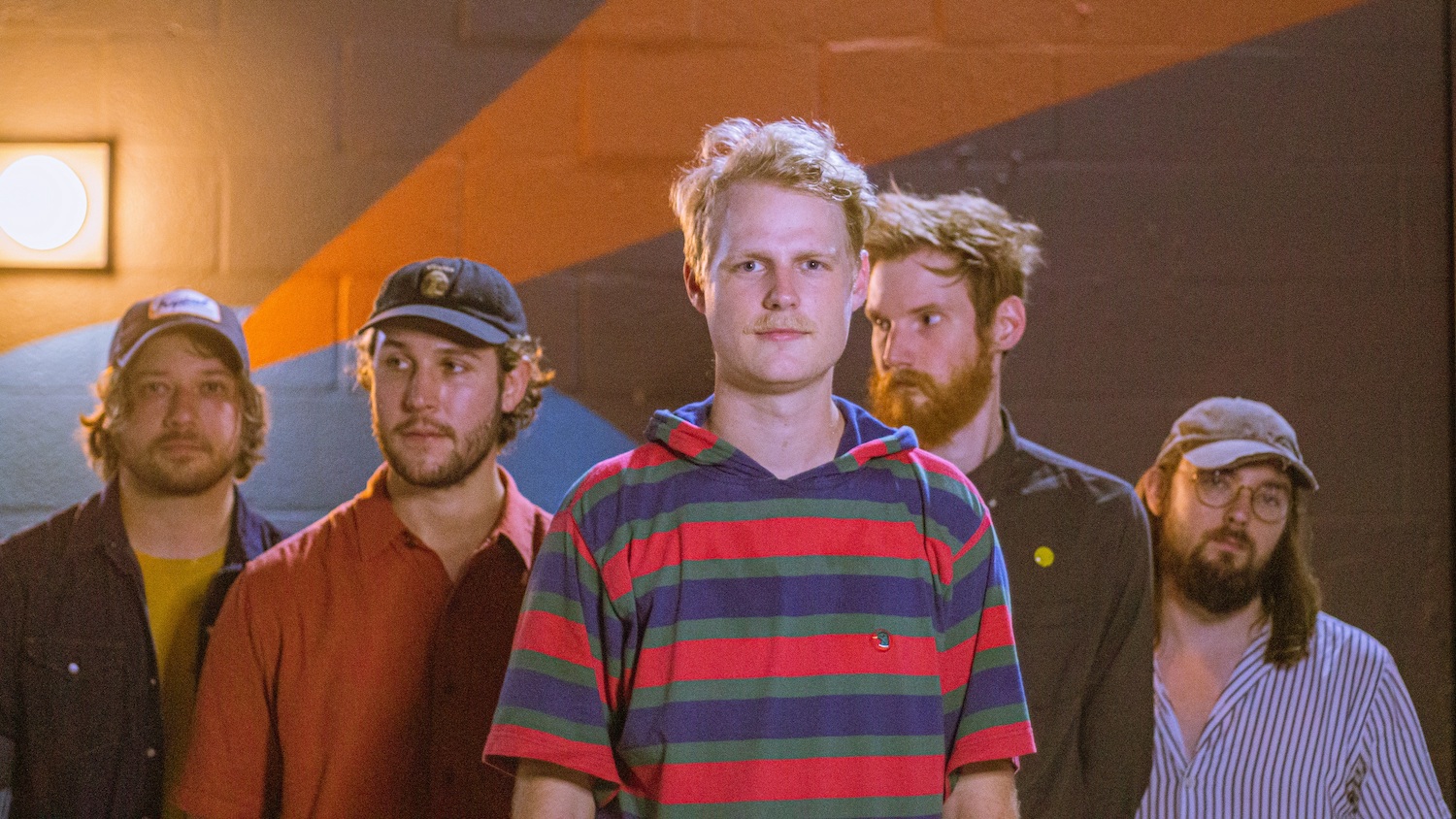 For Matz, this album truly captures his coming-of-age with an unapologetic radiance.
"Every record I've recorded has been a huge learning process," he says. "This one was as well, I was paralyzed for a few years on how to go about recording again because I knew I wanted to work with someone in the producer chair and I kind of had this romantic vision of the recording process as four musicians in a room recording together almost like '70s style. More recent artists like Big Thief often discuss the value of that approach, and I really wanted to explore that process more with these songs. When we finally had the recording lineup together, we put together most of the songs fairly quickly in the studio, tracking mostly live in the room together. Then we messed around in the studio with various instruments/ideas until they sounded great, which was a new part of the process I hadn't experienced before."
"Originally I wasn't sure what would be an EP or a full length or just a few singles, but I had been wanting to do something LP-length because it's my preferred listening experience. The pandemic happened right in the middle of recording, so we had a few months hiatus until we recorded the final three songs. By the end I just had this determination to finish the record, and the last few songs felt like they wrote themselves into it. It all just felt right. After writing a song like 'Vulnerable' it kind of freed my songwriting to be open and unafraid of emotional directness. Over time, as we recorded I kind of realized the record was a product of its own process. The act of recording, and the methods available to us were kind of baked into it. The sound developed over time as a result of whatever felt exciting and novel at the time, and I just let that feeling lead the way. It felt good to allow there to be less pressure on it becoming some "important" record beyond what was important to us when making it."
Honestly I'm not excited to be here much right now
I wish I was home again staring at the ceiling drawing lines in my hand
I was happy before we met oblivious and almost out of my head
But not falling in love again I get a feeling never more or less
I want to be vulnerable
I want to share the world with you and never look back
I don't want to know the truth
The people that surround you will define your whole life
Honestly, I wish I could say I'm taking some time for myself
But I'm stuck in a single cell leaning a lot like limestone in the ground
I caught you smoking a cigarette blue and white, never get that smell off your dress
What will everyone think of that?
I thought that you said you'd quit but I can't ask
---
Influenced by everything from Americana and alt-country to indie rock, indie folk, alternative and shoegaze, American Sigh is a multi-dimensional artistry – and Honor System showcases a great diversity of sounds and styles.
"I like to think that it's a good record," Matz reflects. "I think it captures a musical moment and I think I'll be proud of it since it was the first true LP I ever put together. I was really happy with the sound. I like that the record crosses a few different genre boundaries, I try not to define it too exactly, it's nice to break up the bigger songs with folk songs and vice-versa. I feel we weren't overly ambitious with it, and we had a blast making it. I'm excited to keep growing in writing and recording with more releases."
Thematically, Honor System offers a thesis statement fitting for a band's first full-length offering: The record will surely hold different meanings for many people, but its songs generally center around self-discovery and one's relationship with oneself.
"To me, the record is about finding what it means to be a good person," Matz explains. I think 'Honor System' encapsulates that feeling of doing what is expected of you. To comply with expectations put on you by others. We all abide by the honor system. It's up to the individual to decide what acceptable or "good" behavior is based on their own perceptions and experiences. There's use of "honor" type words like truth, honestly, karma, sanctity, owe… I had actually thought briefly about having those as subtitles for each respective song. Maybe if we ever release a vinyl version of it."
To me, the record is about finding what it means to be a good person.
From start to finish, Honor System delivers a kaleidoscopic experience. Singles like "Almond Eyes" and "Vulnerable" highlight the band's rich musicality and Matz's lyrical creativity, but memorable moments can be found in every track: There's the explosive guitar solo in "Sleeping In," the glistening snapshot of life in motion taken on "Camera," the dynamic contrasts in "Easy on Us," the gentler acoustic lilt and harmonic warmth of "Space and Time," and last but not certainly not least, the crashing catharsis of closer "Boyscout."
---
"I'd say one of my favorites is 'Burning the Flag,'" Matz says on the topic of favorites. "It came together really naturally and combined a protest song with a personal reflection. Ben [Henry]'s guitar solo is also so satisfying on this song. The coda section was improvised from a jam we did at rehearsal and is one of my favorites parts to play live."
"'Boyscout' is also one of my favorites because it was a tough song to arrange, and the drums still blow my mind. It's quite musically complex so recording it live together was probably the most challenging of the songs. It's always a really cathartic experience for me listening to it or singing it."
As principal lyricist, Matz also cites a few key lines that stand out to him from the album. "I was proud of 'Vulnerable'," he smiles. "'I want to be vulnerable / I want to share the world with you and never look back.' At first I really didn't want to use that because I thought it came off too direct, but eventually got over it and decided that's honest and true – even if a little corny.
"'Karma kept me in my square / I found out I was rectangular' is one I really like from 'Burning the Flag'. That lyric continues to reveal its meaning to me in different ways which is one of my favorite things in any song." And lastly, "'Well I made my bed / Painted the walls cold red / Wasted the words I said / Spent a whole day inside my head' from 'Space and Time' is another one that comes to mind. I was proud of this stanza because it really condensed my feelings on the album.
American Sigh are the complete package: A rock band on the surface, with a little something for everyone who opts into their world. 
Honor System is exhilarating: A rip-roaring and fiery record born from the depths of a searching soul, and realized through blood, sweat, tears, and dramatic upheavals. These songs are emotionally charged and instantly affecting: Listeners are sure to come away from this album in a fresh, new headspace.
"I hope people can find their own meaning in the songs and enjoy the record however they like," Matz shares. "We've gotten some nice feedback so far and it feels good that people are enjoying it. I guess I just hope it could give someone comfort in a dark time if they can relate to it and feel the shared human experience. One of my favorite parts of songwriting is that the meaning can change over time. I still listen to the songs and find new perspectives. Releasing it makes me more excited to record again and build upon it with a renewed vision."
Experience the full record via our exclusive stream, and peek inside American Sigh's Honor System EP with Atwood Magazine as the band goes track-by-track through the music and lyrics of their debut album!
— —
Stream: 'Honor System' – American Sigh
:: Inside Honor System ::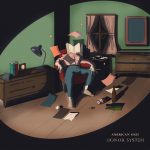 — —
Camera
I wrote this after a darker period wondering when I would feel normal again not ruminating on a person who is no longer around. The song was pretty precisely written and it came together really quickly at rehearsal with the entire band. We added some production elements like this glockenspiel I bought off craigslist and the Chase Bliss MOOD pedal that's on a few other songs as well. I got the idea of having a snare hit as the first sound on the song from 'Rent I Pay' by Spoon. Then 'Camera' sort of just felt like the obvious choice to introduce the album.
Vulnerable
I had the chorus lyric "I want to be Vulnerable" written down in my phone. I usually start with guitar, so having a lyric to start with changed the writing a little bit. I started with a chord I liked and the song came out pretty quickly from there. This song has always been a kind of self-affirmation. I value honesty to a high degree and the song reflects that. The chorus is kind of speaking to myself, my friends, family, partners, and listeners that I want to be my authentic self. Eventually as you live life, you come to this realization that you can't truly share yourself with everyone. It's not possible or even healthy. Priorities and boundaries can be tough to set and manage, but you have to choose those that come to define your circles because they – in turn – will define you. As the people you experience and interact with. It can be scary to open up and be seen by another person. But in order to receive truth – you must give truth.
Almond Eyes
This is the oldest song on the album. I wrote it in college after I went out and had a crush on someone at the bar. I talked to them maybe twice and never spoke again. It wasn't quite unrequited, or any kind of love really. But just the brief moment of a feeling. I woke up and wrote it the next morning. I tried to write the song short to reflect the experience.
Sleeping In
'Sleeping In' is the second oldest on the album. I wrote it right after I moved to Florida and knew very few people. I felt isolated. It's about the FOMO that comes from moving to another place when you're still in that "moving anxiety" headspace. I actually started writing this during the recording of the first EP but it stuck around and was one of the last recorded for the album.
Can't Be Kind
I guess this song is about unrequited love and being left wandering in your own thoughts about the "why?" of something. At first I really wanted it to be like 'Exit Music' by Radiohead, but it evolved into a more straightforward folk rock jam.
At a certain point I think I let go of trying to control this one, and we just gave the song what it needed.
Easy On Us
This song is about when you end a relationship more because of geographical circumstance than because any one thing went bad. When you really liked someone but not enough to move or commit to any serious relationship because of the uncertainty attached to it.
Burning the Flag
I stumbled upon a youtube video of some high schoolers debating the ethics of flying the confederate flag, as one does. I think I actually watched the entire 40 minutes in one sitting. One guy says "you have the right to fly it but we have the right to burn it" which gave me the first lyric and the rest of the song evolved from there. I just loved how passionately he said it, it felt really raw and cathartic. I expanded it to compare one's personal history with that of the country or a flag. For me it's partially about acknowledging the wrongs in your past and moving past them. It's also just to say that the confederate flag is a terrible flag with a terrible history. When we put the song together, the coda section just kind of happened as jam. I remember listening back to Ben's guitar solo right after we tracked it and crying tears of joy.
Space and Time
Right after I met Ben who played guitar and trumpet on the album, he came over to my place and had this beautiful chord progression. I wrote the lyrics and melody that day. I wanted to write a song about yearning that wasn't overly sad, but still felt delicately melancholy and hopeful. I kind of always have this feeling of being unsure of my life and path that has waxed and waned over the years. I suppose a lot of my songs are informed by that, but this one especially.
Boyscout
I had really wanted to write a song called Boyscout. Once I had written the guitar part, I started just rambling a lot of frustrations. It was an attempt to direct my anger after experiencing rejection and all the blaming that goes along with that. This song took some work in regards to musical complexity and feel. It was tougher to track it live than any of the other songs.
— —
— — — —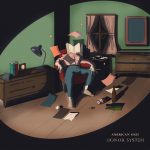 ? © Margaret Wheatley
:: Stream American Sigh ::
---