Love is beautiful, and 'Churches' is LP's cinematic surrender: In our interview around their sixth studio album, the acclaimed artist speaks at length on love, spirituality, songwriting, and the journey that brought them to this moment in time.
Stream: "Conversation" – LP
---
I wanted to explain that I don't believe in organized religion, but I believe in love being the connector… I think it's traumatic, but I think it gets the point across, and it's done with passion and with love.
Love is beautiful, and Churches is LP's cinematic surrender: An epic tribute to that highest of high powers that sways us more than any government, corporation, or religion ever could. Passion and pain, beauty and wonder all come together in LP's sixth studio album, compelling us to join in journey of sweet celebration, awe, and intimate reckoning.
You are my one desire
Who knew two waters make a fire sign?
And our worlds, though always in a spiral
Are taking me higher
It's the truth that makes you melt
Path to heaven always goes through hell
I don't like to kiss and tell
But you take me higher
Let's have a conversation
It's hanging in the air, I hang on every line
Let's have a conversation
I know you really care and so do I
If you talk to me and look at me
And say another word to me
Just say what's on your mind
Just talk to me and look at me, and say another word to me
Just say what's on your mind
– "Conversation," LP
Released December 3 via SOTA Records, Churches presents acclaimed singer/songwriter LP at their finest: Produced by the artist's longtime musical collaborator Mike Del Rio, the record is a catchy and cathartic look at life as it was pre-pandemic, life in a disconnected state, and life as we dream it can someday be.
"This album feels like a friend," the artist, born Laura Pergolizzi, explains. "A friend who took me through one of the most trying times in human history and a fairly trying time in my own personal history. So many real stories and realizations that I feel like I was able to share here."
"Creating with my best friends is a gift I never take for granted and the excitement of meeting new simpatico collaborators is also such a beautiful experience. Like falling in love. I will be forever falling in and out of love. Forgive me but I feel like this is the essence of life and although painful, I wouldn't trade it for anything. I feel like it is my path to convey this emotion among others. I'm so grateful for these songs and the people who made them with me. To be able to bring them to you finally is a dream come true."
An expansive fifteen songs dwell in love's multidimensional depths: Love for others, love for oneself, love for the world, and so on. LP's music captures the highs and the lows, the magic and the frustrations of this universal and multi-faceted experience. Yet whether they are wallowing in heartache or reveling in possibility, LP makes Churches a captivating journey throughout thanks to their irresistibly catchy melodies, radiant vocals, and lyrics full of substance.
"Church, for me, is what everybody finds sacred in their life, in their heart," they shared in a recent Billboard feature. "These songs are my way of expressing my love and the depth of my connection to people."
LP spoke at length with Atwood Magazine about love, their new album, spirituality, and human connection. Dive into our Churches interview below, and be sure to give this bold album all the tender, loving care it deserves.
I've been looking for answers
I've been looking for change
I've been looking for dancers in the middle of the rain
Might seem a mile away
It might seem insane
You could be a smile away
You couldn't feel my pain
How do I reach you
What's underneath you
Keeping you safe and sound
Found what I'm chasing
Heart's racing
When you're around it feels like
Angels over me
I've never seen them before
– "Angels," LP
— —
Stream: 'Churches' – LP
A CONVERSATION WITH LP
Atwood Magazine: I've had the chances to listen to Churches quite a bit over the past couple of months, and first of all, I'm in awe. It's so wonderful to hear such a beautiful record with such wonderful sentiments coming out of this time. Can you share a little about the story behind Churches?
LP: Where do I begin?  It took the time it should take to make a record. And it's only because of the pandemic. So I think the few songs that came in the tail end, and things during the pandemic kind of brought a lot to the table. And also then… And then the work that we were able to do, the sculpting of it. Writing-wise and production-wise was really cool because of the pandemic 'cause normally and I would have… This record would have been out a year ago, and I would have completed it really by the seat of my pants, on the road. And it would have been a good record I think without that extra year or so, but I think that extra year really kind of… It's the difference between the 2016 version of the wine and the 2010. You're like, "Hmmm this one is just a little bit… It sat in the barrel for a little bit, the cask or whatever. I'm really happy about it.
And "Churches" was kind of the first song written for it, which was interesting. That was pre-pandemic for sure. And I wrote it with Dan Wilson, a producer and musician. And I don't know, it was a… He's an amazing person, and his story's amazing, and I remember being really wanting to do something great with him 'cause he's just done so many great things. And I only had two days, and it was… I remember that the melody of "Churches" just popping out and him going, "Oh." And we were like, "What is that?" I don't know. I felt like I had something special in that song. And I'm not saying it steered the whole record, but there's… You could see there's some sentiments that roll off… "Angels" and "When We Touch." I don't know. It gave me… As a writer, as a songwriter, in general, I'm like, if I have a concept it really steers my ship. This record, I had a direction in a way, and also I feel like it's another level of lyric for me. I feel like my lyrical play on this went to another level for me, personally. I don't know if people would think that, but I feel it, and I feel like I really expressed myself very succinctly.
Are you the kind of person who thrives under pressure when it comes to songwriting?
LP: Yeah, I do. Yeah. And the thing it was though, with Dan, I was sort of sitting at his feet in a way, listening to his story, and just taking it all in 'cause his story's amazing. And I don't relate to him. We're very different, but I do… I have seen, because he's done the thing as an artist and then done the thing as a producer, songwriter, I feel a bit like I wanted to hear his story because I feel I've had sort of two careers in the music business, and it's interesting to me. Just that survivor person or a person that just rolls with where the job is.
And what they want, they definitely go after it, but still you're at the whim of a very erratic, crazy business. So anyone who's made a couple of dances is interesting to me. And he's just a lovely person as well, he's a beautiful spirit and so I was just like, I kind of, I can get lost, I could talk to someone like that four days, I don't even need to write about the song.
I was like, "Stop talking, start doing something." [laughter] But yeah, sometimes it's 15 minutes, and sometimes… This one, like the impetus was explosive and right away, and then we had that whole other day to work it out and I believe we did something else too.
You talked about how you're in your second career, and I know that you were songwriting for others, for such a long time. Is that what you were referring
to?
LP: Well, yeah, it was actually a shorter time than you'd think. It seems longer because I didn't know I was songwriting for other people during the three years that I was initially on invisible. Those three years 2006 to 2009 when I was being thought artist myself and I wrote like 140 songs, I didn't realize that that was kicking off my songwriting career.
And then 2009 to mid 2010 or almost 2011, was my songwriting thing, and then, and then at the beginning of 2011, I started to write. I was writing songs again for myself, kind of not for fun, but for fun, really for the love of the game, and then I had new management that wanted to see… That was kinda like "I think you're done with your artist career," so I was kind of inspired a bit, and then when I started writing those songs like the era my songs like "Into the Wild," "Forever for now" stuff, that kicked off my artist career again. And it was just long enough, in the songwriting world.
And here we are now, a decade later and five albums into it. Where does
Heart to Mouth
and
Churches
begin for you?
LP: Well, I think that Heart to Mouth was a perfect example of like, I love that record. But it was definitely kind of just run for your life kind of thing. And I always had songs on deck, just like I have a bunch of songs on deck now for the next record, I'm always kind of like… I couldn't fit everything on this record, they're too many, and I also couldn't finish things, so I think that, I guess that it kind of again, begins with the song "Churches." I knew I was kind of onto something new in a way, and I think… And "Churches" is kind of like the first, 'cause definitely Heart to Mouth was all relationship, all love and stuff, and then "Churches" is… I wouldn't call it a political song, but for me it is… And I don't know, I think I wrote this song about my relationship for sure, about other people too, and just about… More on that, spiritually and emotionally.
I love that song and I love the finale that you put in between that one and then your literally epic "Poem."
LP: You like the poem?
I love it! It's such a cathartic way to end this record... I thought you would end with the whisper and you end with a shout.
LP: [laughs] Thank you… I have to say that the poem was the last thing I did. And the last thing I wrote, I had the idea to do something like that, to use every title in a poem that kind of sums something up, emotionally. When I had the idea, I didn't do it, and it's a perfect analogy to my songwriting, I kind of like, I don't… Because I consider myself fairly prolific, and I've worked at it, you know, I don't wanna… I don't stress about fallow periods, I just… 'cause they don't last that long, first of all. And also, I just think that they're necessary, so I had the idea, but then it didn't come, and then literally we were wrapping up the last two songs, like maybe a month ago or less, and that it just fell out and I was like, Oh man, I really, it felt so cathartic and so I feel like it tied the record up in a bow and it felt really good.
You mentioned that the song "Churches" feels like a political statement for you without intending to be political. Can you talk to me a little bit more about how the ways in which that song feels like a statement for you?
LP: It came at a weird time. When I didn't know what was happening in my career. I'd been dropped off by Warner Brothers and in January 2015. I had done… I got this gig towards the end of 2014, I got it. I was… The Blavatnik brothers, and Alex, I was one of his favourite bands on Warner Brothers, which is ironic because I was dropped… You are one of the owner's favorites bands and you get dropped, four months later, but I played at his birthday party in the summer of 2014, and at that show, another wealthy Russian person saw me and I started doing private shows in Russia for big events.
And it was good, it was helping me out, again, I had just gotten dropped by the label, so I was a little kind of like, "What the hell is happening?" And I did about maybe six of them, and during one of them, maybe the fourth or fifth one, I believe we're in either St. Petersburg or something like that. They always used to fly us in, and then we would do the show the next day, and then the next day they would give us a beautiful sightseeing trip of some kind. And then the next day we would leave. And it was always really fun. They were lovely to us.
But there's this one time when everybody wanted to visit the different churches, because their churches are absolutely beautiful, and I kept getting stopped because they wanted me to put something on my head, because I was a woman… Like cover my head. Honestly, for all my swagger and everything, I'm not really that into rocking that boat in particular, because first of all, God is very sacred to me. I believe in God, and I have my own relationship with God, and I don't really want to tell anybody how to do that. But I don't subscribe to the fact that God wants me to cover my head because I'm a woman, I won't deal with that. I just can't do it. And I'm not trying to riot or rock the boat like that, but I'm not not trying to, either…
It's a fine balance. Respecting others while owning your owning your own ideology.
LP: Yeah. It's a matter of respect, and that's very important to me though, respecting other people's beliefs and where they're at in their life or in their evolvement as a soul, whatever it is. But I tried to walk in, and they would think I was a guy at first for a second, and then they'd go, "No, no, no, no, no." And it happened like four times, and then I was like, "You know what? I just don't wanna see!" And I felt bad because the people that were… The people that work with the people that brought us there are a lot of heavy people. You know what I mean? I was like, "Oh man, I hope I'm not fucking up my gig or insulting anyone," but they were very cool that… Because I didn't make a scene, I just walked out. But it's stuck to me because as much as I do make a statement and believe in making a statement, in that regard, in religion and stuff like that, I don't know. I still don't feel like I want to tell people, like we just spoke of.
But it really stuck with me, and that's what Churches is about. I just wanted to try to explain that I don't believe in organized religion, but I believe in love being the connector. I think I said it the way I wanted to say it; I was happy with that. I think it might sound creepy to some people, but I don't know, I'm kind of sensitive to that. I think it's traumatic, but I think it gets the point across, and it's done with passion and with love.
If you told me that this is a record about believing in love and having love as your religion, I would completely believe that. But how do we take this idea, and these experiences that you had, and capture this timeframe? Can you share a little more about your vision for the record as a whole?
LP: Yeah, I'm just trying to figure myself out. I've gone through another break-up in my life, a big one. Another five and a half years, we were engaged. And it was very difficult, and it was a mess in my head. I didn't really… I wasn't home a lot. This relationship happened to kinda go co-pilot with my career, kind of taking off to another level, and it was very difficult to get my bearings when the smog cleared a little bit, especially during the pandemic. And I had to realize some things. And I can see some of the writing is in that kind of… I wouldn't call it a fog, but it in the storm. And there's a lot of… I'm trying to… I had to, of course, mine the field for the information or whatever.
And I think I got it across. My normal thing is I talk about the people around me, what their effect on me, and what I'm seeing, and then I try to talk myself into the next place. Or staying with the love. So there's hopeful and there's sad, in there, as usual.
That's the thing about this record. What I find inspiring about this album is how it packs a punch with intimate content.
LP: And I feel like I got it to… I pounded it into a pop thing, in a way. 'Cause it's like… I don't know, like "Rainbow" is a wild song. That's the most about my relationship, but it was also very interesting because I felt like I was playing in… There was something about… It was about my last relationship, but it was also something like this feeling about my childhood, because I feel like there was something about something in my last relationship that brought up some demons of the anger, and everything in my childhood, and my father. And it's kind of like… I don't know, it was a very difficult song to write. I was choked up the the whole time, it was very, very difficult.
Your lyrics, "Am I so afraid?" It's very heart-wrenching.
LP: Yeah, and I felt like… I also had in mind during the song, about writing a bit about friends of mine or kids that I know that have a really hard time coming out to their parents and just feeling like they're just like… And coming up with themselves like the whole thing of coming out, that's under there too, I felt that. But yeah, that was a while, that was like… We had one of our writing trips right before the pandemic it was in Cabo at the end of 2019. I remember that melody coming out at 3:00 in the morning, and it was like… It was so rife with emotion that I knew I had to really go for it on that one.
It's interesting, it sounds like this album isn't half pandemic and half pre-pandemic, but that it captures both parts of life before 2020, and then in the thick of it?
LP: Oh, totally, and it's like even the last single, "One Last Time" that was written in such a celebratory time. I think it was the summer of 2019, and I had to stay in Europe because I had another gig after tour and Mike Del Rio, who is in a band called POWERS, is my producer and best friend in the world. They were opening for me for this tour, and I had to stay in town with my guitar player to Alex Feder to go do a private show or something like Cypress or something like that, like oh poor me. So I was like, "Hey, let's stay in Greece and write for a week." So we did, and I really wanted to bring Alex Feder into it because he's just a great writer and a great guitar player and a great friend, and so that was the first song we ever wrote together. And I remember we wrote the la da la la la like the big chorus and we loved it, it sounds very like, kind of like, kind of taking a vacation from being an American, to be honest. It was like, "Where does this fit?" this song in my repertoire.
So anyway, we had that part of the song and then I think we worked a little bit on it in Cabo also right before the pandemic, and then after the pandemic here, we got together in our pod after a couple of months, whatever, and I remember like… And it just affected me… It affected me, it affected everybody so deeply, and I just really felt like I was watching all this wild shit like everybody else in shock and all, and I just, like watching people say goodbye to their parents or grandparents over FaceTime. I was like, "Oh, oh my God," and I mean both my parents have passed away. So I know the feeling of like, you've never… And friends of mine too, but and I'm never get to see that person again and it's hard to… If you haven't gone through it, it's hard to wrap your head around it sometimes, even if you're an adult. So I don't know it just was really like… I felt like when I wrote those verses, it felt very of the time. So that was one song that was like a straddle in both periods.
 And then I had another pod of writing thing in Palm Springs in the summer of 2020 and that's where "Everybody's Falling In Love" came out and I finished "Rainbow". And then… What was the other one that was really… Oh, "When We Touch" got started 'cause that was a big one… That was the first title that I wrote when the pandemic started 'cause I was… Maybe not when it started, but when I saw that we like, "Oh shit, we're not touring till… " I didn't know when… I was supposed to leave in mid-March, and then it was pushed till May and I couldn't believe that how long we had to wait, and then it was like… And then, of course, it was no longer, I said, "Oh my God." My American tour got moved four times. I'm sure everybody went through it as well, every musician, but I remember like… So my brain started thinking about, "Holy shit. Let me just… What is it gonna be like when we're back?" and so "When We Touch" started in my head, one of the first pandemic titles, but yeah. I don't think I would have written that song if this didn't happen.
Another verse another search for something holy
Another chance to make it right
When it's young and it's fun there's nothing lost nothing won
And no consequence in sight
You know it only feels like darkness
When the light doesn't shine on your side
You were the poet I was the poem but were you mine were you your own
Or were we fighting for our lives
It doesn't matter we survived
But if I could have
One last time with you
I imagine all the things we would do
Love is in the words unspoken
All these moments are golden
Forever is mine with you
Do you feel like the pandemic exacerbated emotions that were already present for you, that were already coming out, or did the pandemic also leave its own mark in special ways on the record?
LP: I think both for me. I was definitely… I was writing this record in a period, I'll be honest with you Mitch, I got everything I wanted and more, like in my career. I was trying to be an Indie artist, the best, like a working Indie artist. The goal was not to work in a bar anymore or whatever, you know? Or ever have to again. And I surpassed that even in the States where people like, "Oh, I hope you get as big in the States as you are… " I'm like, "Dude, I'm fine." You know, like the places I'm playing, I can't believe it, I never thought I'd get there. And so I'm very grateful and very… I hate to use the word "content" because that implies that you don't wanna go any further, and I'm into going as far as I can, I'm not looking to put limits on my shit, but… I definitely went there. And I worked really hard for it, so it's very satisfying and I could really appreciate it in real time.
Man, I just lost my train of thought slightly.
We were talking about the pandemic, whether it was exacerbating feelings and emotions and ideas that were already present in the music.
LP: I think as an artist I was definitely going like, "Hey." I remember being on stage and always being thrilled, you know what I mean? But you can also go when you see people like… When I was on tour and Chris Cornell and stuff happened and Chester, I was just like, "Wow, these guys do that." But I could see the… I wouldn't call them "amazed" maybe, but I could see that you could get in this thing with this like, 'Is that all there is syndrome', if you're not careful. And because once you reach the thing, you're like, "What's the other thing?"
Once your dreams comes true, what happens next?
LP: My thing is that I just really wanna keep going, I just wanna keep writing songs. My goal is to leave a massive body of work behind, as massive as I can amass. But I can see that. It's like this pandemic, for sure, makes people appreciate what we have and what we've had, just like you're saying, you can't shoehorn yourself into a fucking outdoor café right now, it's like impossible… Because it is like… Everybody is thrilled to be out, and rightly so. For God's sakes, man, they tell us… We tell ourselves, "Oh life is short, it's tenuous…" But it fucking is.
It really is.
LP: And you better… You better let that sink in. So I feel like that's on my career.
Can we talk for a second about legacy? Your debut
Heart-Shaped Scar
is twenty years old this year. Can you tell me a little bit about the LP who debuted with that record compared to the person I'm speaking with today?
LP: It's a lot different… That was my first record deal, it was substantial, but an ND deal. And I had no… It was rudderless and really difficult… And when I look back at it, not really real at all. But I think it was a cool piece of work. I didn't know, I was still kind of floundering as far as… Not direction, but yes direction, I guess. I'm like the perfect example of like a person who can sing, that people are like, "Wow, you can sing" like, "What do we do?" And I just kind of… I didn't know where to go. I've said this before in interviews, but I was not brought up to be a musician. I know a lot of people weren't, but I really… I really didn't think of, like I was gonna do it, it just kind of like… It was something that felt right.
In light of what happened with my family situation and with me, and in fact, my father was just so overbearing with the whole doctor-lawyer thing it's like… What? My mother died and I was like, "What is the meaning of life?" And I was like, "I'm gonna do that thing that everybody's always told me that people have been the most vocal to me, that I'm good at." Like, "Why not?" I don't know how to do it and know what to do but… So, the 'Heart-Shaped Scar' is the starting point. And I really… It was a journey of… From since then of finding my true… My voice as a writer and as a singer really, but more as a writer, 'cause the songwriting was the real mystery. I knew I could sing, and I could see my effect on people when I sang. When I was younger and stuff like that, I could see it. I was like, "Oh." Because I was trying to be real with myself. Do I have that… Do I have enough of that thing, or am I kidding myself with that part? And I think I was like, "Okay, I'm not crazy, enough people come up to me, and the way they say it makes me believe that I've got a little something on the vocal part." But the songwriting part… What the fuck do I do? How do I do that? How does anyone do it?
I think of songwriting as half storytelling, half self-expression, and another half management.
LP: Well, another half, it's just like, … it sounds lofty and douchey to be like "another part is like God being in the room."
It's the inspiration.
LP: It's a receiving. One of the biggest thrills of songwriting for me is that there's this private knowledge within you that can tell that you're getting better at it. I can't explain it to someone; I could say I learned a lot how to like… And for me, I'm not saying everybody would be like, "Oh you great." I learned how to trim the fat and to move things in a way, and also to receive. I feel like I learned how to open this channel to receive the melodies and the things that I need at the time, and I don't really know sometimes where they come from.
And it's very like… I just let it rip. Even lyrically, I can do it now, 'cause melodically, I think I figured it out a little sooner, but it feels very… And that I also owe to the… I call it "The gun to your head" songwriting that I had to go through to be a writer, because there's no like, "Hey man, you inspired today" or anything. There's like get in the room and write, 'cause we need these songs for this person. It really, it's been like school.
There is no doubt to me that
Churches
is the tightest LP record that we've yet to hear, and you've talked to me so much about how much you really love the songwriting on this album. Aside from those songs we've discussed, do you have any other favorites that are particularly special for you?
LP: Yeah definitely: "Rainbow," "Angels," and "Everybody's Falling In Love." The whole thing, I gotta say. I hate the word proud, but I'm really happy with it as far as where… Each song, even I who have listen to them thousands of times, I'm like, "Oh cool, yeah, I love that song." There's not one where I'm like, 'cause there's been… I feel like that on every record, but there's sometimes where I'm like, "Ah, could I have done better" on that, but I think "Everybody's Falling In Love," always gets me and I think "Angels" is pretty…
That was, I remember, a pandemic song, and I remember just thinking of that title and it's like generic at best really, if you think about it. But I knew, 'cause sometimes I'm actually fascinated with pedestrian words that then you could build into a complicated concept. You know what I mean. I have a bunch of them, and I just felt like I knew I could wield it into something that was more anthemic.
For me, "When We Touch" is one of those examples. That song opens the record and we're about a minute in and you're belting and my...
LP: [laughs] Yeah, wait until you see the show. I'm gonna have to be nice and warmed up when I do those shows because I think maybe don't put this on the thing, but I think that will probably be an intro song to the actual show. And that's gonna be an ass-clencher for sure.
That's the thing about that song, it's so emphatic, and I don't know how much credence you give to track listings. And to the way you design an album, obviously, there is a balance between songs that are all about a certain topic and a concept record, but there's some meat on the bones when we talk about that track in particular.
LP: And that was pretty much the last song written for the record, so that's interesting. Yeah, it was the very last one. And I don't know. 'cause that was the thing that… That's the quintessential thing about having that extra time to do the record, because then it was like… 'Cause I was always like… Before I thought about doing the poem, I was always like, Let's book in that shit on the record and even in the show with that same music. And then the poem idea came and It felt great, but I really wanted… I don't know. Yeah, I really, I haven't done that, but I always wanted to do that where you put it all together and tie it up like that.
I feel like the other thing, aside from the songwriting that really got down was just the production and the instruments, and I know that Del Rio has a big part there.
LP: Huge part, he's the producer, hands down. I consider myself one as well as far as my input and everything, but he's got… He's very gifted. And he just like… He really went to the map for this one, and it's…
You can tell.
LP: His as much as mine and and we… Our musical relationship and our friendship is so profound and epic for me and for us, I believe. And so I feel like this is also a record of… I say to Mike and Nate Campany all the time, and me, Mike and Nate need to write every song of the record. I feel like we are the heart of this, of all my records, and we are a band, and this is our third record now. And we don't travel together as a band, but when we come together now as writers and creators, I think it feels very tight.
That trio – you, Mike Del Rio, and Nate Campany – defines the LP artistic identity. I get that.
LP: Yeah, I'd like to keep going with it because I think we all would just because I don't really have that need to go… And now I will do a 180, you know what I mean? I like to snowball into more sounds and more things, but I don't need to prove to…
Bruce Springsteen going out into the wilderness and recording Nebraska.
LP: Yeah, exactly. You know what I mean?
I totally get it.
LP: I wanna keep building. Yeah, I just, I'm obsessed with songs. You know what, man, I just… I wanna try to not repeat myself, but I'm also not trying to also reinvent my own wheel, but I'd like to build on and progress, so that's kinda more of my style. Even bands that I love, that go too far, and in a way, I'm like, please, it's like to love them, but Radiohead, please write another The Bends and then I just thought… Then I feel bad because I don't want them to repeat themselves but, I do miss that style of that beautiful, tight songwriting that they have that became so orchestrated.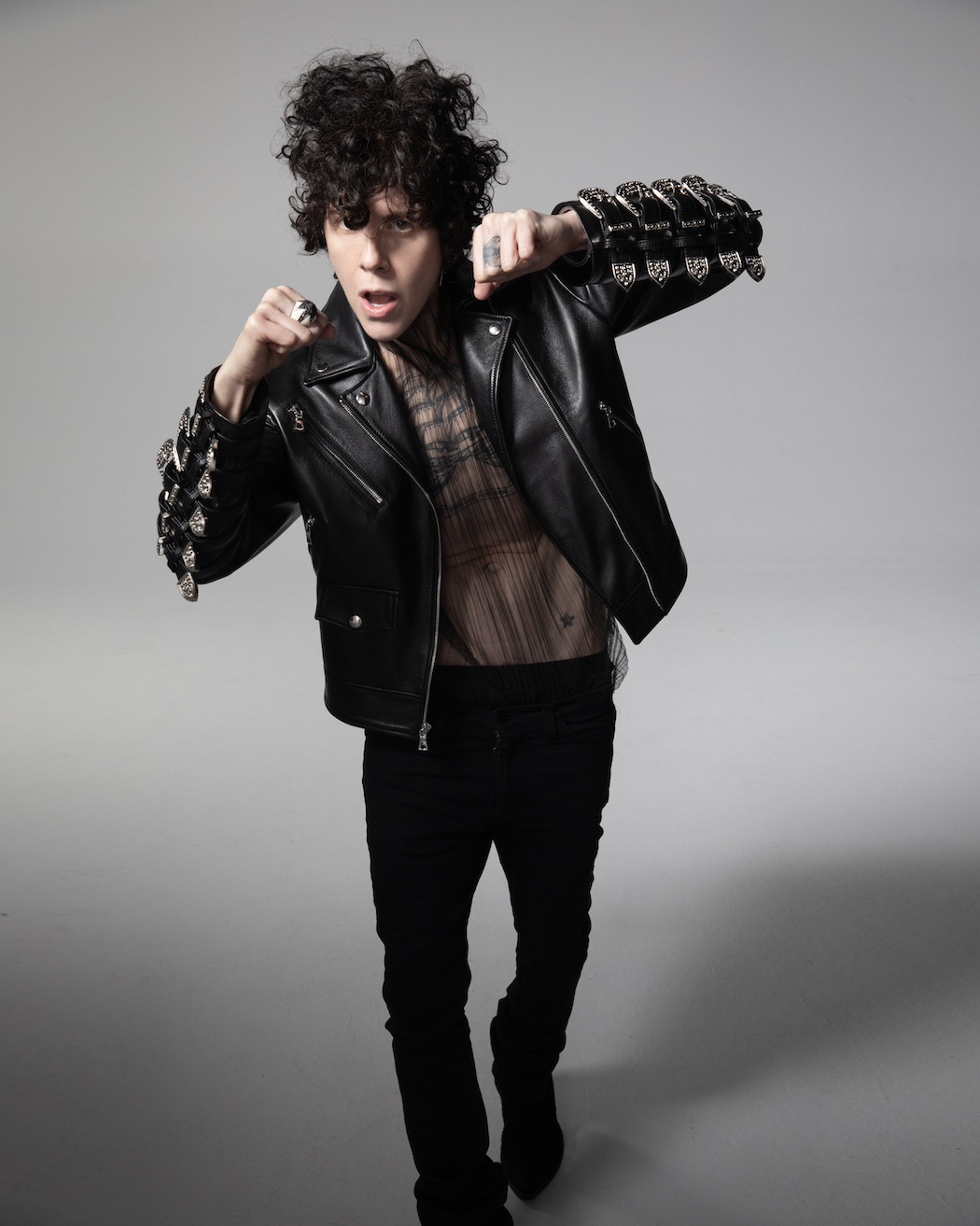 One of the things I feel with this record is that it really is built up musically. You were talking about how you had time to finesse these songs, just based on the pandemic and being home like that. Is that the same for the instruments? Is that the same for the feeling? 'Cause these songs are so big, they're so… elegant.
LP: It's nice of you. Do instruments feel like that? Yeah, I feel like we had time to layer and to build up and strip away. Even with "Everybody's Falling in Love," they were like… It sounded a lot different than it does right now, and it's like we put… You can be like, we went back, we went from more electronic shit and more strings to strip back and more guitar, and Mike was like putting these fuckin' dope guitars in it instead of this string stuff. And it brought a lot… It brought something else to the table and… 'cause he's always like, I want it to sound like you. I don't want to sound like… 'cause sometimes that was one of the hardest parts of my career, what you asked me a little while ago, about the difference between 2001 and now, and it's… That's the sound is… I've got a sound you know? And the people that know me and love me know it. And I want to like… And it became my sound 'cause I love it. And it's my stamp.
So Mike has always been the one, he was the first one to really dial it in. Even Lost on You, the way he recorded my vocal was very… It was the first time, and it's not lost on me. Maybe that was why; it was my pinprick in. It was the first time my vocal was recorded properly, so that the emotion got through. 'Cause before that, I think was very often over-produced.
Especially on Forever for Now, and that was the main loss of that whole era. There was some really good songs on that, but I got commandeered by someone… By the system. And it didn't work, 'cause of those songs, in my opinion, and I don't wanna blame anyone, but it was a perfect example of "something's gone awry."
How do you know when the song is done?
LP: Well, I think on a song… I'll tell you what, how about Mike knows more about when a song is done. When I know what song is done is when I know that even if I played acoustically, it affects someone, you know what I mean? I just know as far as the writing of the song is done, really, to be honest, I can tell there's enough parts. Every melody is catching you. Each lyric has all the precise meanings that I want or duality or whatever the fuck it is, and that's when I know. And there's been times… There's been songs before where I like, this song needs another part, if it doesn't have another part on repeated listening's, it's not… It's gonna fade… And so shit like that, that I'm really… I'm like sculpting a lot with songs, and Mike does that on the production, you know. So, we have different versions of what is done.
What do you love most about the music that you make?
LP: There's always a throughput of emotion, but that it's like… It doesn't bog you down. You know what I mean? It's working your emotions while it's… While it's kind of feeding the things that we like in songs that just make us happy or just forget or I don't know… I feel like any good music that I love it, it hits you in a few places, you know? And that's what I look for.
Going back to this record, do you have any favorite lyrics off this album?
LP: I got it. It could be, I'm gonna regret this after, but it's apropos of this time: "When We Touch," I say, "So let me grow wise in my exile. Darker than the nights, longer than the miles." I just take this time to get wiser, 'cause I feel sequestered away, like everybody. I know I have another one, but there's one for you!
What do you hope listeners take away from the songs on
Churches
?
LP: I hope they can relate and feel and, like all of the music that we put out, bring it to their own lives – it feels healing.  I feel like these songs have helped heal me and got me through a bunch of shit. I hope it just feels good.
Similarly, what have you taken away from creating it and now putting it out?
LP: I just feel like I'm expressing myself as always. What more is there? I feel like I want these songs to carry me and my band into the next couple years performance-wise, and so that myself and my audience can come together and work our shit out.
Who are you listening to right now that you would recommend to our readers?
LP: Tamino, Palaye Royale, Angel Olsen, and Aurora
LP, thank you for your time. I hope you and your loved ones are all staying safe and healthy, and congratulations on this record.
LP: Thanks Mitch. I hope to see you out there!
— —
---
— — — —
? © Ryan Jay
:: Stream LP ::
---