"I was finally able to trust myself fully," says Indigo De Souza on making her masterful third album, 'All of This Will End.'
Stream: 'All of This Will End' – Indigo De Souza
---
Indie rock artist Indigo De Souza has long been known for her lyrical vulnerability.
Whether delivered through grunge garage rock or meditative folk, the artist's previous two albums seamlessly encapsulated a sort of "coming of new age," where De Souza unabashedly expresses her most intimate sentiments and creates an angsty, potent composition of diary entries and distorted guitars. All of This Will End not only holds its own next to previous releases, but it further saturates the often grazed-upon existential undertones of her previous works, finally drawing these difficult questions to a head. What emerged through this self-confrontation is nothing short of brilliance; even in moments of simplicity there's a larger revelation bubbling under the surface.
And this time, it appears to have taken root. De Souza herself expresses that the album's title has become something of a personal motto.
"Every day I wake up with the thought that this could be the end," she says. "You could look at it as a sad thing, or you could look at it as a really precious thing: Today I'm alive and at some point, I will not be in this body anymore. But for now, I can do so much with being alive."
In All of this Will End, all of these perspectives are brought to the forefront, through which De Souza has once again created a rich and sentimental body of work.
The album opens with "Time Back," starting with a digital, heavily layered sound that's warm with saturation, similar to the single "Hold U" from her previous album, Any Shape You Take, an acclaimed breakthrough that catapulted the artist into a year of sold out shows and rave reviews.
Following a brief introduction, the "Time Back" composition quickly bursts into De Souza's signature rock sound sprinkled with the screams of children playing in the background, giving the song a coat of nostalgia as it examines a present moment. It perfectly outlines the journey that entails throughout the record, opening with a poignant verse: "I feel like I'm leaving myself behind / And I'm so tired of crying / I wanna get back up again." 
This declaration is followed by "You Can Be Mean," the last single before the album's official release. This track has an overtone of exhaustion as she astutely  addresses toxic situations that have cycled in her life, particularly in regards to romantic relationships and self-worth. While written as a confrontation, there is a hint of grace and maturity, suggesting redirection rather than sustained frustration.
---
As De Souza dives more into her perspective when writing this title, she acknowledges that this moment was an irreversible and ultimately positive switch in her subconscious that allowed her to break free from such patterns.
"I wrote 'You Can Be Mean' about a brief toxic experience I had with a manipulative and abusive LA model fuckboy. However brief, it had a life-long impact on my understanding of self," she explains. "Leading up to that experience, I had a history of putting myself in toxic situations and pining for validation from people who treated me poorly. I was stuck in some delusion that I could help abusive people through their trauma and teach them to love me in the way I deserved. I wrote this song when I finally realized that I could choose not to allow harmful behavior into my life, and that there is a deep, deep importance in protecting the body and spirit."
Am I trying hard enough? Or am I trying too much?
I keep feeling like an idiot when I reach out to touch
And there is nobody there to  see me- no not really
I always get impatient
Ah, the lightness is a bully 
There is nothing I can do
When the winds of change blow through
There is nothing I can say to make you stay
"Losing" is an existential synth-led drift to the subconscious. Its lyrics document a natural period of healing where one realizes the journey is non-linear, where the new perspective you've opened yourself to doesn't feel quite like your own yet. In a way, it seems to mourn De Souza's more youthful outlook on life in a limbo-state, where the new is not quite ready to take hold. There's both a pain and a freedom to the lyrics , as despite the fear the unknown brings, De Souza continues to dive in.
"Wasting Your Time" is an immediate standout, with psychedelic dizzying guitar and hazy vocal layering. This title ventures further into the aforementioned unknown, setting itself apart in an album full of emotional turbulence with a cathartic outcry of rage and indecision, which in its inclusion alone suggests a heightened level of maturity. "Parking Lot," in contrast, returns to a familiar existential hopelessness, marking the center of the album as an admittance of struggle, as the narrative overall appears as more of a pensive epilogue than a stagnant processing.
"Up until recently, my life felt chaotic," she says. "Now, so much of the chaos is behind me. I have an incredible community, I love where I live, and I'm surrounded by truly incredible people who are dedicated to deep connection and joy. My music feels like it's coming from a centered place of reflection." 
You ask me what I think about this
Is there even a reason for it
I don't have answers- no one does
I've been finding comfort in that
There's only love
There's only moving through and trying your best
Sometimes it's not enough
Who gives a fuck
All of this will end
The album's titular song, "All of This End" is ironically the song that brings about the strongest feelings of hope and self-assuredness. Here there's a sense of letting go and acceptance that the first half of the album yearns for. The song's production is a sunset-smooth alternative rock that feels both naturally nostalgic and timeless, as though you've heard it before but never really listened until now. It's a necessary moment of reflection amidst an amalgamation of spiritual highs and lows, with a freeing payoff that feels both authentic and earned.
---
"Smog" starts the second half of the record with an electric, synth-backed freeness that highlights a newfound comfort in community. The song segues effortlessly into "The Water," another notable highlight in which De Souza returns to nature as a source of explanation for her innermost thoughts. Here is where a true acceptance is reached yet again, only now the incorporation of it is much more saturated. The lyrics are coated in callbacks to previous tracks and marked by appreciation; here, even in its simplicity, De Souza's lyricism shines as an all-encapsulating yet fresh and breathable matrix of human experience. 
"I wrote 'The Water' as an exercise to get myself out of a writing block," she explains. "I was just writing with no expectations, and I didn't think I was actually going to end up using it for anything. It became a really simple exploration of my love for moving water, and its presence in my life since I was a child, as well as the scattered memories of a childhood friendship. [Guitarist] Dexter [Webb] helped me flesh out the demo, and it took on a new form – a combination of both our spirits, and both our deep connections to water. Water has always been so magical to me. And the way the earth and stone around it are so strong and stable, holding steady the pathway for its passing through. I feel that way in my life. Like my body is the ground, and my life is the passing water. I find acceptance in all the moving parts."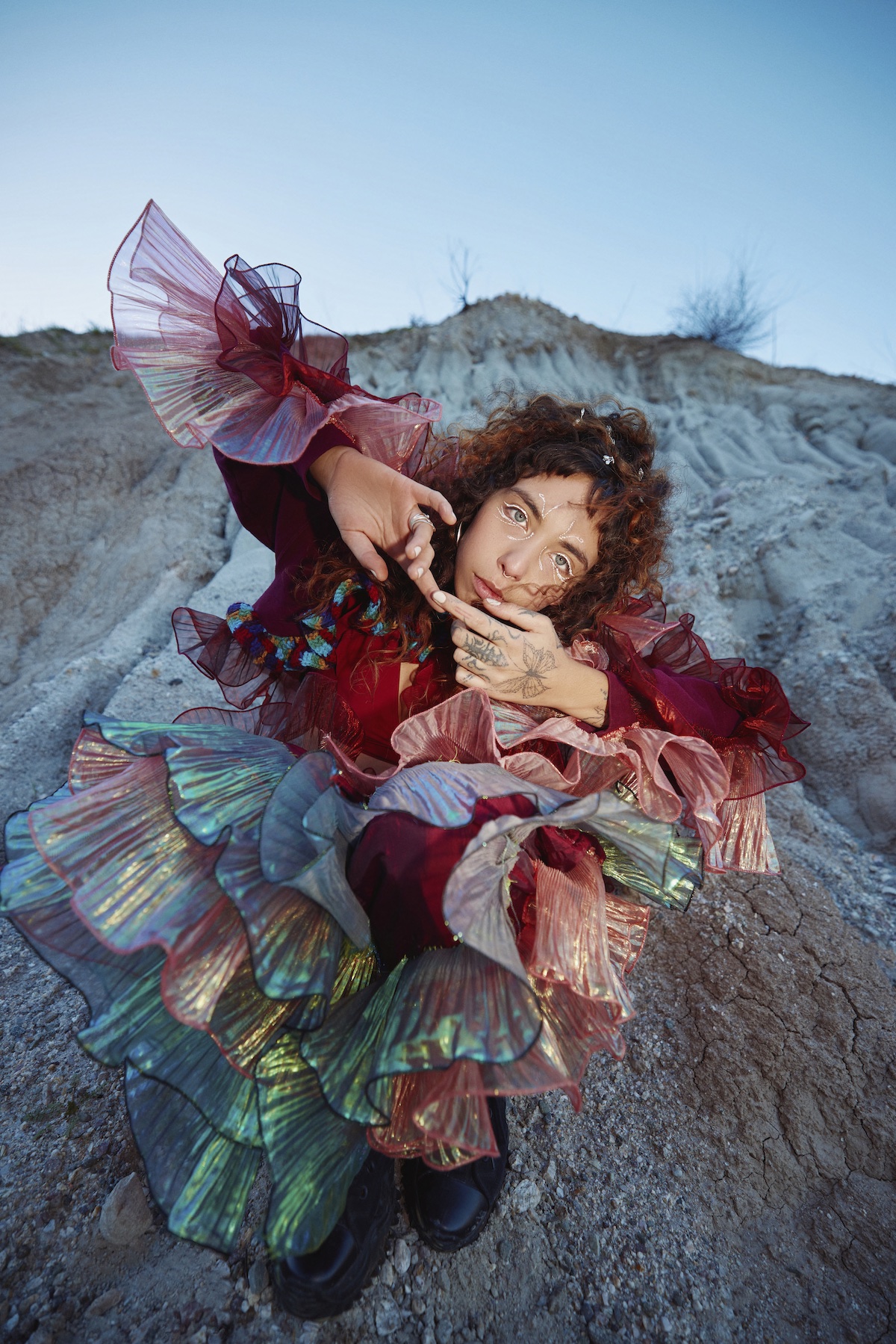 "Always" holds a vocal composition that owns its anger proudly, even further accentuating De Souza's versatility in production. De Souza credits her band, including guitarist Dexter Webb and drummer Avery Sullivan, as well as producer/engineer Alex Farrar for helping her thoughts come into fruition in production.
"This time, I was more true to myself and refused to allow other people's ideas to shape what my songs sound like," she  shares. "It also feels really special because Dexter was able to fully express his freaky alien guitar voicings, and played a larger role in the production."
"Not My Body" also boasts a psychedelic production as it expands from its acoustic introduction; while lyrically honing into the theme of acceptance and lending itself further to the use of nature as metaphor, the arrangement allows for the listener to get lost in the sound and achieve their own sort of 'freeness' through the experience.
When I was younger, younger and dumber
Built like a flower
You came to pick me from out of the city
You turned me sour
When I was younger, younger and prouder
I was nobody
You came to hurt me in all the right places
Made me somebody
Which way will I run when I want something new?
I don't feel at home in this house anymore
Which way will I run when I'm over you?
I don't feel at home in this town
The final track, "Younger & Dumber," is the highly-acclaimed first single in this record's launch, which we also discussed on Atwood Magazine here. The stripped acoustic track is a meditative lullaby to her inner child. One of the first songs she wrote for the album, the song began as a way of her speaking to her younger self.
"While I was writing about the time when my music first started to take shape, it was also the worst time in my life and the most unstable I'd ever been," she says. "I wrote this song paying homage to a younger self that didn't know any better. I was flailing through life, trying to make something stick, and coming to terms with being on earth."
Its yearning is met with an explosive, heartfelt chorus, and sits as a perfect conclusion to the record's journey.
Overall, Indigo De Souza has once again brought our deepest sentiments up to the surface with skillful lyricism and a refreshing and dynamic production.
It's rare that an album's longevity can be felt upon first listen, and De Souza continues to deliver a rare authenticity that will be celebrated for years to come. 
— —
Stream: "Younger & Dumber" – Indigo De Souza
— — — —
 © Angella Chloe
art © Kimberly Oberhammer
:: Stream Indigo De Souza ::
---