Twin sister duo KTJ & CARLY discuss their explosive new EP 'NUKETOWN' and share their honest, unpretentious opinions about their musical and personal evolutions.
Stream: 'NUKETOWN' – KTJ & CARLY
---
It's truly rare to find twin-sister pop/rock artists and songwriters who resonate with each other and their audience so profoundly.
And yet, Los Angeles duo KTJ & CARLY are the real deal – and their new EP NUKETOWN is generating a fast-growing audience.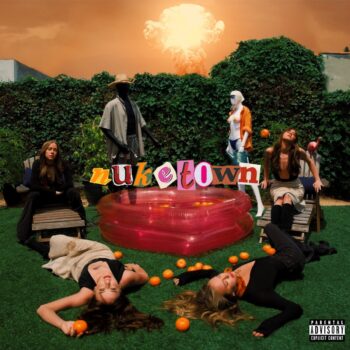 Released June 22, 2023, NUKETOWN is KTJ & CARLY's third body of work – one that was 100% created by women and self-produced by the duo of sisters Katie and Carly Haynes.
The sisters show a reserved maturity and growing emotional intelligence on their powerful single, "In My Ways," the EP's second and final single (released in May). Featuring a solo synth accompaniment, the song explores how small talk hides true emotion.
Known for tracks like "Shitty People," "Pink Ferrari" and "Nice Guy But" – as well as their previous records, 2020's Identity and 2022's Ego Death – the duo excel at melodic storytelling, pristine harmonies, and soulful vocals. In featuring Ego Death upon its release last year, Atwood Magazine's Chloe Robinson praised KTJ & CARLY for their "stunning, detailed storytelling and addictive pop melodies," going on to remark how the EP leaves listeners "leaves us with an intense desire to discover what occurs when we detach from our false self-images."
In the summer of 2022, the duo launched their first-ever headlining tour in support of Ego Death, which included dates at the legendary Troubadour in West Hollywood. Now they share their honest and unpretentious opinions about their musical and personal evolution in 2023.
Atwood Magazine caught up with KTJ & CARLY to discuss their pop/rock, female-driven, fun, and fascinating musical journey – one that's continuously drawing dedicated fans to their ever-growing cause.
— —
A CONVERSATION WITH KTJ & CARLY
Atwood Magazine: You claim your music to be 100% created by women. How does the female artistic vision influence your lyrical and melodic direction?
KTJ: Honestly it wasn't planned, we just realized that every song we put on the EP happened to be written by all women. I don't think that it necessarily influences the music in any different direction, except that sometimes it's easier to talk to women about women's struggles because they experience them too, men that have sisters or have a lot of women in their lives understand. It's refreshing to see as time goes on more and more female producers rising up and taking up space in the room/studio.
CARLY: Like KT said, the EP wasn't intentionally written by 100% women. It just turned out that way. When we were writing for the EP, we wrote with lots of men too and it just turned out that all of our favorite songs were with women! And when we picked out all the songs we were like, hey that's all women, pretty cool! I like to think that in a session it doesn't matter your gender or classifications to be able to write a good song, but I can say right now that everyone who was a part of writing this EP were the most receptive and felt so comfortable to write with. It can be a lot, co-writing. ESPESCIALLY, if you don't know them yet. Like imagine you walk into a room, see a stranger, and then you're like 'nice to meet you, wanna write about this life altering tragic trauma I went through?' So it's important, regardless of gender, that you are comfortable with them immediately or else you won't write a good song and you will feel uncomfortable which is no fun. I think a lot of women have a way of making everyone feel comfortable and a safe space to share your innermost thoughts, even if you are meeting them for the first time.
How do men relate to your music?
CARLY: I hope men like our music! We try to make our music for every gender, size, race, color, ethnicity, language, whatever it may be – we want everyone to be able to relate. Releasing songs like "Nice Guy But" and "Daddy's Little Lawyer," we are actively calling out a man in these songs and felt that maybe the straight men of the world wouldn't relate when we released, but we have had lots of straight men in our lives tell us how important one or the other was to them which honestly surprised me lol! So at the end of the day I think they relate in the same way anyone relates to music. While it may have been written with the intention that listeners absorb the song a certain way, everyone relates to music differently.
KTJ: Most guys love our music and think it's some savage work. There's always gonna be haters/trolls online that think we are just brainless little girls lmao but we know they are offended because they are the ones who portray the toxic behavior we write about. But yeah other than that, most men that have listened to our music have been nothing but supportive!
Let's go through the collection of songs on NUKETOWN. What should listeners be hearing emotionally, musically and lyrically in each song?
"Backfire"
Pushing through the setbacks in life… We hope that people feel bad ass after listening. Like a confidence booster.
"Body"
Emotionally, we hope people feel heard. It is all about depression and dissociation, so if someone who also struggles with this relates to the song, then I hope they feel less alone. This song has an alt rock pop grungy vibe that drives forward with the beat with a bit higher energy than some of the other songs.
"Shitty People"
I would say this is our most emotional song in the EP. I know for sure everyone deals with this. It's all about trying too hard to impress and be liked by people like your boss or you colleagues, friends or enemies, lovers or haters… literally anyone. I hope people listen to this and can point out that they are doing it, and let go. Just live for themself or learn to also live for themself too. This song is very emotionally driven musically, so it's got lots of orchestral instruments involved with a slower tempo.
"In My Ways"
When people listen to "In My Ways," I hope they realize that there's more to meeting new people and old friends alike and the conversation involved than simple small talk. Musically, this song is definitely the most simple yet most experimental. We were very inspired by Imogen Heap and new wave artists that get experimental in their song presentation. There is only one synth in the entire song that repeats the whole time, and the majority of the song is vocoder. This was definitely the most simple song to produce but like I said, very experimental. I think people will like to listen to this when they are in a weird mood for weird music, like we are all the time haha.
"Nosedive"
This is finally understanding how social media is dragging us back into a toxic mindset so I'm going to 'space' where they don't have it; learning to unplug. I hope people can relate to that part of the song and feel like they are ready to unplug. This song is also a bit experimental, and it's super fun because it is all in 6/8 time signature while the rest of the songs are in 4/4. Hope people feel bad-ass and cathartic listening to "Nosedive."
Why do you call the EP NUKETOWN?
CARLY: When we were kids, we used to play this video game when we would visit our cousins. In the video game, you would enter this place called nuketown and you essentially had to escape or find safety before the testing site went off. The only living breathing person in the game is yourself. All of the songs in our EP are about things you might talk to yourself about when you're alone. We call it nuketown, because if you were thrown into a new world like that where the only living breathing thing there is yourself, what would you talk about? Maybe you would talk about the things in this EP.
KTJ: Nuketown is weird because there's like mannequins everywhere, portraying a picture perfect family in society, but that's not real life. And when you see this in the world and tell yourself that because you're different and don't fit into this picture perfect scenario/society, it bottles up and we explode on ourselves. We call it Nuketown because it could mean so many different things in far of who we are and how we treat ourselves when we are alone in the world.
Which artists are your greatest influences?
CARLY: Lately, I have been getting out of my super rock and NYC techno phase and I have been super inspired by alt pop and indie folk like Noah Kahnn, The Last Dinner Party, Boygenius, Tommy LeFroy, The Dare, Renee Rapp, The Beaches, Frankie Cosmos & David Kushner.
KTJ: Billie Eillish, Noah Kahnn, Tove Lo, Raye, Taylor Swift, SZA, Jhene Aiko, Lana Del Rey, Mac Miller, Lil Wayne, Hailey Knox, The Kid Laroi, SAYGRACE, Ms. Lauryn Hill, Renee Rapp, Amy Winehouse, and TV Girl, (these are just what come to the top of my head but there's many more).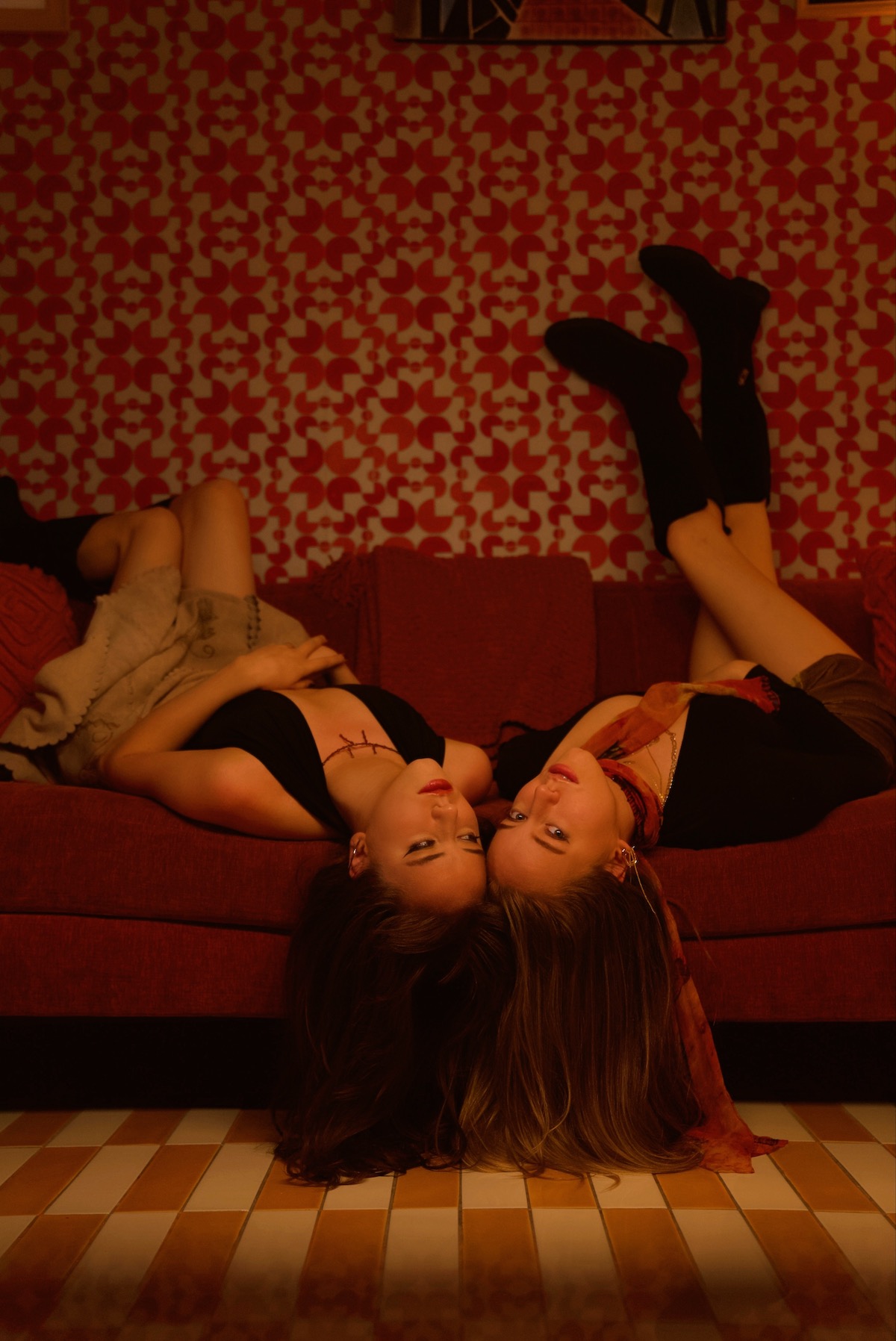 What is the process you go through when writing and recording a song?
KTJ: Depends. If I'm sitting with a feeling, I'll write about it, and then when I'm feeling musically inspired, I'll sit at the piano and match a melody. Sometimes I'll just go straight into production and start writing off of a vibe, which is typically what we do in sessions/co-writes, but at the end of the day all I need is my piano and a pencil with paper.
CARLY: We draw inspiration from all different walks of life…. We start by brainstorming ideas and finding the overall theme and message of the song. We then work on crafting the lyrics, melodies, and harmonies. Sometimes we will write our song ideas separately and bring our ideas together, while other times we collaborate from the beginning. Once the basic structure of the song is in place, we focus on arranging the instrumentation. We experiment with different sounds, instruments, and production techniques to bring out the desired mood and atmosphere. Then we record vocals and produce it all together! Honestly the process is different every time but it typically involves all of these, it is just the order that changes.
What are your immediate and long-term musical goals?
KTJ: Our immediate goals are to expand our producing clientele, land some cool playlists with our own music, grow our platforms, and perfect an insane live set for tour. My big dream is for us to play at MSG one day, but in the next 5 years I hope we are continuing to expand and perfect our live set, open for a sick band on tour (more importantly for a band that has fun!), we dive back into movie scoring, and we perform at some bucket list places around the world. I definitsely want to go on tour in Europe and/or Asia.
CARLY: As far as our immediate goals go, we aim to continue writing and recording music that resonates with our fans and captures our growth as artists. We want to explore our music and experiment with different sub-genres, collaborate with other musicians, and refine our live performances. We are super excited for the tour coming up so a big goal of ours is to create a live performance that people will love. Also we feel really good about our EP coming out and we hope we hit some milestones with our Spotify listeners. We would really like to go on tour and open for somebody we look up to. Long term, we really want to create a memorable album and tour the entire world, and essentially create a lasting career in the music industry.
Any advice to up-and-coming artists in today's musical landscape?
CARLY: Stay true to yourself. Focus on discovering your own unique sound and expressing your authentic self through your music. Hone your craft. Dedicate time to improving your skills. Continuously strive for growth and development. Utilize every social media and music platform you can. Anyone can do it now. Collaborate as much as possible. Above else, learn resilience. Enjoy the journey, be open to learning, and always strive to create something meaningful!!
KTJ: If you love anything else and have other passions you should probably pursue that instead because you have to give this 100%. It's hard and in today's day and age can take a toll on one's mental health. But if you decide to go for it, give it your all and make sure you have or find a solid support system of people that genuinely care about your well being. Learn about finances and time management as early as you can, as that will be a big determining factor in one's success. Overall, be honest in your work, and don't worry about numbers so much despite what everyone says, because 1. it will drive you crazy and 2. Who cares, we are all ashes to ashes eventually so stay true to yourself.
— —
— — — —
 © Joseph Lee
:: Stream KTJ & CARLY ::
---