As the pressure of modern life mounts, many build facades of bravery and bravado to hide their afflictions, but Larkins ask the crucial question: "Are We Having Any Fun Yet?"

Stream: "Are We Having Any Fun Yet?" – Larkins
---
Manchester band Larkins, named so after post-war poet Phillip Larkin, have built a reputation for anthemic, alt-pop earworms, surreal lyrical commentary on modern life, and a no-nonsense approach to toxic masculinity. Between them, the band members Josh Noble, Dom Want, Henry Beach, and Joe Gaskell have organically concocted the perfect blueprint for a successful band in 2020. So, it should come as no surprise that Larkins have amassed millions of Spotify and Soundcloud streams, and a sizable pack of loyal fans.
"Are We Having Any Fun Yet?" is the first teaser from Larkins' upcoming project and features production and mixing credits from Dan Nigro and Andrew Dawson. A pounding bassline played by Henry Beach lays the track's sturdy foundation, and harmonic synths tick back and forth to forge a song that sounds both ultra-modern and retro at once.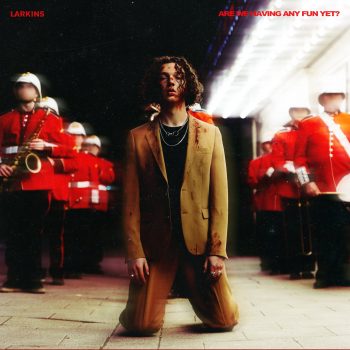 Larkins' frontman, Josh Noble, told Atwood Magazine, "I started writing in London and finished production alongside Dan Nigro in LA. The Juno pulses and harmonizers on the vox were something I'd wanted to try for ages. AWHAFY feels so anthemic and yet serious and cutting all at the same time. I love this song, and I hope it can be the soundtrack to people's lives for a while, even just to give a bit of perspective and start to challenge what's actually important."
Josh Noble also explained his inspiration for "Are We Having Any Fun Yet?": "AWHAFY? It's a question I've been asking myself forever, I guess. I'd never written something so personal, and so quickly, it kinda just came out. I'd been on the London underground on the morning that I'd started writing it and basically a couple opposite me were arguing and shouting at each other. It was just as the Brexit vote was concluding in Britain, so the atmosphere amongst everyone was horrible. As the tube pulled away from the platform, the rails screeched, and the couple instantly couldn't hear each other, so they simply had no other choice but to wait for the noise to stop. When it did, they just sat in silence. I kinda felt like it gave some well-needed perspective. From that point, the narrative of the song just continued into modern life."
"Are We Having Any Fun Yet?" (AWHAFY) begins softly, with an absent baseline that holds off throughout the first two verses. The metronomic synth melody blends seamlessly with frontman Josh Noble's gentle vocals. The initial lyrics speak of a real-life incident witnessed by Noble; a couple unashamedly argued upon raised voices while riding the tube, until they were forced to stop by the overriding screeching sound made by the vehicle. Sometimes things that seem so important, in a heated moment, seem less relevant if you step back from the swirling vortex. Unfortunately, modern life can become so fraught that gaining perspective is difficult, and it takes a screeching underground train to induce it.
He waits for the sound of the train to stop
It's like the second hand on the clock
Is moving, moving in slow-motion
Are we having any fun yet?
With the onset of the chorus comes the thrumming baseline assisted by striking percussion. The song becomes more imposing but stays comfortably in the mid-tempo range. Lyrically, the chorus is simple but resonant nonetheless and begs the question that many ask themselves, are we having any fun yet?
Are we having any fun yet?
Are we having any fun yet?
Are we having any fun yet?
The drums and baseline that have created depth within this track continue through the third and fourth verses, assisting the lyrics that deepen in a similar way. AWHAFY touches on mental health and its treatment unequivocally.
She sleeps alone in a king-size bed
They said she needs two pills
As a way to sort her head out
Are we having any fun yet?
As the stigma surrounding the discussion of mental health slowly disintegrates, we are learning that the subject is something most have direct experience with. However, after years of stigmatization, few are inclined to admit it. Unfaltering facades of "I'm alright" and "don't worry about me" provide protection from judgment, but not from internal demons. Josh Noble told Atwood Magazine, "I love the section about mental health and pretending to be alright to your friends. I feel like that temptation to portray strength all the time is within all of us."
You've got it so bad
You're wasting your time
You didn't know that
He's just not your type
Got dealt the wrong hand
But you don't want to fight
So you tell your friends that
You'll be alright
The song's observations about internal mental battles are further depicted in the accompanying music video, produced by the award-winning directing duo, GRANDMAS. The video follows a bloodied Noble, who wanders the streets with visible, physical injuries: a clever comment on the internal wounds that no-one can see.
As the final chorus leads the track through its end stages, distorted, robotic vocals repeat the lyrics "you've got it so bad" and elevate AWHAFY to occupy the anthemic space that listeners have come to associate with Larkins.
You've got it so bad
You've got it so bad
Larkins have a knack for creating an all-encompassing atmosphere through their music, and "Are We Having Any Fun Yet?" is no different.
Synth-heavy, undeniably memorable, and with mass appeal, "Are We Having Any Fun Yet?" continues the band's musical success streak.
Stream: "Are We Having Any Fun Yet?" – Larkins
— —
? © 2020
:: Stream Larkins ::
---