Discussing his newly released debut album 'SEA/SONS,' singer/songwriter Abraham Alexander opens up about chasing passions, healing, and the wonder of getting lost in order to find yourself in the process.

Stream: "Tears Run Dry" – Abraham Alexander
---
Hopefully it inspires people to get lost, because it is through getting lost that you can be found.
Abraham Alexander's highly anticipated debut SEA/SONS is here at last.
A thoughtful and stellar debut, the artist demonstrates his flair for powerful storytelling and not shying away from poignant truths. Thoughtful and affecting, Alexander's record is a culmination of his own stories of loss, anguish, redemption, and longing. But what fills each and every track is an undeniable sense of hope and healing, a calm after the storm.
With every song representing a moment in time, Alexander captures each singular feeling with ease, transporting listeners into his world. This is Alexander's strength. From the album's songwriting, instrumentation, cover art, and track listing, the thoughtfulness given to each facet of the record's identity ruminates off its cover and into the listener's experience. Alexander has undoubtedly created a moving and poignant debut.
From his birthplace in Greece, "Knee Deep" describes the fear of the unknown as he moved away to Texas with his family at age 11, to to escape racial tensions. "Today" immortalises a single moment in Alexander's own childhood, a memory of his mother before she passed away suddenly. "Stay" (feat. Gary Clark Jr.) reflects on geographic and spatial love, perceptions of family and self. Alexander draws inspiration from everywhere — not just his own stories, but the worlds' stories too. "Déjà Vu (feat. Mavis Staples)" is a reflection on Khalif Browder's case, while "Tears Run Dry" was notably inspired by transformative love in A Walk To Remember. "Heart of Gold" holds a specific symbolism for Alexander too, as the first song he ever wrote.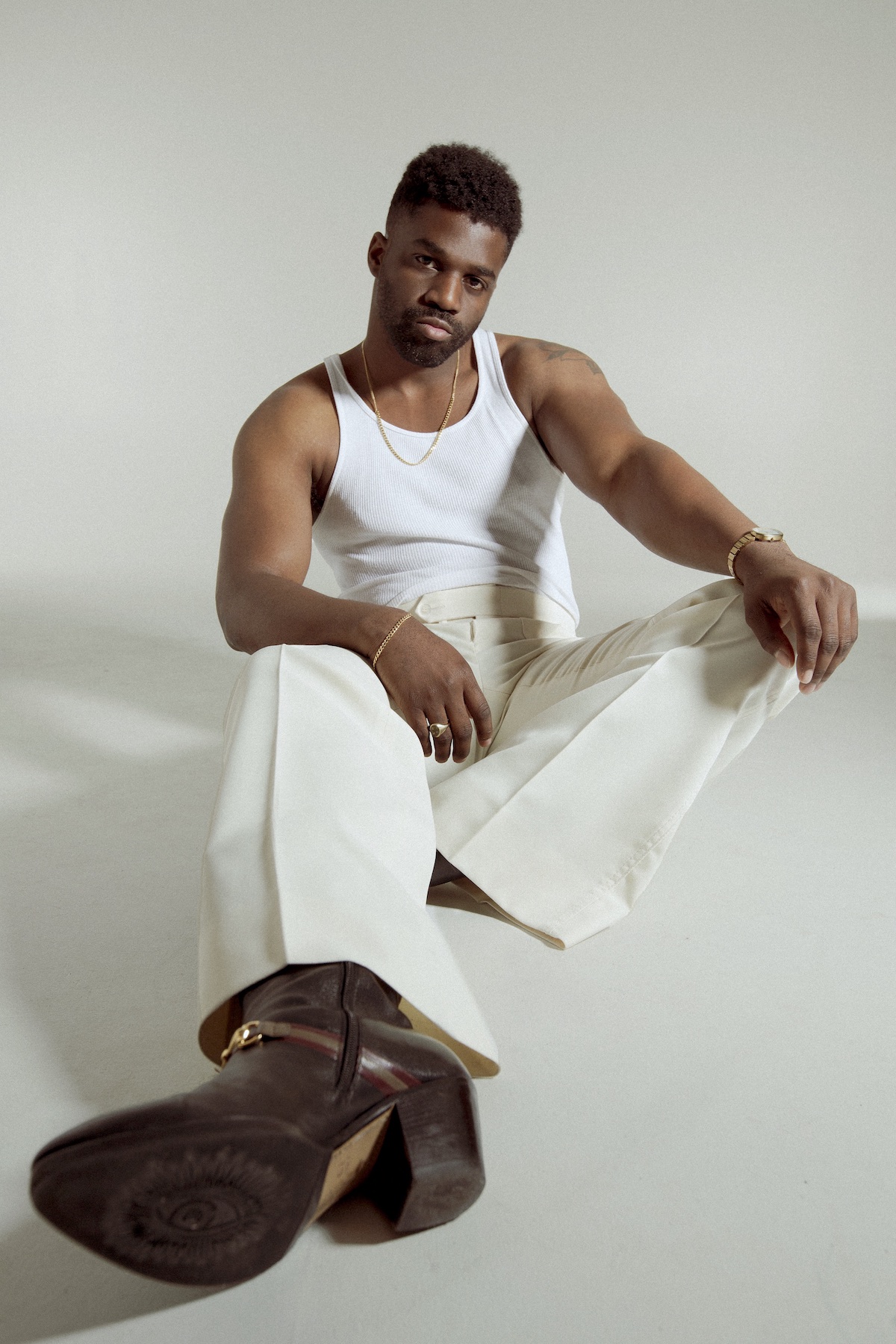 Abraham Alexander sat down with Atwood Magazine to discuss the healing and reflection leading up to his record.
He shared more about the concepts behind the album and his creative processes, and we gushed about his collaborators (a.k.a modern music icons) Leon Bridges and Gary Clark Jr. Alexander encourages us to always hold wonder and curiosity close to our hearts, and that is something I will certainly be carrying with me for a long time to come.
SEA/SONS is out now via Dualtone Records.
— —
Stream: 'SEA/SONS' – Abraham Alexander
A CONVERSATION WITH ABRAHAM ALEXANDER
Atwood Magazine: Congratulations on SEA/SONS, you must be so proud! It's such a beautiful record. How are you feeling now that it's about to drop?
Abraham Alexander: I'm feeling grateful, just the fact that it's happening, and that I get to share a body of work. As something that I had been working on for so long, it's surreal. I'm just so thankful and grateful to build a community now, and to share a space where people can feel validated and seen.
Oh, that's wonderful. It's your big debut as well! That's a massive milestone.
Abraham Alexander: Yeah! It's taken so long but I think the time was well spent because of the visuals and the album cover and the titles in all the songs. I think everything really came together in such a beautiful way. If I had tried to rush that process, it wouldn't be what it is right now.
Yeah, definitely. It's such a meaningful record. Tell me about the lead up to the conception of the album.
Abraham Alexander: Yeah, so the whole concept was going to be somewhat of a book about my life and the chapters within that. I started with "Heart Of Gold" which was one of the first songs I ever wrote –
Ever?!
Abraham Alexander: Yes, the first song that I ever wrote! And for it to follow me that long is beautiful. So yeah, when it was time to put together the album I thought, what's the story I want to tell? How can I tell it? What's the best way to tell it? And that's how it kind of came about. Just knowing "Heart Of Gold" is there, and it still resonated, and it still felt new and fresh. That's how the first song I ever wrote still made it on the record.
I can't believe that's the first song you ever wrote! That's amazing!
Abraham Alexander: Yeah, it's wild. And when you hear the song, there's not a tempo to the song. So it's just very much free going and driven by emotion. You can really hear the background vocals, and that really sets the pace of how it goes.
Wow, that's really beautiful. This album does draw a lot from memories of your childhood, loss and healing. What was it like for you to revisit these moments when you were making the album?
Abraham Alexander: Yeah, you know, it was like having a dove and letting it go. I was trying to let go of the emotions and the traumas that I've been inflicted by, but also acknowledging the significance of each moment. And that's why the record is called "SEA/SONS." These moments were so important, and so vital to who I am right now. If you take any of those away, then I'm essentially stripping exactly who I am. I'm grateful for the individual that I am, and these moments really shaped me. So going back and pressing on those moments was like releasing the emotion and the tension – releasing the dove. It's like writing something down on a piece of paper and lighting it on fire, it's so liberating. That's what the creation of this record was for me.
Is it daunting to be sharing these stories so intimately with the world?
Abraham Alexander: They're not mine anymore. I wrote them, but they're no longer mine. I've healed from those things that I wrote about, and it's time for them to take shape in other people's lives, and for them to share their experiences with me. The songs have also taken new life for me through their release, and so I've healed from that too. I'm waiting for people's responses, for me to grow from their experiences.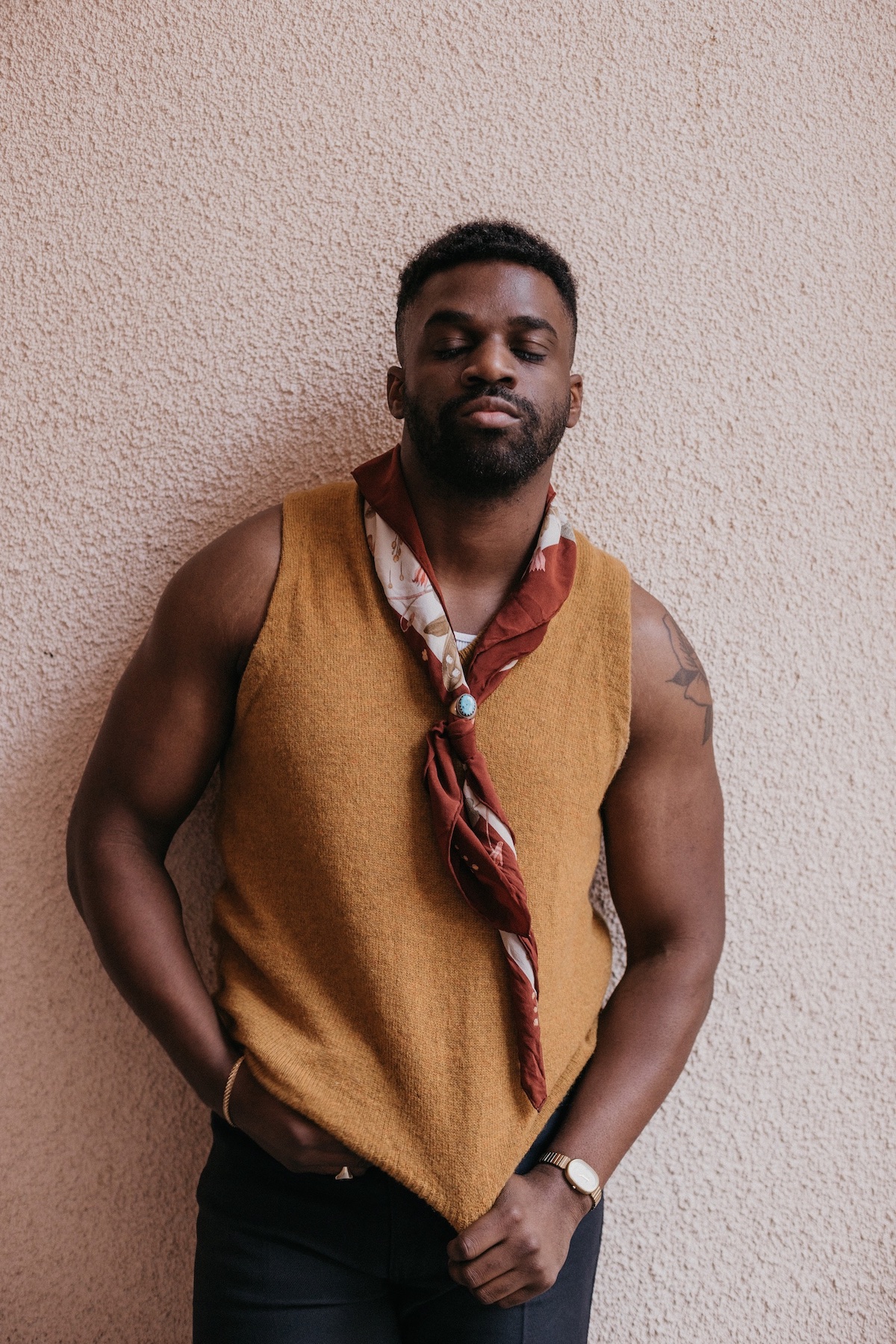 I've healed from those things that I wrote about, and it's time for them to take shape in other people's lives, and for them to share their experiences with me.
In that case, can I tell you what my favorite song is?
Abraham Alexander: Yes yes, please do!
"Eye Can See." I really like the play on words, and also the idea of trying to reclaim an untainted innocence when looking at the world. And I thought the way you did it was really beautiful.
Abraham Alexander: Yeah, no, you're so spot on. And when you look at the record, there's nostalgia. With "Eye Can See" I was trying to get nostalgia back out. I feel like nostalgia is stronger than just the relevance of what was, but the emotion and the character of what was. When you look at childhood, there's such a glass wall of innocence, and that is a superpower. I think as we get older that glass of innocence gets shattered. And it's such a shame because children are so bold and so strong and so resilient, and we lose some of that superpower as the world opens up to us.
Yeah, that's amazing paired with the album art and the title of the album as a whole.
Abraham Alexander: I was actually going to name that song "Seasons" and not "Eye Can See"! And it's actually the only song that I reference "seasons" in. But I wanted that song to be like a relief as you're listening to the album because a lot of it is heavy. But when you get to that song there's somewhat of a euphoria to it, and it's like this liberating thing. I'm so glad that's your favorite, it's cool. I can't wait for others to listen to it, and get that feeling too. Getting that sensation of liberation when you hear the record in sequence. I'm so glad that one resonates with you.
I must say, I'm very touched by the stories that you've told on this record. I really resonate with the way you spoke about belonging and identity, which is quite a big theme on the record. As an Asian woman, I really connected with that, and you bring out those nuances very poignantly. That was very meaningful for me, so "Stay" is the other song I really connected with.
Abraham Alexander: Thank you for that. You're right, as people of color we have a unique lens in which we see the world. And I think when we do figure out who we are – not as the world sees us, but as who we truly are, it's a beautiful thing. "Stay" is a song of wonder and adventure and longing and beckoning and questioning. And then to have someone like Gary [Clark Jr.] who was part of that musical discovery and musical adventure for me, is such a beautiful gift. I'm so grateful to have a hero on my debut album.
Yes we have to talk about that! Gary Clark Jr is a modern icon. Him and Leon Bridges. What was it like to collaborate with them?
Abraham Alexander: Yeah! So I met Leon first. But I was listening to Gary before I even met Leon. And then being friends with Leon, and championing him through his adventure in his record, he knew how much I loved Gary's music. And then he surprised me by inviting me to a studio session. It was Gary Clark, Jr, John Batiste, and himself. But I had no idea that they were there, Leon just hit me up like, "Hey, can you come to the studio we're trying to work on some songs". And I just got a new guitar that day and was like, great, this is a good way for me to test this guitar. So I go to the studio, and standing outside is a tall man, hat on, smoking a cigarette. But I knew the silhouette. I was like, that's frickin Gary Clark Jr.
Oh my gosh!
Abraham Alexander: Yeah, it's so crazy. I was watching Gary before I even met Leon. But I met Gary through Leon. And now he's on my record and I'm good friends with both of them. But it's just what happens when you follow your heart and you follow the legend, and you know that there's something bigger out there. And when you believe in that and you're manifesting and supporting your friends. They say, sometimes, like, "Hey, don't wish to meet your heroes, because they're going to disappoint you." But for me, it elevated my respect and my love for who he is. Yeah, it's, it's amazing.
I think it's more important to be open than it is to be ready.
I can't even imagine. How was it meeting him for the first time? There was no time to mentally prepare!
Abraham Alexander: Yeah, I was like "Don't mess it up!" Haha! After the session all four of us go to In N' Out. And we're just sitting at a table eating burgers. I'm sitting next to Gary and in front of me is John Batiste, I was just like, "What is life right now?!" And it wasn't even that, it was just diving into the wonder of really being – not ready – but open. I think it's more important to be open than it is to be ready. And I felt that I was very much open to anything within my journey of discovery, even when I didn't know where it was gonna lead. That's really captured in "Stay", where it's me going to London, and living there and asking myself those questions. But when you add Gary on top of that, it opens the song up to a whole other message. If I wasn't literally wondering and open, then he never would have been on the record.
That's beautiful! Tell me more about the message behind "Stay" and what inspired the song?
Abraham Alexander: I had an opportunity to live in London with this development deal, to see if music was a thing that I could pursue. I was writing new songs everyday, meeting new people, experiencing London, and I was missing home. I was missing people that truly made me who I am. I was seeing that I needed to find out who Abraham is, and find the significance of that. Because if I stopped being a musician, if I'm not an athlete, if I'm not a physical therapist, then who is Abraham Alexander? So I feel like the message of "Stay" is really just finding where home is, and who home is.
Yeah, definitely. And "home" isn't always synonymous with a place. But it's so specific to the individual and so it's really important to find that.
Abraham Alexander: Yes, yes, absolutely. And that's what I was chasing. I always say that going and coming back is not the same as never leaving. And I think it's extremely important to find out if where you live is home, if the people that you're around are home. Leaving is going to answer that question for you.
Were you hoping to find some sense of home back on the Europe/UK side of the world maybe?
Abraham Alexander: Yeah, I think I realized it after I got what I thought I wanted. I was born in Greece, and I was thinking that going back to Europe was going to help me be me. But I found out that it was the complete opposite. It solidified how much the city and the people that I'm with means to me. It was so important for me to leave. And I'm glad that I did. But it solidified the fact that where I left is what makes me me.
Who or what influences you, musically or songwriting wise?
Abraham Alexander: I love people's stories. I try to watch documentaries, I'm trying to have conversations with friends, family, strangers… I think that's the big component and influence to my music and how I write.
And I know there's a song inspired by A Walk to Remember on the record as well?
Abraham Alexander: Yeah! Haha! So a family friend was celebrating their wedding anniversary, and they were asking me to write a song, like, as a joke. But I took it as a challenge. I couldn't really tap into the emotions that I wanted, and then I watched A Walk To Remember, and that was all I needed. There's that one scene when she makes this wish to be in two places at once. Just the way that he made that wish come true, it doesn't have to be this crazy thing of like, I'm in France, and I'm in England now. But you can be in two places at once – and it might not look like how we think it should look like, but we're still going to make it work. That sentiment was really beautiful to me. It's not this elaborate thing, but it's still intimate and important. I think that in a sense is true love, and being selfless. And that was how "Tears Run Dry" came about.
I love that! Is your writing process different when you're writing about your own experiences versus other people's?
Abraham Alexander: I think they go hand in hand, they're two faces of the same coin. You need to understand others in order to understand yourself. And if you understand yourself you also understand others. So I think there's a seesaw that that happens. When I try to write about my own experience it can be hard to get out of my own head and to say what I want to say – and to say it with clarity. And there's also saying too much. When you hear someone else's story, sometimes they're very precise and it's very clear and so I draw from all sorts, but I think they're two faces of the same coin. I don't think there's a difference when it comes to me writing about other people's experiences, but it's more about having to funnel others' experiences through my own eyes.
What does this record represent for you like in the trajectory of your musicianship?
Abraham Alexander: That's a great question. I think it represents me solidifying my gift in a sense, and represents putting a statement into the world. One of the best things ever said to me was that if everything we do dies with us, our vision was too small. With this record, I get to solidify my story, and not just that, but it'll inspire others long after I'm gone. That brings me joy. Even when I would have left the earth physically, but spiritually, my essence, and who I am, and the love, and my faith – those stories will still live on and will carry, and hopefully, will bring comfort and peace and joy, and understanding and wonder, to whoever finds it 70 years from now.
Thank you so much for that. To wrap up then, what do you hope your audience will take away from SEA/SONS?
Abraham Alexander: I want them to know that they're not alone. There's a prayer wrapped up within the album, and the album starts and ends that way. My prayer for them is to find that inner peace, and not to be scared of the demons that they're facing. Because it is the slaying of the demon that brings meaning to life. And that they're not lost, it's a part of the adventure, the adventure is never ending. And so that's what I want them to discover by listening to this record. Each moment is as significant as the next and they can't skip any process of the wonder when it comes to fulfilling a dream. Hopefully it inspires them to dream bigger, and wonder more. And hopefully it inspires them to get lost, because it is through getting lost that you can be found.
— —
— — — —
 © Molly Dickson
:: Stream Abraham Alexander ::
---