for fans of Tennis, Fleetwood Mac, HAIM
— —
Aya Safiya's self-titled debut EP offers the kind of fresh messages and rich sounds that will ultimately help push music forward. Independently released last Friday, 9/14/2018, the five-track Aya Safiya EP is more than an introduction to the Boston by-way-of Bay Area singer, songwriter, and violinist: It's an assertion of powerful emotions and meaningful experiences, reflections on life, and aspirations for a better world.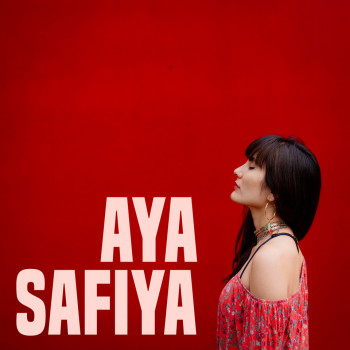 Safiya's sound is engaging and catchy, yet it defies standard categorization: Nuances of electro-folk and indie pop bring to the fore artists like Tennis or HAIM, yet such comparisons are merely for perspective: Despite coming of age in a seemingly fully-saturated market, the artist has (with the help of producer Tano Brock) crafted a standout sonic persona.
Safiya's sweet and smoky voice is on full display throughout the EP, yet it's her moving, choice words that solidify her as an artist-to-watch. In her online biography, Safiya notes her hope to "express her truest self and connect with others with shared emotions." Her EP's fiercely infectious single "Appleseeds" is a raw, self-empowered fight song from the perspective of a victim:
peel me open,
hurry cut me right open,
bite into my appleseeds
and die and die again
---
From dynamic expressions of female empowerment to romantic embraces and lamestations of love, Aya Safiya's first release proves an enchanting thrill. Stream the full record now, and peek inside Aya Safiya EP with Atwood Magazine as the artist goes track-by-track through her debut EP!
Stream: 'Aya Safiya' EP – Aya Safiya
:: Inside Aya Safiya ::
— —
Now That You're Gone
This might be the song on the EP that best represents all of me — it's very complicated. It has themes of regret, failure, guilt, blame, miscommunication, but also love, devotion, sweetness, empathy, and freedom, and it's all tied together through a bit of sarcasm. The main idea of this song is the inevitable feeling of regret or guilt when a loved one leaves our world. We wish we had done things differently: spent more time, given more, given differently, said more, or said something else. It's good to remember that sadness so that we can be more aware of the beauty of life while it lasts.
I Love You in the Morning
Usually when I write, I'm simultaneously writing many songs over a long period of time—a line here, a verse there. This song was different. It took a while (about 4 months), but had my full undivided attention. I felt a strong need to finish this song. It was like this love was the only thing I could feel and no matter what else I tried to write about, I kept coming back to this feeling. The sentiments behind the song are simply true love and romance, but it's bittersweet. It's somehow impossible for me to write a fully happy song—it introduces the "inevitable" separation that will come at some point.
Appleseeds
This song was inspired by my anger and inner fire that was awoken by all the people who ever dared to invade the privacy of my mind and body. This includes everything from abusive relationships to cat-calls on the street. The reason why it's so important for me to share this song is because I believe there are many victims across the world who suffer alone, not realizing they have so many allies who share the same pain. I hope this song encourages strength and unity.
He Couldn't Love Me
There is a tendency to teach what you're taught and to give what you're given, even when those things are poisonous. This song is a reminder to myself to love others how I want to be and have always wanted to be loved—a reminder to resist the instinct to love how I was taught to love, or in other words, how I have been "loved."
What Do You Do
This is a song for when you love someone you're "not supposed to," for instance: a person of the same sex in a homophobic society, someone much older, a married person, your best friend, or your best friend's crush, and when you know that person doesn't have those same feelings back for you. When you have no one you can express your love to, the only thing you can do is shout it out to the world in a song.
— —
— — — —
? © Tano Brock

:: Stream Aya Safiya ::