Parisian "darkgaze" band Pam Risourié enchant and inspire on their debut album 'days of distortion,' a deeply cathartic and visceral record of raw depth and immersive sonic wonder.
Stream: 'days of distortion' – Pam Risourié
[soundcloud url="https://api.soundcloud.com/playlists/1305606253?secret_token=s-MnrkVhKntnD" params="color=ff5500&auto_play=true&hide_related=false&visual=true&show_comments=true&show_user=true&show_reposts=false" width="100%" height="450″ iframe="true" /]




---
Like Batman villain Bane, Pam Risourié's debut album was born in the darkness – and it is there, in the shadows, that it thrives. A visceral record of raw depth and musical wonder, days of distortion is the stuff of dreams – or rather, a certain kind of dreamy, ethereal, out-of-body experience: Cathartic, sonically and emotionally charged, the record lives at the intersection of shoegaze and dream-pop, beckoning listeners to crawl under its intimate folds and dwell in its immersive blanket of charming, churning, distorted sound.
Stars silently freeze
As we drift away
But you are the sound
Don't you sail out
And I won't sail
Stars silently freeze out
I long for you
Stars silently freeze out
You are the sound
– "You Are the Sound," Pam Risourié
Atwood Magazine is proud to be premiering days of distortion, the lush, hauntingly beautiful debut album from Parisian band Pam Risourié (out March 17, 2023 via Atypeek Music). Since debuting in 2019, the four-piece of Rémi (lead singer / guitar), Octave (backup vocals / guitar), Antonin (guitar), Vincent (bass), and Maxime (drums) have woven textured tapestries full of moody, brooding, and utterly invigorating warmth. 2019's Rituals EP, 2020's Noctessa EP and 2021's So Be It, Eternity EP all laid important groundwork for the band as they layered guitars, percussion, and vocals into a hypnotic wash. Produced and mixed by Lucas Ramos and mastered by Slowdive drummer Simon Scott, days of distortion is Pam Risourié's most fully realized effort yet – one that captures the many faces and facets of their self-described "darkgaze" sound, melding elements of shoegaze, post-rock, alternative, art rock, dream pop, and slowcore into one unique, identifiable aesthetic.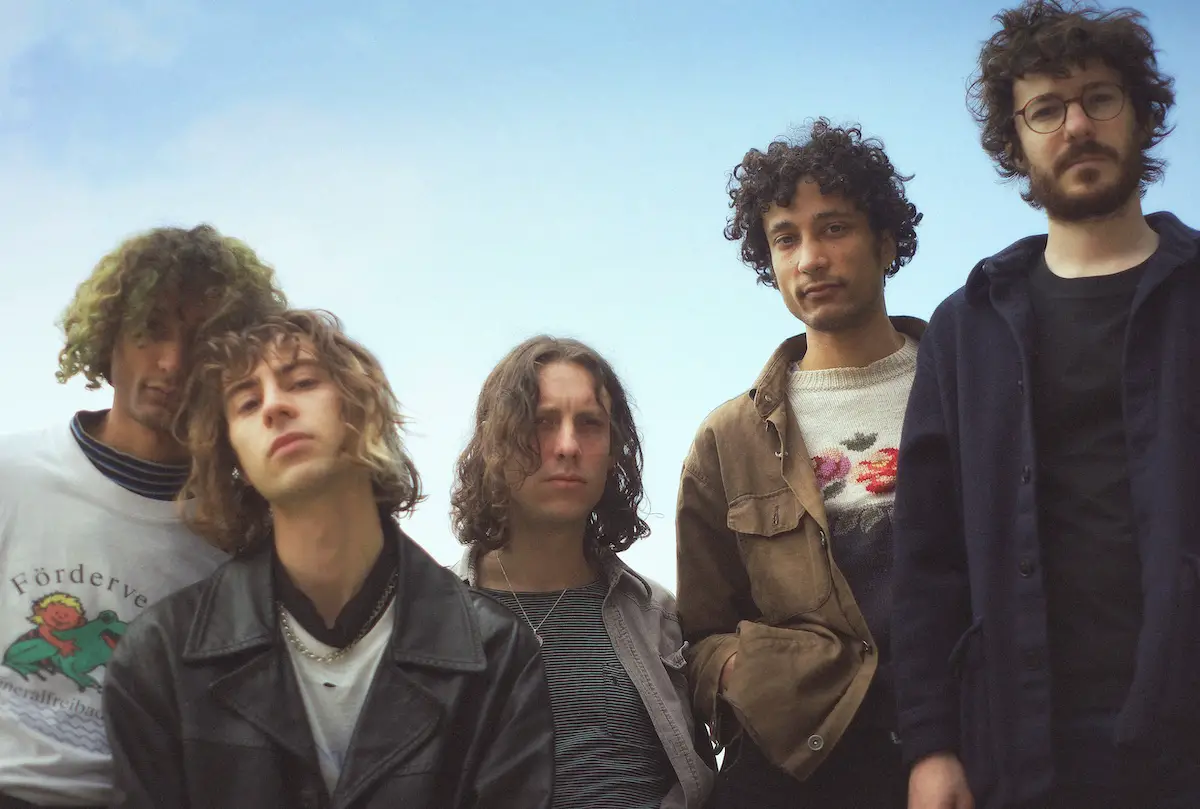 As the band describe, this album is a long time coming.
"We started recording days of distortion in Normandy, in 2021," they tell Atwood Magazine. "The process has been pretty much messed up and delayed because of the COVID-19 crisis; we ended up recording overdubs here and there, sometimes at home with nothing but a soundcard and Garageband, while mixing it with Lucas at his studio in Paris. We mastered it afterwards with Simon Scott, the drummer of Slowdive. So, a pretty long and intense journey."
"We had this album in mind since the beginning of the band, in late 2019. Our previous efforts and EPs led to it in different ways, exploring textures, both song and songwriting. We had spread and gathered our different influences throughout our previous releases: slowcore, shoegaze, dream pop, post-rock… We wanted now to condense them, in a cross-over work that we could call ours. We knew for example we were aiming for something deep and slow, with heavy subs."
As they hint at, this album is a world unto itself: One that revealed its colors and contours over time. "We humbly hope we have captured the artistry of days of distortion," lead vocalist and guitarist Rémi notes. "We think the record offers diverse possibilities and directions, diverse ways to be understood, and hopefully re-heard. To us, it's more like a first cornerstone, on which we can rely on, to evolve and expand our universe."
The album's title is, of course, a reference to the massive levels of distortion found within these songs – but it goes beyond that alone. "Distortion is firstly an alteration, of shape, or signal," the band explain. "This shape can be musical, mental, or else. Thus impacted, this original form struggles his way with a broken body, through the days it is condemned to live in."
The record opens on a beautiful high with "You Are the Sound," which instantly sets the musical and lyrical tone for all that lies ahead. "'You Are the Sound' is about horizon, and absence," Rémi says. "Space and silence, in other words. Gathered by distortion. It felt as a sincere way to introduce our universe, and a new sound. Sharing this feeling is also a secret way to move on. The lyrical substance of it comes from poetry, mainly French symbolists of the XIXth or the American confessionalists of the late '50s, '60s. As a song in days of distortion in particular, it can be seen as a homage to Anne Sexton's poetry. I also write in French; the lyrics, and the main themes approached, embody some sorts of leitmotifs, coming around under different shapes and shades, here and there. Hypersensibility, derealization, love."
---
Truthfully, each of days of distortion's eight tracks is a highlight. The turbulent "High on a Wire" feels reminiscent of Kid A-era Radiohead, whereas "A Star Among the Candles" soars with heavy, unleashed passion, and the epic eight-minute "Weltschmerz" feels like an emotionally cleansing, transformative journey in and of itself.
As far as highlights are concerned, Rémi harkens back to moments in the studio. "The day we recorded some tracks live, such as 'Scuba' and 'Weltschmerz'… The hot summer spent mixing it, seeing how the songs were taking shape and were being born — it felt as if I was sleeping with them every night by then, looking after them when they'd wake me up at night, as a baby. Also, starting to see a dim light at the end of the tunnel, in the harsh polluted Paris."
"A personal anecdote – the last take ever recorded at the studio of Lucas, in Paris; one of the several rhythm guitars of 'You Are the Sound'; the music was so loud, and I had played this part so many times, I wasn't actually hearing the guitar I was playing, but felt instead as I was playing the whole song, and all the memories and hardships of the previous years were passing by before my eyes closed."
Rémi also mentions the song "Solemnly" as a lyrical favorite. "We think it's the closest form we could get as to a poem, and lyrics that could be appreciated independently from the music."
As far as debut albums are concerned, days of distortion is a cathartic, breathtaking triumph.
"We have learnt a lot on our side, musically of course, how to dodge difficulties due to the lack of means, and also to accept frustration, or at least accept its presence," Pam Risourié share. "We wouldn't mind if the LP was to be seen as a painting of an inner world, on which they could rely, dive and hide. Hopefully to reach a new shore."
Experience the full record via our below stream, and peek inside Pam Risourié's days of distortion with Atwood Magazine as the band goes track-by-track through the music and lyrics of their debut album!
days of distortion will also have a vinyl and cassette release, backed by Pyrrhic Victory Recordings (US), Icy Cold Records (FR), Stellar Frequencies (FR), and Araki Records (FR).
— —
Stream: 'days of distortion' – Pam Risourié
[soundcloud url="https://api.soundcloud.com/playlists/1305606253?secret_token=s-MnrkVhKntnD" params="color=ff5500&auto_play=false&hide_related=false&visual=true&show_comments=true&show_user=true&show_reposts=false" width="100%" height="450″ iframe="true" /]




:: Inside days of distortion ::
— —
You Are the Sound
A tunnel-like track, whose light dislocates as it reverberates along walls of guitars, piling up and chipping away. We used many reverse delays on this opening track, to deepen the idea of a memory, a past that sucks you up upside down, in reverse, elsewhere, where the absence dwells.
High on a Wire
A chiaroscuro atmosphere, playing with contrasts between ethereal choruses and an earthy stoner riff, stretching the edges of our aesthetic, romantic and chaotic at the same time. It questions our relationship to reality, dreams and desires, altered by disturbances of perception; another theme that runs through this LP.
Spectre
Probably the sweetest song of the record, though the lyrics aim for 'the other side', that world glimpsed in sleepless dreams, where one surrounds itself with his memories.
A Star Among the Candles
Here we are walking one step down, towards a shrine, looking for a star that still dimly lights, among many glows. Are they fake? Real? What do these words mean? Reaching the idea of hyper sensoriality, with interferences of noises, blabbing, the stifling presence of a world you can't escape from.
Solemnly
Our depressive pop song, to be played by one remaining at a fading after-party while the day rises ; tormented by emptiness, he asks himself thousands questions, or maybe just: 'Is this it?' More importantly about recognition, of the shades and curses, one feels once heart broken, when the sun is never real.
Weltschmerz
One of our favourites to play live; it was recorded also that way. At some point, we just couldn't add more guitars (have fun counting them) or keyboards, so we thought the sound of an airplane taking off would be good enough.
Scuba
Our aquatic, submarine track, that we humble hope pays tribute to the beautiful Anne Sexton' poem, Wanting to die', that felt at this time written for those specific times; also as a connection through the decades. Lucas, our guitarist who produced the album, did an amazing job on the voices here, making them sound as if Roger Hodgson from Supertramp was singing in an aquarium.
Disappear for me
Our blackgaze conclusion, a bit of a melting pot maybe, of our influences, and farewell visions occurring in our universe.
— —
— — — —
 © Cédric Tessonneau
:: Stream Pam Risourié ::
---