Abel Tesfaye (aka The Weeknd) has come a long way since his humble beginnings in 2011. He makes a point to remind his audience of this in his sophomore studio album, Beauty Behind the Madness (released 8/28/2015 via XO/Republic Records), a 14-track compilation filled with varying musical elements that are sure to excite both old and new fans of The Weeknd.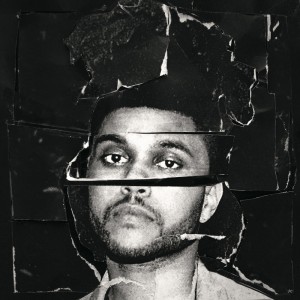 Tesfaye's angelic voice dominates the record as he ping-pongs back and forth between celebratory and self-deprecating lyrics, but the usual sexually charged theme that fans are familiar with is taken down a slight notch, which is a clever play done by Tesfaye. The album opens up strong, with "Real Life" delivering an epic, synthetic intro with accompanying drums and violin to add the signature brooding feel of The Weeknd. This slowly transitions into "Losers" featuring Labrinth, which opens up the audience to an almost retro, jazz-like element that is new to Tesfaye's style. The husky vocals coupled by the clapping and trumpet in "Losers" make it a truly enjoyable listen.
The following track "Tell Your Friends" is the typical we made it commemoratory nod at the artist's own success. The audience can hear the smirk behind Tesfaye's words as he croons, "I'm that nigga with the hair. Singing 'bout popping pills, fucking bitches, living life so trill," and while he certainly has the right to brag about that lifestyle, it puts a barrier between his fans and his work. Tesfaye's repeating theme of "love is pointless" is almost cringe-worthy, making us wonder if there is any depth to his bad-boy image – which after four years, becomes a tired and old act.
Watch: "The Hills" – The Weeknd
---
"Often", "Earned It", and "The Hills" are not new to his fans, but they are great additions to the album regardless. These three songs have the heavy, ominous production that is associated with The Weeknd, with "Earned It" being the most sensual of the three and "The Hills" offering horror-stricken screams in the background. "Often" is sexy with its NSFW lyrics and promiscuous production, and The Weeknd's sinuous voice adds a nice contrast to the instrumentals, making it a no-brainer why these tracks are hits among his work.
Ask me if I do this every day, I said "Often"
Ask how many times she rode the wave, "Not so often"
Bitches down to do it either way, often
Baby I can make that pussy rain, often
Often, often, girl I do this often
Make that pussy poppin', do it how I want it
Often, often, girl I do this often
Make that pussy poppin', do it how I want it
Often
Listen: "Often" – The Weeknd
---
"Can't Feel My Face" and "In The Night" give an MJ-esque, pop-funk vibe that are a fun listen for any new The Weeknd fans. It certainly is a far cry from singles in his previous album, Kiss Land, but this only helps Tesfaye's audience grow. With its upbeat bass-line, "Can't Feel My Face" is his first No. 1 hit and although he sings of cocaine and sex, the song is undeniably fun and dance-able, masked in PG-13 lyrics that anyone in the family can listen to.
And I know she'll be the death of me, at least we'll both be numb
And she'll always get the best of me, the worst is yet to come
But at least we'll both be beautiful and stay forever young
This I know, (yeah) this I know
She told me, "Don't worry about it."
She told me, "Don't worry no more."
We both knew we can't go without it
She told me you'll never be alone-oh-oh, whoa
I can't feel my face when I'm with you
But I love it, but I love it, oh
"Acquainted" is different from the previous tracks, with Tesfaye finally giving his listeners a hopeful and not-so misogynistic look into his mind with a melancholic piano backdrop. Other songs that appear later in the album such as "As You Are" and "Angel" are equally as tender and emotional, disguised in the mysterious shroud that is The Weeknd's sound. These tracks answer the listener's question of whether or not Tesfaye is capable of letting his fans into his soul and heart. In "As You Are" he sings, "Even though you break my heart, baby I know what we are, our love's too young / Even though you break my heart, my love / I'mma need you, I'mma need you, I'mma need you," which is a confession that comes as a surprise to anyone who has been listening to Tesfaye for the past four years.
The more soulful track "Shameless" is easily a gem in Beauty Behind the Madness. While The Weeknd admits to being the bad guy in the situation by allowing his affair with a woman he cannot love continue, he also points out his shamelessness in the ordeal. The guitar strumming forces his listeners to look beneath his words and into the complexity of the situation instead. Any person who has ever caught him or herself in that sort of compromising position can relate to Tesfaye. It isn't his typical sinful sing-along, which works in his favor.
I don't wanna hurt you but you live for the pain
I'm not tryna say it but it's what you became
You want me to fix you but it's never enough
That's why you always call me cause you're scared to be loved
But I'll always be there for you, I'll always be there for you
I'll always be there for you, girl I have no shame
Watch: "Can't Feel My Face" – The Weeknd
---
"Prisoner" featuring Lana Del Rey and "Dark Times" featuring Ed Sheeran are both slowly paced and not too exciting. Although Sheeran and Tesfaye discuss the literal darker times in their lives, the song is lacking any palpable feeling and is almost boring to listen to. Sad girl Lana Del Rey and Tesfaye make a nice vocal pairing, however. The old-Hollywood feel they bring to "Prisoner" makes up for the un-stimulating lyrics.
Overall, Beauty Behind the Madness lives up to the hype. Few are likely expecting the curve balls that Tesfaye has thrown into the album, but his experimentation is successful in its own way. No matter what sort of element The Weeknd chooses to produce, his pleasing falsetto charms his fans into loving it. While the first half of Beauty Behind the Madness is filled with warnings of falling into the throes of love, the second half is surprisingly about taking careful consideration of the other person in the relationship. As someone who is familiar with The Weeknd's negative view on romantic relationships, it's a refreshing take that works favorably for the artist. Fans who are growing tired of the usual "f*uck bitches, get money" will like this side of him.
Only a few short years ago, Tesfaye was writing songs on stranger's couches, homeless and distraught. Fast-forward to 2015 and he's suddenly on live television performing his first hit song on the VMAs, and his #1 album debut is the second-largest weekly overall unit total for an album in 2015. It's an odd feeling for old fans, but having the underdog thrive and come up successfully is exactly why so many eyes are on him. It's almost as if he appeared quickly and magically, capturing the hearts of many with his tantalizing voice and contrastingly dark music in such a short period of time. However, beneath the calm exterior and crazy hairstyles is an artist who has worked relentlessly into creating a sound that is uniquely his own. His second studio album is only proof that The Weeknd/Abel Tesfaye is ever-evolving and adapting in the music world while keeping his sense of originality, something to be celebrated in this era.
In Kiss Land, Cali was his mission, but in Beauty Behind the Madness it's evident that The Weeknd has reached his destination and beyond.
Watch: "Tell Your Friends" – The Weeknd
—
You can follow The Weeknd on Facebook, Twitter, and Instagram
The Weeknd recently achieved a Billboard first when he claimed the top three slots on the Billboard Hot R&B Songs as "Can't Feel My Face", "The Hills" and "Earned It" hit #1, #2 and #3 respectively.
The Madness Fall 2015 Tour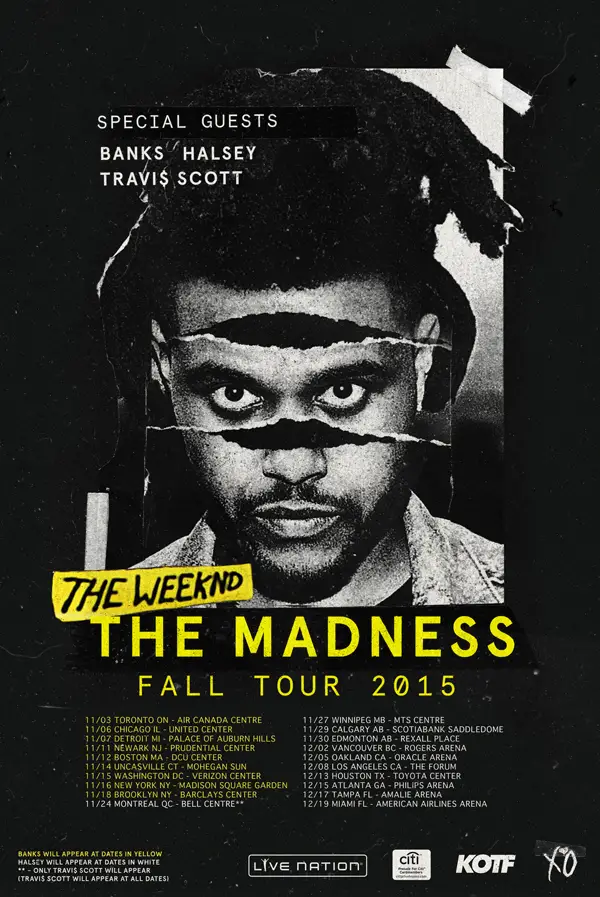 Nov. 03, 2015 – Toronto, ON – Air Canada Centre
Nov. 06, 2015 – Chicago, IL – United Center
Nov. 07, 2015 – Detroit, MI – Palace of Auburn Hills
Nov. 11, 2015 – Newark, NJ – Prudential Center
Nov. 12, 2015 – Boston, MA – DCU Center
Nov. 14, 2015 – Uncasville, CT – Mohegan Sun
Nov. 15, 2015 – Washington, DC – Verizon Center
Nov. 16, 2015 – New York, NY – Madison Square Garden
Nov. 18, 2015 – Brooklyn, NY – Barclays Center
Nov. 24, 2015 – Montreal, QC – Bell Centre
Nov. 27, 2015 – Winnipeg, MB – MTS Centre
Nov. 29, 2015 – Calgary, AB – Scotiabank Saddledome
Nov. 30, 2015 – Edmonton, AB – Rexall Place
Dec. 02, 2015 – Vancouver, BC – Rogers Arena
Dec. 05, 2015 – Oakland, CA – Oracle Arena
Dec. 08, 2015 – Los Angeles, CA – The Forum
Dec. 13, 2015 – Houston, TX – Toyota Center
Dec. 15, 2015 – Atlanta, GA – Philips Arena
Dec. 17, 2015 – Tampa, FL – Amalie Arena
Dec. 19, 2015 – Miami, FL – American Airlines Arena
Purchase tickets at theweeknd.com
Beauty Behind The Madness
An album by The Weeknd