'Happier Than Ever' is pain in a pretty package: Billie Eilish pulls back the veil to reveal the singular pitfalls of being the world's most famous teenager.
Stream: Happier Than Ever – Billie Eilish
---
Billie Eilish's debut album begins somewhat grossly: a then blue-haired Eilish slurps saliva out of her Invisalign and announces the album through burbles of laughter, before quickly launching into the playful thump of breakout hit "Bad Guy." It is perfectly adolescent, a flippant attitude that permeates much of the record. Even its darkest and most adult moments belie a sense of teenagehood, though not in a negative way. It was Eilish's obvious youth that made her shrewdly written lyrics about climate change and teen suicide all the more compelling. She positioned herself as an observant outsider with songs like the blurred "xanny" and the caustic "all the good girls go to hell." When We All Fall Asleep, Where Do We Go? featured skittering beats and fingernails-on-chalkboard sounds, juxtaposed with the diaristic swells of "when the party's over" and "i love you." In many ways, it felt like the dawn of a new age for pop music.
The long awaited follow-up, Happier Than Ever (out July 30, 2021 via Darkroom/Interscope Records), is less frantic — a jog rather than a sprint. From the stuttering drop into the mid-tempo groove of "I Didn't Change My Number" and the song-length middle fingers that are "Lost Cause" and "Therefore I Am," it's clear that Eilish has settled into a slower, more confident rhythm.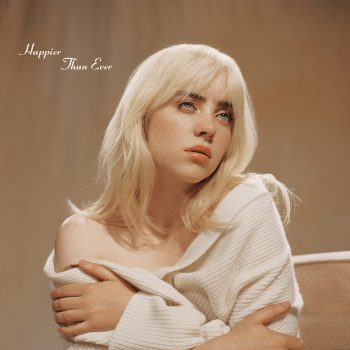 While part of that likely comes from the forced pause of quarantine, she also spells it out clearly on the album's opening track:
I'm gettin' older,
I think I'm aging well
I wish someone had told me
I'd be doin' this by myself
There's reasons that I'm thankful,
there's a lot I'm grateful for
But it's different when a stranger's
always waiting at your door
Not even 18 when her first full-length record was released, Eilish became the internet's most discussed teenager. Though just over two years have passed since When We All Fall Asleep, Where Do We Go?, Eilish has grown up significantly, and not necessarily on her own terms.
Beneath the Hollywood glitz and satiny aesthetic of Happier Than Ever's universe, there is a pervasive weariness. The single "Your Power," with its gentle, Bon Iver lilt, tells a veiled #MeToo story that at this point is all too familiar. She sings of stalkers and nondisclosure agreements and brings back the spoken word audio of "Not My Responsibility," a short film on body-shaming she had been playing for stadiums before tour was cancelled.
Watch: "NOT MY RESPONSIBILITY" – Billie Eilish
---
Rather than convert her weariness into an album of drudgery and tears (like the cover suggests), it was channeled into a subdued effort with a quiet undercurrent of uneasy rage. For FINNEAS' part, his production has followed suit, focusing more on mood and ambiance than his characteristic manipulation of unique sounds. Though there are sleepy moments on the record — mid-point ballad "Halley's Comet" is largely forgettable, and the album could have been a few tracks shorter — its stronger moments outweigh the mediocre. Obvious standouts like the dark club track "Oxytocin" add a much needed gut-punch to the album's first half, while the intro to "GOLDWING" (an excerpt of Gustav Holst's hymn based on The Rig Veda) showcases Eilish's angelic falsetto.
Eilish's lyrical prowess is also on full display — Happier Than Ever is far more personal than When We All Fall Asleep, whose esoteric lyrics require some level of decoding. Here, she is straightforward and astute:
Last week, I realized I crave pity
When I retell a story, I make everything sound worse
Can't shake the feeling that I'm just bad at healing
And maybe that's the reason every sentence sounds rehearsed
Some of the album's best moments are when she emerges from the haze of a song's worldbuilding to deliver a succinct one-liner. "What a drag to love you like I do," she sighs on "Halley's Comet." The album's title track sees Billie deliver what could even be considered the album's thesis: "All you did was make me fuckin' sad." It is blistering largely because of its directness.
Watch: "Happier Than Ever" – Billie Eilish
---
Much of the album functions as a kiss-off — to paparazzi, strangers online, judgmental adults, terrible exes — but in Eilish's self-assured swagger, there is also a self-assured sense of vulnerability.
She is acutely aware of the microscope lens; rather than dodging it, she stares right back. Happier Than Ever might be a slow burn compared to her immediately immersive debut, but it burns all the same.
— —
— — — —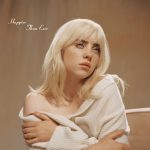 ? © Kelia Anne MacCluskey 
:: Stream Billie Eilish ::