Irish indie rock trio The Burma dive into their charged debut album 'Sucker for Stars,' a dynamic and catchy eruption of sweltering songs that soars with raw emotion, cinematic strength, and radiant, stadium-sized energy.
for fans of Arctic Monkeys, Oasis, Foals,
Stream: "Don't Believe Your Dreams" – The Burma
---
Charged and churning, Ireland's The Burma have burst out of the gates with a fiery passion and a flare for the dramatic. Their debut album is nothing, if not cinematic: A dynamic and catchy eruption of sweltering indie rock songs, Sucker for Stars soars with raw emotion and radiant energy.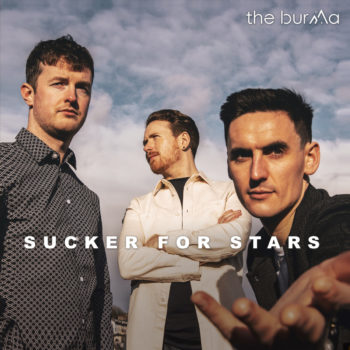 Maybe I'm going crazy
You're looking at me like
we just had a fight as I'm waking
I know it is hard to let go
The things that I have said
as you lie in bed til tomorrow
I keep my secrets tonight
There's just one thing that's been bothering me
Last night I could hear you talk in a dream
If I led you on I'm sorry I swear
You keep me honest baby
Independently released October 14, 2022, Sucker for Stars is as scorching as it is seductive. Sporting a bevy of rousing beats, driving electric guitar lines, and intimate lyrics, the eleven-track LP provides an enthralling foundation for the Ireland-based trio of vocalist Tony O'Donovan, guitarist Peter Piggott, and drummer Cian Doherty.
The Burma's first full-length album arrives just under four years after their debut single, which is a short time by some standards and a long one by others, but the truth is that this album is years (and in the case of some songs, nearly a decade) in the making. 
"It's been the most significant project for us in our band's lifetime, and we're really excited to get it out into the world," Cian Doherty tells Atwood Magazine. "We officially started working on this album 2.5 years ago, but some of the songs on it are nearly 10 years old. The album is a mix of older songs we didn't want to let go and brand new songs written over the last couple of years. It shows us at two stages of our career and songwriting. That contrasting element to the album is something we really like."
"Initially my plan for the album was to give a good impression of the band's live sound – very similar to how Oasis, The Strokes, and Arctic Monkeys' debut albums represented them as live bands at the time," Peter Piggott adds. "As time went on, we ended up abandoning this idea and just focused on what we thought would make the songs sound better. We then worked out how best to perform the songs in a live setting after we finished recording."
The result of that concerted effort is a record that shines the whole way through, like a "greatest hits" collection from a band you're just discovering.
For Doherty, this album is definitively "The Burma" through and through; he describes it as old, new, us, referencing how these songs not only capture the band's roots, but also their growth together over recent years in an even stronger entity.
The album's title isn't necessarily a direct reference to that unity per se, yet it nonetheless resonates with its three members' dedication to their craft, to this band, and to each other.
"'Sucker For Stars' is a song Peter wrote 6 or 7 years ago," Doherty recalls. "We wanted the name of the album to be a strong three word phrase. We had been going back and forth with a few different phrases but none felt right. This one particularly had meaning to us because it was a song that's been tied to us for quite a while, it felt natural."
---
Sweltering album opener and instant highlight "Out in the Heat" sets the tone for a record that hits hard and leaves an instant mark. Highlights include the dreamy, deep grooves of single "Don't Believe Your Dreams" – which hit No. 1 in the Irish iTunes single charts and landed at No. 6 in The Homegrown Top 20 in the Official Charts – and the glistening, hypnotic grace of "Sleepers," which took the No. 4 and No. 12 positions on those same charts, respectively.
"'Sleepers' was our second single from this album and I think it's the strong favourite for all three of us," Doherty reflects. "It was a song that just came together straight away. Once we got the ball rolling on it, we finished it quite quickly. There was never much going back and forth trying out new parts/melodies. It nearly wrote itself."
Never thought it would be us we called them fools
When we still had time to kill and we were still in school
But the time is getting harder to kill it seems
Try to battle all your demons with broken dreams
Give it to me now
Give it a minute and we'll figure it out
Please don't go and throw it all away
Too many sleepers and you're going south
You only live to fight another day
---
Deeper album cuts include the bouncy, buoyant "Mike and Simone," the roaring anthem "Into the Light," and the the album's enchanting, if not poignant finale, "Golden Girl."
"I quite like the lyrics on 'Magazine Road,'" frontman Tony O'Donovan notes, referencing one of the record's softer, sweeter moments. "It's a bit of a coming-of-age song, and the words sometimes evoke some kind of bittersweet nostalgia for me. I like using colloquial touch points like place names when I can, too."
Whether you're looking for high-octane indie rock bangers or sentimental, head-turning outpourings of a soul exposed, Sucker for Stars has plenty of both to offer all who take the plunge.
"In terms of take away for listeners, it would be nice if these songs made them feel something, like all the best songs do – whether that's happy or sad," O'Donovan shares. "It's nice to think that it might provide a sound track for their lives momentarily. Through the creation of this album we've discovered a lot more about each other as songwriters and creative people. The three of us were in our own bubble through the writing and recording of the album and we've come out the other side of it a stronger and more cohesive unit."
Despite the hard truths of being a band in the 2020s, The Burma are already well on their way to establishing themselves as a formidable indie rock force; their LP serves to further seal the deal, making them a band worth paying close attention to now and in the years to come. Experience the full record via our below stream, and peek inside The Burma's Sucker for Stars with Atwood Magazine as the band goes track-by-track through the music and lyrics of their debut album!
— —
Stream: 'Sucker for Stars' – The Burma
:: Inside Sucker for Stars ::
— —
Out in The Heat 
One of the oldest songs on the album along with Hard To Say and Love Fades. It was the last song recorded for the album as it didn't make the initial tracklist until a late u-turn brought it back from the brink! – Tony
Don't Believe Your Dreams
Very 80's inspired and probably the most upbeat song on the album. It took the longest to write and when it came time to record we definitely threw the kitchen sink at it. Everything about the song seemed very over the top which we also went with making the music video. – Peter
Sucker For Stars
The title track. Been knocking around for a while now but it got a big makeover before the recording sessions and that's after giving it a new lease of life. Remember savouring a moment playing this one at a festival on a sunny day this summer. – Tony
Sleepers
This started out as a dreamy Bedroom Pop sounding song but during the recording we took it in a bit of a darker direction to reflect the subject of the lyrics. The song was by far the easiest to write for the album and became a favourite of ours very early on. We ticked the box of "rooftop music video" with this one, shooting the video on the roof the Metropole Hotel overlooking Cork City. – Peter
Magazine Road
Wrote the bones of it in ten minutes on the couch one night. Felt like a song that was just waiting to be written at the time.  "Magazine Road" was just a placeholder lyric that survived as it was just randomly the first thing I sang to the melody. – Tony
Mike & Simone
I was obsessed with "A Grand Don't Come For Free" by The Streets for a while. "Mike and Simone" refer to the two recurring characters on that album. Me and Pete were drinking pink gin and eating walkers ridge crisps when we were writing this in my apartment one night and sometimes when I hear it I can almost taste them again! – Tony
Into The Light
We wrote this song just after releasing our debut EP in 2020. It was inspired by the mix of guitars and synthesisers on The Killers' Hot Fuss album, which is a very big album for us as a band. We had planned on this song being the album opener right up until the last minute. It has one of my favourite lines on the album "Saving money up in Tesco and dream of living on the West Coast". – Peter
Same Again
We previously released a version of this song on our "Sugar Moonlight" EP but after playing the song at a few gigs we realised we could have bettered that recording, so we gave it another go. This version has a lot more energy I think. There's a nostalgic feeling to a lot of the album and it's most obvious on this song. – Peter
Hard To Say
Another oldie. I remember writing this up in my mam and dad's house with our old guitar player Mike Bruton. Mike actually features on the recording doing some BV's and guitar. I wrote the lyrics after watching the Brits one night and being pissed off with the ever growing presence of the commercial pop stuff over bands. An angry young man! – Tony
Love Fades
Written in a previous lineup of the band. Our local football team Cobh Ramblers used this as their walk-on song before home matches, but I think they've sadly replaced it with Can't Stop by the Red Hot Chili Peppers. – Peter
Golden Girl
As soon as we wrote this song we knew it would close the album. It's very different to the rest of our music, featuring more acoustic guitar and piano than electric guitar but serves as a great bittersweet ending to the album. – Peter
— —
— — — —
? © Ciara O'Toole
:: Stream The Burma ::
---