This Black History Month, Atwood Magazine has invited artists to participate in a series of essays, interviews, reviews, poetry, playlists, and more features in recognition of, and out of respect for the symbolism and significance of this month.
---
'Chain Gang Fourth of July' – Chris Pierce
---
Today, internationally acclaimed singer/songwriter Chris Pierce premieres his stunning single "Chain Gang Fourth Of July" with a powerful personal essay on Black History and freedom as a part of Atwood Magazine's Black History Month series. An incendiary folk song heavily inspired by the blues, "Chain Gang Fourth Of July" showcases Pierce's dynamic and raw expressive vocals through a brutal performance critiquing the Fourth of July and the very notion of a "freedom day celebration" through the eyes of the enslaved. The song follows previous singles "American Silence" and "Young, Black and Beautiful," and is the final release taken off Pierce's forthcoming ninth album American Silence, out February 26, 2021.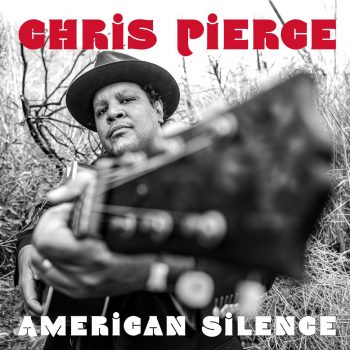 Self-produced and specially released during Black History Month, American Silence shines a light on racial injustice in America through a feverish blend of folk and soul, rock and blues, and a litany of provocative stories and imagery. The record finds a stripped-down Pierce singing about justice, oppression, homelessness, Black self-love, racism, mass incarceration, Immigrant Transcontinental Railroad workforce, Native American boarding schools, and American statesman and civil rights leader John Lewis; and through these songs, Pierce "calls out to unite us under one sonic roof to speak up, sing out, rise up and resist with the offering of his new 21st century Americana freedom and justice album." The result is an unequivocally breathtaking experience for all who choose to embark on the album's heartfelt, moving journey.
"I celebrate Black History through and through. Not only for the month of February, but through the days, nights and often-times fragile and emotional seasons of the years. There are countless contributions by black creators, innovators and entrepreneurs to our daily lives. The creative contributions alone, carry us on a never-ending inspirational song cycle that rings true to the black experience and carries over to all, yet our contributions are often overlooked, trampled on and left alone. Black History Month is a reminder to never let our beautiful and powerful notes dampen into the night. A reminder to sing those mighty songs and to be joyous while they ring into the sunrise and into another day. Black History Month reminds us to sing strong and sing proud in honor of our victorious ancestors and their contributions and to also celebrate each other as we rise up, as we grieve and as we succeed. It reminds us that the song will only begin to end, if we yield in inspiring each other to write another verse and to build another bridge. We find the strength to lift our authentic voices as we march on through the choruses and the chapters of black history." – Chris Pierce
•• ••
Look, here comes Marvin!
Doin' twenty five for robbin'
a store fulla five and dime.
He worked all his life,
had his wages all stole
But they say that ain't no crime!
Here comes Rudy
with a shovel in his hand!
Doin' fifteen for selling a bag.
The banker took his green
Now the banker makes the scene,
Wavin' a big old flag!
What does freedom mean to them?
What does freedom seem to them?
On a chain gang Fourth of July,
Yeah, a chain gang fourth of July
•• ••
"Chain Gang Fourth of July"
by Chris Pierce
I celebrate Black History not only during the month of February.
I honor the achievements, courage, dignity and strength of Black people during the days, and often highly emotional seasons of the years. Independence Day, the Fourth of July, is celebrated with fireworks, parades, and concerts and is one of those perplexing annual moments for many members of the national population, including the Black community.
On the Fifth of July, 1852 in Rochester, New York, the great orator and abolitionist leader Frederick Douglass delivered an eloquent speech, "What to the Slave Is the Fourth of July?", effectively suggesting that celebrating American values such as liberty, citizenship and freedom were an offense to the enslaved people of the United States. In his iconic speech, Douglass writes, "This Fourth of July is yours, not mine. You may rejoice, I must mourn. To drag a man in fetters into the grand illuminated temple of liberty and call upon him to join you in joyous anthems, (is) inhuman mockery and sacrilegious irony."
The promise of freedom in the Declaration of Independence is, to this day, unfathomable to many, especially those who have been exploited by the prison labor system. In celebrating Black History and those who have fought, marched, bled and died in the name of freedom and equality, it's important to address the juncture of race, justice and mass incarceration in the United States.
During the songwriting process of "Chain Gang Fourth of July," Mark Malone and I sought to highlight the many in chains today who have done nothing much different than those who walk in freedom. We question the reasons why we call one act a crime and another act blameless.  The song challenges this archaic social construct that no longer fits in our society.
Not only Black American descendants of slaves, but all Americans must take personal responsibility and lift our voices to reform the prison-industrial complex. Today, I lift my voice in the form of a song:
"What does Freedom mean to them?
What does Freedom seem to them?
On a chain gang Fourth of July."
•• ••
Here comes John,
Been slavin' since the dawn,
Doin' life for breakin' a man.
When the jailer shoot his gun
In his Caddy just for fun
They give him a retirement plan.
What does freedom mean to them?
What does freedom seem to them?
On a chain gang Fourth of July,
Yeah, a chain gang fourth of July.
A flag's waving on the courthouse
This sunny summer day
Just like old Betsy Ross sewed.
Don't quite mean the same
When you're shoveling tar
On a hot stretch of blacktop road
What does freedom mean to them?
What does freedom seem to them?
On a chain gang Fourth of July,
Yeah, a chain gang fourth of July
'Chain Gang Fourth of July' – Chris Pierce
---
— — — —
? © Mathieu Bitton
:: Chris Pierce ::
---