This Black History Month, Atwood Magazine has invited artists to participate in a series of essays, interviews, reviews, poetry, playlists, and more features in recognition of, and out of respect for the symbolism and significance of this month.
---
Today, Haitian music video and film director Des Gray shares her top five favorite Black-lead movies as a part of Atwood Magazine's Black History Month series. Founder of Foreign Made Films, Des Gray's ever-expanding repertoire includes shooting for some of hip-hop's biggest and most influential names, including Future, Young Thug, Migos, Lil Baby, Young Jeezy, and more. Her video for Lil Donald's "Do Better" has surpassed 59 million views on YouTube, showcasing an already thriving and limitless career. In her words, Gray's prowess as a director and producer have enabled her to spearhead the role as Haiti's first female visionary.

Gray recently directed Davido's Jimmy Kimmel performance (in less than 24-hours), which aired on March 3, 2021.
•• ••
My Top Black-Lead Movies
by Des Gray
"Get Out"
director: Jordan Peele
My imagination is a twisted place and "Get Out" fits perfectly in it.
"City of God"
directors: Fernando Meirelles and Kátia Lund
I love the way the movie depicts the slum because it compels viewers not just to confront the desperation, poverty and violence of life there.
"Crooklyn"
director: Spike Lee
I saw a little Black girl that reminded me so much of myself growing up in Haiti.
"Fresh"
director: Boaz Yakin
LIFE is like a game of chess. Fresh learned from his own father that the drug game is like playing chess. The only way Fresh can save himself and his sister is by playing chess. 
"Jason's Lyric"
director: Doug McHenry
It's about how loving someone can inspire you to be a better version of yourself from the eye of a good and bad brother relationship. 
— —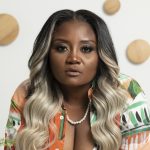 Connect to Des Grey on Instagram
Connect to Foreign Made Films
on the web and Instagram

? © courtesy of Des Grey