This Black History Month, Atwood Magazine has invited artists to participate in a series of essays, interviews, reviews, poetry, playlists, and more features in recognition of, and out of respect for the symbolism and significance of this month.
---
Today, Grammy Award winning a capella group Pentatonix's Matt Sallee shares his top five musical influences as a part of Atwood Magazine's Black History Month series. Singing second bass, Maryland-born and bred Sallee replaced Pentatonix founding member Avi Kaplan in 2017, first appearing on the group's holiday album A Pentatonix Christmas Deluxe. Pentatonix released their second album of original songs, The Lucky Ones, on February 12, 2021 via RCA Records. "I feel like we really told our stories in this album," band member Scott Hoying told Atwood Magazine in a recent interview.
Atwood writer Nina Schaarschmidt hailed The Lucky Ones as a confident and mature step forward for the band, "exploring the ups and downs of adulting and simply being human." Dive into the depths of The Lucky Ones in Atwood Magazine's exclusive new Pentatonix interview, and learn more about Matt Sallee's musical influences below!
•• ••
My Top 5 Influences
by Matt Sallee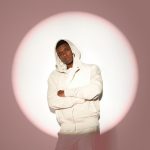 Stevie Wonder
Stevie changed the way I saw music. Obviously he is a genius musically but beyond that he was just so innovative with his sound and took risks that no one else was willing to take at the time. Whenever he performs, he seems like he's just having a blast which truly inspires me the most – his enjoyment of the music.
Michael Jackson
Mj is, in my opinion, the greatest performer of all time. The way he captivated your attention with every move he made so effortlessly was unparalleled and aw-inspiring. And I think of him often as I'm performing… hoping to command the stage with half as much gusto as he did!
John Legend
John is a pioneer for black men like myself that don't want to be seen as one thing. Yes, he sings/plays piano phenomenally, that's what he's most known for. But he broke the mold into acting and then becoming a judge on the voice. He's truly multifaceted in a way I aspire to be.
Whitney Houston
Whitney is hands down the greatest singer of all time. She could sing anything and make you feel every emotion. I envy that and aspire to translate lyrics to melody in the way that she did. Forever an inspiration of mine.
Leslie Odom Jr.
What I love about Leslie is that he's a quadruple threat! He sings, raps, dances, acts, and also does voice acting. And that's only the things that we've seen thus far. Who knows what else he can do. And that's what I love… he inspires me to chase every dream no matter how crazy it seems or unrealistic it is!
— —
— —
? © courtesy of RCA Records
:: Stream Pentatonix ::
---