Following his 2020 EP 'LIMBO,' Bishop Ivy has just unveiled 'parasocial,' and it's everything we hoped for and more.

Stream: 'parasocial' – Bishop Ivy
---
Pittsburgh-based alt/pop artist Bishop Ivy recently released his five-track EP, parasocial. Narrating the idea of communicating with people, with no anticipation of a response, the young musician based the release around this concept, digging into the meaning of the word "parasocial." A parasocial relationship actually refers to a one-sided relationship, such as with a celebrity or fictional character, where they themselves aren't aware that it is even happening. Ivy explains, "I also like the similarity to the word 'paranormal' further tying into the analogy of ghosts and the ghostly nature of the record in general."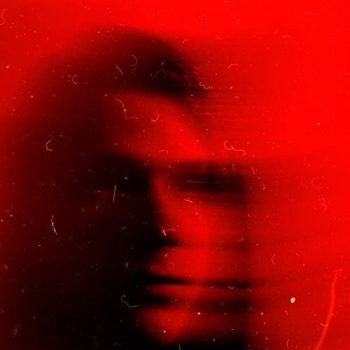 The accompanying new music video emphasizes this theme further. Filmed in black and white, with an eerie layered image of the songwriter's face appearing in splashes of neon colors, the video represents the spirits of two people, with one being unaware of the other. Simple, yet truly mesmerizing, the powerful visuals suck you into Ivy's world, quickly becoming bewitched by his angelic appearance and golden locks.
I can't see out my windows at night
The lights just fog up
For all I know, the argument outside is just my mind
We watch the silhouette circle our bed
You pull the covers over my head
Oh, I never thought I'd (thought I'd, thought I'd)
Become my own lover (lover, lover)
If I could I'd hold you
But I'd just cross my arms
At least you'll stay with me and brace another day
Drawing comparisons to the likes of James Blake and Bon Iver, Ivy's sound blends alt/pop melodies with experimental instrumentation. Combining his love of electrical engineering and computer science, Ivy fails to go anywhere without his field recorder, constantly picking up sounds from everyday objects, like the check-out line at Target, his dad's motorcycle starting up, or a skateboard being smashed into a wall. Quite simply, this musician can make a song out of any sound. One of the most enjoyable parts of this EP is listening carefully to every sound and trying to guess where it originated from.
Watch: "parasocial" – Bishop Ivy




I'll be my flower
I'll be my flower
An illusion that I say to save myself
I'll be my flower
I'll be my flower
It's a nuisance that I can't get quite as high
At least I'll stay with me and brace another day
I can't rely that my past lover would like me
But despite this, I surrendered my serenity for the chance she might approve my improvements
But lately, I've just decided I should like me
The new EP uncovers a song for listeners of all ages and from all walks of life. From anthems of self-empowerment to the struggles of relationships and breakup songs, Ivy creates relatable music, built upon honest and raw lyrics. "parasocial" is the perfect example of everything Ivy has become known and loved for. His soft, velvet vocals gently ride against throbbing beats and shimmering synths, all layered atop each other to deliver something where your ears can't quite keep up. Ethereal, soothing, and hypnotic, the song is almost like a hymn, taking the listener to a place of tranquility. Allowing you to slow down and enjoy a moment of reflection, Bishop Ivy is paving a way for the future of music.
— —
Stream: 'parasocial' – Bishop Ivy
— — — —
? © 2021

:: Stream Bishop Ivy ::
---