Pittsburgh band Brightside's rollicking new single "Just Like Dancing" is a frenzied indie rock upheaval ready to lift us up and get us going.
Stream: "Just Like Dancing" – Brightside
[soundcloud url="https://api.soundcloud.com/tracks/663540299?secret_token=s-cE5wm" params="color=ff5500&auto_play=true&visual=true&hide_related=false&show_comments=true&show_user=true&show_reposts=false" width="100%" height="300″ iframe="true" /]




---
Every now and then, we need a good dramatic "barnstormer" to get us out of that daily funk – something that can awaken the fire inside and relight the spark plugs. Today, that kick comes in the form of Brightside's "Just Like Dancing," a frenzied indie rock upheaval ready to lift us up and get us going.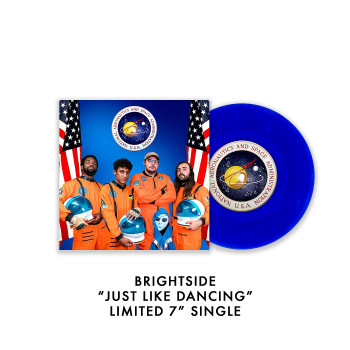 And it's just like dancing
Time and again it throws me off
Button up, face the night
Free to be oh-so criminal
Atwood Magazine is proud to be premiering "Just Like Dancing," the brand new single from Pittsburgh's Brightside that falls somewhere in-between American Idiot-era Green Day and Modest Mouse. Consisting of Matt Vituccio on vocals and guitar, Matt Williams on lead guitar, Dylan Essig on drums, and Steve Luteran on bass, this Pennsylvania four-piece have been tearing up the playbooks since their formation in 2011, sharing their lively and engaging indie rock whilst enduring various reformations and relaunches over the past decade.
"Just Like Dancing" is the lead single off Brightside's forthcoming third album 2012 (produced by Dave Klug [Rozwell Kid, Spirit Night]), following 2011's Good Enough, 2014's Now + Loud, and 2018's Two Songs EP with a finessed sense of melodic reckless abandon. Vicious overdriven guitars surround Vituccio as he sings a clever count-up in the chorus from 1-4, crafting a sneaky singalong moment perfect for shouting out loud:
Won me when I walked in the room
And I too had a feeling
that you'd had enough
And just three days later…
Now seems we couldn't
ask for much better
Nothing could be better
Brightside have been getting increasingly comfortable with pop melodies over the years, with "Just Like Dancing" undeniably being amongst the band's most accessible "pop" music in their repertoire. Whenever Vituccio is taking a breather, bright energies in the drums and guitars feed back and forth in a continuously uplifting cycle. When the singer is on, he's front-and-center pushing the track and its sonically rich narrative forward, with punky shouting behind him reinforcing the band's left-of-center roots.
I want it bad
I want it more and more
The summer, the singing in your car
The silence of your eyes
Your eyes hold the memory
Of every foreign horror that you've seen
And every little kiss I couldn't give
For every pin stuck inside me
All over and over again
If punk went pop, this is what we might expect to hear.
Brightside have delivered a song that is true to their name: "Just Like Dancing" is a rollicking affair ready to rile the crowd, getting us up and out of our seats for good.
Stream: "Just Like Dancing" – Brightside
[soundcloud url="https://api.soundcloud.com/tracks/663540299?secret_token=s-cE5wm" params="color=ff5500&auto_play=false&visual=true&hide_related=false&show_comments=true&show_user=true&show_reposts=false" width="100%" height="300″ iframe="true" /]





— — — —
? © 2019
:: Stream Brightside ::
---