Atwood Magazine chats with The Backseat Lovers' frontman Joshua Harmon about the band's emotional and upbeat sophomore LP 'Waiting to Spill' and the five-minute pockets of songwriting that sparked so much inspiration.
'Waiting to Spill' – The Backseat Lovers
---
When we were writing this album, it was everything I could possibly do to make it something that I was emotionally transparent with and proud of.
Waiting to Spill is the most recent effort from transparently, humanly, emotional, yet upbeat indie rock outfit that is The Backseat Lovers.
Emerging with their collection-style debut album in 2019 that gave us songs like "Kilby Girl" and "Pool House," the Provo, Utah based band has been collaborating and writing songs in the background ever since. Three years later, they're finally ready to show what they've been up to with their sophomore studio album Waiting to Spill, which came out on October 28th via Capitol Records — their official major label debut.
Atwood Magazine got the chance to sit down with frontman Joshua Harmon to talk about the new record, the growth that came along with curating the album, and the five-minute pockets of songwriting that sparked so much inspiration.
— —
A CONVERSATION WITH THE BACKSEAT LOVERS
Atwood Magazine: With this album, you guys are like making your label debut. How do you feel about that in comparison to self producing the first album?
Joshua Harmon: Well, we were completely independent, self producing and self funding, all the way up until we finished this record. And it was at that point that we decided to sign with Capitol Records. So our relationship with them is still very fresh and very new. It's only been a handful of months so far. We've always been very fond of the DIY way of doing things and taking ownership of our art in that way. So we tried to time it, if we were going to sign, to try to do so in a way that could make it the most possible for us to continue to do that same thing. And so far it has been really great. And the structure has been very advantageous to that sort of work ethic.
Would you say that it's important to you and the whole band to keep your hands in every part of the process?
Joshua Harmon: Yeah, absolutely. We're, we're very opinionated. In like, everything.
Your first album was this energetic labor of love, and you were very fresh as a band. How do you think that your approach to writing and making music has changed now that you guys have a bit more of an audience?
Joshua Harmon: It's changed quite drastically. I think the biggest thing was that on our first album, we were just younger. A lot of the songs were starting to be written around the time I was 16, 17, 18. And then we recorded them when we were all around 18 or 19. But since then, the process for this album has really evolved, it's been about three years of working on it and being very, very focused on it, kind of making it the centerpiece of our existence as people and as a band. I think over that time, a huge part of the way that things changed from a creative standpoint was the way that we were able to learn about each other, and learning how to be free and vulnerable and open with each other, both as people and as creatives. And I think because of that, we were able to gain a sense of trust and stretch our legs a little bit more, and lean on each other more musically. Also, we just had so much more time, and so much more ambition to create an album. As soon as we finished the first one, we were like, 'Oh my god.' We became obsessed with this idea of making an entire album that's one body of work, not just all the songs we've written. Something that's thought out and spans the entire album, where every song correlates, at least to some degree, whether it's literally or emotionally. It changes a lot. And it's continuing to change. We're already ready to start recording the next one. We just want to keep moving forward.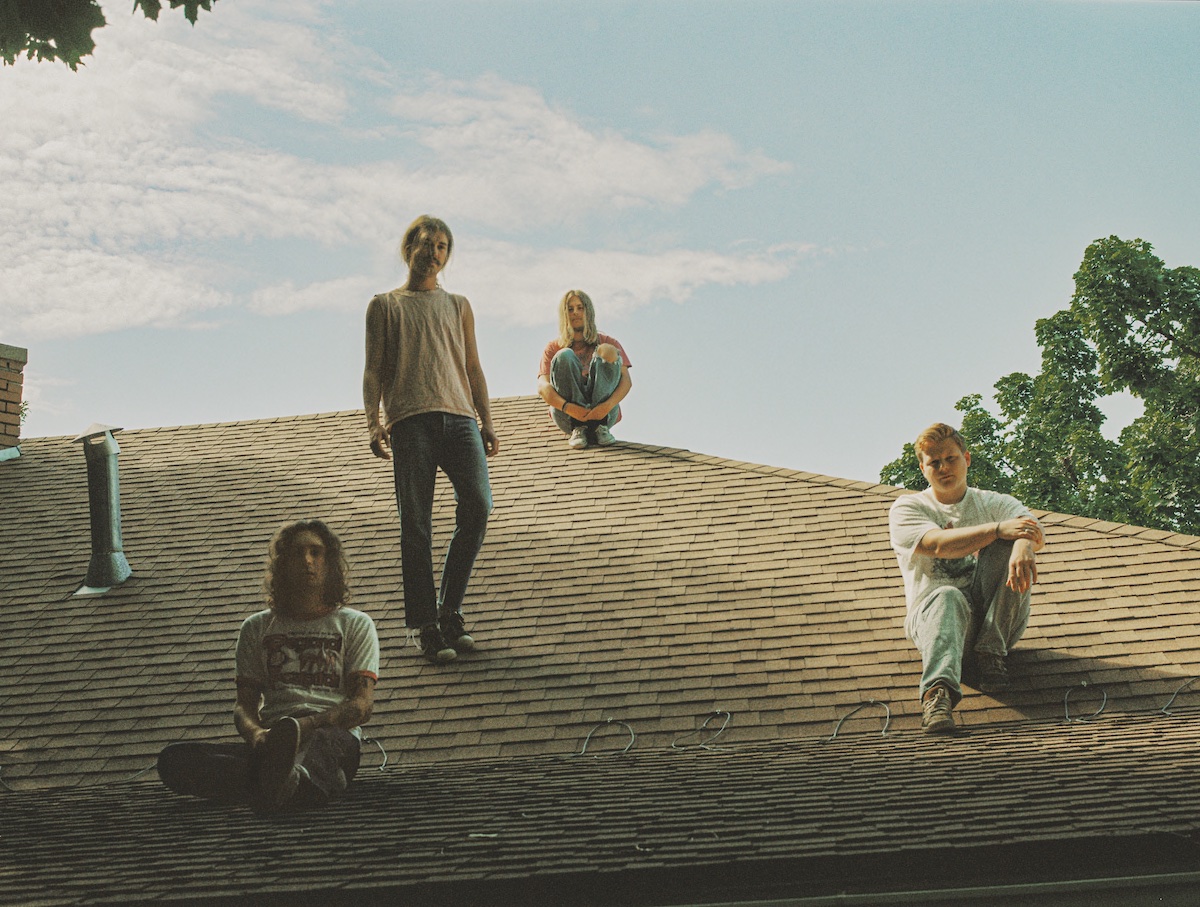 What was the writing process like for this one, then? You said you wanted more cohesion and intention in the writing and planning. Can you maybe talk about some of the emotions or stories that we can find in the album?
Joshua Harmon: Yeah, absolutely. I think the first song that we started to write on this album was "Close Your Eyes." I started writing it in January 2019. So, it was the month our first album was coming out, And I was very emotionally attached to that first verse section. And that's all I had. I brought it to rehearsal one day, and just after practice, it was just me and Jonas together. And he showed me a new idea of his as well, and it was in the same beat and the same tempo. And it was kind of telling the same story, but with his life, and it was just completely serendipitous that we just both happened to be writing the same song all the sudden, without any context. So we decided to put them together. It took so long to get that song across the finish line. It took so many different forms, and so many different tries, and those long band practices where you don't get any progress, trying ideas over and over, and it was very, very intense. And then even in the studio, putting everything together and trying to get it to work, it took a lot of emotional patience. Especially because it meant so much to us, it was kind of tough when it wouldn't work out. But conceptually, that being the first song that we wrote, a big thing that the song is about is recognizing the kind of sacrifice that is to be a parent for somebody. And how taking that step within your life is kind of like letting part of yourself go and letting your youth go. Because once you have a child, that is where you're 100% focused. And just recognizing that sacrifice. Like, our parents did that for us. And it's just kind of about recognizing that it's a very hard thing, but it's a really beautiful thing as well, and trying to be grateful for that sacrifice. That kind of spanned into other songs, sometimes without even doing it intentionally at all. "Growing, Dying" had a similar sort of thing, but a little bit more inward. Asking, 'How do I learn what parts of myself that I have to let go to grow up and let go of my past?'
I know you mentioned that you already are sort of writing and ready to record the next album, do you feel like the momentum of this album is really moving you along, or were you inspired by like other things?
Joshua Harmon: The process these days is really quite interesting because we are, quite honestly, very busy doing stuff that pertains to this album we're about to put out, and just touring. The amount of time that we have to dedicate to writing is very slim these days; it's in very small windows. A lot of the songs that we were really excited about moving forward, we would get about five minutes at each soundcheck to try and do something if we wanted to. And so we were having this spotlight on us in a very tight amount of time. Each night, it was kind of crazy how it seemed entire songs were being written within five minutes, just us playing and jamming, and doing it in real time.  And that wasn't really something we could do alone. I think that's really shaping up what the sound is for the next one. Us all writing together. It's almost less thought out in that way. But it's still just as intentional, if that makes sense. Like, it's less about thinking about it forever. It just kind of happens. It's a little bit more instinctual, I guess. But then, in addition to that, in working on this album for the last two or three years, and having most of the tracklist decided for a long time, and Jonas and I were the kind of main songwriters, over all that time we were very focused on albums. But we were writing songs in the background that kind of had no agenda. And there's a lot of those songs just in a little pile. And we're really in love with all those songs as well. So it's going to be a combination of both those songs and some more intimate songwriting.
Each night, it was kind of crazy how it seemed entire songs were being written within five minutes, just us playing and jamming, and doing it in real time.
With your first album being more a collection of all the songs you have and this new album being a lot more meticulous, do you think you'll end up with another album like your first with all the songwriting you're doing in the background? Or do you see a bit more shaping and pruning in the plans?
Joshua Harmon: It'll for sure be a lot of shaping and pruning. And I think that we'll still focus on it just as much as we have this last one — probably more. But also to that point, when we first started the band, we only had written, I think it was three songs. And it was like, 'Okay, now we've got to play a show and sell some t-shirts to record even more songs.' And then we had maybe nine songs total. And that was everything we had. And that's the first album. But this is more like, we have 40 or 50 songs, and we're trying to trim it down to just 12.
Since you guys signed after this album was already finished, Do you plan on bringing in more outside production elements in future albums now that you're with a label? Or do you see things staying pretty DIY, lock and key the way they've been going?
Joshua Harmon: A big part of signing was recognizing that it is a really good opportunity to have more resources outside and expand. There's so many amazingly talented people out there that we get to work with, and whether that's in a studio or even if there's a really amazing visual artist that we want to work with. We're infatuated and inspired by visual art and animation. In that sense, we definitely want to use those resources. But musically, I think a big part about the last couple years that's been shaping our songwriting is Jonas' and my year in the studio. We've been doing a lot more recording on our own, through the pandemic and in general in the last couple years. So part of what we've talked about as a band is that we kind of want to push back a little further into even more of a DIY approach for some songs, but then open up the gate for other songs to work with a very talented engineer, producer. But all in all, we'd still like to be co-producers or producers. But so much can change, too.
So, what can we expect to hear on the album?
Joshua Harmon: When we were writing this album, it was everything I could possibly do to make it something that I was emotionally transparent with and proud of . Not to make anybody feel like they have to go into it with any expectation necessarily, but I will say, the songs are coming from a very real place for us. And if you do want to listen to that, I would say just to find a place where you feel the most comfortable and the most yourself, and if you want to be vulnerable with the album, try to see yourself in it. The whole thing is vulnerable from our side too.  But then again, you can probably just put it on in the background, and that's cool, too. Whatever you want to do, it's cool with me.
If you want to be vulnerable with the album, try to see yourself in it. The whole thing is vulnerable from our side too.
— —
'Waiting to Spill' – The Backseat Lovers
— — — —
? © Allyson Lowry
:: Stream The Backseat Lovers ::
---