Building beautifully upon her previous releases, Bre Kennedy's "One Way" compels you to never give up in a world where it can seem everyone is against you.
Listen: "One Way" – Bre Kennedy
While technology has opened up a seemingly endless number of opportunities, the number of setbacks it's created seems to have grown exponentially too. For artists, streaming services have made it easier than ever to share their music, but the influx of new music sometimes makes it impossible to be heard above the noise. With "One Way", Bre Kennedy addresses that common struggle whilst further proving the fact that she's undeniably an artist that deserves your undivided attention.
Atwood Magazine is proud to be premiering Nashville-based artist Bre Kennedy's new single "One Way", out everywhere Friday the 28th of June. Although, many of Kennedy's previous tracks have fully utilized powerfully punchy pop production, on "One Way" the comparatively minimalistic, yet delightfully absorbing, production allows the listeners focus to be fully thrush upon the track's empowering lyrical sentiment.
After releasing two singles in 2018, Bre Kennedy made an impactful return in 2019 with the release of "Slippin", a euphoric pop anthem that saw Kennedy revel in the excitement and uncertainty of growing older. Her astonishing follow-up track "Strings Attached" mournfully ruminated on the way in which even memories we think we've forgotten can subtly affect our current reality in a deeply impactful way. It's easy to see why her unique knack for encapsulating often conflicting feelings into authentic yet accessible lyricism caught the eye of Atwood favourite Nina Nesbitt, who co-wrote with Kennedy on her astonishingly affecting and piercingly emotional track "Somebody Special".
I only one way
It's too late to turn back now
Sometimes I get lonely
And it turns me inside
Million miles from ever knowing 
How far I am from where I'm going
But I know I'm gonna get there someday
I only know one way
Even with the comparatively small number of songs, she's released thus far, sonically Kennedy has evidenced a fierce willingness to experiment with her sound through incorporating instrumentation that exemplifies the impact of her absorbing lyricism. "One Way has the dangerous feeling of determination, no matter what," Bre Kennedy tells Atwood Magazine. "Sounding like it could be on the soundtrack for "Drive", it carries a fearless message of "keep going". I wrote this song as a reminder to myself as an artist, that, even when I have doubts that I'm not on the right path, or that it's just too hard to keep going, there is nothing else I would rather be doing than fighting for my truth."
Turn the music up when the eyes get tired
Talk to someone you love on the telephone wire
Ooo anything to stay between the lines
Ooo anytime I need another sign
Kennedy adds "I wrote this song on a back porch somewhere in Nashville last summer with one of my favourite artists, David Borné. I wanted to write a song about the constant pull I have to live this wild life that I do. That even when I have my doubts every other morning on if I'm on the right path or if I should give it all up when it seems impossible…I know truly that there is nothing else I would rather be doing. There is NO plan B. There is no other way. There's no point in looking back or second-guessing. Life's more fun driving forward."
"One Way" sees Bre Kennedy delightfully showcase her extraordinary talent in a captivating and self-assured fashion. The track speaks to the importance of recognizing that the struggles and challenges that you face are an integral part of your journey through life. Ultimately, "One Way" subtly urges you to seek solace in the company of those you love and appreciate those who aren't afraid to understand your flaws.
Stream Bre Kennedy's new single "One Way" exclusively on Atwood Magazine, and stay tuned for upcoming releases from this awe-inspiringly talented artist.
— —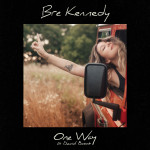 ?© Jason Lee Denton
:: Stream Bre Kennedy ::