Approximately 80,000 people unite every year at a beautiful, 700-acre farm in Manchester, TN, to share their love of live music and nature. With a loaded lineup, a diverse rotation of genres, and a community of devoted fans, Bonnaroo 2023 is gearing up to be a must-see festival. Check out this year's rendition from June 15-18.
---
Bonnaroo's lineup this year features the biggest stars in many genres, like Kendrick Lamar, Portugal. The Man, Odesza, Paramore, Noah Kahan, Lil Nas X, Tyler Childers, girl in red, and the Foo Fighters.
What makes this festival so special is the community that has been building in number for about twenty years now, since the inaugural Bonnaroo in 2002. There's a shared sense of belonging and understanding between the people that make the pilgrimage to "The Farm" every year.
With attractions and activities to do every square foot, Bonnaroo is more than just a music festival. The festival grounds are transformed every year into a world of its own, truly unlike anything else.
Here's a bit more about the non-music experience that you can expect at the festival.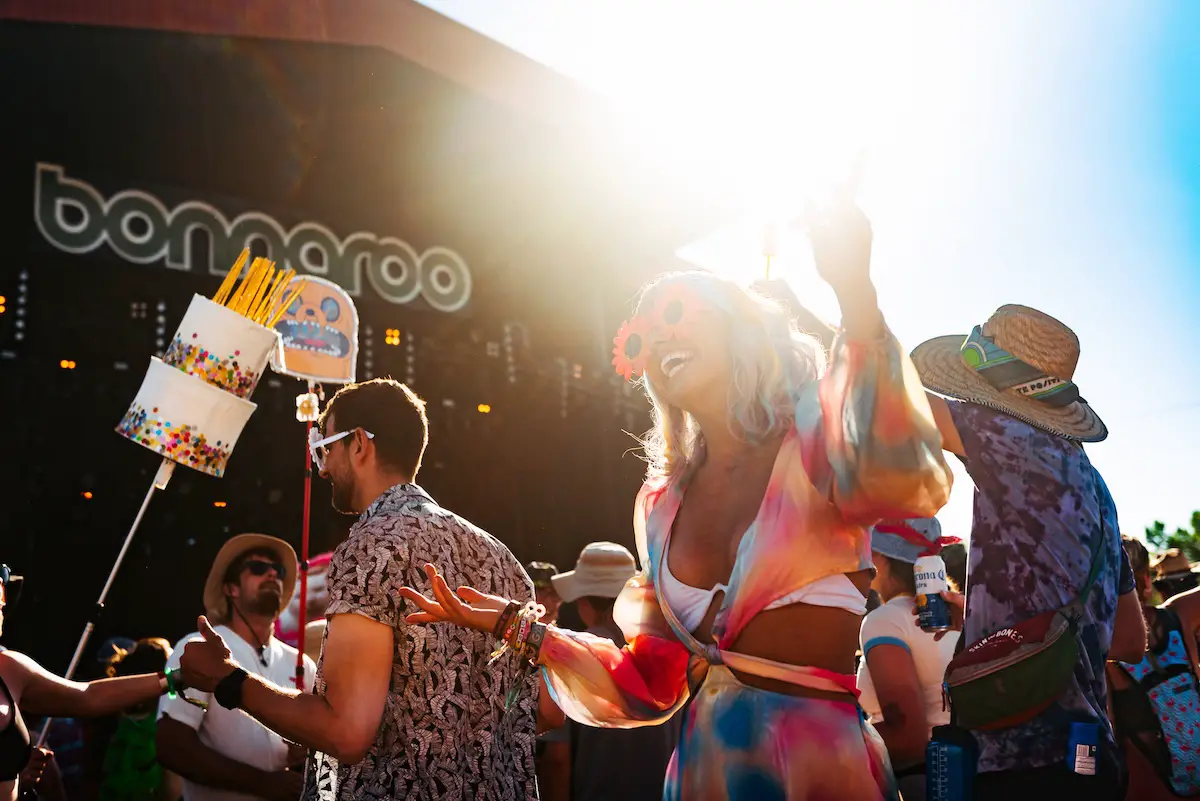 The Experience
First, the entire festival grounds are grouped into two sections, "Outeroo", which is where you'll be camping, and "Centeroo", which is where most of the stages are.
In the "Outeroo" section, there are 9 themed campground plazas, each with its own unique identity and attractions. There are hidden parties, late night artist surprises, trippy-art installations, food stalls, and so much more.
Check out the "Where in the Woods" plaza, where "A disco ball UFO has emergency landed on earth, and mysterious dancing aliens have emerged to host headlining Earth acts from sun up to sun down."
Maybe stop by the "Galactic Giddy Up" in Plaza 1, where "you'll find traces of other alien lifeforms from the iGRAC and Grundle Head planets alongside the next stars in country music."
The "House of Yes" is an all-night dance party set up in Plaza 3, while the "Space Cadet Camp" in Plaza 5 is a bit more laid back.
If you're in the mood to rave and see some crazy visuals, check out "The Fun House and Grove" at Plaza 7 for a "new kaleidoscopic world featuring art by Wade + Leta, creatures by Mythic Times and ambient sounds by dublab."
There's even a tram that will take you around the festival grounds (for free) so you can explore as much as you want.
Now, for the killer lineup.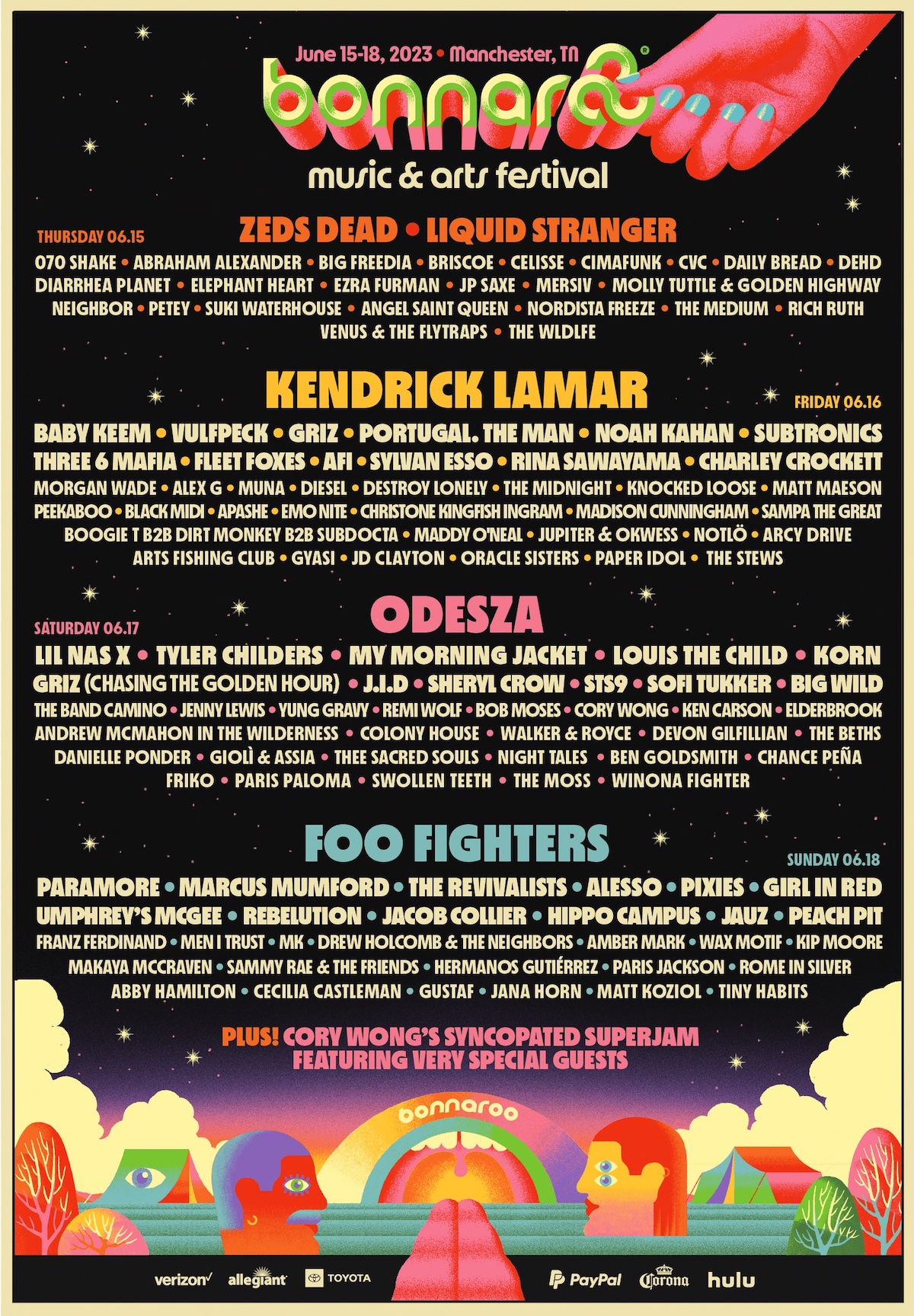 Thursday Lineup
Kicking off the weekend early with some tunes on Thursday, I'll be checking out Abraham Alexander at "This Tent" at 4:30pm. His soulful and melodic new album SEA/SONS will sound amazing live. Followed closely in time is the set of Bluegrass master, Molly Tuttle, and her band the Golden Highway. They play at 5pm at "That Tent".
Towards nighttime, I'm hustling over to the set of Daily Bread. He's a producer and DJ who's come up with a cool mix of electro, soul, and hip-hop. He's playing at 9pm at "The Other Stage."
Now, for a dilemma.
I'm torn between going to 070 Shake's set at "This Tent" at 11:30pm, and Liquid Stranger's set on "The Other Stage" at the same start time.
070 Shake has been quietly working on some of the biggest hip hop songs of our generation, while also releasing game-changing projects of her own. Her sound is a super unique mix of Tame Impala like psychedelic indie grooves but also super flowy rap poetry.
Liquid Stranger brings a Deep-Jungle House set that is pretty much tailored for late night outdoor festivals like this. It'll be spiritual and metaphysical, one of those sets where the lights and the energy around you will have you mesmerized.
I'll have to split my time between the two sets.
To close out Thursday, I will be watching the late-night show by Zeds Dead. The EDM duo is arguably one of the biggest acts in the world of electronic music, and a late-night set at 12:45am will be an insane rave. Absolutely a must see at "The Other Stage."
Friday Lineup
I'm starting off my day with experimental punk-rock band, Black Midi, playing at "This Tent" at 3:15pm. Coming all the way from London, these rockers bring a unique and brash electric-rock energy to every set. Worth a watch for sure.
Around 4:45pm, I'll be sprinting to the "That Tent" stage barricades to be front and center for Matt Maeson. Man, if anyone brings genuine and candid emotion to their music it's Maeson. His hit song, "Hallucinogenics," is the perfect anthem for a soul-searching experience. He brings passion and a bona fide generosity to every performance, and I can't wait to see his live set.
With a brand-new song, "Plastic Island," Portugal. The Man is back better than ever before. I'm excited to check out their new stuff at "What Stage" at 6:45pm.
Now, time for some Noah Kahan. Playing at "That Tent," his live shows are always an amazing, and ethereal human experience. He's such a pure spirit, and his gift is the ability to vocalize the struggles that millions of people endure silently. A must see set before the night kicks off, at 8:15pm.
At 9:45pm, I will be front and center for one of the last Griz shows for a long time. The EDM-Funk juggernaut announced on his Instagram recently that he's taking considerable time off from touring and new music. This is a going to be a great show at "Which Stage."
Immediately when Griz's set ends, Kendrick Lamar hits the "What Stage" from 11pm to 12:30am. Fresh off a massive performance at Governors Ball, Kendrick Lamar is undoubtedly one of the biggest names in the world of rap, if not the biggest.
After Lamar's midnight set, I'm running over to the back-to-back late-night sets of Subtronics and DJ Diesel at "The Other Stage." Subtronics had been ruling the world of dubstep for a while now, and his performances are as energetic as they come. Diesel is the stage name of Shaquille O'Neal, the legendary Lakers center.
It's Shaq. It's going to be an entertaining set, for sure.
Saturday Lineup
I'm going to be starting my Saturday with a wake-up call from Indie-Rock band Colony House. They are playing at 2:45pm at "This Tent." Super excited to hear some of their new album, The Cannonballers.
In addition to Colony House, I'll be checking out a little bit of Andrew McMahon in The Wilderness at "What Stage" at 3pm. His music is light and easy to listen to at surface level. But, if you dig deep, you see the intricacies, and the true craftsmanship in his work.
At 4:45pm, I'll be checking out Ken Carson at "That Tent." The Atlanta rapper creates a unique take on melodic rap, and his midday set is worth checking out.
The Band CAMINO is playing "Which Stage" at 5:45pm, and I'll be sure to check them out. I love their 2019 indie-rock single, "Daphne Blue", and am hoping they play it live.
For the evening, I'll be checking out Remi Wolf ("This Tent" at 6:15pm), Elderbrook ("The Other Stage" at 7:30pm), The Moss ("Who Stage" at 7:45pm), and country superstar Tyler Childers ("Which Stage at 9:45pm). Three super distinct artists, but all with amazing live energy.
To finish out the night, I'll be raving with Chicago-natives Louis the Child, performing at "The Other Stage" at 12:30am. These guys bring the intensity while simultaneously playing some of the chillest and easy-to-enjoy tracks in the electric dance world. Worth watching for sure.
Sunday Lineup
To kick off the last day of Bonnaroo, I'll be checking out Scottish-Rock band Franz Ferdinand. They play at 2:30pm on "Which Stage". Following the mid-day rock set, I'll be hanging out at "What Stage" for Hippo Campus and The Revivalists. Hippo Campus is a chill indie-rock band, playing at 3:30pm, while The Revivalists are a high-energy rock group, who just happened to drop their latest project, Pour It Out Into The Night. They play at 5:15pm.
Also playing at 5:15pm is Cecilia Castleman. If you want a chill and uplifting set to hang out at, then definitely check her out. Castleman's voice is soothing but powerful, while her lyrics are personal and relatable. She plays at the "Who Stage."
In between those two sets, I'll absolutely stop by to hear a legendary jam session from Umphrey's McGee, playing at "Which Stage" at 4:15pm. These guys are one of the greatest live acts I've ever seen, with super unique on-stage improvisations, long guitar solos, and a loyal fan base.
Towards the late afternoon, I'm going to do my absolute best to try and split my time evenly between Peach Pit ("This Tent" @ 5:15pm), girl in red ("Which Stage" @ 6:15pm), and Rebelution ("That Tent" @ 6:30pm).
Jacob Collier is awesome. His artistry is the only one at this festival that is too hard to put to words. It makes you think, while also helping you clear your head. It's complex, while simultaneously staying true to its simplicity. Is it lo-fi? Sad indie? Bon Iver-esque? Yes, to all, while also being completely different. His set is at 7:45pm at "This Tent."
To close out the night, I'll be watching The Pixies play at "That Tent" at 8:15pm. The Alt-Punk Rock band has been a staple in the Alternative Rock scene for decades. Immediately following their set, The Foo Fighters take the stage to finish out the epic weekend at "What Stage", starting at 9:30pm.
This lineup is filled with the biggest names in so many genres. Alt and Punk Rock, Indie-Rock and Rap, Country, EDM and House, Reggae and California Ska, Bluegrass, Jazz, and so much more. Bonnaroo 2023 is a must-attend event for anyone who loves music, camping, and good times.
— —
— — — —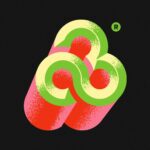 © Taylor Regulski
:: Stream Bonnaroo ::
---