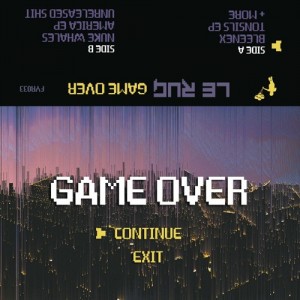 It's alright… Ray Weiss croons on Le Rug's new song "Bomb," but can we trust him? After all, he's best known for working through his personal demons in songs like "15 Ways to Kill Yourself" and "Optional Discharge" (both from the band's cassette Swelling, available like the band's new album out Nov. 13 via Fleeting Youth Records). And the group's live performances have a decidedly exorcismic quality to them – a scary-personal blend of intensity and power.
Formed after Weiss' stay in a psych ward, Le Rug has been singer/guitarist Ray Weiss' main vehicle for around ten years, putting out nine releases backed by a rotating cast of musicians. With the group, he's explored the troubled corners of his mind lyrically, and musically he has preferred an anarchic blend of distorted garage-rock and melodic post-hardcore that sounds like it would fall apart if not for sheer force of will – all of which makes this latest track surprising. They've always been a good band, but now they've got hooks.
Listen: "Bomb" – Le Rug
The tune starts with a pumping dance-punk intro which doubles as the song's wordless chorus and calls to mind groovesters like the Klaxons. The pulsing beat is accompanied by an infectiously slinky, simple synth –or crazily processed guitar– line making for a killer opening grab. But then the band shifts course to more mellow territory. The guitars are heavily distorted and bendy in an almost shoegazed way, and the lyrics are up front in the mix, clean, melodic and with subtle harmonies.
Lyrically Weiss is less angry, less voluble and way more ambiguous than on previous Le Rug releases, and "Bomb" falls into two distinct sections. The first operates as a sort of reassurance, a move not characteristic of Weiss's writing up to this point. He sings:
I am him, common sense, well I won't walk alone. It's alright
Hold out, falling out, well don't they know you're right. It's a way
The situation is unclear, but the sentiment isn't: don't worry, it's alright. But then in the last lines Weiss drops the titular bomb:
Breathe out, now you know that I have no one else. It's alright
You are the greener grass that always gets me high. It's a way
It's a confession and the transfer of a burden. The narrator has unloaded his feelings, but we can't know whether they will be reciprocated, rejected or ignored – and "it's alright" seems a little less convincing, as much a self-assurance as anything else.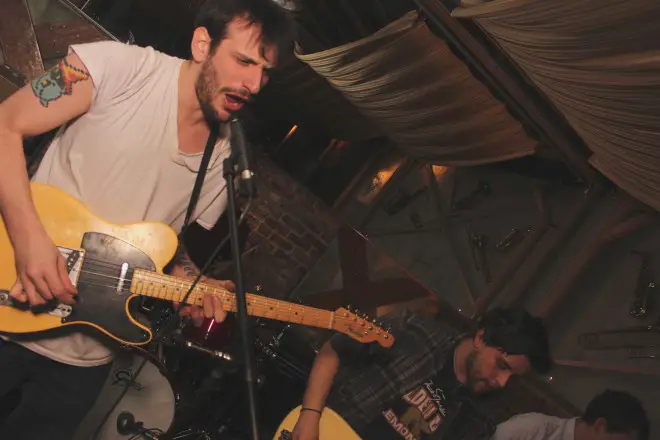 The only clue we get as to how this opaque narrative resolves is in the song's outro. The group doubles back to the bouncy chorus which dissolves into a discombobulated frenzy that harkens back to band's sonic roots, but, as with the rest of the song, is executed more deliberately –  a precise, contained chaos. The tumult builds as the drums pound and then the song just stops dead.
Weiss plunges listeners into the murky waters of interpersonal relationships, and smartly lets the music serve as the emotional compass, with rhythm and melody providing the guidance that the lyrics won't. To pull that off, "Bomb" shows a huge leap in pop song-craft with surprising catchiness. In fact, Weiss and Le Rug seem to be doing way better than just "alright."
 You can follow Le Rug on Facebook