The days are getting shorter and the nights are getting longer: Change is in the autumn air, but squirrels aren't the only ones planting seeds this fall: They are joined by the plethora of musical talents currently laying the foundations for a fruitful spring awakening. It comes as no surprise that fall is one of music world's busiest times of the year; the seasonal transition brings with it a craving for new stimuli, so whether you're a familiar face or a fresh one, audiences are ready and willing to listen.
Included among those faces is LA indie duo Western Scene. "Believe," which we are pleased to be premiering today, is the latest single off Western Scene's forthcoming debut album and an easy getaway from those autumnal blues.
Listen: "Believe" – Western Scene
---
Tom Pritchard and Emily Wilder (of Wet & Reckless) evidently don't like labels. Much to its advantage, "Believe" more than transcends traditional genre definitions. A tune driven pop-hook structure with a chugging electric guitar and a peppery flute create an atmosphere halfway between indie pop and psychedelic rock. Edward Sharpe & The Magnetic Zeros, or an unlikely marriage of Cold War Kids and Fleet Foxes are close comparisons, but why try to put "Believe" in a box?
In fact, much of this song's allure comes from its mystery. "Believe" keeps the personal at arm's length with a vague but powerful dialogue about the push and pull of human interactions:
Surrender, surrender
Sick in my head, sick in my head
It's not enough to break me
I will never control you
There is so much more to any relationship than meets the eye. Western Scene discusses how surface-level content doesn't always match the deeper realities of life in the song's oft-repeated, jangling chorus:
Tongue tied lover
Tell me what you see
No, it don't matter
Lips like sugar
Shaking at the knees
No, it don't matter
Can you believe
"Believe" makes a statement about seemingly real experiences — that they do  not matter. Western Scene made a similar statement with their previous song, "See What You Want To" as well. Perception and reality – and the juxtaposition of the two – make for stimulating subject matter on any level, and Western Scene certainly do the topic justice.
"It's my way of showing that there are multiple angles to everything in life," says Western Scene's founder Tom Pritchard. "I think there's a lot to write about in the arena of how things twist and turn. When we manipulate people or situations to fit our own egos, there's a lot of residual things that happen and I find it fascinating. I feel that it's pretty universal; perceptions and perspectives are in constant flux. I'd like to think it's hard to know who is the villain and who is the hero in 'Believe.'"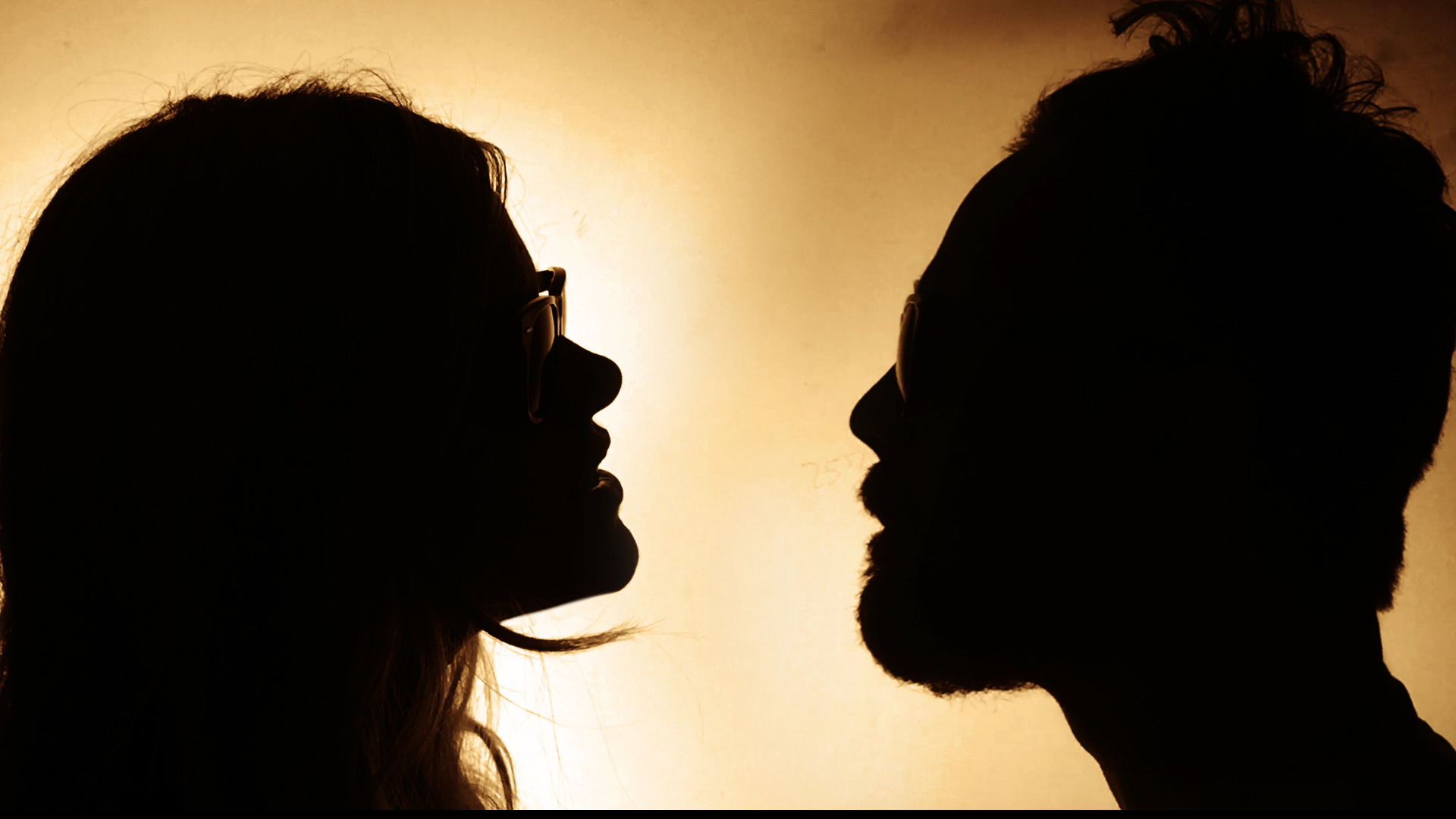 Crafting a catchy pop tune is no simple task, but Western Scene does it with style and grace while throwing in some atypical, but nonetheless refreshing motifs. The orchestral nod gives "Believe" an almost springtime-y vibe, but its release in the fall creates an air of nostalgia that could not be better timed. The band is currently in the middle of recording their full album and planning a tour, so rest assured there will be lots to discuss of Western Scene as time progresses.
Just like those acorns being nestled into the earth, "Believe" is a seed and there is no better moment than now for Western Scene to make an entrance. We asked Tom Pritchard a few questions to dig a little deeper into Western Scene:
What's been going on in the world of Western Scene? Does Emily's addition constitute a rebranding?
Tom: Well, there's been a lot of behind the scenes movement. It seems like we all shifted into new directions and have been writing and recording and then re-writing and re-recording. My aim has always been to challenge myself to try new things musically, while still writing about things that are swimming around my head. Emily's band, Wet & Reckless and Western Scene have been playing shows together for a couple years. When I began working with Emily on the video for our last single, we spent some time writing together and it was a perfect fit. I chose to self produce the record as well, so in a sense it's a rebranding while keeping the spirit of the original intent.
Tell me about the inspiration behind the name 'Western Scene'. Is it all that different from its eastern counterpart?
Tom: At the time I was watching a bunch of Sergio Leone films and getting into some other spaghetti westerns. I liked the name because it also represents the 'West' and my upbringing in rural California. I'd say it's different than the eastern counterpart; I still have a romantic attachment to the West.
What inspired the flute accompaniment?
Tom: When I was writing "Believe" I wanted to have accompaniment that I hadn't used before. I grew up listening to my Dad (Chris Pritchard) play flute. It always amazed me how he could work through scales so fast and fluid. So I asked him to play on the track, and I love what he came up with. To me it sets a different tone and adds levity. It's really hard to make a flute sound cool; I think he nailed it.
Atwood Magazine is excited to welcome Western Scene, and honored to be exclusively premiering this single. This is definitely something to "believe" in. Be sure to give "Believe" a good listen here or on our October 2015 playlist, and check back often for more news on Western Scene!
You can follow Western Scene on Facebook, Twitter and Instagram
"Believe" – Western Scene
lyrics
Surrender
Surrender 
Sick in my head
Sick in my head
It's not enough to break me
I will never control you
Tongue tied lover tell me what you see
No it don't matter
Lips like sugar shaking at the knees
No it don't matter
Can you Believe
Believe
Surrender
Surrender
Sit on my hands
Sit on my hands 
It's not enough to break me
I will never control you
Tongue tied lover tell me what you see
No it don't matter
Lips like sugar shaking at the knees
No it don't matter
Can you Believe
Believe
Tongue tied lover tell me what you see
No it don't matter
Lips like sugar shaking at the knees
No it don't matter
Can you Believe
Believe