Anxiety: It's a gift and a curse, the thing that will move you to do great things, but possibly push you over the edge in the process. Antagonista explore the goods and bads of anxious thought in their bombastic new single, "Speedy Anejo."
Who's going right worst of my day
when I'm not just fine alone.
The Last of my feed was cryptic and mean
and I can't stand still at home.
Stall in the words that are best left unheard
when I'm not just fine alone.
Who's going to right the worst of my day
when I'm not just fine alone.
Listen: "Speedy Anejo" – Antagonista
[soundcloud url="https://api.soundcloud.com/tracks/321014387?secret_token=s-QV11z" params="color=ff5500&auto_play=true&hide_related=false&show_comments=true&show_user=true&show_reposts=false" width="100%" height="166″ iframe="true" /]
---
Atwood Magazine is proud to be premiering "Speedy Anejo," the latest single from Brooklyn trio Antagonista. Consisting of Sean Davenport, Michael Alan Hams and Andrea Monorchio, Antagonista defy geographic and genre definitions: Their music comes from years of study and travel, from lessons learned in California, Boston, Seattle and Minneapolis. They integrate rock and classical themes, folk and electronic influences, and more. "Speedy Anejo" is a profound blends of all that makes Antagonista so great, turning their many-colored identity into a dynamic force.
Who's going to right the worst of my day when I'm not just fine alone.
Who's going to sell the rest of my things when I have nothing left to own.
Corner my day to make up my way when I have nothing left at home.
Who's going to right the worst of my day when I'm not just fine alone.
Honestly does it have to be true?
"I had been playing around with this song for a while wondering what I was going to do with it," shares Sean Davenport. "Right after Mikey (drummer Michael Alan Hams) and I got access to a practice space in Brooklyn and started writing, this was one of the first songs we experimented with. Lyrically it's about my personal ruminations that keep me productive and also awake at odd hours of the night… Nothing out of the ordinary; just your average day-to-day I really need to take care of this, or I shouldn't have spent so much money on that, and when is this going to get done sort of thing. I guess I thought that it might be cathartic to say it all out loud at once. Also, I tend to get self reflective when I drink too much tequila, hence the title."
Though "Speedy Anejo" is fueled by many of the negative aspects anxiety might bring to the table, it's that same anxiety that pushes Antagonista to be the unique entity they desire to be. Their single slows up and speeds down, transforming into something totally new before returning home for a final, driving verse. Though true to its name, the song flies past us, Antagonista's sound lingers in the air, and we cannot wait to discover what this group has in store for 2018.
— — — —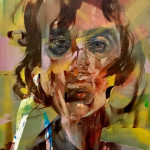 photo © Michael Martinez
:: Listen to Antagonista ::
[soundcloud url="https://api.soundcloud.com/users/305367859″ params="color=ff5500&auto_play=false&hide_related=false&show_comments=true&show_user=true&show_reposts=false" width="100%" height="450″ iframe="true" /]

<iframe src="https://embed.spotify.com/?uri=spotify:artist:4HMNnAMODzVR2Hti9z98OA" width="100%" height="280″ frameborder="0″></iframe>