Sounds like: James Bay x The Avett Brothers x Mumford & Sons
Chicago's Tyler Sjöström calls his new EP Bones, Hold Me Up a "love note, a Southern Gothic, a campfire tune, and a dirty, stick-and-poke tattoo – in that order." The folk singer/songwriter's sophomore effort is passionate, spiritual, dark, and somber: A tale of life lessons and haunting memories.
I don't wanna go numb
But that's exactly what I've done
I wanna stay young but I've grown old
I wanna fly
Like in every dream but then I die
Atwood Magazine is proud to be premiering Bones, Hold Me Up, an intense four-song collection of warm Americana-infused rock and folk that will chill you to the core, remind you of your mortality, and keep you coming back for more.
"As a means of catharsis, this album swerves in and out of the real and surreal to bridge the gap between my conscious experiences and my imagined fantasies," explains Sjöström. "Somehow, our minimalistic approach going in conceived a bigger sound than we had anticipated. It summons the young cowboy fantasy out of the Midwestern, suburban-raised man-child. It is a reminder to remember. Don't forget."
Atwood Magazine had the pleasure of premiering EP opener "Holding On" last month, at that time noting Sjöström's ability to "throw his feelings into the wind and feel a bit better." The EP starts with a moment of appreciation for our anchors – the ones who keep us afloat when times get tough. Sjöström leads with an emphatic acoustic guitar, but the support of electric guitars and piano throughout his EP creates an engulfing aura that dares to swallow us whole. It also lends the artist a unique sound: His aching voice and rich, riff-based melodies define a signature style that Sjöström can proudly call his own.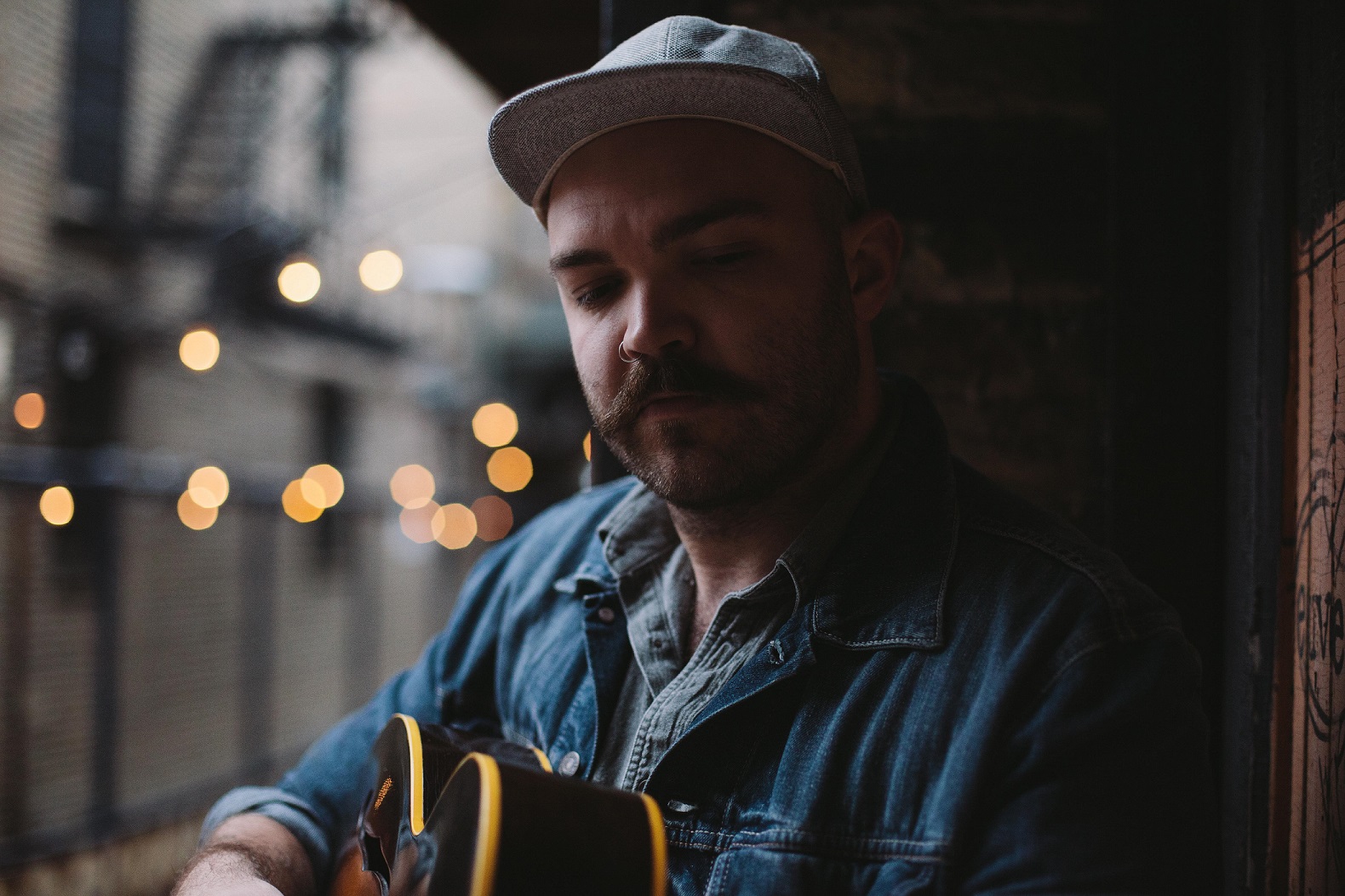 Here we are again
All up in arms again
It was a story when
We were there
And these memories
They will mean nothing you see
If I just let them be
Bones, Hold Me Up is soulfully enriching, a visceral journey that invites us to dive deeply into our own intimate corners of the universe. Listen to the full record here via our exclusive stream, and peek inside Bones, Hold Me Up with Atwood Magazine as Tyler Sjöström shares the stories and symbolisms behind his EP's songs.
:: purchase Bones, Hold Me Up on digital, physical ::
Listen: Bones, Hold Me Up – Tyler Sjöström
:: Inside Bones, Hold Me Up ::
— —
Holding On
The song chronicles a time in my life when everything seemed to be fading and falling apart. Surrounding me were family health issues, personal and spiritual doubt and unrest, coupled with just a very poor outlook on life in general. But a singular person became a rock in a seemingly unsteady place. Holding on to her as a firm foundation is really what allowed that time, and really the time now, to be a survival story. "Holding On" sounds like a "happy-go-lucky" tune which is why the lyrical content, though somewhat dark and at times tragic, can be re-imagined as a normal Jane/Joe trying to put a happy face on what is often a hard life. In reality "Holding On" is an homage to that one person who cares enough to be a steadfast anchor in turbulent waters.
Ghostly
Ghostly is an allegory on my spiritual life at the time of writing. Embellished within is a fictional story about a man who had lost his wife at some point, crossed the devil's path, and is attempting to come to terms with life after his loss. It is meant to excavate a time in which I felt bogged down by doubt, questions, and the desire for a sign of divinity. The "willow tree" exemplifies that place where comfort can be found but only in a ghost of something that was no longer there. Cutting down the "willow tree," or ridding myself of a comfort with no foundation, has allowed me to grow and move on.
Amboy Crater
Amboy Crater is one part a retelling of an epic road trip through America, and one part an analysis of life as seen through an actual near death experience in the desert. Over the Summer in 2015 a few pals and I took a jaunt from LA, California to Denver, Colorado camping in a number of national parks and taking in the beauty that is generally called the American Southwest. We fell in love with the dryer side of our country that somehow is teeming with life. However, happening upon a peculiar crater in the Mojave Desert between destinations, my compadres and I decided to venture off our planned trek taking a detour from historic Route 66. We found we weren't entirely prepared for the short, extraordinarily hot, trail to and fro the crater, which was blanketed with old, black lava flows. On our leg back from the crater our water bottles began to melt under the excessive heat, losing all of our hydration to the porous ground beneath us. I began to feel faint, stumbling nearly the entirety of the way back. Just before blacking out I had that stereotypical flash of my life before my eyes. The rest finds itself written into the song.
All Up in Arms
Ending the EP is the two part track "All Up In Arms". Like many of my songs it is the combination of an old and new tune. Marrying the two sentiments of historic, weary aimlessness and a current, hopeful determination. Though I don't journal half as much as I'd like these days, this song is the epitome of what it's like to look back through old entries only to notice recurring negative thoughts and feelings that could all so often be thwarted by merely looking back on life's cyclical nature. Life often sucks, but part of the point in living it is to learn from it.
— —
:: purchase Bones, Hold Me Up on digital, physical ::
— — — —
— — — —
cover © Lizzie Callen