When it comes to crafting a raw, homegrown sound, it doesn't get any more authentic than a pair of voices weaving soulful harmonies over naked strings. Simon and Garfunkel laid the foundations decades earlier, and duo Belle of the Fall continue to honor that great folk tradition today: The pair's beautiful new single "Rise Up" is a heartwarming ballad of perseverance and strength, a wondrous orchestral tune full of lyrical hope and musical grace.
Facing great calamity
They say the only remedy
Is finding some piece of mind
There's things in life we all can change
Like how we love and what we make
Of moments as they pass us by
Listen: "Rise Up" – Belle of the Fall
[soundcloud url="https://api.soundcloud.com/tracks/391907883?secret_token=s-CtHyG" params="color=ff5500&auto_play=true&hide_related=false&show_comments=true&show_user=true&show_reposts=false" width="100%" height="166″ iframe="true" /]
---
Atwood Magazine is proud to be premiering "Rise Up," the lead single and title track off Belle of the Fall's forthcoming sophomore album, Rise Up (independently out April 6, 2018). Based in Connecticut, the duo of Julia Autumn Ford, Tracy Walton craft a dazzlingly sweet folk sound through vibrant instrumental harmonies and an intimate understanding and application of dynamics.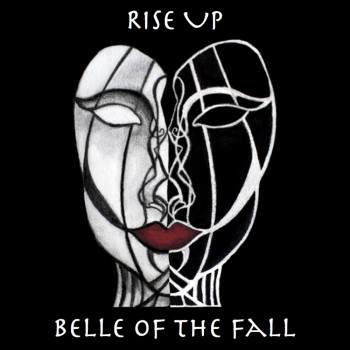 "Rise Up" is the pair's second release of the year, coming out directly on the heels of the haunting "2018," which was released to Spotify this past Friday (2/9/2018):
Will you forgive and can you forget?
Can you find comfort, let go of regret?
Will you take action or will you protest?
In the year 2018…
Will there be peace? Will there be genocide?
Will we still be here? Will we all survive?
These are the questions on everyone's mind
In the year 2018
Will we find we're all on the same side?
The right and the left have politicized
The basic need to be loved and alive
In the year 2018
---
"Rise Up" is a fitting followup to the dark tones and ominous emotions of "2018." Bright, and sporting a sprightly kick, the call-to-action speaks to all of us – demanding we not let anyone or anything (corrupt governments, for instance?) stand in our way of achieving that basic need to be loved and alive.
So rise up, face the day
With convictions from deep inside
This time we won't be denied
The band explains "Rise Up" as "an epic tale of triumph that talks of overcoming odds and rising above your situation." It's a simple notion with deep meaning coursing through its veins. Simplicity works to Belle of the Fall's advantage, as their inspiring message not only speaks to those of us living here and now in 2018, but also it expands to fit the universal concepts of freedom and individual strength.
When you do lose hope – and it happens to all of us – music is always there to make you feel like yourself again; to make you whole, reinvigorated and capable of taking on the world.
Staring down your demons you
Can find a thousand reasons to
Crawl inside yourself and hide
Courage is when all is lost
And hopeless has defined the cause
But you still try to find the light
We all have a voice, and we all get to choose how to use it. Belle of the Fall have chosen, in this turbulent time, to use their voice(s) to deliver a message of overcoming obstacles and breaking down barriers. The magic of "Rise Up" is that it will always be what you want it to be, and it will give you whatever you need to gain from it. Stream the lead single off Belle of the Fall's new record exclusively on Atwood Magazine, and stay connected with the talented pair via their socials below. Rise Up is out everywhere April 2018!
— —
— — — —
photo © Mike Marques
:: Stream Belle of the Fall ::