Atwood Magazine's writers discuss the numerous collaborations, sociopolitical statements, and mass appeal of the Black Panther soundtrack.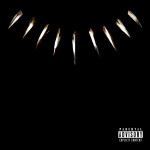 — —
What's your favorite track from the album and why?
Jimmy Crowley: "King's Dead." It's a really simple track, but all the rappers shine. Kendrick Lamar really shines through the most with a venomous verse that really encapsulates everything I love about hip hop. Also, it's basically a theme song for Killmonger, who was a really enjoyable villain that you could sympathize with.
Shayna Chabrow: "Opps" is one of the most powerful tracks on the album. That outcome is no surprise when you have Kendrick Lamar and Vince Staples on the same track but South African newcomer Yugen Blakrok not only holds her own next to these two veterans but upstages them both. It was the rare track used in the film and it heightened the thrill of the scene.
Urooj Rizvi: It's a tough pick between "All the Stars," "Opps," and "The Ways" because all three of the tracks have such a different feel to them and yet fit near-perfectly into the format of the album. However, if I had to select just one, it would be "All the Stars" which blends the rap and pop elements beautifully – the song's intro is sonically stunning, which is why the track is such an exhilarating experience.
Lindsay Call: I'm torn between "All The Stars" and "Opps," too. They're both fiery, but one is a slow burn while the other is an inferno, and yet they both fit into the album so well. "I Am" also drew me in as well: it added another powerful female voice to the chorus of amazing artists in this album.
---
Which collaborations especially stood out, and for what reason?
Jimmy: I adore "All the Stars" with Kendrick and SZA. It felt like it took the formula for songs like "I Don't Wanna Live Forever" or "Love Me Like You Do" from the 50 Shades soundtracks and amped it up tenfold. It really felt like the sort of song to roll into a club or a battle to.
Shayna: "All the Stars" was a great way to set the tone of the soundtrack with Kendrick's hard versus and SZA's warm vocals. Khalid and Swae Lee's track, "The Ways," was one of the more gentler songs that nicely captured both the strong and elegant qualities of the women in the film. "Bloody Waters" with Anderson Paak, James Blake, and Ab-Soul was the most pleasantly surprising collaboration and "Redemption" with Zacari and Babes Wodumo gets you moving.
Urooj: "The Ways" is probably my favourite collaboration, because of how well put together the whole song is. Khalid's laid-back vocals simmer over the soft drumming and I completely agree with Shayna's point about how well it captures the qualities of the women in the film. It's lyrically very strong and the second verse features both Swae Lee and Kendrick Lamar switching up the pace of the track. "Opps" is immensely powerful.
Lindsay: "All The Stars" stands out because of its edge thanks to Kendrick's vocals, which pair perfectly with SZA's. I agree with Jimmy, it's definitely a song that takes the typical-standout-soundtrack-song formula and rewrites it infinitely better. It's such a joy to listen to. Can we get Kendrick and SZA to collaborate more, please?
---
In the sociopolitical context within which the soundtrack has been released (and as many would have it, the history of Kendrick Lamar's socially-conscious rap), do you think this soundtrack has specific significance?
Jimmy: Of course, since it is Kendrick, there's a little bit of socially-conscious rap, but I felt like this was a chance for Kendrick to really indulge more in sound and creating a more relaxed album. Relaxed in the sense that he wasn't necessarily trying to get a message across. It's a really great showing of pure musical ability. DAMN. was like that a little, but this was really just a chance for Kendrick to show off skills as a producer and rapper. Since this is superhero movie with all black primary characters, I think having an artist like Kendrick curate the soundtrack made this much more memorable than having an executive or less notable artist.
Shayna: Yes, Kendrick produced a soundtrack for one of the biggest media franchises, the Marvel Cinematic Universe, and the first film within it in which the plot was based around a black superhero with a predominantly black cast. With his full creative control, Kendrick fully embraced this historical moment throughout the soundtrack with its strong attention to hip-hop and primary featuring of black artists.
Urooj: The soundtrack is very important in the context of increasing representation in the industries of both film and music, especially since Kendrick Lamar was approached by Marvel to put it together (which is a huge thing in itself). The film Black Panther, as many reviews have mentioned, successfully challenges the notion that a movie with a predominantly black cast can't be commercially successful and must be directed at a niche audience. Kendrick Lamar's curated soundtrack then becomes a part of this careful and appreciative enterprise to bring black artists (whether musicians or actors or directors etc) to the mainstream where their very presence is a means of resistance to white commercial hegemony and a hope for all marginalized factions of society to find representation in popular media.
Lindsay: I agree with Urooj. While the album isn't as sociopolitically heightened as a lot of Kendrick's work, it echoes what the film proves: that black artists, regardless of medium, have artistic power and deserve more representation overall. Kendrick curated an album that reflects what the film accomplished through such a sonically varied collection that works together as a whole.
Where does this soundtrack lie in the context of modern rap and pop? Is it a novelty/merch item or does it transcend its medium?
Jimmy: I went into this album not really thinking of it as a soundtrack, but as a Kendrick Lamar album. I don't really feel like it functions as a soundtrack, especially because so little of it exists within the context of the film. It feels a little like a Kendrick album, but it really feels more like a compilation of TDE's best. It's great, and it's definitely better than the standard soundtrack, but it's not mandatory. This isn't exactly a soundtrack, and it's not really an album. If someone's a Black Panther completist, this is great, and if you're a Kendrick fan, this is a fun addition to your collection, but it's not really necessary.
Shayna: There are tracks on the album that make it feel like Kendrick was less focused on creating a soundtrack for a film and more like he was focused on bringing in radio-hit or TDE collaborators to make it more attractive and appealing for a wide audience. The album has the ability to stand alone without the film but, compared to other Marvel Cinematic Universe soundtracks, it's already broken barriers by being the first to integrate multiple original recordings created for the film.
Urooj: I agree with Jimmy's point about the album not functioning too much like a soundtrack since most of it isn't even featured in the film and if it had, then it might have been really quite out of place. The album makes for a very interesting listen, with so many different elements working together and so many different artists put together in one place but while it explores themes present in the film in a subtle manner, it remains distanced from the movie and that's not a bad thing at all. An important feature, as Shayna has pointed out, is its appeal to a wider audience.
Lindsay: The album functions as a complement to the film: a piece that mirrors it, yet can function on its own as a whole. Its curation makes it more than a soundtrack, and yet the feel is different than that of a concept album. Which makes me think of it more as a aural complement to the film, rather than just a soundtrack or Kendrick album. And, as Shayna pointed out, it definitely acts as a starting point to draw in listeners who wouldn't necessarily have seen the film otherwise and convince them to do so.
---
For those of us who have seen the film, did watching the film add to your perspective on the soundtrack? Is watching it necessary to grasp the full depth of the soundtrack?
Jimmy: No. For the most part, the instrumentals were used as score. I felt that was probably for the better. As much as I really wanted Kendrick or Vince Staples to kick in, I feel like if one of them did, the movie would end up feeling like a giant music video, which would've been great, but out of place.
Shayna: Watching the film definitely isn't necessary in understanding the soundtrack since the score is mainly used throughout. But, it does add some perspective, especially the tracks that revolve around Killmonger's character. Had a lot of the tracks been used in the film, they would've felt unsuitable and would've taken away from the actions on screen. The songs in the soundtrack already indirectly tell the story line of the film.
Urooj: The film is excellent and I think some of the themes explored in the film definitely find a place in the soundtrack, in certain tracks. Having watched the film, I can certainly imagine a montage of scenes playing during certain tracks like "All the Stars," "Opps," and "King's Dead", for example. However, like I've mentioned, since there is a distance between the album and the film, there is no real loss or disadvantage that one will face if one hasn't seen the film. The album works wonderfully by itself.
Lindsay: Like Shayna pointed out, a few tracks do explore Killmonger's character (who is one of the more complex characters, let alone villains, in the Marvel cinematic universe so far), but you don't need them to fully understand his character or motivation. You don't necessarily have to have watched the film to enjoy the soundtrack, or vice versa.
Any final thoughts you want to mention?
Jimmy: This album was fun. "All the Stars" is a great pop song that shouldn't go unrecognized, but the rest of this album is great for hip-hop fans. Also, Black Panther was great, and everyone should go see it.
Shayna: The album blended a lot of different elements and genres that made it really enjoyable to listen to. However, I would've liked to see more features from women on the soundtrack since the film did such a great job on representing strong, intelligent women.
Urooj: I'm inclined to agree with Shayna with regards to more collaborations with women. All in all, however, the album had be pumped and the film is brilliant, so I'd request everybody to check both of them out as soon as they can. You won't regret it.
Lindsay: The soundtrack brings together so many great artists and also acts a great complement to a great film. Please do yourself a favor and see the movie if you haven't already: you will not be the only one screaming with excitement for Wakanda's women warriors. And, like Urooj and Shayna, I'd have loved to see a song or two that channeled their fierce female energy into song. Overall, though, both the film and the album are excellent, and you should check them both out if you haven't done so already.
— —
— — — —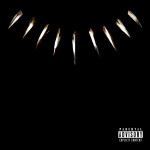 photo © Interscope Records
Black Panther The Album: Music From and Inspired By
Kendrick Lamar & Various Artists