Australian indie rocker Bec Stevens dives deep into her emotionally charged and breathtakingly vulnerable debut album 'BIG WORRY,' a raw indie rock reckoning for empaths, trauma babies, and certified hot messes everywhere.
Stream: "Big Worry" – Bec Stevens
---
"The way your name tastes in my mouth, all I wanna do is spit it out," Bec Stevens sings, kicking off her debut album with a not-so-subtle f**k you. Empowering and unfiltered, it's a fitting start for a record that sees the Australian artist spilling her guts while owning every second of her life story. A raw indie rock reckoning for empaths, trauma babies, and certified hot messes everywhere, BIG WORRY is emotionally charged and breathtakingly vulnerable: Intimate moments of connection and catharsis coalesce in tender serenades and high-energy, turbulent eruptions as Stevens weathers life's endless storms. Unapologetic and brutally honest, she holds nothing back – breaking herself down time and again only to come back stronger, more confident, and ready to take on the next wave.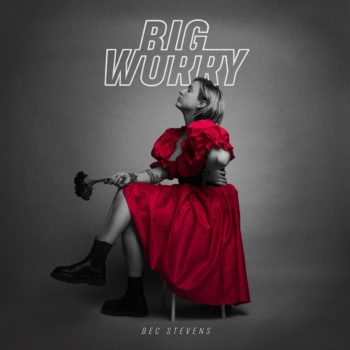 I'm scared, I'll always be this way
I stripped the color from my hair
when I felt the change in the air
And you know how hard I've tried to find,
a way to overcome how I feel inside
I don't say much when it matters most,
but I said I don't wanna die now and that's a first
I got a big worry
And it's been wearing down,
yeah wearing down on me
Released March 17, 2023 via Damaged Record Co., Big Worry says it all right there in the title: Bec Stevens' debut album is the product of an anxious and overthinking mind; one that was conditioned not to speak her mind or talk about how she feels, but ultimately chose to override those controls and spill every ounce her soul in song.
A Tasmanian-born, Melbourne-based singer/songwriter, Stevens has made quite the name for herself over the past decade thanks to her confessional songwriting and charismatic delivery. 2016's debut EP More Scared Than Me and 2019's Why Don't You Just highlight her penchant for music that is at once searing and soul-stirring, and yet nothing comes close to the excruciating levels of intimacy and pure volcanic volatility she achieved throughout BIG WORRY. Working with co-producers Jonathon Tooke (Cry Club) and Ben Stewart (Slowly Slowly) as well as engineers Jarred Nettle and Samuel Sproull, Stevens delivers a record that dives deep, hits hard, and leaves an instant, unforgettable mark on all who listen.
"This record is an amalgamation of many penultimate moments in my life," Stevens tells Atwood Magazine. "Key points that have shifted and changed me, often absolutely flooring me. Some of these songs were written with the benefit of hindsight, others in the heat of the moment. Nonetheless I look at this album as an autobiographical collection of short stories pinpointing some of the experiences of my 20s and the ripple effect they have on my life as a person and an artist."
"I've always been a very "have no/low expectations and I'll never be let down" kinda person, which is kinda sad but also fool proof!" she laughs. "So going into the making of this record, I was much the same. Thankfully my producer Jonoathon Tooke snapped me out of that very quickly. He very much so wanted me to have expectations, a bar set, something we can work hard to achieve. After the first couple of studio days I started to share more and more of my ideas and my hopes and wants for the album and he would jot everything down on his silly little spreadsheet and literally one by one make it all happen. From tangible things like me wanting piano and trumpet on my record, to more illusive concepts like vocalizing a feeling I wanted to convey without using words."
And you crossed me off
Deleting memories will not change the past
But I have to laugh
'Coz you just buried all your shit
in our friend's backyard.
Now time has passed, these feelings last
I say I won't, but here I go
And you can't, but I try
Make you understand why, why I try
A stranger would care more about my life
---
For Stevens, the album's title – inspired by the track of the same name – says it all: "I've got a big worry, and it's been wearing down on me," she sings in an explosive chorus. "I played around with some other ideas for ages but nothing was really sticking," she recalls. "The song 'Big Worry' really encompasses the album sonically and lyrically. I soon realised the title did too."
"For me BIG WORRY is not only a collection of experiences through songs, but an introduction to my train of thought. BIG WORRY in essence is a commentary on flipping between dogged perseverance, deep hopelessness and tentative hope. I hope that each singular message of every song is individually received/understood as well as the broader cornerstones of the record. I suppose it is a looking glass into me as a person as well as the shared experiences and reality of living itself that every person has. Especially people like me, ie. empaths, trauma babies, and certified hot messes."
Stevens kicks her record off the with the middle finger anthem "A Stranger," a seismic pop/rock anthem with a searing message.
"This song doesn't hide behind much," she explains. "It's about overcoming being made to feel like you're hard to love, but particularly with the help of people who now care about you with an ease that felt deeply unfamiliar for a long time. It's told in retrospect, hinging on a series of realisations. When I wrote this song, I thought it was about a specific person, but I realised it related to many people who have walked in and out of my life."
She calls "A Stranger" her guilty pleasure, and it's easy to understand why it opens the album. "This song is my version of a cat slowly pushing something off a bench top while making eye contact with you… it felt like the hugest weight off my shoulders to give myself permission to speak."
Thus begins an album that is as intimate as it is intense, as unfiltered as it is unapologetic, and as heartfelt and is it heart-wrenching. Further highlights range from the catchy title track "Big Worry" and the soaring, trauma-laden "Blackout," to the cinematic uproar "Creep," the nostalgic, lovesick and turmoil-fueled "Seddon," the passionate powerhouse "Thank God You're Here," the heartfelt acoustic "You & Me," the charged, cathartic finale "Gold Star," and the achingly raw "James' Song" – the latter of which is a personal favorite of Stevens' as well. Truly, this record is all hits, no misses.
A soaring, soul-stirring anthem of passion, pain, and perseverance – and a powerful tribute to a lost loved one – "James' Song" was released earlier this year as BIG WORRY's final single. Originally written by James McKenzie, a close friend of Stevens who tragically took his own life in late 2019, the track shines with all the light and love we each deserve: At its heart is one artist who is no longer with us, and another who is carrying on a piece of his legacy in her own.
"This song is not mine, but in many ways, it's all I have left," Stevens says. "James sent me this song after the last time I saw him. A shitty little voice memo he recorded on his phone. It hurt to listen then, but for different reasons. In 2019 when I got the call that he had taken his own life, I was utterly shattered. I wanted to feel close to him, so I found the last song he had sent me, and I listened again; I heard it differently this time. Hearing the line "and I can't help but think that this might be the last time we speak"… A feeling I don't believe I'll ever be able to explain."
"Having 'James' Song' and voice throughout my album is an obvious highlight – especially the last line of his song," Stevens says. "I also really love having so many friends be a part of the album. There are so many little gifts throughout the record from people I love."
---
As a lyricist, Stevens explains that her favorite lines aren't necessarily the most obvious ones. "They probably to most seem like they're just filler, but it's those lines that usually hold a lot more meaning behind them. Example, the last line in 'Creep' is from a conversation I had with my ex when we first met. As I've lost so many people to suicide in the last eight years, I think my perception of the world and life has been deeply affected by that. I don't know how I led to it, probably with not a single ounce of grace knowing me… I asked them why they're still here, what's keeping them around in a world that is often so dark and hard to exist in, what's kept you going? Obviously that probably seems incredibly morbid, but I don't mean it to be. I more see it as a really beautiful question, like, What are you living for? What do you love? What makes every day possible for you?"
All the times I tried to make sense of it
From the way I felt to the way I kiss
And I tried to hide away from it
but I feel all of it, I feel everything
From the way I breathe to the way I f**k
Never came back down to my shitty luck
And the memories yea they won't leave
but I'm not gonna let them define me
No matter how you see me
It creeps back and it creeps back in
I feel everything
From the way I f**k to my shitty luck
And you brought me back into your house
and you told me 'bout why your here now
And I said "I ain't felt this way for a while now"
---
From confronting trauma head-on to lending herself as a voice for the voiceless, Bec Stevens shines with bold and raw energy throughout BIG WORRY.
"You don't have to be an old Bec Stevens fan to know I really spill my guts out in my music; trauma dumping with a backing track," Stevens shares. "This piece of work is something I am incredibly proud of from start to finish, which is definitely not something I've ever experienced! I cover a lot on this record, I had a lot of help physically and mentally from so many people that I'm very grateful for. Hell, I moved states for this record. I feel my age in this album, which I always thought was scary, but it's actually really cool."
"I hope people find something for them in BIG WORRY," she continues. "Something they can hold onto and carry with them. Whether it's something they relate to, or something to take with them into their future. I've found other people's music a really helpful way for me to process my own shit. How cool if my music could do that for someone else. At the end of the day, whether you enjoy the lyrical concepts, the production, the arrangement or even just one line, that's what creating this record is meant for. Or maybe I just hope you all think it's a bop!"
Experience the full record via our below stream, and peek inside Bec Stevens' BIG WORRY with Atwood Magazine as she goes track-by-track through the music and lyrics of her debut album!
— —
Stream: 'Big Worry' – Bec Stevens
:: Inside BIG WORRY ::
— —
A Stranger
This song is my guilty pleasure. It doesn't hide behind much. It's a song I didn't let myself write for many years. Then we were reaching the finish line for the album and needed one more song. Ben (Stewart) had written some music for another song that we didn't end up using because it didn't fit so it was like a blank slate. I remember being in the studio one day with Jono talking sh*t about life and people and being let down, being made to feel hard to love by someone when others have made it seem effortless and not knowing who to believe. Then this song just kind of came out.
The "i say i won't, but here i go (insert naughty smiling devil emoji)" relates to years and years of me telling myself "just let it go, don't say how you feel, it's not worth it" then finally that day I was like "ya know what… F**k you and F**k that." This song is my version of a cat slowly pushing something off a bench top while making eye contact with you. And though it is a very subtle F**k you, it felt like the hugest weight off my shoulders to give myself permission to speak.
Big Worry
"Big Worry" is about trying to exist with imposter syndrome, anxiety and all the fun symptoms that blur between. I wrote this song when I was having a big moment of reflection, not the type that makes you feel better, the type that makes you laugh (probably aloud if you are anything like me) and say to yourself, "who the HELL do I think i am? A functioning member of society? Nice try, Bec!"
Blackout
"Blackout" is about a trauma response, Navigating love with a broken heart and learning to trust someone again. It's also about the relationship I have with booze, feeling like I'll always come in second best when it comes to alcohol. and the visceral reaction I have when partners drink. "Blackout" is the first song on the record I actually wrote with Jono (the first song I've ever written with anyone come to think of it). We slowly built the song in a day or so and I was so stoked with the outcome, especially after how much trepidation I had with the idea of writing with another person.  In this song I was trying to convey the experience of being safe now, for what feels like the first time ever in a relationship. but finding it hard to adjust to that. To believe it. To not keep blacking out.
Seddon
.I started writing this song about 4 years ago. I could never quite finish it though because I don't think I knew where it was going, which in hindsight fits with the context of the song. A relationship that I never knew where it was leading. Lots of dead ends around a metaphorical maze, forever romanticizing what we'd find when we finally made it out. Though slowly realizing maybe this is actually just it. Lots of exciting new corners full of unknown, but evidently always another big dead end.
This song is about constant leaps of faith without any solid scaffolding around you. Feeling like a loser for not just blindly walking into the unknown again with someone when in reality it's ok to want some stability.
Nightreader
"Nightreader" is about falling in love with someone who lives in a different state, and hoping that when you see eachother again that it will be everything you have built it up to be. It's also about reading to someone over the phone while they fall asleep.
Creep
This one's for the trauma babies. If you are someone who has spent their life shapeshifting and contorting yourself to be able to simply exist then this song is for you. Living with trauma, especially from a young age, leaves you living half in the real world and half in another place you had to make up for yourself. A safe place. Trying to exist fully out of that safe place can knock the wind out of you. The keepers in your life are the people that don't expect you to explain that.
I spent years trying to explain the feeling of being overwhelmed by everything all the time to people who couldn't understand the feeling of being overwhelmed… by everything… all the time… They ask: what is the problem? What's wrong? And this is the answer I guess. It's just all of it. It's the whole fucking (damn) thing.
Overcast
This song is the product of a broken heart and my mum begging me to write less literally and more metaphorically as she is tired of my songs being so vulgar (lol). This song is about feeling powerless. It's about riding the waves of a relationship with someone whose "forecast" was ever changing. It's about the allowances that you afford someone you love that isn't in a good place, and the way that the concessions that you give them affect you. Because you love them. Even if that isn't healthy. I originally wanted to name this song "The scene where George Clooney and Mark Wahlberg drown at the end of A Perfect Storm."
Thank God You're Here
.So you know the show, "Thank God you're here"? Well this is like that, except they're not here. How long do I keep waiting for them? "Thank God You're Here" was written in the heart of the pandemic when I was living in Tassie, the person I was seeing lived in a different state. Things weren't good, That person was not being good, borders were shut for an unknown amount of time. Everything was unknown. I hadn't spent more than 2 weeks in Tassie since I was 19 so being stuck there was incredibly triggering. It reminded me of all the reasons why I left when I was a kid but this time I couldn't leave. Doesn't everyone's fear being trapped in their hometown? Love to visit, love to be able to leave again.
Growing Pains
This song refers to many things that were going on for me at the time. I wrote this song in late 2016. I was 22 and going through it all. I feel like many of my songs lead back to the same feeling. Overwhelm. Trying so hard to do the right thing but not always knowing what that is. Trying to make everyone happy but soon realising that is an impossible task. At the time it felt like I didn't have room to make mistakes and learn. It felt like the people closest to me at the time had a gun to my head, ready to make me pay for every slip up. 2016/2017 were very pivotal years for me. A lot of hurt, disappointment; in others and myself.
James' Song
This song is not mine, but in many ways it's all I have left. James sent me this song after the last time I saw him. A shitty little voice memo he recorded on his phone. It hurt to listen then, but for different reasons. In 2019 when I got the call that he had taken his own life I was utterly shattered. I wanted to feel close to him so I found the last song he had sent me and I listened again, I heard it differently this time. Hearing the line "and i can't help but think that this might be the last time we speak"… A feeling I don't believe I'll ever be able to explain. Despite the pain this song evokes for me, I am grateful for it.
Recording this song felt really important to me, this is my way of keeping his memory alive. I have lost a lot of people in my life, I have an overwhelming fear of forgetting them. Especially Jums. a feeling and a love only I will ever know. Very grateful to his family for giving me their love and support to share a little piece of him on this album. Feel very lucky to have him sprinkled throughout the whole thing. I am endlessly grateful to Jono for his patience on this one and commitment to getting it right. It took a while for us to get it to a place we were happy with. I'm sure we could have chipped away forever. but I'm very proud of how it came out. Grateful to have so many people I love singing with me on this song. I remember saying when I first heard it all together that it felt like a big supportive hug, like all these people were carrying me through it and holding my hand.
You & Me
It's about what could have been, what might have been, if things had gone the way I planned it. and now it's a place I can go by myself when I need/want to revisit it. It's a little song for me.
Gold Star
I've definitely loved many times before, but still "Gold Star" feels like my only love song. It's about all of the amazing, spectacular, crazy, lovely, deeply terrifying and absolutely ridiculous things that you feel when you start to fall in love with someone, and the wild and often utterly foolish things you would do to be near that person. It's about leaning into that feeling after having literally no reason to trust it as it's never once paid off for you before.
And that's exactly what I did.
— —
Stream: "James' Song" – Bec Stevens
— — — —
 © Ian Laidlaw
:: Stream Bec Stevens ::
---