Exploring their latest EP, genre chameleons Kiki Frances and Cameron Bright of Babygirl chat all things 'Be Still My Heart', the tug of war between intuitive and industry impulses, and finding the middle ground between fluid and rigid in the creative process.
Stream: 'Be Still My Heart' – Babygirl
---
Compelling, poetic, tender, dreamy, heart-wrenching, dynamic — it's impossible to narrow the world of Babygirl down to just a few words.
But, words mean nothing when their music does all the talking. Perhaps that's due to the vast array of influences that shape their sound, from the pure pop adrenaline of Katy Perry to the reverbed atmospheres of shoegaze and psychedelia. Maybe it's their rich and clever songwriting that produces lyrics worthy of being standalone poetry. It could also be a result of their classical training; whether by happenstance or by fate, the two quickly went from being music students with separate lives to eternal friends and musical partners. Babygirl's allure may be a product of a number of things, but the true magic lies in the sanctity of their artistry.
For Kiki Frances and Cameron Bright, art is uncompromisable. "All we can do is be honest about what makes sense for us," Frances says. "If we put the energy and the focus into what we feel is the most important, then at the very least, we're going to be able to go to sleep at night knowing that we did it the way we felt was the best artistically."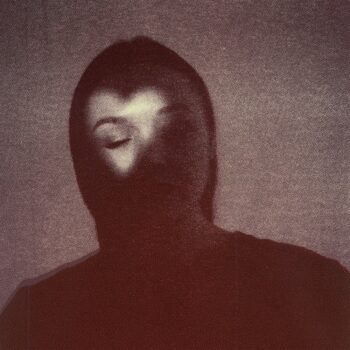 The Toronto duo's latest EP, Be Still My Heart, (released April 14 via Sandlot Records) examines both sides of the coin of love; across five songs, Frances and Bright see the ins and outs and ups and downs of romance, simultaneously mending and breaking hearts that stop to listen. Opening with the glittery alt-pop of "Starlight" and closing with the country melancholy of "Born With A Broken Heart," the EP weaves a multicoloured, multitextured sonic tapestry that highlights the band's creative brilliance and knack for unfettered experimentation. With pop sensibility and indie rock flair, Be Still My Heart shows the duo at their most cohesive, candid, and conscious.
Babygirl have a natural ability to make music that heals as much as it wounds — the ability to brutally tear someone apart and tenderly piece them together again.
"On a songwriting level, we always try and keep it timeless in the sense that the lyric and melody aren't flash-in-the-pan gimmicks," reveals Bright. "they're still going to be emotionally resonant for a long time."
Reevaluating, reinventing, and redefining pop music, Babygirl are as shy about their pop revolution as they are about their inner world and emotions (they aren't).
Atwood Magazine caught up with Frances and Bright, dissecting the creation of art within "the ever-hungry content machine," the nuances of music education, and the cementing of their artistic identities, individually and as a duo.
— —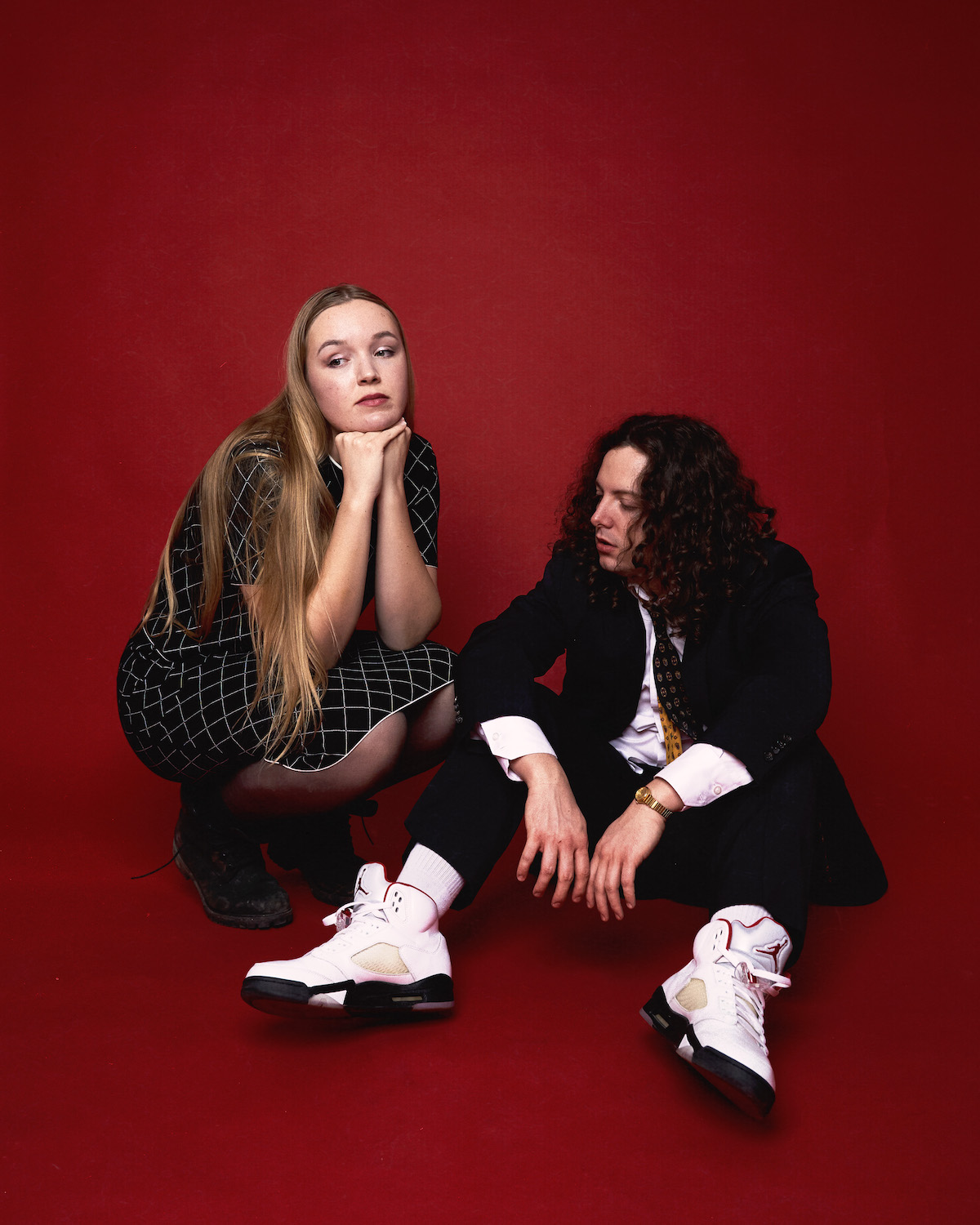 A CONVERSATION WITH BABYGIRL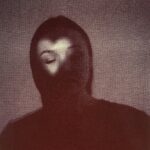 ATWOOD MAGAZINE: IT'S BEEN NEARLY TWO WEEKS SINCE THE RELEASE OF THE EP! GIVE US A GLIMPSE INTO THE MAKING OF BE STILL MY HEART, AND TELL US WHAT YOU GUYS SOUGHT TO ACHIEVE WITH IT.
Kiki Frances: All the songs kind of had a different timeline. Some of them were made over the course of a couple of years, where we were picking them up and putting them back down. Some of them came together really quickly. The EP itself was kind of interesting, because the songs do span over quite a bit of time. There are a lot of different influences going on on this EP. We were big country music fans, so there's some country influence on "Born With A Broken Heart" for example. On a song like "Starlight," we were really inspired by the Pink Pantheress song, "Just For Me." Such a bop. Sometimes a song has a viral moment, and you're like, "Oh, this is not great," but that was one of the ones where I was like, "This is so great," and the feel of the groove was really inspiring to us. There were a few other songs that inspired us to make something like "Starlight" as well.
Cameron Bright: Working on this EP was a really cool process, because we really took our time with it. We did some stuff like "Me, You & My Car," where we had what we thought was the final mix and master and release date. We had the whole thing, and we were going to drop it as a single, right before Jeremy Zucker's More Noise Tour that we had the opportunity to support. On a whim, we decided it wasn't ready and to not drop it. We had it in our setlist for that tour, because we thought we would be promoting it as a single. Instead, we toured with it and learned so much about the song through the act of playing it live over and over again, seeing how people react to it. The live adaptation was a lot rockier. When we came off the road, we were like, "Well, everyone was really responding to that, and now this recorded version we have doesn't really reflect what we're doing live."
Kiki Frances: It already didn't feel like it was finished anyway, which is why we didn't put it out when we initially thought we would.
Cameron Bright: It didn't even have live drums on it. It was very like micro and electronic, so we put live drums and these big shoegaze guitars — we really like built it out a lot more. That's something that can only come with time and seeing what has staying power. I think this EP is gonna age well for me, because we gave everything the test of time before putting it out.
Kiki Frances: Not everything, though. "Always" came together really quickly, and it was probably the last song to be written and one of the first songs to come out. There's no real hard and fast rule about it. You want it all to feel like you're gonna still like it in five years, ten years, fifty years, you know?
SO, IS TIMELESSNESS BASICALLY WHAT YOU SOUGHT TO ACHIEVE WITH IT?
Kiki Frances: Yes and no. We always talk about wanting to be of the time you're in and trying to take the best of what's happening at the moment. When I listen to music that's time-stamped, I enjoy that about it. The pitched-up vocal at the beginning of "Starlight" is not something that we would have typically done, but there are all these pitched-up vocal things happening right now and sped-up songs. We were inspired by that, so we let ourselves have something reflective of what's going on currently.
Cameron Bright: On a songwriting level, we always try and keep it timeless in the sense that the lyric and melody aren't flash-in-the-pan gimmicks; they're still going to be emotionally resonant for a long time. I feel like a lot of my favorite music manages to be both timely and timeless, like "I Want to Hold Your Hand" by The Beatles. From a lyric and melody perspective, it works today, and it worked then, but texturally, it's very much of the moment. It sounds like a '60s pop-rock act. We're trying to be timely and timeless at the same time and find that middle ground.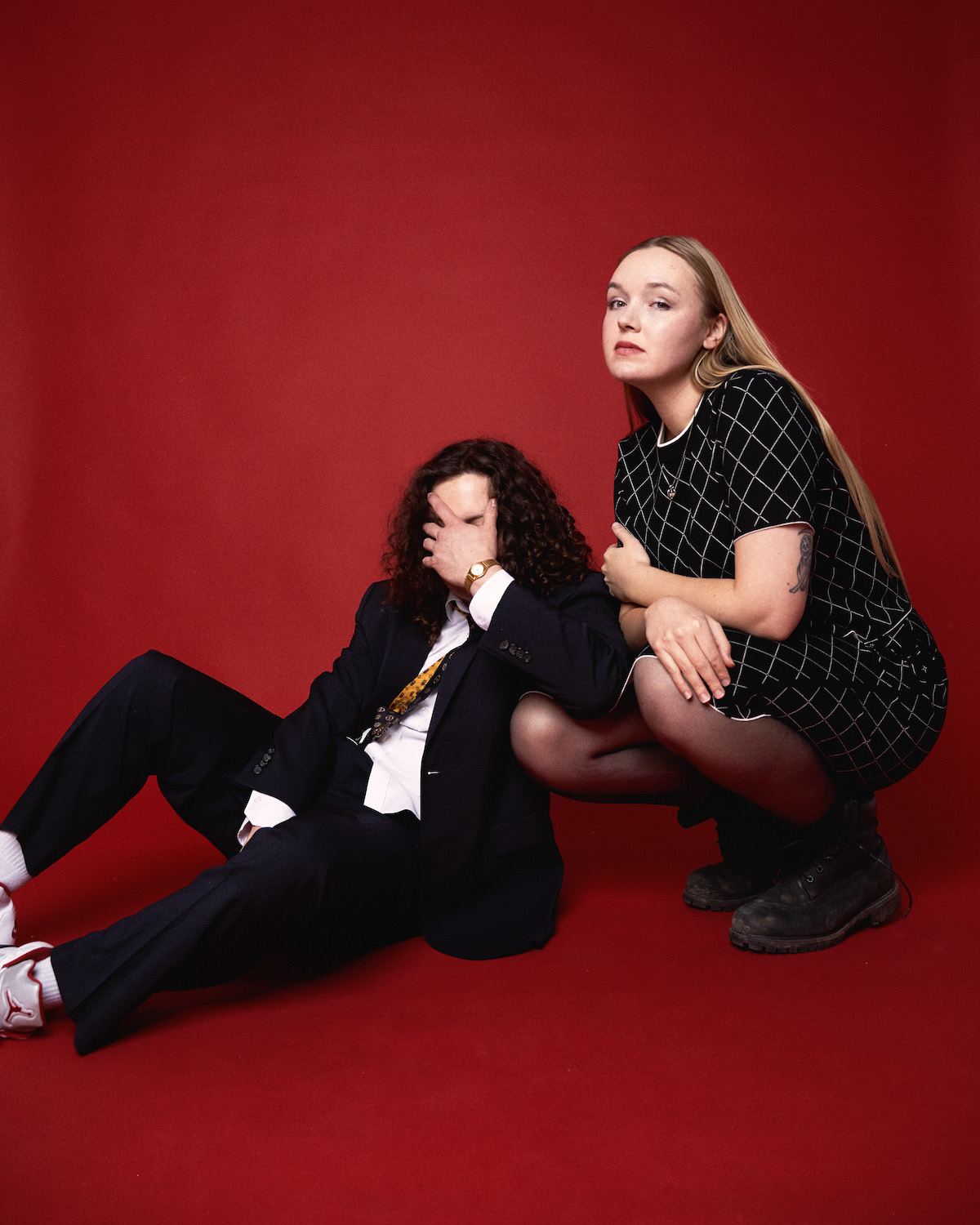 WHAT LED YOU GUYS TO DECIDE ON THE NAME OF THE EP? WHY BE STILL MY HEART?
Kiki Frances: We changed the name of the EP like 50 times. It was kind of a last-minute choice. But in the song "Me, You & My Car," there's a lyric that says, "Pull off here, I know a spot where we can park / Open up the roof and stare at the stars / Be still my heart / It's just me, you, and my car." We were like, "Well, we say Be Still My Heart, and that phrase feels very good." It just felt like a Babygirl title.
Cameron Bright: We have an EP called As You Wish, which is a quote from Princess Bride. It felt spiritually associated with that kind of language. Once again, it's about being timeless; it's kind of an archaic phrase.
Kiki Frances: It's just a beautiful phrase, and it felt like we pulled it from a lyric, but obviously, it's a phrase that already existed. It just felt right, but we changed it so many times.
Cameron Bright: That particular title felt like it did a good job of toeing the line between the two sides of the coin that this EP has lyrically. It's heartbreak songs, and it's love songs. Finding a phrase that is sort of emotionally androgynous enough to feel like it captures all of those things was meaningful to us. Can I say what it was gonna be right before?
Kiki Frances: No, what if we use it?
Cameron Bright: Nevermind! But yeah, we had a different working title that we were slightly reluctant about, because it was a little comedic. I was talking to my brother, Miles, about it; he's our drummer and co-produced some of the songs on this project. We ran the EP title that we had by him, and he didn't seem that enthusiastic about it, which was a red flag already. Then he said, "I always like, when you do a title track, that's not a title track, but it's a title lyric." It sort of turned "Me, You & My Car" into the de facto title track.
Kiki Frances: It's what we did with our EP Lovers, Fevers. That was a lyric in one of our songs, and then we just used it as the title. It fits in the world of things that we like to do for titles.
I WAS GONNA ASK WHAT SOME OTHER CONTENDERS FOR THE NAME WERE, BUT YOU SAID YOU WERE GOING TO USE THEM, SO I'LL JUST LET YOU KEEP IT UNDER WRAPS.
Cameron Bright: We're gonna use it.
Kiki Frances: I don't know if we will, but that doesn't mean it's ready to be revealed!
Cameron Bright: Alright, fine!
SO, CAM, IN AN INTERVIEW THE BOTH OF YOU DID FOR LOSERS WEEPERS, YOU TALKED ABOUT HOW YOU GUYS FOCUS ON GETTING BETTER IN THE MAKING OF EACH PROJECT AND YOU THINK ABOUT HOW MUCH BETTER THE NEXT PROJECT IS GOING TO BE BECAUSE OF THIS IMPROVEMENT. HOW DO YOU THINK BE STILL MY HEART LIVED UP TO YOUR EXPECTATIONS IN TERMS OF THE IMPROVEMENT AND THE OUTCOME?
Cameron Bright: That's a great question. I think it's more consistent and more cohesive than any of our projects so far. I feel like most of our projects have had little speed bumps on them for me. I'm not gonna say "skippers," but they've had little moments where I felt like, "We could have improved that, or we could have found a way to unify that a little more." I feel like this one really flows like a body of work, maybe more than any of our EPs have.
IS THE WAY THIS EP CAME OUT HOW YOU EXPECTED IT TO COME OUT INITIALLY?
Cameron Bright: No, not at all.
Kiki Frances: We've been working on a lot of different music, and I think we didn't really know what was going to raise its hand. There are some songs that we've been working on for a while. You don't always know what songs are going to be ready to put out, and you don't always know when, even though you try to will it to be what you want it to be. I think that we kind of had to make the music and then figure out what felt right. There's also music we've been working on that's gonna go on a different project, so it's just kind of just figuring out what goes where and what feels right. That just takes time.
Cameron Bright: We made some songs for this one that we saw through and then canned at the last minute. It just doesn't feel honest to like the spirit of the project overall. We have other stuff that we started and we fell in love with, but it just felt like it needed more time to marinate. We didn't want this EP to take five years to make, so we were like, "Those ones go for the next project."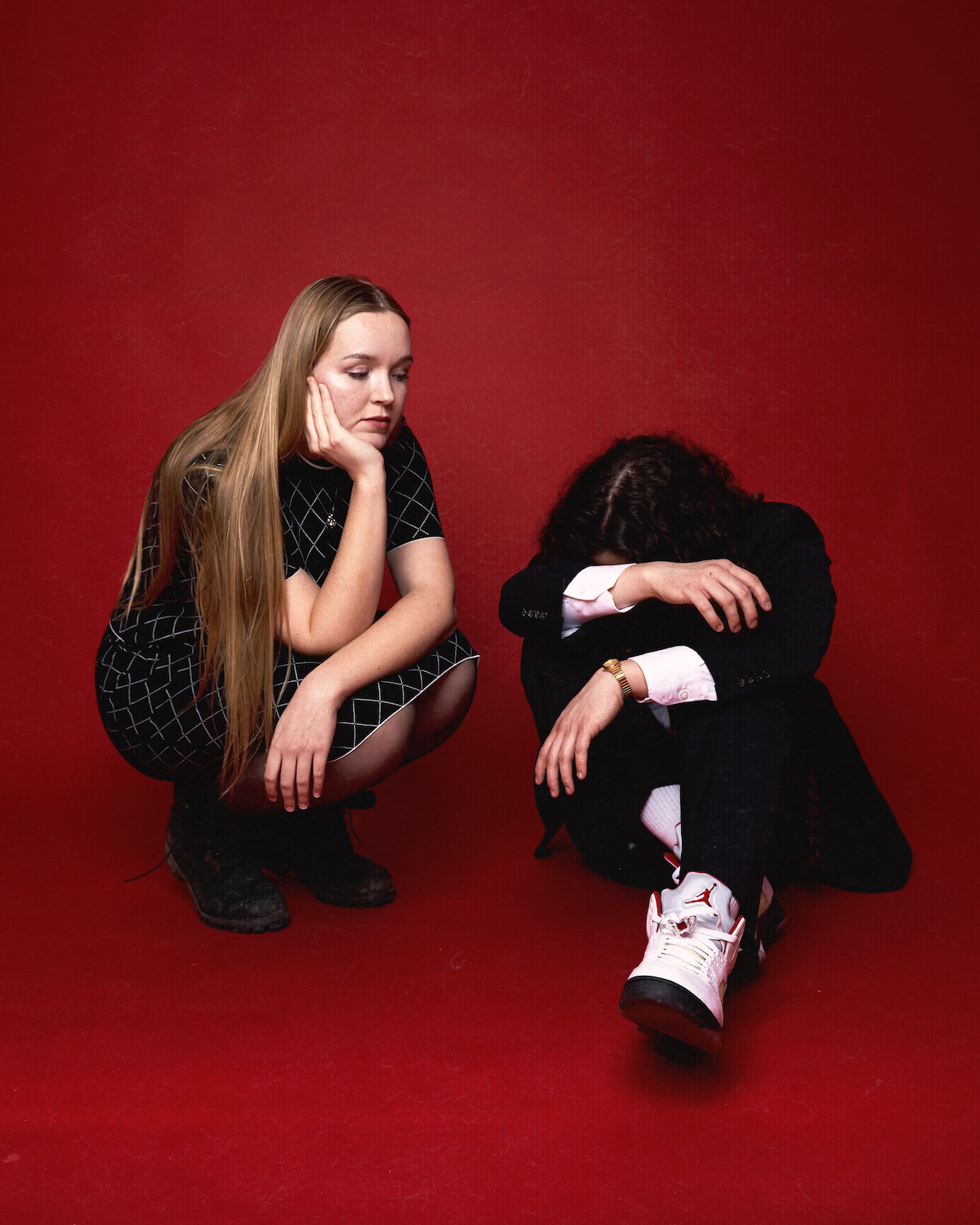 A LOT HAS HAPPENED SINCE LOSERS WEEPERS IN 2021, AND YOU GUYS HAVE BEEN FRIENDS FOR FAR LONGER THAN THAT. WHAT HAVE YOU LEARNED ABOUT YOURSELVES INDIVIDUALLY AND AS A MUSICAL UNIT OVER TIME?
Kiki Frances: We have some core mission statements and ideas of how we like to work. Those have kept proving themselves to be true. We've always been quality over quantity. It's never been our way to put out a bunch of music all the time and just see what sticks. We've always been this way, where we really take our time and want to make sure that everything is the absolute best it can be. It's not in our DNA to just kind of be like, "Oh, let's just make some shit. Let's make it sound cool, whatever." Sometimes I'm envious of people with that approach, because that definitely can have its merits too. But, we've always operated with the quality over quantity thing, which in the current music landscape can be tricky. I think that it's so much about constantly being in people's faces.
Cameron Bright: The ever-hungry content machine.
Kiki Frances: That's just not true to our spirits at all. For us, it would really damage the quality and what we want to do.
Cameron Bright: I think that something that I've learned from this process individually is that it's not going to get easier to get a song done. It only comes with doing it a bunch of times, and it never gets easier. There's no substitute for just keeping the bar high and being exacting. The only thing I've ever regretted in putting up music is not spending more time on it. I've never regretted taking too long on something.
Kiki Frances: I personally find it very emotionally draining to let a piece of music go and say, "This is finished," because you can just kind of keep chipping away at it forever. Eventually, you have to let every song go, and I do find that pretty emotionally draining. This being a process that we've done a few times now, it's helped me to remember, "This was painful last time. It's normal. It's just because you care, let it go, you'll survive it." I would say that that has been some growth that I've had — it's just being able to look at each other and be like, "This part sucked last time too, but it's okay." You spend a lot of time making everything exactly how you want it to be, and letting it go can be scary, but it also feels really good because you want to move on to the next piece of music that will torture you.
Cameron Bright: As a musical unit, there's been a real identity that we've developed — a musical voice that only comes through repetition. More than ever, we found a way to push the boundaries of influences we could bring into the project. We found a way to do drum 'n' bass, emo, country, and all that stuff on one project. We still made it hooky and cohesive.
Kiki Frances: It's all still pop music ultimately. Like, that's our shit.
Cameron Bright: We found a way to take that pop sensibility and apply it to something that feels uniquely us. Doing this project, I just already can't wait to show you guys the next stuff, because we've learned so much from making this.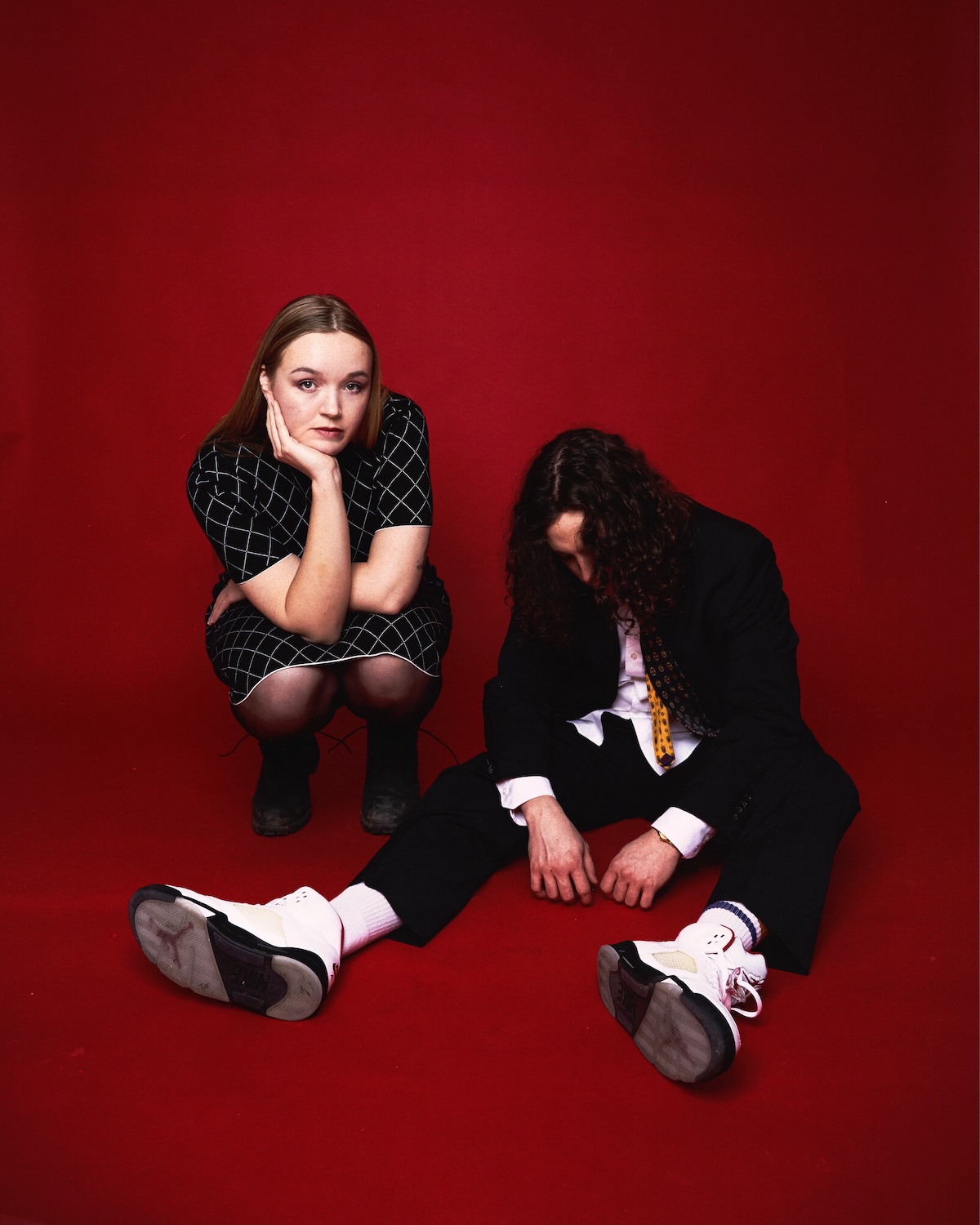 I THINK YOU GUYS DO THE "QUALITY OVER QUANTITY" THING PRETTY WELL. HOW DO YOU STAY TRUE TO YOURSELVES WHEN THE CURRENT STATE OF THE INDUSTRY IS SO FOCUSED ON QUANTITY?
Kiki Frances: Good days and bad days. There are some days where it's like, "Oh, are we not doing this the right way? Should we be putting way more time into being super online?" But, that's just not true to us. I think ultimately, all we can do, and all we want to do is be present. We do want to make it so that people who haven't heard of our music are hearing about it, of course. But for us, it's always been just about making great songs first and foremost. I think every artist has different priorities. There are a lot of artists where that's not the main priority. There are a lot of artists where it is, and those are the artists that inspire us. There are a lot of artists that prioritize different things that benefit them in certain ways and hurt them in certain ways. All we can do is be honest about what makes sense for us. If we put the energy and the focus into what we feel is the most important, then at the very least, we're going to be able to go to sleep at night knowing that we did it the way we felt was the best artistically.
Cameron Bright: Not to be this way, but this is the closest thing I have to like a spiritual practice in my life. It's a sacred thing to me, so I really don't want to cheapen it. I love commercial music, but the difference between loving the aesthetics that come from commercial music versus loving the commerce aspect is different. I'm not crazy about being like, "Consume, consume, consume." I want to make something that is truly great and feels like self-expression. If that responds commercially, that's incidental. I was just listening to an interview with Ne-Yo, where he said, "If you make something in the studio and you're sitting with your friends listening to it, that's the reward of life and music. Any sort of commercial success, income, or social prominence are fringe benefits that you should not expect or rely on to enjoy life and music." I'm just trying to get better at focusing on the sacred space of making great shit and trusting that people will figure that out in due time.
YOUR LYRICS HAVE ALWAYS BEEN VERY TRUE TO YOUR EMOTIONS AND INTROSPECTIVE, AND THIS EP IS NO DIFFERENT. THE SONGWRITING IS BEAUTIFUL, AS EXPECTED OF YOU GUYS OF COURSE, AND IT SEEMS TO FLOW SO NATURALLY WITH OR WITHOUT THE MELODY BACKING IT. WHAT INFORMS YOUR SONGWRITING? IS IT ONE OF THE EASIER OR MORE DIFFICULT PARTS OF CREATING A SONG?
Kiki Frances: It's hard to write a great song, but it's easy to know when it is great. If we land on a lyric where we both just look at each other, and we're like, "Yep!" then that's the lyric. That moment is very easy, because it's instant. We'll write verses and be like, "Yeah, that one's okay, let's keep that line, but this line isn't good." It's pretty instantly obvious when the lyrics are done, because we both just know it. The instinct part of it can be easy, and when you know, you know. There's a song that we're working on right now, where we've always paused at the pre-chorus melody. It's like, "I don't know, I don't think that's right." Then. we try new versions and we're just like still chipping away at it.
Cameron Bright: That's why it's not on this project, because we didn't have that moment of unanimity where it was just obvious. It has to be a no-brainer. It takes a lot of brainpower to generate the idea, and very little brainpower to approve it.
Kiki Frances: You might get the initial lyric idea that is the impetus for the song really quickly, like when you're just walking down the street to pick up some eggs. Then you're like, "Okay, this is a great little chunk of lyric. Now it's going to take me a year and a half to make it a whole song." When you have that core axis lyric, idea, title, or melody, then you have something to hold onto. You have a target being slowly drawn. At that point, it's just about getting your shirt sleeves up and doing the work to finish it.
YOU'VE CITED SO MANY DIFFERENT INSPIRATIONS — I KNOW "SORE EYES" ALONE WAS INSPIRED BY BEABADOOBEE, KATY PERRY, AND SPED UP SONG REMIXES. GROWING UP, KIKI, I KNOW YOU LOVED AVRIL LAVIGNE, BLACK EYED PEAS, GREEN DAY, AND THE LIKE, SO WHEN YOU DRAW INSPIRATION FROM SO MANY DIFFERENT SOUNDS AND PEOPLE, DO YOU EVER EXPERIENCE OPTION PARALYSIS OR DO YOU FEEL IT GIVES YOU MORE CREATIVE FREEDOM?
Kiki Frances: I never feel option paralysis in that way. There isn't really a band or artist that we're trying to sound exactly like, so I think that that helps because we can pull really little things  when we are inspired by something. Sometimes it's just like, "That snare sound is great. Let's imitate that snare sound." Sometimes there's a lyric where the spirit is so good, and I want a lyric that gives me the same feeling. It's never been a problem for me to have a lot of different influences, because I think it just makes for really interesting music when you're pulling little things from all over the place. Then, it ends up sounding like us, because there's never an exact song that we're trying to do our exact version of. It's more like, "Let's do our version of that drum sound, that title, and that guitar tone.
Cameron Bright: That melody, that shape, that form, that tempo. We pull in so much stuff that we're at the center of this Venn diagram. On one song, there might be 50 things that we've pulled microscopic little pieces of. It's an amalgamation of our collective influences. It's important to us that we're never just being a pastiche of another band. Not to knock the hustle, but there are some people where that's their thing. Their band just sounds like another band. We really strive to not do that and instead have our band sound like a tiny bit of every band we've ever loved all at once.
IN THE WAY YOU GUYS TALK ABOUT THE CREATIVE PROCESS, I CAN TELL YOU HAVE AN EDUCATIONAL BACKGROUND IN MUSIC! DID STUDYING MUSIC MAKE THE CRAFT EASIER AND FEEL MORE NATURAL OR MORE DIFFICULT IN THE SENSE THAT IT CAUSES YOU TO BE MORE PICKIER?
Cameron Bright: I don't think it makes it easier or harder. If it did, I wouldn't be able to tell. All I know, is, is my own experience in music creation, and it's always been formed by such a wide range of stuff. There are aspects of it that are easy and aspects of it that are hard. I don't know if it would be easier to know less music, but it would probably be a little less fun. Everything we do, to some extent, is just a love letter to other music that we like. So the more of it there is, the more love there is to give.
Kiki Frances: For me, the most impactful thing about studying music was the people that I met at school. I showed up to a music school where I was like, "I don't know what anyone here is talking about. I love pop music. This is a jazz school, what's going on? I don't think that I'm that I fit into this situation." In terms of the actual learning about chords, intervals, and all that shit, it was cool and I learned a lot for sure. But, I think the core thing that I do now is still what I did before I went to school, which is just sitting around my room writing songs about the boys that were upsetting me or about the fight that I got into with my friend. Honestly, a lot of the stuff that I learned in school has pretty quickly fallen away. The same kind of core things that I use to make music are the same things that I used as a kid to make music. I think that Cameron had a different experience.
Cameron Bright: I think that there's an instinctual aspect to music, that regardless of how much you know, you just have to respond to that little internal radar. Does this feel honest? Does this feel interesting? Does it feel exciting or urgent? Where music education comes into play, is that it gives you a toolkit to feel that feeling and translate it into sound a little easier.
Say we're working on "Born With A Broken Heart" and we're going for like a '60s country thing. I've listened to enough '60s country and internalized the harmonic vocabulary of that world musically. It's where I just know that certain things are true to this genre that we're signifying on, so if we pull that in, it's going to feel more authentic to the statement we're trying to make. That's helpful information to have. For things like "Starlight," where I'm doing the string chart, I'm able to apply some of what I learned in arranging classes to make sure that the voices and the strings are compatible with the rest of the arrangement. It's helpful information to have and probably helps me get the job done maybe faster or truer to what I'm hearing in my head, but not necessarily easier, because the hard part is creative decision-making and emotional honesty.
Kiki Frances: You can know two chords and write the best song of all time, and you can know all the right chords and write the worst song of all time. Harmonically, having that knowledge is very creatively inspiring because if you have a lyric or a melody and the harmony fits it just right, there's nothing better than that. I think that you can make great music with whatever level of education you have. You can have zero education and make some of the best music ever, and you can be super informed and not make great music. There's not a rule necessarily. It's about using what you have at your fingertips.
WHAT DID YOU GUYS TAKE AWAY FROM MAKING THIS PROJECT, AND WHAT DO YOU HOPE LISTENERS TAKE AWAY FROM IT?
Kiki Frances: I think for me, this felt like the kind of final key that I needed to go into making our album the best way possible. Each small batch of music that we've put out has really been narrowing in on what that is going to be like for us, and it's taking longer than we initially thought. A couple of my favourite songs that we've ever done are on this EP, which always feels good. It feels good to feel like you're getting closer to what you want to be and what you want the music to sound and feel like. It's always frustrating to hear it in your head or to know how you want it to feel and not be able to get it there. Sometimes you get there and sometimes you don't. For me, I think this EP just feels like growth. The way we've learned from this it is going to stick with me when we move forward.
Cameron Bright: It's definitely helped us crystallize what the identity of the project is and go into making our first LP as unified and focused a body of work as possible. What I hope fans take away from it is, "Man, this is a really good band! I should go see them on their upcoming U.S. tour dates!"
Kiki Frances: LET'S GO! I hope the people fuck with it, what else can I say? I think that there's a lot of great music that we have made. That's pretty much it!
Cameron Bright: And, you're welcome!
— —
— — — —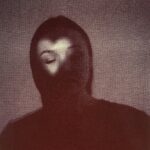 © Becca Hamel
:: Stream Babygirl ::
---