How Guardians of the Galaxy Vol. 3 could have an anecdotal (and potentially impactful) soundtrack, according to a licensed music therapist.

---
Peter Quill had a rough childhood… or at least he thinks so.
This Guardians of the Galaxy character, also known as Star-Lord, had plenty of growing pains — most of those related to his absent father/planet/celestial being, Ego.
Of course, trauma is pretty common in the MCU, as noted in Avengers: Infinity War. Thor reassured Gamora that "families can be tough," and told her about his Ragnarok half-sister struggles. Feeling a little defensive, and maybe jealous, Peter Quill butted in with his own family trauma.
"I mean, it's not a competition," he began, "but I've been through a lot. My father killed my mother and then I had to kill my father. And that was hard — probably even harder than having to kill a sister."
"Plus, I came out with both my eyes, which was…," Quill trailed off, adding a casual dig at the "pirate angel" and his eye patch.
The main way Star-Lord coped with life's woes was through music. This character carried a cassette tape player, (he eventually upgraded to a Zune), and soundtracked his adventures.
Breaking out of jail? Throw on Rupert Holmes' "Escape (The Piña Colada Song.)" Dance-off to save the universe? "O-o-h Child" by Five Stairsteps.
Aside from being silly and even stupid in the Guardians of the Galaxy films, music has actual benefits studied by medical professionals.
The theory widely known as the "Mozart Effect" hypothesizes that classical compositions have a positive influence on brain activity, particularly in infants and young children.
Cognitive behavioral therapist, Dr. Emma Gray, worked with Spotify to "research the benefits" of specific musical elements. She found "listening to music set in the 50- to 80-beat range puts the brain into an alpha state" (via entrepreneur.com).
Some music-related practices have already been implemented into therapy as a way to manage pain, reduce stress, enhance memory, and improve communication among other benefits.
"Studies show that music is processed in all parts of the brain, whether you're listening to music or actively making music, whether singing or playing an instrument," Kim Drabik, MA, MT-BC said in an interview.
"In the case of memory loss, listening to music — especially favorite music, well-known music, or music connected to major life events — may help bring forward any existing memories," she noted. "Music therapy, unfortunately, cannot reverse memory loss, but it can help strengthen and maintain any current functioning."
With Marvel placing added emphasis on the Guardians of the Galaxy soundtrack, perhaps more than other MCU movies, the studio has a unique opportunity to explore the therapeutic impact of music.
Even if these characters are officially reunited with Gamora, this is Gamora pre-"unspoken thing" with Peter Quill. That means she doesn't remember her romance with Chris Pratt's character, nor her friendship with the other superheroes. Could music, again, be the connecting link?
"Making a playlist and setting a goal for its use is actually a really effective music therapy technique," Drabik said. "Working with a music therapist on a playlist can help process trauma, communicate ideas and moods, aid in relaxation or motivation, or serve other goal-directed purposes."
"I've had clients make playlists to help them express themselves, where they select songs that have either lyrical, instrumental, timbral, or textural elements that help communicate an idea or a mood," she continued.
Peter Quill used music in the first Guardians of the Galaxy film to connect with his late mother. Listening to her favorite songs helped him express himself. Star-Lord used Elvin Bishop's "Fooled Around and Fell in Love" to make a move on Gamora — even if she interpreted it as "pelvic sorcery."
There are times when the heroes swapped slapstick humor for actual moments of growth and reflection. In Marvel's sequel, "The Chain" by Fleetwood Mac appeared as a recurring theme, emphasizing the familial bond between the Guardians of the Galaxy.
After a less-than-positive experience meeting his biological father, Quill officially redefined his understanding of "family," calling the person who cared for him throughout his childhood and teen years, (Yondu,) his real father. He listened to Cat Stevens' "Father and Son" while processing his grief, sharing an earbud with Groot as the funeral ceremony began.
"The music is literally a different personality in the movie, has a different function than the songs," composer Tyler Bates said during a We Are Movie Geeks interview. "It exists more, not only to be propulsive in the action sequences and to set up some of the comedic moments but really to underscore the emotional depth of the characters."
"They've all survived some terrible tragedy in their life," he added, "and they try to suppress the rawness of those emotions in the scope of who they try to be."
It's unclear just how big music's role will be in the upcoming Marvel flick, as this "bunch of a-holes" will reunite predominately to stop the newest villain from creating "a perfect society." Guardians of the Galaxy Vol. 3 premieres in theaters May 4, 2023.
— —
— — — —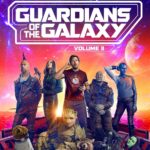 © Jessica Miglio, 2022 MARVEL