Atwood Magazine is excited to announce a partnership with LiveSyphon to showcase live music from across the country! The latest in our LiveSyphon series features Virginia alt-folk band Annabelle's Curse.
In today's music industry, it is getting more and more difficult to label bands and separate them into genres. Annabelle's Curse, formed in Virginia six years ago, is a perfect example of the way modern bands have been playing with genre expectations. Thriving somewhere in the middle of folk, alternative, and country, this up-and-coming group is constantly searching for ways to move out from beneath the shadows of other bands and find their own unique identity.
Consistent with their refusal of genre is their fascination with the concept of duality. The first and foremost point of duality in Annabelle's Curse's music is in the vocals: Both Tim Kilbourne and Carly Booher sing on their tracks. The unique dynamic of having both a male and female voice gives the band an extra layer of depth and perspective. They also aim to capture a sense of duality in their lyrics, always portraying the idea that life, and therefore music, is and should be both happy and sad. This is displayed particularly well on the band's song "Regret, VA," which Atwood Magazine is proud to be presenting in partnership with LiveSyphon.
Atwood Magazine caught up with Annabelle's Curse to discuss their writing process, inspirations, and the importance of a dedicated fan base.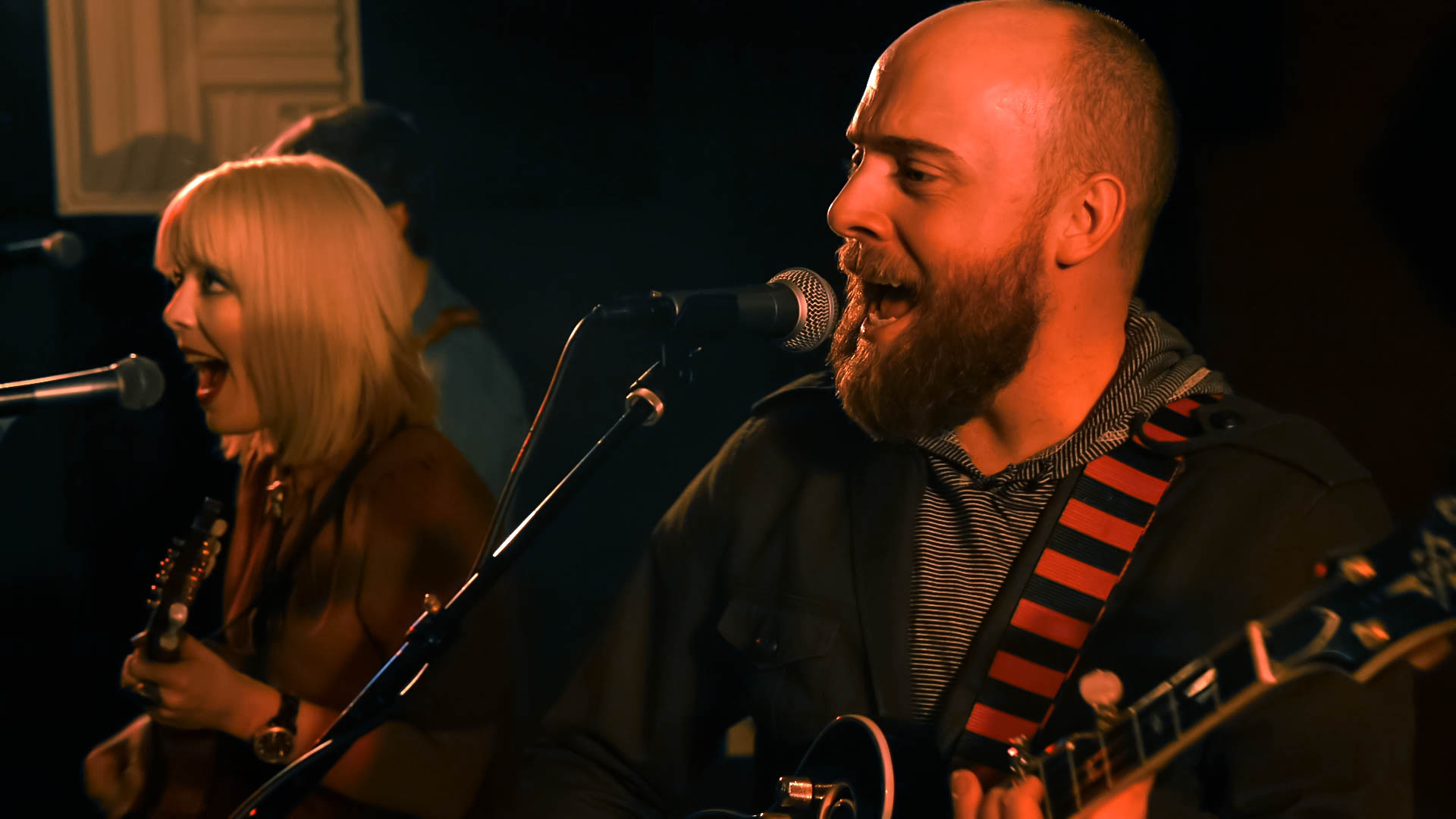 Meet Annabelle's Curse
Atwood Magazine: Your name is haunting, and some of your lyrics like "The ghost in our house will not leave us alone" and album names Hollow Creature and Worn Out Skin are so too. From these things alone your band exudes a certain raw, maybe kind of scary vibe, but that's totally the opposite of what I feel when I listen to your songs. What brings about this duality?
Tim: My view is that music should reflect life, and life itself is filled with duality. My goal in writing songs is to reflect the darkness that humanity faces while maintaining some sense of hope, regardless of circumstance.
"Regret, VA" is a very upbeat, catchy song but also has depth lyrically. How do you manage to achieve both? Where are your priorities when it comes to songwriting?
Tim: When it comes to writing songs, I place most of my emphasis on lyrical content. My view is that if you have nothing important to say, then you really have nothing valuable for people to hear.  For the most part, I write the music and the lyrics at the same time as they should reflect and correspond with one another.  "Regret" was written over the course of several months after much trial and error. I firmly believe in editing a song until I get that "as good as it can be" feeling.
Music should reflect life, and life itself is filled with duality.
We love the line "Here in Regret, population: me." Can you tell us a bit about the inspiration behind "Regret, VA" or about your songwriting process as a whole?
Tim: "Here in Regret – population me" refers to a post-break up time in my life.  "Regret" is actually referring to a specific city in Virginia (which I will not name) where I had spent much of my time pursuing a girl who did not hold mutual feelings.
"You should never have quit if it's better for your health…" Can you elaborate on these lyrics?
Tim: "If it's better for your health, we should have never quit" is an ironic statement that basically says we should have stayed together because it would have hurt you more to stay with me than it hurt me when you left me.
You utilize such a great combination of strings here! Can you comment on the power of string instruments and what they bring to your art?
Tim: I've always felt like string instruments can express deeper, truer emotions than other instruments.  For some reason, my heart and my brain make a strong connection with my fingertips as they graze the strings.
I've seen your sound being compared to that of Mumford and Sons, The Decembrists, and several other bands. I've also seen that you don't really think these comparisons are completely accurate, so could you describe your sound?
Tim: I would describe our sound as ever evolving. In our early works, I think these comparisons (Mumford, The Decemberists, etc) were sort of accurate, but the more that I write, the truer I feel to myself.  Our new music feels like it is uniquely ours.
If your music were a film, what would the trailer look like?
Tim: My movie trailer would appear much like my current surroundings: rolling hills, rising mountains, and the lush vegetation of Southwest Virginia. This region inspires me to write better everyday.
Carly, in an interview you said Worn Out Skin was light-hearted, even though the name doesn't allude to that. Could you speak a bit more to what it is about?
Carly: I feel like where the light-heartedness comes in is through imagery. Our last album, Hollow Creature, opens with "sitting on the porch in the falling snow," which I think kind of sets the tone for the album. Worn Out Skin takes on more summery, nostalgic values. Songs like "Rich Valley" and "Skinny Dipping" paint a picture of what it is like to live out a summer in the south; be it going skinny dipping or sitting on your porch playing music with your friends.
You've mentioned fan support as being really important to you as a band. How instrumental have your fans been in your musical journey?
Tim: Without our fans, we would not have produced two of our albums as they were 100% fan funded through kickstarter. Our fans are loyal, caring people who have helped us grow bigger and bigger.
What artist/band has been the most fun to tour with? What's the most important thing you've learned while touring?
Tim: We have always enjoyed traveling and playing with Megan Jean and the KFB. They are our good friends and inspiring musicians who keep it real.
If you had to pick one, what artist/band has influenced your music the most?
Tim: That's a difficult question. All 5 members of our band would answer this differently because we all have very different musical tastes. I was first inspired to play guitar after listening to Iron and Wine. I've always aspired to play and write music that was as beautiful and thoughtful as his works.
What's coming up for Annabelle's Curse through the rest of 2016?
Zack: We have been working very hard behind the scenes on new songs and material over the past few months. We have quite a few shows left in some of our favorite markets, including a hometown show on Halloween. You can keep up with all of our dates at www.annabellescurse.com and via social media. We have a lot of special shows planned to wrap up what has been a fantastic year for us. We hope to see some friendly faces out.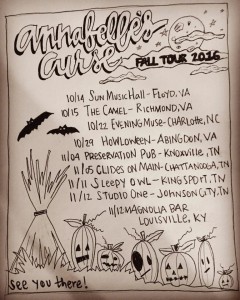 — —
:: Watch: "Regret" – Annabelle's Curse ::
---
Discover more from Annabelle's Curse