Big Thief open up the year with their 5th record 'Dragon New Warm Mountain I Believe in You,' an album peppered with pure love, existential fear, and, most of all, "a little bit of magic."
Stream: 'Dragon New Warm Mountain I Believe In You' – Big Thief
---
Dragon New Warm Mountain I Believe In You begins with a single word: "ok." It sounds almost ridiculous. For lead singer Adrienne Lenker to open up a record of an hour and twenty minutes with one spoken syllable is by no means normal, but it is true to Big Thief. A band that is no stranger to proliferation, this record follows their double 2019 releases (U.F.O.F. and Two Hands), though length is the most potent similarity of the three works. Dragon New War Mountain I Believe In You is a masterful offering, a woven basket full of freshly-made bread, pink apples, and daisy chains. There's a magnetic force to the record that pulls you down with it. Down into the cool dirt and crisp leaves, inviting you to sit down for all the time that you have left in the day – promising it's worth it.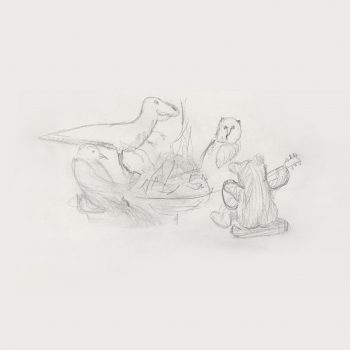 "Change" opens the album. This flower blooms slowly, opening up to a forbearing rhythm. Drummer James Krivchenia sets the pace with a gentle clap of his kit, as the three part harmonies of bassist Max Oleartchik, guitarist Buck Meek, and lead singer Adrienne Lenker come together, warm as a hug. The three sing, "Could I feel happy for you when I hear you talk to her like we used to you? Could I set everything free when I watch holding her like you once held me?" This record is full of questions, and the songs are scavenger hunt, each a perfect and different world that offers answers.
A standout feature of the record is Lenker's songwriting. Her signature warble and web-weaving stories take on a different approach in this album. Take "Spud Infinity," for example. In a hillbilly-hippie wedding, "Spud Infinity" is existentialism in a way it's never been done before. Lenker trills, "Ash to ask and dust to dusk, a dime a dozen aren't we just? But a dozen dimes will buy a crust of garlic bread." She tackles impending doom with instructions to embrace the tiny alien inside of you and kiss your elbows in a fantastic frenzy. It's a lyrical tossing of cookies, a refreshing step away from the familiar. She enters every cave in her brain, harvesting the jewels and laying them bare as they are, in all their glory. The gems continue with "Sparrow," as Lenker ventures into Eden. She resolves, "She has the poison inside her." Lenker writes fearlessly, tossing niceties like rhyme schemes out the window. The result is a story, thrilling and true.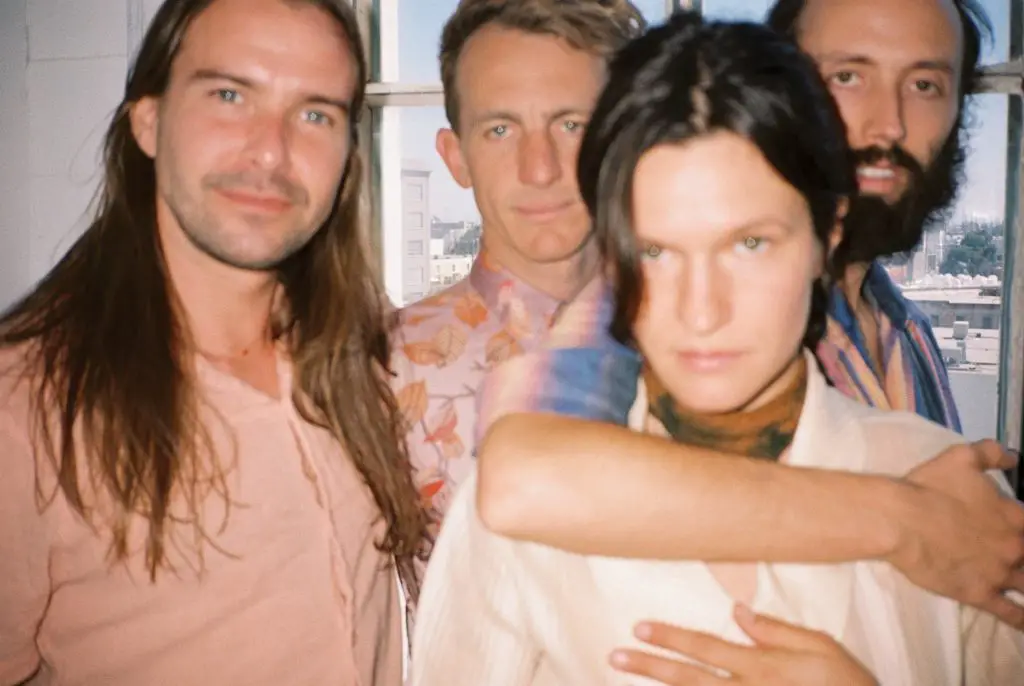 ---
The title track is a revelation. Flowing with Lenker's effortless falsetto and Meek's affectionate plucking, the river parts, revealing life in the unlikeliest places. Lenker's voice stabs like sunlight as she paints, "It's a little bit of magic, like a river of morning geese. In the new warm mountain, where the stone face forms and speaks." The delicate melodies take a pause, as the expanse of genre continues with the album. The middle portion of the mammoth moves into an indie sound.  "Heavy Bend", "Flower of Blood", and "Blurred View" create a trio of dense electronic assortments. Reminiscent of Radiohead and Cocteau Twins,  the melodies crawl around the guitar frets, accompanied by shoestring harmonies and the crash of cymbals. Each track bleeds with more distortion than the last.
Shifting gears once again, another group is formed with the Laurel Hill folk sound of "Dried Roses." The record is sprinkled with tender moments, a childlike simplicity in the close moments. Surfacing like spring, new life is breathed into the early beautiful. The soft carries through, leading us to "12,000 Lines." A Crosby, Stills, Nash, and Young inspired track, heartbreak comes slowly, searing every surface it touches. Lenker croons, "Crossed twelve thousand lines looking for your face, only to find not a trace." "Simulation Swarm" ushers us toward the end. The track features a "Wings"-esque guitar jig and an inescapable melody. A laying down of defenses against modernity, the track is an epic fight and devastating loss rolled into one. Lenker sings, "Once again, we must bleed new even as the hours shake. Crystal blood, like a dream true, a ripple in the wound and wake." The chorus wades in heartbreak and drowns in defeat, as Lenker tenderly admits, "I'd fly to you tomorrow, I'm not fighting in this war. I wanna drop my arms and take your arms, and walk you to the shore." 
Despite first impressions, the record is not full of contradictions, nor is it overly indulgent. Instead, it's Big Thief stretching their angel wings, above the crystal clear waters and evergreen trees of their world. With the wisdom of your favorite grandparent and the humor of your craziest little cousin, Dragon New Warm Mountain I Believe In You is a sliver of special. It feels like a trip home, but you walk in to see that your parents have redecorated a little bit. The color-sorted bookshelves look different, and the light hits the kitchen window a bit brighter now. Dragon New Warm Mountain I Believe In You is a gemstone, patiently and loving crafted, catching the light in every which way.
— —
— — — —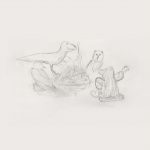 ? © 2022
Dragon New Warm Mountain I Believe In You
an album by Big Thief
---