Emo Nite LA took over New York's Brooklyn Steel. We spoke to the founders about what to expect at the event and why people love to get together to party like it's 2005.
— —
Walking into Emo Nite LA's Brooklyn Steel appearance, it seemed only fitting that as I opened the doors to the club, The Darkness' "I Believe in a Thing Called Love" faded out and My Chemical Romance's "I'm Not Okay" kicked in.  Throughout Emo Nite, certain definitive crowd pleasers (mostly by My Chemical Romance) would come on, and the night would feel the most like a show.  People will dance and bounce more during certain songs, but a show never breaks into a mosh.  People crowd around the barricade or the second DJ booth by the soundboard, but it never feels unmanageable. Earlier in the day, I spoke to Emo Nite LA founders Morgan Freed, Barbara Szabo, and T.J. Petracca.  As someone fresh to Emo Nite, Petracca summed up perfectly, "I think it's really not about thinking about this as a club or a show.  It's neither one of those things.  I think people want to come out and have a good time.  I, personally, get so bored at shows, and clubs I think are fucking stupid….It's about creating an event-an experience that people can enjoy start to finish." Freed told me, "Usually, we have a lot of people onstage.  It's super audience heavy."  Szabo chimed in, "Generally Emo Nite is people singing along to the music we play, dancing, and taking photos.  That's what Emo Nite is typically about."  They were right, because the night didn't really feel like either.  It felt like a house party amongst a few hundred close friends.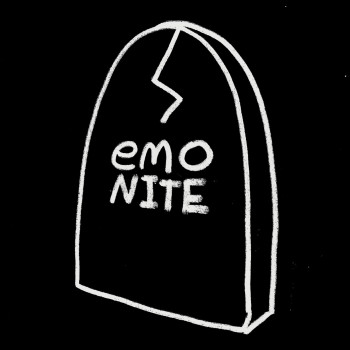 Going into Emo Nite, my assumption was that it would feel like a nightclub with remixes of songs from the golden age of pop-punk, but Szabo dispelled those ideas, "We do not [remix], and we play them beginning to end, because we've found when we cut it off, even 10 seconds early, some people get pissed."  The whole evening felt more like a bunch of people hanging out.  When Nate Barcalow and Randy Strohmeyer of Finch came onstage, it felt like a couple of your pals at a party playing a few of their songs on an acoustic guitar, and if something happens that you're not into, it's an ideal time to go refill a drink or use  the bathroom.  Even the jokey nature of Finch made the converted-industrial-feeling Brooklyn Steel feel like a living room: "Welcome to Emo Nite, and this song is called "I'm Not Okay" by My Chemical Romance" before playing one of their own songs.  Having two sets of turntables also kept the show moving, because even if you stayed on the floor the whole time, you'd still change directions every few minutes.  The layout doesn't demand you to lockdown a spot though, because you can mill about the venue with ease, like at a party or your own regular bar.
One of my main points of curiosity was: Who goes to Emo Nite? Is it people who've continued their pop-punk listening habits into 2018?  Is it people who just want to hear songs they loved in middle school? Are people more into the DJ sets or the performances? Petracca mentioned, regardless of whether Emo Nite-goers had to break out black lipstick from twelve years ago or came wearing a Hotelier t-shirt, there was no denying that songs from the golden years of Fall Out Boy, Paramore, and Taking Back Sunday garnered the largest reaction. When Szabo or Petracca are DJ-ing, they'll jump around, scream, and point along with an audience that feels so incredibly close to being at a live show. When the bridge of "Misery Business" comes in, they could pull the volume knob down, and everyone in the room will scream in perfect time. Emo Nite regular Rocky acted as part hype-man, part mascot dressed like the sixth member of The Black Parade. When "Welcome to the Black Parade" began at the end of that DJ set, everyone wanted to scream along with him. He hopped on a tall audience member's shoulders as the song's outro began, and they marched into the crowd, singing a song about dying with an incredible amount of joy. Regardless of if the audience was there for nostalgic reasons or still regularly seek out these bands, it felt like a community in that moment. The room was just full enough that I was able to act like MCR had never broken up.
The lone fear I had going into Emo Nite was the special guest DJs and performers. Emo Nite has featured a wide variety of guest DJs and performers across genre-lines.  The Emo Nite founders listed a variety of past Emo Nite greats when I asked about their favorites: Chris Conley, Post Malone, Sonny Moore (Skrillex) with From First to Last, or Craig Owens playing with a string quartet.  At any given Emo Nite, you're bound to see some artist that you love or did love at a point in your life.  That being said, this lineup gave me a ton of anxiety.  I'm aware of Finch, Craig Owens, and The Summer Set, but I don't really know any of their music.  I like a little from Travie McCoy and Hellogoodbye, but I wasn't sure that I'd enjoy a whole set from either.  This fear dispelled when I realized that this was more of a party than a show.  When Nate Barcalow and Randy Strohmeyer entered onstage, it didn't feel out of place.  Similarly when Craig Owens took a break during his DJ-set to play a Chiodos song, the audience lost it.  When Forrest Kline of Hellogoodbye hopped in the DJ booth, it was obvious that he's a lead singer through and through, as he ran in front of the turntable and sang a bunch of Hellogoodbye songs throughout his set.  It met between karaoke, DJ-ing, and a popstar performing.  When he broke out a ukulele to play "Oh, It Is Love," it taught even though so many people may have forgotten Hellogoodbye, they wrote great songs.  "Here (In Your Arms)" didn't make me feel nostalgic, because it fits just as well with so many modern pop songs that I like.  At first, this realization was semi-heartbreaking.  It shows how forward facing the genre's always been.  Freed says that the Emo Nite camp also look to the future, "I think sometimes people never stopped listening to [emo].  Then, sometimes you get hit with 'Oh I remember listening to this a while ago with my friends in a car.'  I think it's both [nostalgia and contemporary]. We try to include new artists.  We try to feature bands we really like that aren't nostalgic  We try to stay as current as possible with everything we do."  So much of the audience does seem ready for contemporary music as well, perhaps best shown when Dilly Dally threw a Lil Uzi Vert song into their DJ set.
The only moment that felt like a performance was Saxl Rose's performance.  He played the vocal melodies over instrumental tracks, to a gleeful crowd that was ready to sing-along.  It was fun, amusing, and impressive.  He maneuvered between tracks easily, culminating into a breakdown of "Careless Whisper."  It was both a moment of respect for his virtuosity but also to take a minute to laugh.  Who said emo kids didn't have a sense of humor?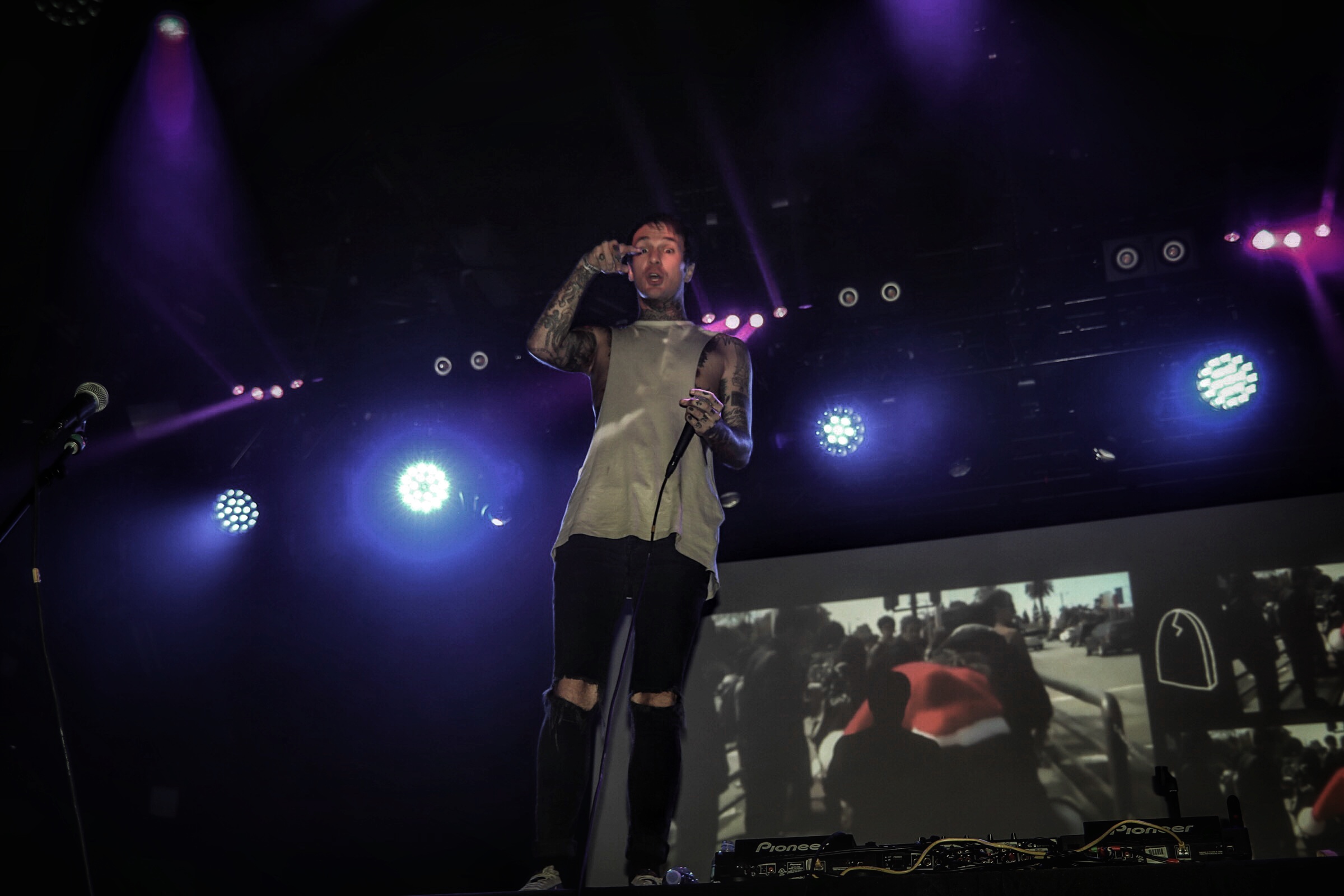 The DJ sets were the largest highlight, because they were just fun.  Brian Logan Dales of The Summer Set really dressed like a rockstar, while packing his set with hits.  The highlight though was when he attempted to crowdsurf a pizza, not accounting for the fact that pop-punk kids will devour pizza faster than you can play a G.  Craig Owens DJ-set was even more hits heavy, loaded with tracks like "Move Along" and "Teenagers" where he was even more energetic, leaping up on the set up, acting like a hypeman for his songs too. The best DJ set though was by Dilly Dally.  The Canadian grunge band really toyed with the line with their DJ set together and didn't adhere to the "Play the Whole Song" idea.  They spliced in movie clips, interluded into songs with Deafheaven samples, and still kept the crowd engaged.  The use of Deafheaven was one of the most exciting.  Even though the black metal band exists within a scene that probably has a lot of crossover appeal in emo, it was apparent that the audience didn't know what to make of the shoegaze-inspired black metal.  Just when it seemed like it may've been too much, they flipped the track into Linkin Park's "In The End" to the crowd's screaming acceptance.
Going through Emo Nite, I thought about how much I loved this music when I was younger and how that's grown into something I still love to this day.  The largest expectation was that this was going to be some sort of remix of nostalgia, but it wasn't.  I thought about all the tropes commonly associated with the genre, and Emo Nite LA leans into them.  They sell shirts that say "Sad as Fuck" and "Thank You For Moshing With Us," but that night didn't have any moshing.  It definitely wasn't a sad occasion, because when you bring all those people together with a shared love of music that's become important cultural touchstones, it was an evening filled with joy.  Whether it was laughs from Saxl Rose playing "Careless Whisper," cheers for Finch playing some acoustic songs, or screaming with Craig Owens jumping on a turntable during "Teenagers," Emo Nite LA brings a great fucking party.
— —
— — — —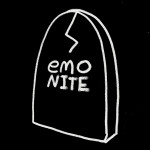 ? © Kevin Miller