Jackie McLean of the indie band Roan Yellowthorn grants us an inside look at the making of an album from start to finish in her 'Breaking The Record' column.
Stream: "Sacrifice" – Roan Yellowthorn
---
This week has been weird. I feel like things just keep getting weirder and, at the same time, the parameters of normal keep changing. Now, it seems almost normal to stay inside all day with few or no reasons to go into the car. It seems almost normal to stay away from other people when I go outside for a walk. It seems almost normal to see people with panic and surgical masks on their faces while dashing through the grocery store.
It seems almost normal that musicians are live-streaming from their living rooms instead of performing live shows. It seems almost normal that it feels unthinkable to go to an airport. It seems almost normal that we're all trying to navigate this new normal. I don't know how long it will last. It may be that when normalcy is restored, it's a new normal that we return to. I'm thinking a lot about what this means for musicians.
Just jumping into the Breaking The Record series documenting the making of our album from start to finish? Read part 1 here!
This weekly series is about the making of my new album produced by John Agnello and, even though we're working steadily on that, this week I feel the need to use this space to talk about some universal issues facing musicians right now.
Many musicians make their living through live performances. What will emerge to fill that void? Will virtual concerts be the new frontier? How will this translate into income? Will this change flood the market to the point that it's even more difficult for an emerging artist to be seen and build momentum? What will be fundamentally changed as a result of what we're experiencing now? Will iconic venues bounce back? Will some festivals never reopen? How will the landscape change? And what will artists have to do to keep up with the new normal? I'm asking myself these questions.
One thing I'm heartened to see is the support that's coalescing around artists. The community is pulling together – I can feel it. Bandcamp recently gave all proceeds to artists, and corporations like Sweet Relief and MusiCares have dedicated funds offering assistance to artists affected by COVID-19 related income loss.
Unfortunately, this is not enough for many artists and musicians at this point. The reality it that many musicians struggle as it is to make a living and, without touring and music festivals and live shows, the whole infrastructure for musicians to sustain themselves has been upended.
When the new-normal is reinstated, it will take time for the industry to adjust. Even then, there will likely be many artists who have to step back from their art because they need to be able to pay rent and buy groceries and are unable to do so in the new landscape.
I am one of the lucky ones – I have a really wonderful record label that supports me and provides all kinds of resources to their artists. I'm thinking about all of the artists who don't have this kind of support. It's a bummer to say that the community at large has a responsibility to act if they value independent music but, at this point, that's the truth of the matter. Barring significant intervention, listeners will have to support independent artists so that artists can continue to create. A world without art is like a house without windows; artists bring new perspectives to our lives and help us to process our experiences and emotions.
Even though I am a creative person, I'm also the kind of person who stuffs down my emotions because they can be overwhelming to me. These past few days I've definitely been feeling a spike in anxiety, mostly because things feel unpredictable. What will happen to the world? Less importantly but still important to me, what will happen to my album that I'm working on? Will people hear it? Will I be able to tour to support it? How will this change the trajectory of the goals I have for my life and career?
I was feeling anxious and weird today and I put Colin Devlin's album, High Point. I love that album. Instantly, I felt comforted. More than that, I felt less alone. I felt more connected to myself. I felt more connected to all of existence. To humanity. To the universe. To put it simply, it helped me. That's what good music does. It helps us. It's important. And, because of this, we have to help the artists that make the music. Rolling Stone has a good recent article about what we can do. Basically, we can buy merch, share music, give cash donations, and vote for legislation that will provide healthcare and other social safety nets. Let's do it. Let's do it for the music. We can't let any of that beauty go to waste.
Next week – pictures.
— —
— — — —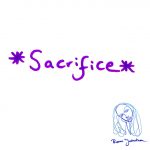 ? © Jackie McLean
:: Breaking the Record ::
---