Deliciously groovy, Portland trio Butter's second EP 'Nicotine' is the perfect blend of sunny and serious, mapping out a beautiful coming-of-age journey in an unapologetically fun pop blast.
Stream: Nicotine – Butter
---
Music can better your life in a multitude of different ways. From healing a broken heart to spicing up your daily routine, the gift of sound often helps us find just what we need, no matter the situation. Portland pop band Butter's second EP is a perfect example. With its relentlessly upbeat, danceable rhythms, the aptly titled Nicotine is a fantastic antidote to feeling low, presenting five infectious tracks that all want to get you to stand up and dance away the blues.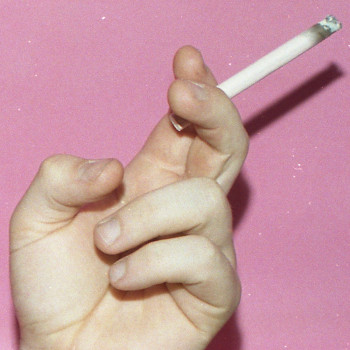 Atwood Magazine is proud to be premiering Nicotine, Butter's sophomore EP (out August 30, 2019). Hailing from Portland, Butter bring a unique medley of different genres to the Oregon music scene. Members Aaron Schmidt, Tom Shipley and Jarrett Tracy intermix elements of indie rock, neo disco and hip hop, resulting in a fresh and distinctive sound. Their sonic universe is remarkably emotive and atmospheric, where each song sets a different scene and takes listeners in the corresponding headspace.
Their newest release is no exception. The gently dynamic tracks off of Nicotine paint perfect (and very relatable) pictures from life as a slightly lost twentysomething, trying to make sense of the world and discovering your place in it. The parallels between life and art are anything but coincidental: Butter's debut EP also attempted to capture the state of mind its members were in both as musicians and as people. In their words, the first songs they wrote together "reflect where we were as a young band in a new city navigating unfamiliar relationships and experiences."
The follow-up shows maturity both musically and in its emotional content: gloomier sentiments and deeper messages emerge from under the light-hearted pop tunes. Nicotine tackles feelings of love, lust, heartbreak, melancholy and resignation, all tied together in a kind of light-hearted modern escapism. Opening track "Round + Round" announces this theme in an anthemic celebration of living in the moment:
I am terrified of all the creatures I might find
When the lights turn off
and the music stops so cold
Something deep inside is
still there fighting for its life
I don't have to fear when I can lose control
The eponymous second track continues in the same direction, with smooth layered guitars and Aaron's signature autotune-dripped vocals. "Nicotine" encapsulates the overarching motif of the whole record: the band want to help listeners recognize that "sometimes you just have to give yourself a second to give into your vice and use that time to talk yourself down, to say "it's all gonna be okay." "Nicotine" is an ode to the moments of joy that get us through hardship:
Not everything you get you can give up
But just a moment of bliss will be enough
Following the relatively cheery introduction, the EP takes a darker turn in subject matter, all the while preserving its bright soundscape. "Salvation" speaks out against power imbalances in unhealthy relationships, while "Think Twice" fights the tyranny of toxic masculinity; both are centred around the larger issue of knowing who you are and finding the power to embrace that. The last song is an ode to this experience, rounding off the record with one final wave of buoyant pop. "Freakout!" bursts with the joy of being yourself: "Allowing yourself to be confident makes you want to dance, so this is a dancing song."
I used to always shy away from the spotlight
Before I knew better
I thought that raising my voice made me feel like
I was a beggar
Then you strode into the room
You rose me from my tomb
You showed me how a seed might one day bloom
[…]
Then you said
Don't just stand there, freakout!
A moment of pure catharsis, "Freakout!" reads like a closing chapter, where Butter arrive at the end of a journey ready to prepare for a new beginning. And with a second EP as diverse and energetic as Nicotine, the band definitely have great things ahead of them.
Experience the full record via our exclusive stream, and peek inside Butter's Nicotine EP with Atwood Magazine as the band provide their personal take on the music and lyrics of their latest record!
Stream: Nicotine – Butter
:: Inside Nicotine ::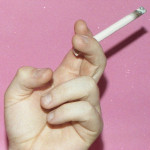 — —
ROUND + ROUND
Fear can rule every part of your life if you let it. Parties, shows, and lazy summer hangs define my memory of moving to Portland. Fear of growing older and turning into someone I didn't expect to be can be as intoxicating as those days themselves. This was the first tune from this project we played for Jessica and Cassi and right away we all knew how much pure fun we were going to have that day in their studio. Their vocals on the hook are what I look forward to the most when I hear this one.
NICOTINE
Sometimes you just have to give yourself a second to give into your vice and use that time to talk yourself down, to say "its all gonna be ok'. The verses are a reminder to focus not on the times you were stripped of your self worth, but to lean into the humans you surround yourself with. When we were mixing with Cam Spies he had this wonderful idea for a big, splasy synth stab in the chorus and we set up his Juno right then and made a super late addition. (well, none of us are really keys players so it took a hot sec)
SALVATION
I was in a very short lived, very one sided relationship years ago that was not healthy for either party. As negative as that experience was, it helped push me to the path i'm currently on and taught me some valuable lessons about accepting another person for who they really are and not who I wish they were.
THINK TWICE
Growing up in the midwest I was lucky to be surrounded by a family of strong women and kind men, but I know that wasn't the case for others I shared that experience with. Celebrating the idea that boys should grow into unforgiving, machismo drenched, power wielding men is alive and well in so many parts of our world. This song is about acknowledging that and rejecting it.
FREAKOUT!
Allowing yourself to be confident makes you want to dance, so this is a dancing song. Tom put tons of sweat into writing the horn parts, but when we first hit play after our friends Chang and Jeff recorded them we knew it was 100% worth it.
— — — —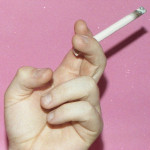 ? © 2019
Nicotine
an EP by Butter
---