Chris Ayer laments the collapse of connection in his emotional new single "Stranger," a raw and impassioned electropop indulgence.
— —
Are you just another night that I don't talk about?
There's something profoundly sad about the average New York City subway scene: Hundreds of people, all in the same space, yet so far away from one another, each with their heads down in their phones and their buds tucked deep into their ears. This scenario is nothing new, nor is it special to metropolitan Manhattan (though it is particularly bad there) – and ultimately, that's what makes it truly sad.
Intimate encounters and meaningful connections are scarcities in our digital age. There are seemingly fewer and fewer opportunities to meet new people and bond over commonalities, adding pressure to every chance encounter. Chris Ayer laments the  collapse of connection in "Stranger," a raw and impassioned electropop indulgence.
I'm back in the same place
that I always hang out
I order the same drink
I try not to freak out
I'm saying the same shit
To the same old and the new kid
And I don't know when you came in 
Listen: "Stranger" – Chris Ayer
---
Atwood Magazine is proud to be premiering "Stranger," the latest single from Los Angeles-based artist Chris Ayer (out this Friday, 9/21/2018). Ayer's first original single of 2018 (he released an acoustic version of 2017's "Heavy" this January) finds the talented singer/songwriter fully immersed in a vibrant electropop sound, having slowly worked  his way there over the past few years through personal exploration and musical experimentation. Ayer released his last full-length album The Noise in 2013; five years later, he's a brand new artist with an intoxicating sound.
"Stranger" may not be Chris Ayer's first electropop venture, but it certainly feels like the beginning of a new era for him. Pulsing synth beats and swelling guitar riffs fill the soundscape with passion as Ayer sings a brooding tale full of reflection and longing. On the surface, "Stranger" is a story of a special one-night fling, and the flurry of both hopeful and fearful thoughts that follow.
Talking a while now
Somehow we're from the same town
You're telling me stories
And time it starts to slow down
I see that we're alone now
Talk until the bar is closed
Looking for a place to go
I know, I know
Digging deeper, "Stranger" can be seen as a critical reaction to not only the single life, but also our cultural lack of connections. The exhilaration of meeting someone new and sharing something special is offset by the anxiety of it being a fleeting fling; Ayer is looking for permanence, not a Band-Aid one-off. He doesn't just want to share a moment; he wants to grow with someone – to share his life.
"The last few years I have spent a lot of time experimenting with writing and production, really just trying to find new ways of saying things and new sounds that excited me," Ayer tells Atwood Magazine. "I felt less inspired in making more traditional singer/songwriter music, which was where I started out, so it's been a really good couple of years just opening myself up to a whole bunch of new styles and textures, and trying to see if I could find my voice in any of it. It was right around last November when I put out my last song 'Heavy,' that I started to feel like the sound I was going for was starting to come into focus — at that point I made the choice to really focus in on making a bunch of new material, now that it felt fruitful, and not rush out a bunch of stuff. So since then I've just been writing and recording, and it means that now I can share new music more frequently, and it all feels like it's in the same world. Its actually informed even the more traditional folk-influenced songs I've recorded lately, and it's really exciting to see how the new material can all connect together in ways I honestly did not expect."
"Stranger" truly is the next iteration of Chris Ayer's musicality. The artist is entirely unhinged as he innocently recounts the euphoria of truly engaging on a deep and personal level. Lyrically, "Stranger" captivates. Ayer explains, "When we were writing 'Stranger,' I felt like we were onto something cool when I started to get uncomfortable with some of the stuff that was coming out. I always try to find an honest way of telling a story, but for me this song ended up striking a nerve in a really specific way. It can be a strange time to try to make real new connections in the world, so I just wanted to reflect that, and just how weird it can be to be a person sometimes. This song was thematically on a more raw honest level for me, and I'm glad it also took a new direction with instrumentation and sound — when I was writing and producing it with Keith Varon & Jessica Vaughn, we really wanted to capture the haunted quality of the verses, almost like you're sleepwalking in your own life, and then the chorus hits with a kind of swell, like I'm finally being honest and saying what I think, and what I'm afraid of. The fear of being unimportant to people that matter to you is something I've had to come to terms with in my own life, and the way we structuredqq the arrangement felt like it did that — and it was just really fun to try out new sounds and instruments. It's the first song I've put out maybe ever that I literally didn't pick up an acoustic guitar the entire time, and I think that allowed me to open up to some new choices and question some of my musical habits."
Am I just another stranger
Am I just another stranger
Are you just another mistake,
just another heartbreak
Just another night that I don't talk about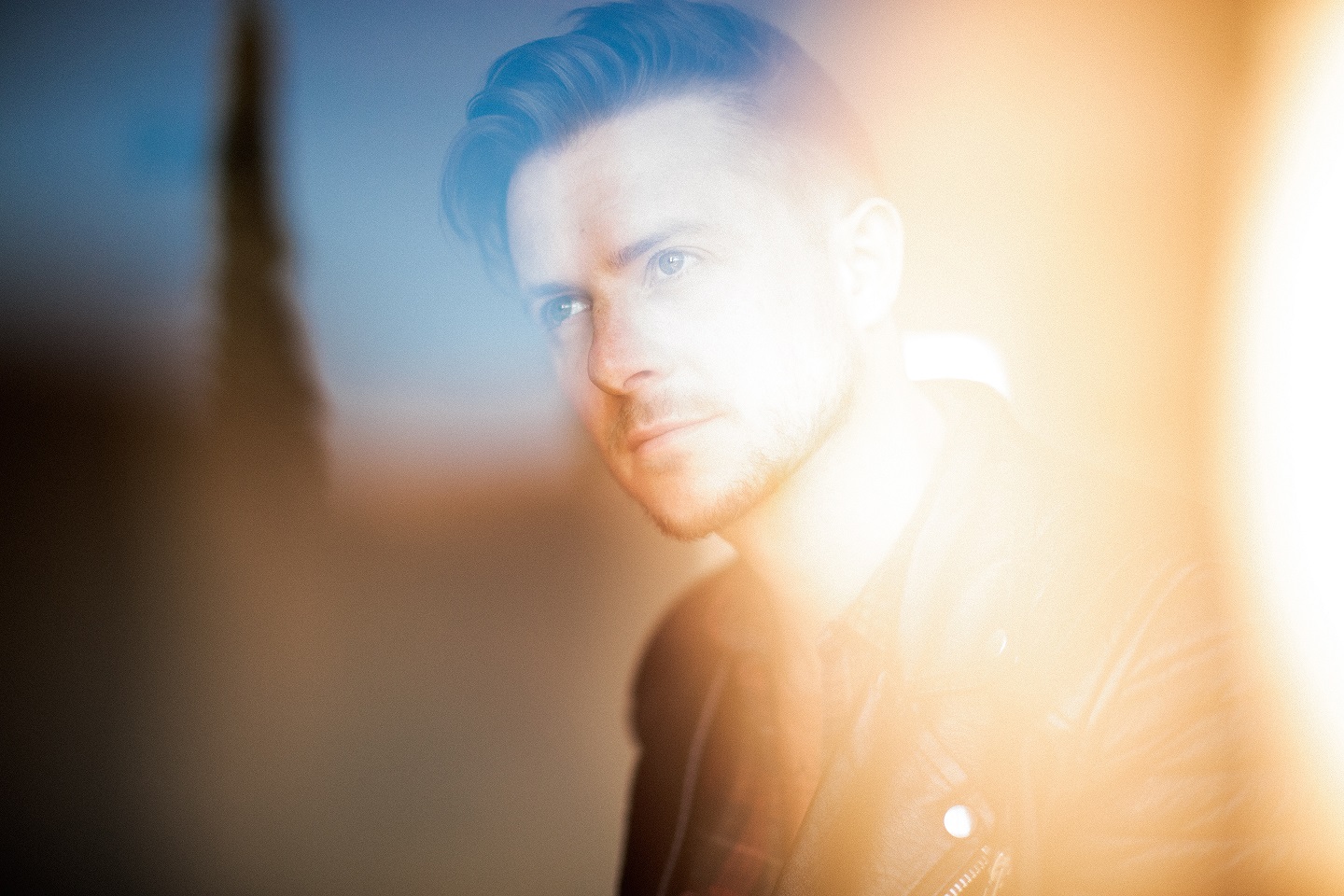 "Stranger" heralds a new busy season for the artist. "I will be putting out at least a song a month over the next 6-9 months, and those will be leading up to a couple longer form album releases in 2019. I'm going to be in Europe [next] week to play a few shows (September 25 in London, October 4 in Amsterdam), and will be in LA October 11 at Hotel Cafe. I'm heading out in November opening for Matt Simons on his US & Canada tour, and will be doing a bunch more around America and Europe in early 2019." In short, the rest of 2018 and 2019 promise to be an exciting period for Chris Ayer as he brings his newfound musical, artistic voice to the world.
Stream "Stranger" exclusively on Atwood Magazine, and stay tuned for more music and news from Chris Ayer!
— — — —
? © Chris Wood
:: Stream Chris Ayer ::